Leather, pleats and half & half are hot favourites on 2020's spring/summer catwalks.  And what the fashionistas and influencers love, from high street to high-end, has also made its mark on the world of interiors.
Pleats
Pleats are hot.  In a variety of patterns, fabrics and shapes, from accordion and box pleats to those swishy knife pleats. Names such as Christopher Kane, Fendi, Christian Dior, Gucci and Gabriella Hearst all used them in one form or another in their striking summer 2020 collections. It seems we can't get enough of this wardrobe staple.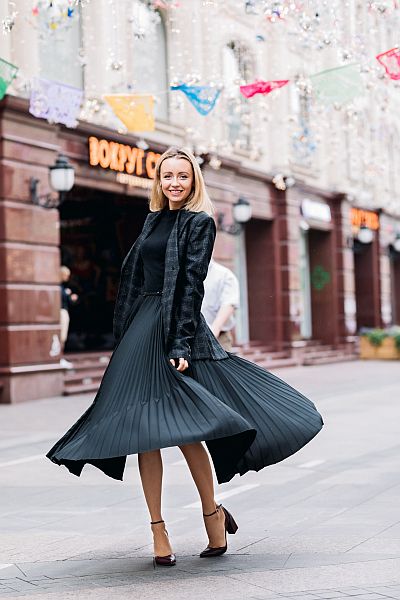 The pleat of course has been around for a long time.  Think Elizabethan ruffles or fashionable Victorian dresses, with those flattering drop pleats from the waist down. It's thought that this technique was even used by the ancient Egyptians.  The tunics of rulers displayed them as a symbol of luxury, power and wealth. It was a process originally created by hand; but a style hard to maintain once a garment was washed.
Although much haute-couture pleated fashion is still created by hand, this time consuming technique is now generally produced with specialist machines.  Modern synthetic textiles also have a greater ability to maintain their shape compared with natural fibres.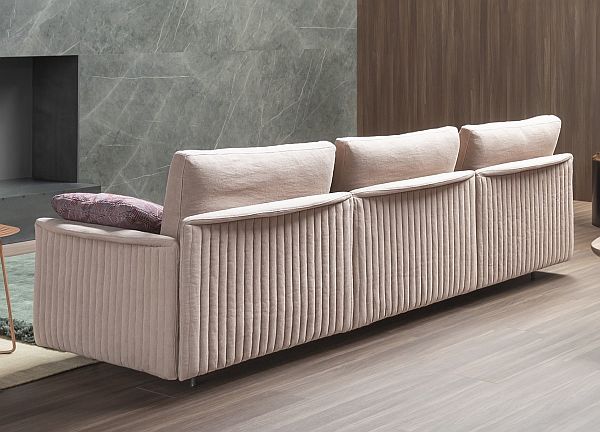 Pleats x interiors
And so on to the world of interiors.  Bonaldo's Only You sofa has gone for them big time. A ribbed/pleated effect is the distinctive feature of this design where it's been used across the rear and sides. It's a fabulous contrast to the smooth texture of the rest of the sofa, which also has small pleat-like 'wings' at the top of the arms and backrest.
If you're looking for a luxuriously comfortable and inviting bed, you've found it with the Charme bed from Jesse. This is one of Italy's best known furniture brands and their bedroom furniture is hugely popular. The large, upholstered headboard here wraps around the top of the bed and features a beautifully pleated effect design, available in a wide variety of fabrics.
And yet more bedroom pleats from Bonaldo with their wonderful Kenobi bed designed by Mauro Lipparini.  This is a firm favourite of ours.  Why? Well, we love an over-sized headboard. And the pleated look lends an air of sophistication.  Another bonus design detail for us is the gently curved outer edges of the headboard, allowing room for low bedside tables.
Leather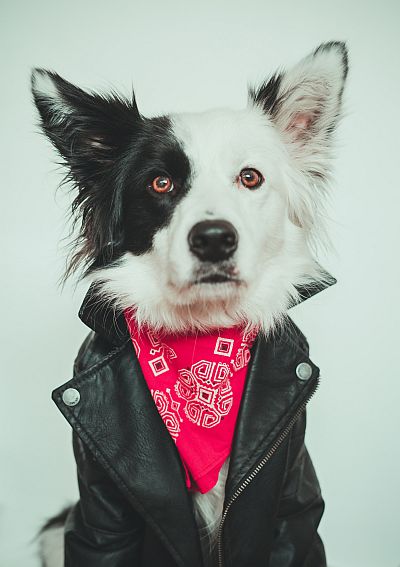 If you thought leather was only suited to cooler months, not so.  The summer 2020 runways were full of it.  Leather, it seems, is good all year round. Yves St Laurent loved it, Miu Miu used it across shorts, jackets and coats, Moschino persuaded us it looked good for jump suits, while Gucci pleated leather skirts. And we love it all.
Leather x interiors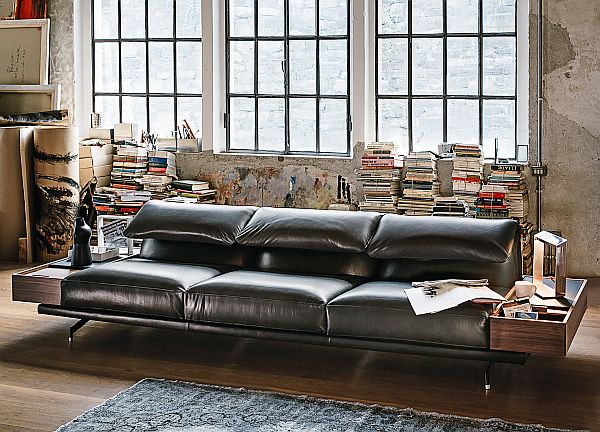 So back to interiors where, to be honest, leather is always in style.
The wonderful Vibieffe are original masters of 'Italian leather style'.  Their leathers are available in dozens and dozens of different colours, from neutrals to vivid up-to-the minute catwalk shades. Think warm and sunny or cold and elegant. The leather they use is made from European raw hides and the finished product is soft, fine, and particularly resilient to wear and tear.
Vibieffe's stylish Altopiano sofa, by Gianluigi Landoni, tells you all you need to know about this classy company.  They were established in the 1960s and specialise in upholstered furniture working alongside a long list of renowned designers. The Altopiano has a tilting backrest, another great feature, and there's also the option of adding beautiful Canaletto Walnut side tables/storage.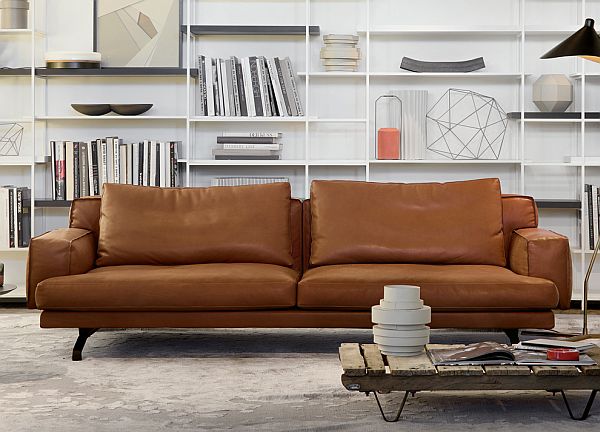 Moving on to another joy of a design in leather: Lema's Mustique by Gordon Guillaumier. Like it's tropical namesake, the Mustique is a sofa 'island' of heavenly relaxation. Pure bliss. It's a sofa that is soft but supportive, with gently rounded corners.  The back cushions also give lots of extra support. The proportions are perfect, and Guillaumier has finished with unique pick-stitching which emphasises the overall shape. We absolutely love the leather version shown here.
Half & half
It's a trend we've seen before. We first clocked it a couple of years ago when the autumn runways seemed full of it. And it's back. Cheetah prints and florals. Polka dots and stripes. Velvets and leathers.  Why wear one colour when you can wear two? Anything, it seems, goes.
Our world of interiors probably hasn't embraced this trend quite as happily as the world of fashion.  But the modularity of many of our designs certainly allows you to mix-and-match fabrics and finishes to your hearts content.
Modularity x mix-and-match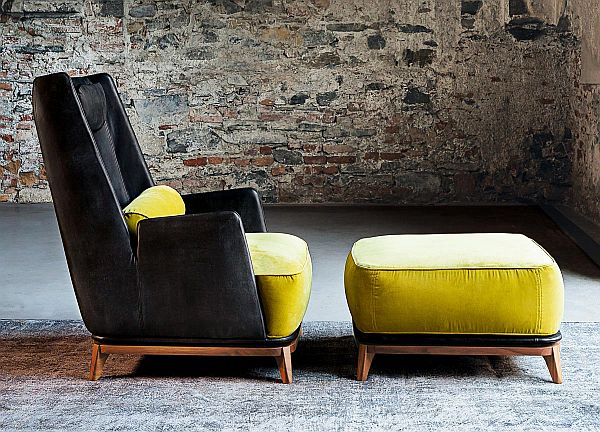 Vibieffe gave it a very good shot with their Opera High Back Armchair.  And to great acclaim.  Our customers love it.  Designer Gianluigi Landoni took a traditional design, with a sleek leather high back, and shook us all up a bit with the addition of his acid-yellow velvet cushions. Wow we loved it. You don't of course have to buy into this look, traditionalists can still opt for all leather, all fabric, or bring their own fabrics into play.
The amazing Fabrice Berrux had some fun last year with his Panorama range of sofas, chairs and pouffes for Bonaldo.  The design has a striking hexagonal shape, and as its modular, smaller pieces can be joined together to create larger seating areas.  There's a fabulously wide choice of fabrics, which also allows you to mix-and-match as Bonaldo has done in the image above, using turquoise and gold velvet to great effect.  The perfect 'half and half' look.
Novamobili specialise in modular design with a dazzling range of colours and finishes to play with.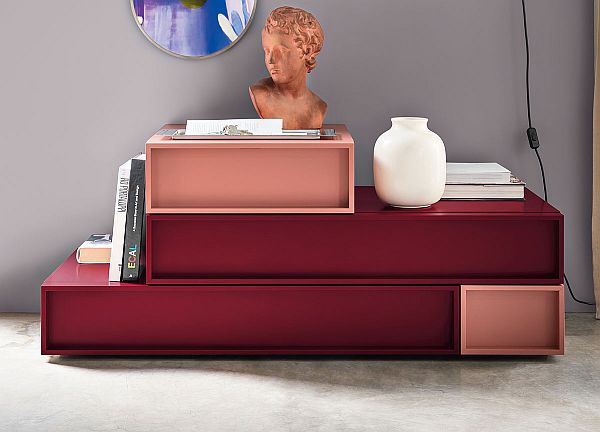 Again, it's the modularity of the Cube chest of drawers from Novamobili that allows you to be extra creative with the half & half trend. A simple chest of drawers has been elevated to a stylish storage piece by using two different colours, and varying the size of the drawers.  Simple yet ingenious.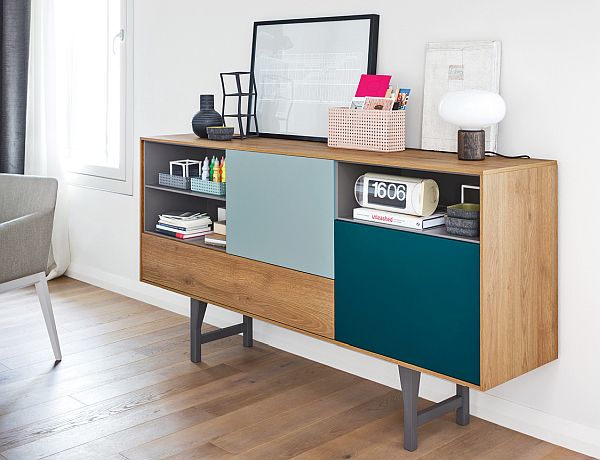 Japanese designer Makoto Kawamoto got extra creative with this trend with his Kuri sideboard design for Novamobili. There are so many different finish and colour combinations to choose from it feels like the Rubik's Cube of the furniture world. Kawamoto sums it up well:
"The key is the range of materials and colours, which can be mixed and matched at will to best suit individual style and personality, giving you so many combinations to play with." Makoto Kawamoto
So, leather, pleats or half and half… whatever your style we know we will have something at Go Modern that will suit you.  Our Kings Road showroom is open again (by appointment) and we have lots finishes and fabrics for you to play with.  And we love you to take samples home and have fun.  Be unique.