Spending much more time at home has undoubtedly reacquainted many of us with the best and worst bits of our homes. And from the chats we've been having with customers, the issue of storage, and in particular wardrobes, is a hot topic. Welcome to customised wardrobes.
Wardrobes – one of our specialities
Bedroom wardrobes are one of our specialities.  In fact we'll go as far as to say we have possibly the largest collection of freestanding and customised wardrobes in the UK.
We also love being presented with a challenge (yes even in lockdown, we just can't get enough of them!).  Awkward, problem spaces such as loft rooms, below the eaves, under-stairs… We love them all.  They're not 'awkward' or 'problems', to us they're 'fascinating projects'. Our expert design team and superb installation chaps provide the perfect designs and the perfect fit. The secret – customised wardrobes; and we can deliver and install anywhere in the UK.
We're also pretty expert at working out what you need 'virtually'. We've done a lot of this since lockdown – but it's nothing new for us.  We've always been able to advise customers in this way and we've fitted lots of wardrobes without stepping foot in a customer's home.  Although we'd obviously rather meet our lovely clients in person where we can. You can read our guide to choosing the right style of wardrobe here.
The best in the business
We only work with the best in the business when it comes to wardrobes.  Our brands include top European names such as Jesse, Novamobili, Battistella and Lema. They're basically the gods of wardrobe design.
All of these brands offer wardrobes with lots of flexibility that can be adapted to suit any style and space. In most cases there are several sizes, colours and finishes to choose from, as well as the very useful option of customisation.
Novamobili – big on ergonomics and function
"The values of modularity, flexibility, and cross-functionality… inform our design philosophy, which is geared towards offering innovative, one-off custom-made furniture solutions" – Novamobili Studio
Novamobili design furniture solutions that serve real needs and importantly stand the test of time. That's why we love them. Every year we're bowled over when we visit them in Milan, and one of our highlights is seeing their inspiring and innovative new displays.
The Gola wardrobe, above, is one of the company's latest designs.  It comes in various widths, allowing you to vary the composition, which is practical and aesthetically pleasing.  The design can also be recessed, set against a wall or fitted in a corner arrangement.  And it's this kind of flexibility which makes them such a popular choice with our clients. The example shown here has hinged doors but you can also choose sliding doors. Plus they're big on detail.  The profile handle on the Gola, for example, can be built into the door and also positioned on the right or left.
The Gola configuration in the image above has been used cleverly to partition a room.  The result, a stylish sitting room area away from the bedroom.  There's tons of storage space, and a recessed section has been fitted with a Media Unit/TV screen that cleverly swivels to reveal yet more storage.  We like to think that some of our excitement about this brand may now have rubbed off on you.
Novamobili's Alfa wardrobe (at the top of this post) has been customised to fit below the eaves in a loft room, and it's a design that works equally well under the stairs.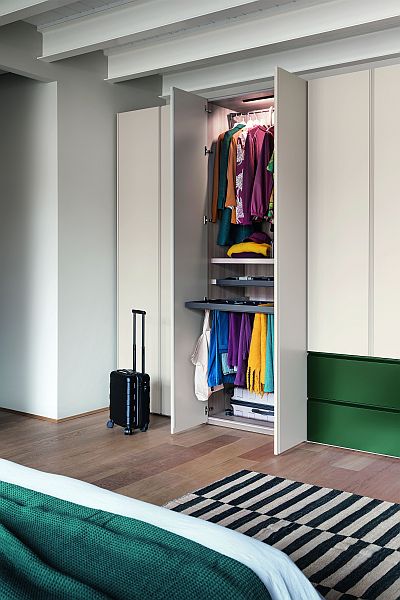 Accessorise – more space, more time
We all know how important the right accessories are. A well planned and fitted wardrobe will hold so much more, saving you time… and head-space.
Our wardrobes are all made in Italy and, cliché or no, Italians love stylish clothes and good design.  As such our wardrobes are as carefully designed on the inside as they are on the outside.  The result is a range of accessories not usually found in the UK market.
We offer clever pull-out trays, pull-out racks for trousers, ties and shoes, pull down rails and pigeon hole storage.
Definitely the kind of effortless glamour and practical style that is synonymous with Italian life, from fashion to food to interiors.
Another new release from Novamobili is the beautiful Layer sliding door wardrobe.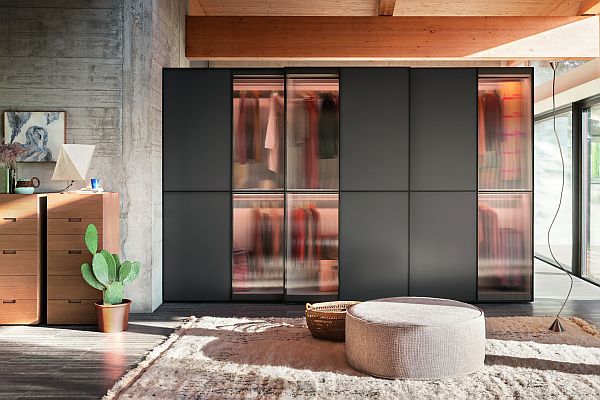 The doors for the Layer wardrobe are offered with several different choices, and you can also mix-and-match the finishes.  The wardrobe shown here has reeded glass and quarzo matt lacquered doors with a bronze frame. The glass is also offered in a smoked glass finish.  Choosing this contemporary glass style easily allows you to keep track of your contents.  And with your carefully chosen accessories, keeping it looking neat and tidy will, of course, be effortless.
To create a unique-to-you design, combine glass with non-transparent finishes, such as panels in matt lacquered, eco-wood, melamine, or super-matt lacquers. Each compartment has also been fitted with LED lighting which is practical and adds some great ambient lighting.
Lema: Luxury aesthetics x high design
"One of the unique features about Lema is our strong ties to the world of design. Throughout the history of our company, we've teamed up with leading designers, combining our production expertise with their talent to great effect" – Lema
Lema has opulence and sophistication running through its DNA.  Everything it does exudes style. It's also one of the biggest Italian manufacturers in the world.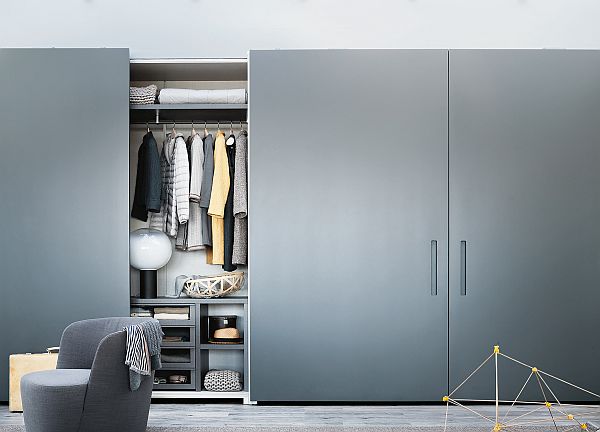 What more can we tell you?  Take their Ellevi wardrobe for example. Its beautifully minimalist design will slot seamlessly into any space.  The doors have one perfect, continuous surface. Very usefully its depth can also be customised. Then choose from hinged or sliding doors, with finishes in a variety of glossy or matt lacquer shades.
The Ellevi also offers you a choice of fabulous detailing in leather and fabric, across accessories such as drawers and shelves.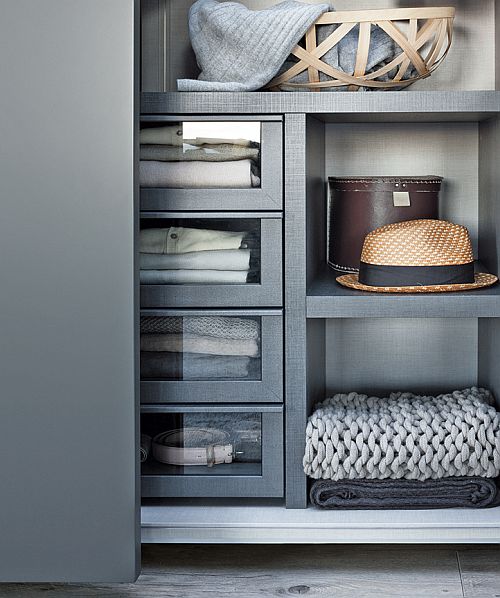 Jesse – always ahead of the (design) curve
"Italian design with a pan European feel". Jesse is a company with an attention to detail, elegance and modernity that is exemplary.
"Our strength is the passion, our goal is to create value for our customers" – Jesse
Jesse's bedroom furniture is hugely popular with our customers, and the company has an excellent collection of designs, including a variety of walk-in wardrobes, to choose from. We also have some wonderful examples of their work on display in our Kings Road showroom.
Upholstered finishes
The uber-stylish Trench wardrobe from Jesse features doors that are completely upholstered in leather. The effect is stunning and amongst some of the most luxurious design we've come across. The leather is also available in four shades: bianco, nero, corda and testa di moro.  Although this particular design can't be completely customised, there are various heights and widths to choose from.
An upholstered Jesse wardrobe that is customisable is the fabulous Hopus. Options include fabric or Econabuk leather or you can supply your own choice of fabric (so long as Jesse approve it for use of course).
The doors of the Hopus have a slim perimeter 'profile' design, with a stylishly integrated long handle (seen here in a dark brown finish).
So, for a show-stopping choice of customised Italian designed and made wardrobes you've come to the right place. And we think we amply demonstrate: Italian glamour and style is definitely not a cliché.