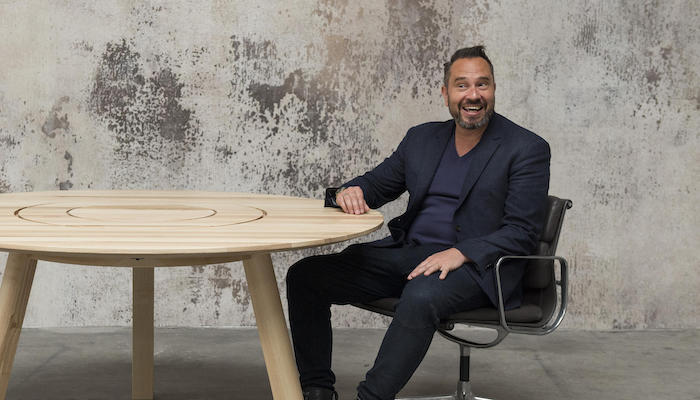 We interviewed renowned Belgian designer, Alain Gilles, ahead of Salone Milano 2023.   With a sneak preview of his new designs.  Alain has created good design for some of the best known furniture and lighting companies in Europe. Including Bonaldo, Saba, Miniforms, Buzzispace and Ligne Roset. He has won numerous awards over the years for his innovative, distinctive designs.
Alain began his career in another world entirely – obtaining a degree in political science at Universite Libre in Brussels.  Then a masters in Marketing Management before working in  international finance. Before following his true passion and devoting himself to the world of design.  He enrolled on a course in Industrial Design and in 2003 began collaborating with designer and sculptor, Xavier Lust. He founded the Alain Gilles Studio in 2007 and hasn't looked back.
We discuss his design philosophy, how he collaborates with different clients, concepts, the key to a successful design. And his plans for the future.
NEW FROM MILAN DESIGN WEEK 2023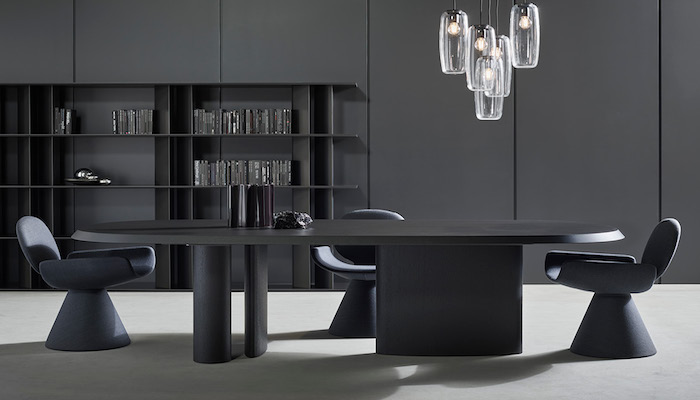 BALANCE AND CONTRAST
Hot from Salone Milano 2023 – Alain Gilles' latest design for Bonaldo – the Padiglioni table and Youpi chair.
"I drew inspiration from the iconic Barcelona pavilion designed by Miles Van Der Rohe for this piece.  I call it 'micro architecture." says Alain.
"The focal point is the base which is made up of three asymmetrical elements.  Each with a particular shape and placed in an apparently random position in order to make the composition visually dynamic. As you move around the table, it changes it's appearance, depending on the angle you view it."
"The top is linear with a tapered edge and contrasts with the legs to complete the shape."  Padiglioni comes in three sizes and is made from mono material.
It is teamed here with another of Alain's pieces, the popular Dogma modular bookcase, another good design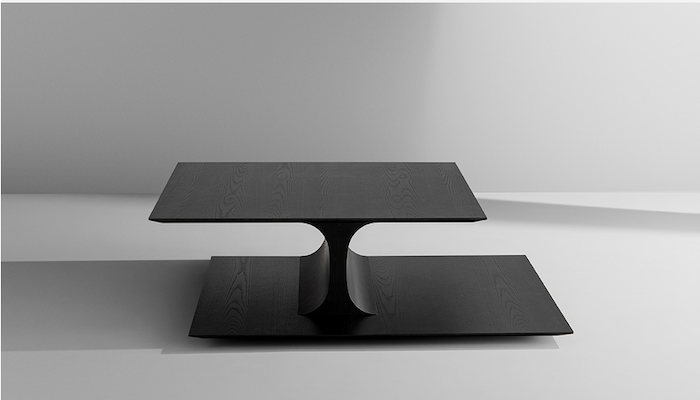 JAPANESE INFLUENCE
Clearly inspired by Japanese culture, Alain's Kasumi coffee table for Bonaldo is his homage to Noh, the ancient, traditional Japanese theatre. "Made from wood, the good design features two flat surfaces comprising a large lower section, and a smaller upper section which is offset." explains Alain. "The two surfaces are connected by a vertical supporting column in a curved shape to soften the geometric lines of the surfaces."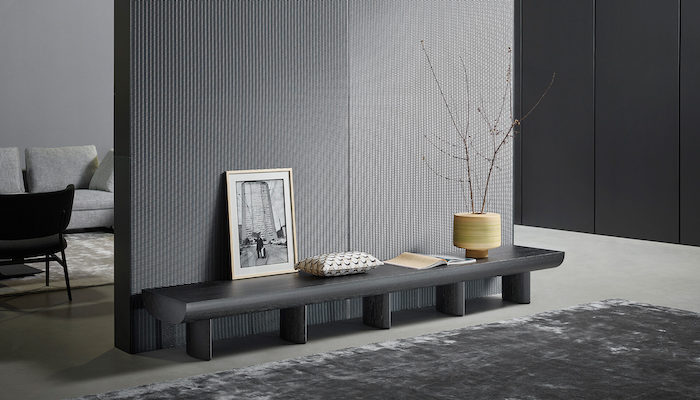 WORK OF ART
As the name suggests, this low profile TV stand is called Sculptural because that is exactly what it is. A wooden piece of art – that is also useful. A single piece of wood forms the top, supported by Alain's signature leg shape. "The surface develops in a downward arc supported by the low legs." says Alain. "I also designed a clever cavity at the back to conceal all the ugly cables associated with tv's. The Sculptural could also be used as a low console table."
GM: How would you describe your design philosophy?
AG: I work on what I have come to call 'Simplexity', which means pieces that are easy to understand, but that actually have different layers of understanding, if that makes sense!
The Big table for Bonaldo, or the Barry table for Miniforms represent this concept well. Good designs that have the perception you have of the products evolves as you walk around them. The Big Table will almost appear to be moving, as when I was designing it, I was looking at creating furniture pieces that were non-static.
The Barry table's visual weight will appear different as you walk around it. As the curved metal legs will either appear wide or extremely thin depending on where you stand.
I also work on a process I call 'New Simplicity'. Creating pieces that use less material but still have a well-defined personality. Overall, I believe good design and my design philosophy is warm, generous, graphic and architectural.
GM: You have collaborated with Saba, Bonaldo and Miniforms – all of whom are our partners.  What do you enjoy about the process of designing for different clients?
AG: In general, I believe a good design is when the vision of the designer and the brand meet. Where the DNA of both parties merge within the project.  Working with different companies gives me the chance to explore different aspects and to investigate new creative possibilities.
Each company has it's own specific knowledge, it's own positioning, its own colours and materials, style etc.  All of this gives me more freedom to develop my own vision when I have a new concept in mind. And actually, I never see any of the brands I work with as a client. I see them as a partner, since we will strive together to make the best possible design. A project that makes sense, has long-lasting qualities, and who knows, could even one day become a design icon.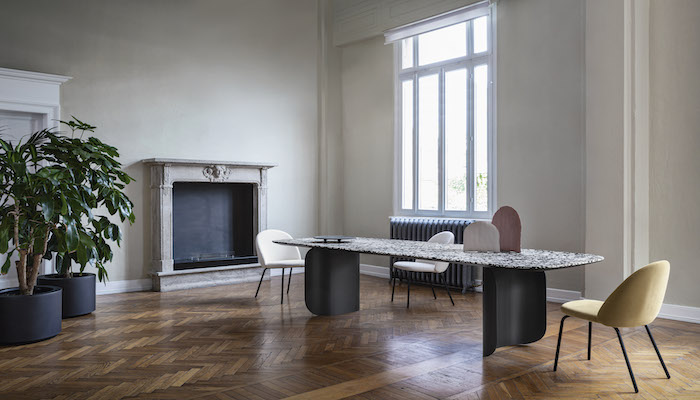 GM: How do you change the way you design for each individual client?
AG: I believe there is a red thread in what we design, for each company we have a slightly different approach. For some companies, like Buzzispace https://www.buzzi.space/ and Greenmood https://greenmood.be/ are very active on the contract and office side of things. The functionalities will be the dominant aspect of good design. While for pieces that go into a home the visual aspect of the concept will be more important. And importantly, all the pieces need to be easy to use.
GM: Are there particular pieces of furniture you enjoy designing?
AG: I would say that I enjoy designing what I haven't designed before, or with materials that I haven't used before. It can be more challenging, but that also makes it all the more interesting.
GM: Are there any particular challenges when designing certain pieces of furniture?
AG: One difficulty is finding the right balance when working on the comfort of an upholstered piece of furniture. People's idea of comfort varies greatly from one country to another and I work with brands that sell internationally. So it is all about finding the right compromise and testing the pieces in real life.
GM: How do you arrive at the concept for the design/shape/material
AG: As far as I am concerned, a good design always starts with an idea.  I have a general vision of something I want to work on, or something I want to express. Then little by little, that idea is translated into a shape that best expresses the overall philosophy. I like my designs to be strong, iconic, but also understandable. So when designing I have to make sure that the shape correctly conveys the message.
As opposed to most designers, I don't really enjoy sketching – to say the least!  Probably because design is my second life. When I started designing I went straight to 3D!  I begin by doing small mock ups on a 3D program. Then refine them step-by- step until am happy with the end result.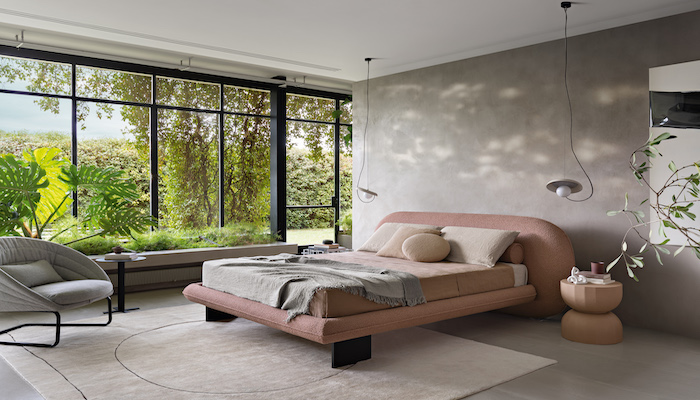 GM: Is colour important to you?
AG: Colours and materials are very important to me. That said, because the first phase of the project is done on a 3D program. We tend to fully define the materials and colours at the second stage when we work on the 3D renders. I like to show how a specific design looks using different materials and colours. Then it can evolve over time as trends change. I also sometimes use colours and finishes to highlight the architecture of a product, to create a new dynamic.
In our Wabi bed for Saba, it's the contrast between the materials that accentuate the unique architecture of the piece. It gives the impression that it is floating. The bed, in a way, only has two legs since the headboard acts as the back legs. A good design, it is visually connected as the base and mattress are upholstered in the same material.  Thus forming a T-shape, which is supported by wooden legs at the front. They have a totally different design language, to be as distinct from the overall shape as possible.
GM: What in your opinion, is the key to a successful design?
AG: It is very difficult to predict which products will eventually be successful as it is down to so many different things. Timing, good design, price, distribution, evolution of the market, etc. So basically, I always try to design products that are interesting, usable and that I am proud of having designed. The rest is down to people's personal choice and the market!
GM: How do you keep up to date with new designs and what is happening in the industry?
AG: I look on the main websites or social media accounts talking about good design, architecture and art in general, to see what is happening. I also visit several international furniture fairs every year to see what is new. I believe it's important to know what is happening. Just like politics, design is a discussion, with different opinions or trends. It would be very disappointing for me to spend time designing something original to then find out that it already exists.  All my work would have been for nothing.
GM: What is your favourite material to work with at the moment?
AG: Rather than a material, what I am enjoying designing right now are monolithic pieces. Sculptural or architectural pieces made out of one, solid piece of material.
GM: Is sustainability a key part of your designs?
AG: I believe in well-conceived and well-designed products that will stand the test of time. We work in the luxury end of the sector, so our designs are not meant to be transitory. In fact, most of our pieces will have a second or third life in the second-hand or vintage market.
We like to work with simple and honest materials – wood, metal, glass and ceramic.  All natural materials that can easily be taken apart and recycled. A lot of these materials are crafted locally in Europe by skilled artisans.
We are also currently developing new pieces in alternative materials like recycled cork for example. And looking deeper into other recycled materials that have their own beautiful aesthetic. We had experimented with alternative materials a long time ago but people weren't ready for them.  Now sustainability is at the top of everyone's agenda and they are more popular.
GM: What is next for you?
AG: We are currently working on a new collection for the design agency Greenmood https://greenmood.be/en/home.  Biophilic pieces that are good designs to improve the wellbeing at work, and indoor public spaces in general. Greenmood make green walls using specially preserved plants which take less care than living walls. They reduce noise pollution, add beauty and boost productivity, it's a wonderful concept.