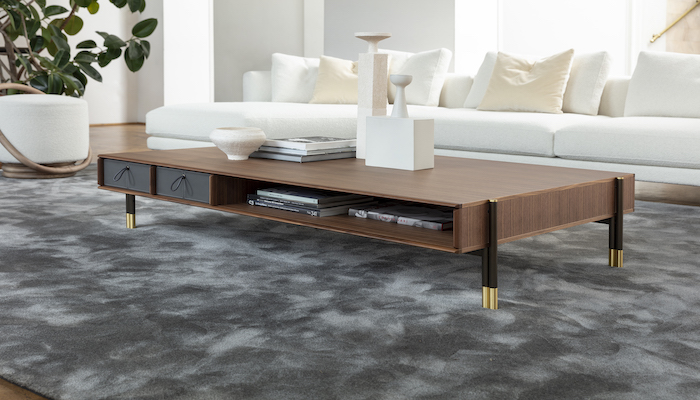 8 ways to warm up cool shades and make your home feel cosy.  How to add furniture, accessories and lighting to warm up a cool-toned room.
Cool shades are sophisticated and always popular, particularly in minimalist schemes – and they never date. But they can sometimes feel a bit austere, so what do you to add warmth? We show you how.  And we also asked leading interior designers for their tips.  On how to warm up these cool shades to create an inviting vibe.
Firstly try to avoid a purely white room. When lots of cool tones are together, they bring out the blue in each other.  So opt for cream rather than white, which will add warmth with it's yellow undertones. Or use grey with a hint of lilac to add subtle heat to a scheme. Adding texture with wallcoverings or flooring, natural materials such as wood.  Or bringing in different dimensions with accessories, cushions, throws and artwork. These will all add much needed warmth to a cool room.
1. Look for warming furniture and fabric choices
In a cool toned room, choose furniture with depth as a way to warm up cool shades. Instead of oak, go for something like canaletta walnut like the Bayus coffee table above. Designed by Gabriele and Oscar Buratti for Porada which is a warmer hue, to balance out the cool tones in the room. It can be left natural as it is here, or stained in wenge for an even deeper tone. It also has dark legs and brushed brass feet tips to add a touch of shine.
There are three compartments on each side which can be left open. Or you can insert up to two drawers per side in a matching finish or in leather. It sits in front of a white sofa which has been covered in tactile boucle, adding texture and warmth. Cream rather than white cushions have also been added.
Also in the range are a bedside table, chest of drawers, TV unit and shelf unit.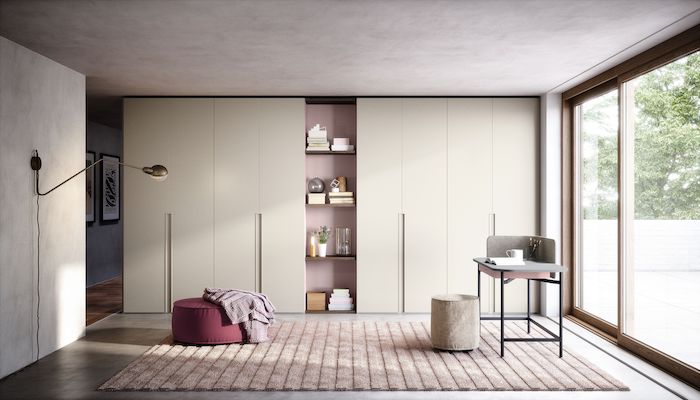 2. Pick neutrals with a warm undertone
In a neutral bedroom opt for a cream wardrobe rather than white. Adding a subtle coloured panel in pink behind open shelves,  is a great way to warm the cool shades. And enhances the warm tone of the wardrobes. Strengthen the look by adding a pink rug and pouf, the trim on the small table is also pink.
The wardrobes are available in four heights and have a discreet, recessed, vertical handle on each door as a design detail.
Interior designer, Charlotte Luxford of Luxford Interiors adds. "Using pink alongside other neutrals can instantly help lift a scheme. And transform a potentially bland interior into an inspiring and welcoming space.  Blush tones work well with other warm-toned neutrals and touches of brass or gold. Try to avoid pinks erring on the blue-toned spectrum if you're looking to add warmth.  As they will throw things off and the scheme will look unbalanced."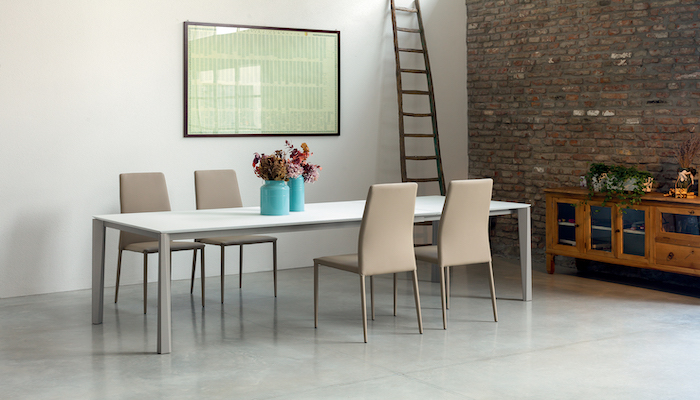 3. Stick to a complementary palette
In this dining room, different neutrals blend perfectly, with the warmer tones cancelling out the cooler ones. The sand shade on the Nubia dining chairs adds subtle warmth to the white table. And the wall is painted in a beige tone. The exposed brick on the feature wall adds depth, texture and a sense of history.  As does the vintage wooden ladder.
The Prisma extending table from Bontempi is great for a crowd and comes in a wide variety of finishes. The metal frame and legs are available in a range of colours. This model has an anti-scratch white glass top with white lacquered wood extensions and a sand-coloured frame. Which complements the dining chairs.
4. Add contrast with deep shades
A cool tone, dark grey, South Kensington sofa designed by Rodolfo Dordoni for Molteni&C.  The grey is offset by the tactile nature of the wool fabric.  And also by the warm wood panelling on the wall behind which is the ideal way to warm up cool shades. The wood grain in the panelling offers depth and texture, and cream cushions contrast well. The rounded shape is welcoming, and having low lighting adds to the warm feel.
The sofa is available in a two or three seater version and there is also an armchair in the collection.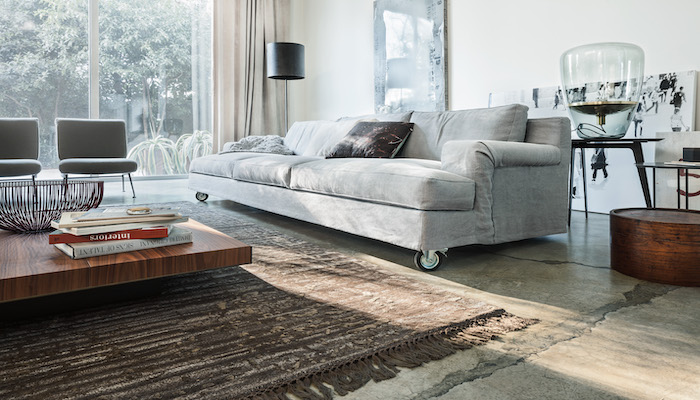 5. Include texture for a lived-in look
The easiest way to warm up a cool-toned room is with lots of texture. Your sofa should say 'sit on me and relax' so choosing a fabric that looks welcoming is key.  The Aberdeen sofa from Lema here is covered in linen, which looks best when it's rumpled, then add cushions in deeper tones and a knitted throw with a hand-made look for a homely feel. A dark wood coffee table and box warm up the room, as does the textured and patterned chocolate rug.
The Aberdeen sofa comes in three sizes and there is also an armchair to match.
6. Choose mid-toned woods and warm design details
Mid-toned woods such as walnut are really popular at the moment and will add depth and warmth to a room. This reeded sideboard, Rigadin from DaFre and designed by Gordon Guillaumier is so on-trend. It also has a stunning Emperador marble top in a beautifully warm, golden tone. The solid wood ridged finish is Frassino Ash with a walnut stain.
Interior designer, Melanie Barnes of Elixir Interior Design says. "Cool-toned rooms can instantly be warmed up with pieces that add depth, comfort and personality. Think patterned cushions in warm tones, textured throws and unusual ceramics.  Texture is key in warming up a space, so maybe include a boucle armchair. Art is another great way to introduce colour and warmth. Terracotta, brick and rust tones are so on-trend at the moment and will instantly warm up a cool-toned room.
The top comes in four finishes. The one shown here, elettrocol lacquered metal, glossy or brushed marble and lava stone. The matching dining table is shown too.
7. Create warmth with accessories
Accessories are an instant way to warm up a room. Adding a pouf like this Domino Next design from Molteni&C and designed by Nicola Gallizia adds a pop of colour. But it also gives added seating or can be used as a table (with a tray on top). Choosing a warm shade like this plum tone adds warmth immediately and matching cushions on the sofa complete the scheme. A taupe coloured rug also adds texture and warmth in an otherwise neutral room and is a good way to warm up cool shades.
The pouf comes in five different sizes from a compact 45cm wide. To a huge 1.5m wide version for bigger rooms. There is also a bench in the collection.
8. Get the lighting right
Lighting is a quick and easy way to add warmth and these brass designs from Contardi are stunning. Even changing the light bulbs from cool white to warm white will have an instant impact. Choosing metallic lights in brass or gold will add warmth and a luxurious feel. Whereas silver or white which are cool tones and make a room feel colder.  Or choose wood or fabric for texture and warmth. Dimmable lights or light switches to achieve a low light level will also warm up a room.