1. CHOOSE VERSATILE PIECES THAT CAN BE SEATS OR TABLES
Outdoor accessories and lighting are the important finishing touch to your garden lounge. You may have your garden sofa and armchairs, but when friends drop in, it's good to have extra seats. Poufs are a great way of doing this and even better if they double up as tables too. These ones from Manutti are called Moon Island and have such a relaxed, lounge look. In conclusion, large round shapes that can be moved around to where you need them.
Designed by Gerd Couckhuyt, there are three sizes of table or footstool all of which can be used on their own. Made from a high-resilience self-draining foam and covered in a waterproof, stain-proof and fade-proof fabrics. The seams are welded as well as sewn for extra protection and will allow water to pass through. And base is made from powder-coated aluminium with invisible feet.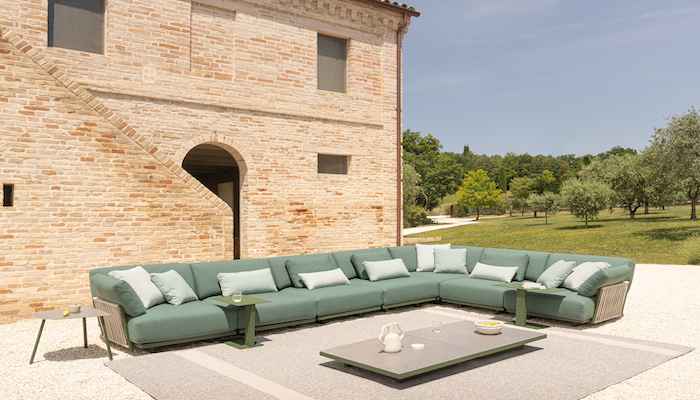 2. PICK A MUST-HAVE COFFEE TABLE
Outdoor accessories and lighting
A coffee table in front of your sofa is a necessity. Where else do you put your drink? Ensure it's the first outdoor accessory to consider.
This new model, the Solaris has been designed by Alberto Lievore for Fast. It has a strong weatherproof aluminium frame in a wide selection of colours. The table top can be selected in a matching aluminium colour to the frame.  Or there is a choice of two shades of speckled aluminium.  Also a range of ceramic porcelain stoneware finishes in natural shades. Ceramic stone is exceptionally hard-wearing, heat proof, scratch proof and completely fade proof. This one above has  a dark green frame and a cement ceramic porcelain stoneware top.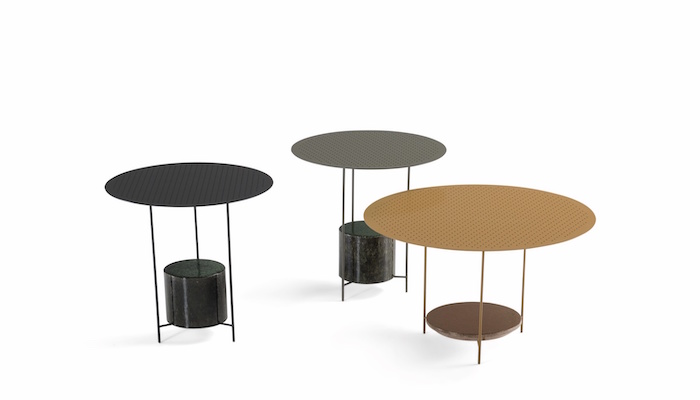 3. INDULGE IN A DESIGNER SIDE TABLE
Outdoor accessories and lighting
Fabulous new tables from Molteni&C are called Panna Cotta –  for a reason. There is a slight vibration of the top which resembles the Italian dessert! Designed by Ron Gilad the top is made from perforated steel with Etna lava stone as a counterweight base. Coffee and side tables are essential garden accessories.
Both heavy and delicate at the same time.  It is part of the Iconic Pieces range in the new Outdoor Furniture collection. And would make a statement in the garden next to seating. With eco-credentials too.  As the vitreous inserts of the lava stone comes from crushed recycled glass from TV and PC monitors. So it's got the feel-good factor.
4. ZONE THE SPACE WITH A STATEMENT FLOOR LAMP
Outdoor accessories and lighting
Add the wow factor to your outdoor space with this amazing, over-sized Cone floor lamp. Designed by Chiaramonte and Marin for Emu.
It's the ultimate outdoor lighting. Therefore giving light just where you need it and zoning the space. The frame comes in matt white or Corten lacquered steel and in two sizes, as does the shade. Pleated fabric is used for  the shade and comes in white or three other colours. It is powered by rechargeable lithium accumulators and can be left outside all year round.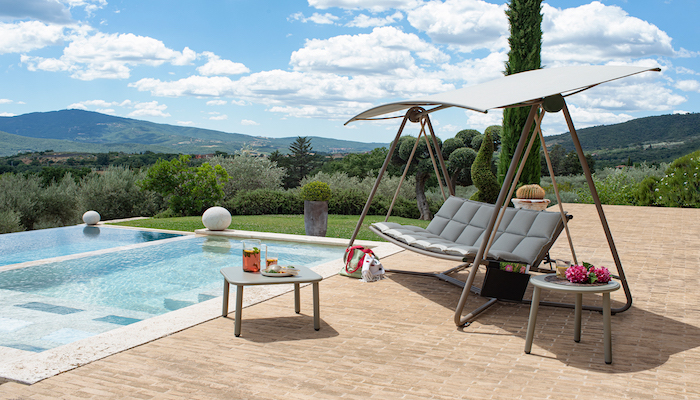 5. ROCK YOURSELF TO SLEEP WITH A SWING SEAT
Outdoor accessories and lighting
Rocking sofas or chairs are perfect for the garden. Therefore a touch of nostalgia. It's a garden accessory you won't want to be without. The ultimate in relaxation, an ideal spot to relax with a book, or a drink and a brilliant addition to your  outdoor accessories.  Rock yourself gently backwards and forwards, maybe have a little snooze. The new Reel garden rocking sofa has been designed by Pio and Tito Toso for Emu
Part swing, part sofa, and with a shaded canopy, it folds flat and turns into a large and comfortable daybed. A strong frame in painted steel and the canopy is in Olefin, which is water and colour-resistant. Olefin is also resistant to UV rays. The curved shape is part of it's appeal and here are three different colourways to choose from.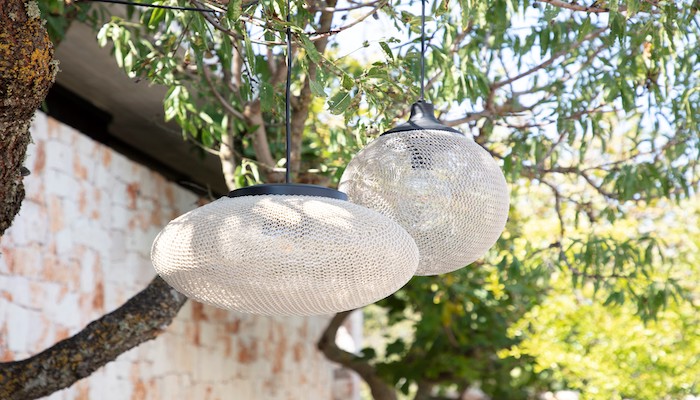 6. GO FOR A HAND-MADE LOOK FOR LIGHTING
Outdoor accessories and lighting
How about suspending these fabulous Tribu Monsieur Tricot garden lights from the trees?  Garden lighting with style. Offering a fabulous shape and focal point as well as light? Such a beautiful design by Ilia Eckardt who specialises in high level knits for design. Made from knitted polyolefin rope for a handmade look.
LED and dimmable, they come in five colours and there are four different shapes, all with evocative names.  Such as Monsieur Lebonnet, Madame Latoque, Madame Cachet and Monsieur Ellipse. There are also free-standing lamps in the collection.  All of the lamps work on re-chargeable batteries and can be operated via an app.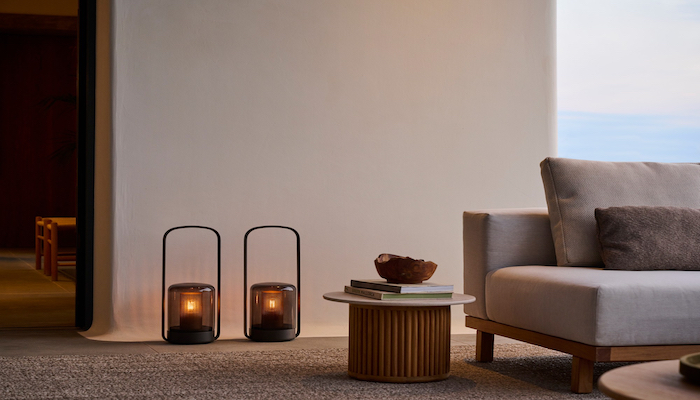 7.  CREATE A WARM GLOW
Outdoor accessories and lighting
Lanterns are a classic outdoor lighting solution. Offering a warm glow to create a wonderfully intimate atmosphere as day moves into evening.  These Luna garden lamps from Tribu have been designed by Yabu Pushelberg.  With a useful carrying handle, you can move them around the garden or patio.  And as they are cordless, there are no trailing wires to worry about. Made in a powder-coated wenge aluminium with a handblown glass shade.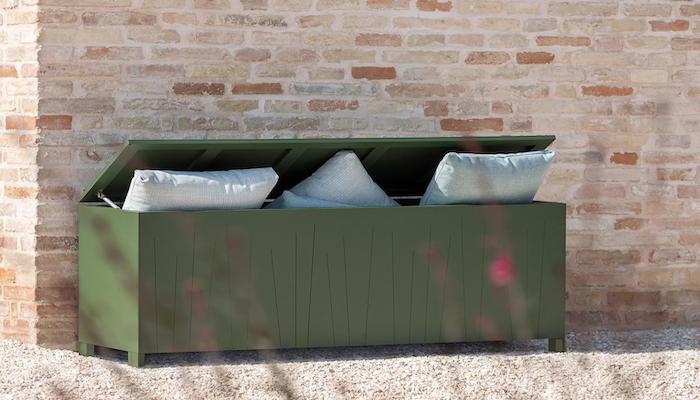 8. STORAGE THAT DOUBLES AS A SEAT
Outdoor accessories and lighting
Somewhere to put the garden cushions can be an issue. But not when the storage box is as stylish as this one. It's an outdoor accessory with plenty of style. The Ninfea storage box has been designed by Alberto Leivore for Fast.  With a distinctive decorative pattern etched into the surface as an added designer touch.
Made from sturdy, long lasting aluminium it has a weatherproof seal and the top has a scratch-resistant finish. It doubles up as a handy garden seat with a deep, comfortable cushion on top. The box  joins the popular Ninfea collection of sideboards and outdoor storage, and comes in a wide selection of colours.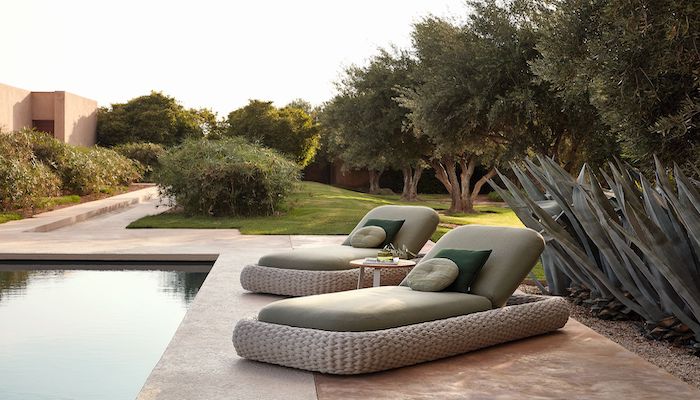 9. RELAX BY THE POOL
Outdoor accessories and lighting
Wouldn't you like to be relaxing by this pool right now? These Kobo sun loungers from Manutti look so comfortable. The deep base makes them look as if they are floating. Designed by Stephane de Winter. The Kobo collection features soft, curving lines created by using hand-woven rope resting on an invisible frame.
The rope comes in two colours, anthracite or pepper as shown here. Deep comfortable cushions have quick-dry foam fillings and a choice of water-resistant outdoor fabrics. Cushion seams are welded as well as sewn, so water just drains away. The super-comfortable cushions are deep and generous – the perfect place for an afternoon snooze in the sun.
10. MAKE AN IMPACT WITH COLOURFUL LIGHTING
Outdoor accessories and lighting
Make an impact with these fabulous, colourful pendant lights, Calypso from Italian lighting supremos, Contardi. The epitome of snappy outdoor lighting.  Designers Servomuto have taken inspiration from lampshade styles of the 1940's. There is a Caribbean is the influence with the colours with evocative names like Martinique, Antigua and Guadaloupe.
Available in two sizes, standard and extra large. The fabric is waterproof and the frame is satin brass with a green waterproof braided rope, they are IP65 rated. There is also a floor lamp in the same design and the range is available as an indoor collection too.