Milan Design Week is one of the highlights of the year at Go Modern.  The international furniture show, Salone del Mobile, spread across 20 exhibition halls is packed with exciting new designs and stands that, in some cases, could be theatre sets.
The city of Milan comes alive with visitors (the official figure for the show alone is a staggering 372,151) with pop-up shops, street installations, show room openings and a few cocktail parties thrown in for good measure. Known for it's food, fashion and museums in Milan – Italy is at the center of the socio-culture world of today.  And it's where we see the latest designs from our partners and keep an eagle-eye out for new products that we know our customers will love.
Materials and craftsmanship were the buzz-words, with heaps of individuality thrown in for good measure.  Glass, wood, metals and beautiful finishes including hand-painted touches.
Extra special was the 80th anniversary of Bonaldo, one of our long-term partners, who work with some incredible, award-winning designers, and who this year had created a series of pieces to commemorate the big birthday.
Designer Alain Gilles (he of the iconic, best selling Big Table) produced a number of new designs including the New Perspectives mirrors.  The oval shaped mirrors are designed to look as if they are reflecting another room, with the illusion cleverly created using hand-drawn lines in a cartoon/graphic style.
Gilles also created the Mass Table, with an unusual 'light' and 'delicate' base – a move away from the traditional table with its sturdy, solid frame.  Gilles says it's also a 'fun reference to hooped skirts of the 19th century, and the wireframe designers use in creating 3D designs'.  The Mass table (below) has a beautiful copper base – a metal still very much in evidence at this year's show.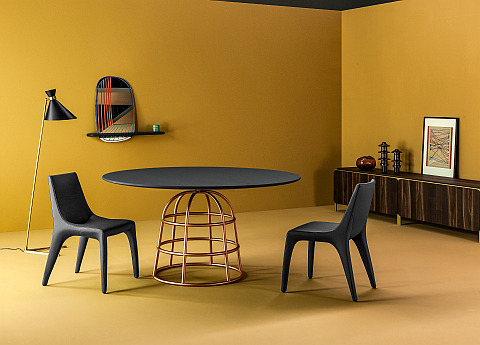 Como based Mogg, one of the newer companies to join the Go Modern stable, excited us with some truly great, innovative new designs, including the amazing Stucchi rug designed by Cristino Celestino for the company. A carpet imagined as a ceiling! Inspired by ancient classical ceilings, decorated with mouldings and traditional stucco, using flowers, fruit and little birds.  Too good for the floor?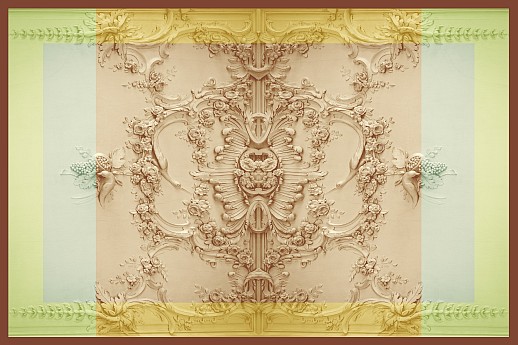 We also LOVED their Crytsal lamps... echoing the packaging used for antique chandeliers. They're made from solid wood with a steel frame and cable, and can be used as a pendant or table lamp. Designed by Marcantonio Raimondi Malerbra.  Definitely a light-bulb moment spotting these!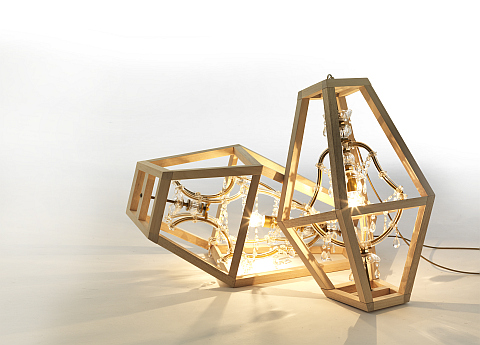 A brand new supplier for us and one that we are enormously pleased to welcome on board is Miniforms. Lots of  great pieces with designs for every room in the house and lots of stylish, colourful accessories too.  But their absolute piece de resistance has got to be Caruso – the 'musical' sideboard.  It's actually a sideboard with a speaker and Bluetooth 4.0 connection offering excellent sound quality, designed by Paolo Cappello.  The large ceramic trumpet is its 'standout' feature and it comes in lots of bright colours or a limited edition 24 carat gold-plated version with vintage oak. It's this one that will be gracing our Kings Road showroom soon!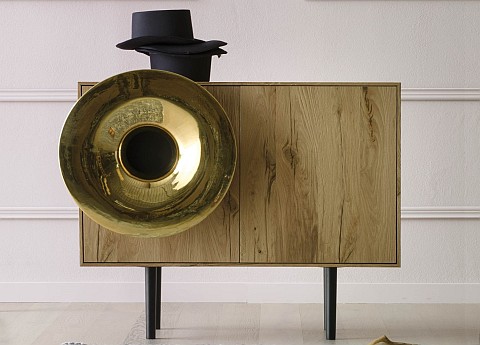 So just a few of the new designs from Milan that will be coming our/your way very soon – keep an ear out and make sure you don't miss anything.