Bedroom furniture for little people
So it's week two of the UK spring-school holidays and guess what?  We've noticed a marked interest in children's bedroom furniture.  With a very keen interest on storage.   There's nothing like a school holiday combined with cold weather to make us realise that our house is pulsating with a lot of small people.  And as a consequence just too much stuff! Obviously, we can't offer the Tardis but we can solve the problem of where to store everything. That's because we offer some fabulous bedroom furniture for little people.
Nidi + bedroom furniture + little people
Our Italian partner Battistella has come over all Mary Poppins like and created Nidi, a wonderful new range of children's bedroom furniture.  It's practically perfect in every way. The Nidi range includes everything from 'hidden' extra beds, to walk-in wardrobes, fitted cupboards, pull-down desks.  All combined with some very neat storage ideas.
It's modular! Choose as much or as little as you want
Nidi is completely modular.  Which means you can chose as much or as little of it as you want. They offer products in modifiable sizes, and tailor-made extras that will be unique to you.  So think extra cupboards, bunk bed steps arranged on an alternative side, pull-out toy boxes.  Nidi think of everything.
To illustrate what's on offer, we've featured some room set images to show just what can be achieved.  And look out for the nice finishing touches such as rugs and wall paper – they do those too.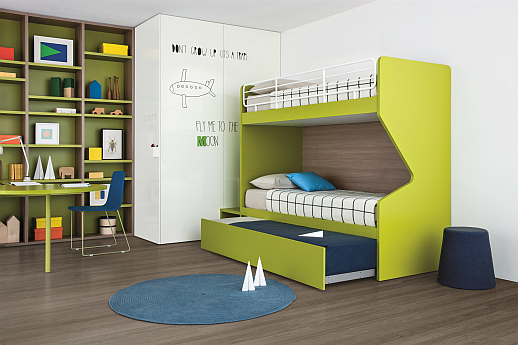 Bunk beds
The Gino bunk bed (above) has two beds, with a clever pull-out bed at floor level.  That's an ideal solution  for extra guests.  Or you can opt to use the space as extra storage.  Likewise, the top bunk can also be chosen as a 'tipping bunk' which will fold down neatly when it's not in use.
The neat wardrobe has been positioned at the side of the bunk and it's actually a 'walk-in' (from the side) with shelves and pull-down rails.  So no excuses for that well-know floordrobe!  There's also optional internal lighting.  And don't worry about the graffiti you might have spotted here.  The finish of the wardrobe is a rewriteable whiteboard surface (and it's dry wipeable in case the artwork turns out to be a little too inspired!).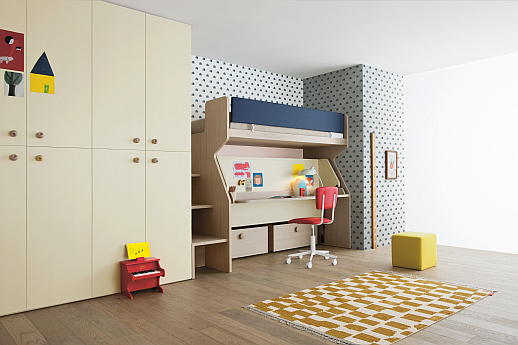 Hidden features
The Tippy bunk bed and desk is an incredible piece of design.  That's because it incorporates two beds, storage space and a desk all in one unit. The desk is pulled down, using a mechanised gas pump, to reveal the hidden second bed behind. When the desk is needed it simply pulls up.  The mechanism folds the bed away neatly behind it. And, a good one this for teenagers, you don't even have to move anything off the desk! Also available are wheeled storage boxes which will fit tidily under the second bed/desk.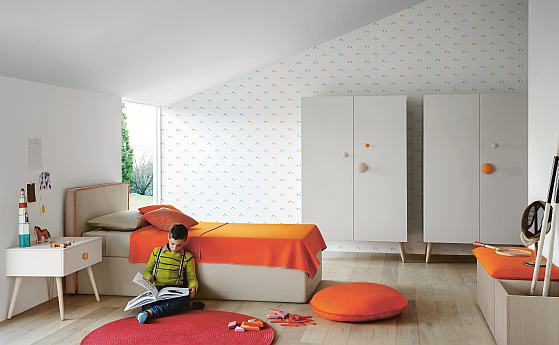 Children and colour
Children love colour.  And so do Nidi. Consequently their designs offer a rainbow's worth of them.  You can opt for everything from moody mauve to raucous red, with over 15 different lacquers in total.
Likewise, the design team at Battistella has also created a superb selection of finishing touches.  Noteworthy details include wardrobe door knobs in 14 different colours, four sizes and the option of three different positions.  How cool is that?  There are lots of really 'grown up' details too.
Have a closer look at the Hug bed in the shot above.  Check out the ultra-stylish blanket stitching around the headboard.  We thinks that's pretty cool. Pretty grown-up. Plus this superb stitched detail can be requested in matching or complementing colours.  And there's more storage on offer with an optional storage base.
Happy spring holidays! And may all your storage problems be little ones.
Note to reader:  The child in the above shot is a model.  We're assured that, even with our great Nidi furniture, his room isn't normally this tidy.