For design lovers everywhere Milan Design Week is the highlight of the year.  This international furniture show, on the outskirts of Europe's most fashionable city, is not to be missed. However, miss it we did, but after two years it was back in inimitable style.
For those not in the know, Milan Design Week is a mixture of immersive theatre, experimentation, design classics and future icons. It's where we go to meet with our existing manufacturers and designers and source new designs for the coming year. And we're delighted to say that Milan was again buzzing with creativity and excitement – and it was so good to be a part of.
Store windows became miniature pop up sets, ancient courtyards hosted glamorous cocktail parties, while showrooms had undergone makeovers and were fresh and inviting. As for the show itself?  Salone del Mobile's exhibitors' stands were the usual glorious mix of theatrical room sets and innovative designs.
Lockdowns had been good for creativity we decided. New and incredibly creative pieces were a plenty.  Sofas and beds featured gently curved ergonomic shapes (here's looking at you Alain Gilles…).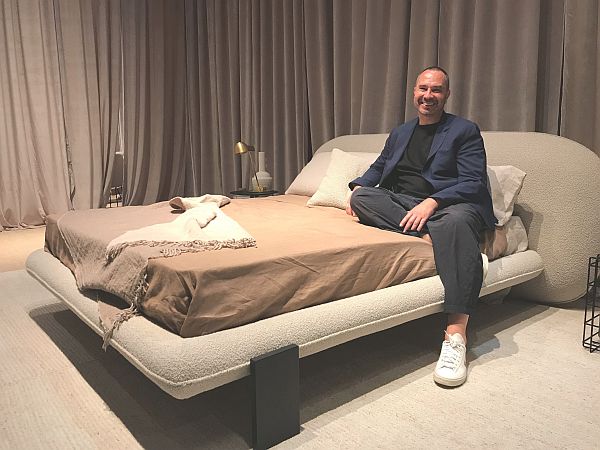 While table bases had become works of art with more than an element of sculpture involved. Fabrics and finishes, meanwhile, reflected our growing concern for the environment, with many using recycled textiles and sustainable woods. Best-selling Collections had been expanded and design classics given innovative new finishes.
Milan Design Week Highlights – Curves
It was a curvy kinda show. Having worked with the wonderful Bonaldo for a great many years a visit to their immaculate and beautiful stand is always high on the agenda for us.
And Bonaldo too had been inspired by the soothing, soft lines and gentle curves evident in many of this year's new designs.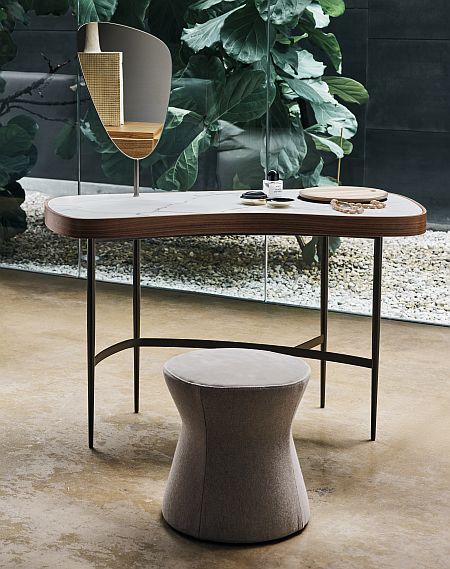 Their new Venus dressing table is a great example with a strikingly original top featuring beautifully smooth, rounded lines.  We loved it and, with Bonaldo's usual attention to detail, its range of accessories make it stylishly attractive. The asymmetrical oval make-up mirror sits to one side of the ceramic table top, while a useful storage compartment features a round walnut lid.
And so back to that new bed by Alain Gilles for Saba Italia.
Wow. Simply Wow. And Wow.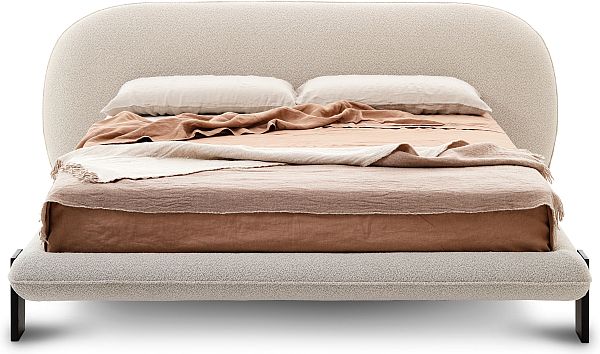 We had the pleasure of meeting up with Alain on the Saba stand and he was brimming with pride over his latest design.  With just cause.
The Wabi bed is magnificent.  The beautifully upholstered, over-large headboard has 'come to bed' curves on all corners of the frame and headboard, which also has a curved, padded central section for extra-comfort when sitting up.  What's more, the bed appears to 'float'. The legs don't feel fully part of the design concept (and can be positioned at the very edge or under the frame). There's a fabulous contrast too between the extreme curves and the minimalism of the design. Removable covers with lots of fabrics to choose from (seen here in a fabulous boucle).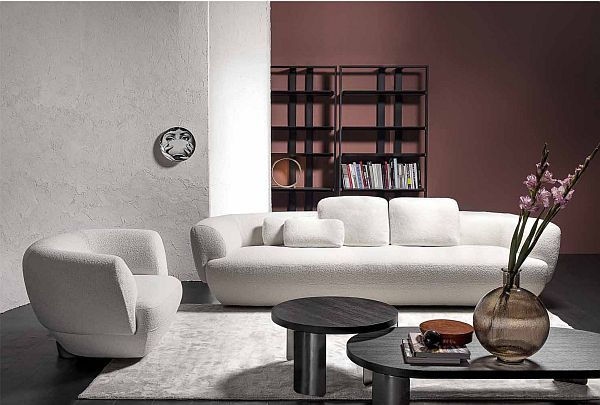 Vibieffe's new sofa and armchair, Confident, by Gianlugi Landoni, also embraced us with its curves (and Scandi looks).  This supremely comfortable design has a solid fir-wood frame and multi-layer upholstery with a non-removable fabric or leather covers. Vibieffe's fabrics also now include a fantastic eco range of recycled material. Bravo.
And yet more curves.  This time from Miniforms with the amazing Plauto dining table by our favourite creative duo Paolo Cappello and Simone Sabatti.  It's a great 'shape-shifting' design with definite curve appeal.
Milan Design Week Highlights – Ripples
Almost all of our suppliers had included designs with what we called 'ripples'. Or maybe they could be called 'ridges'.  They've been around for a while but this particular trend looks set to stay for awhile.
On display in Novamobili's central Milan showroom was one of their newest wardrobes which was a complete showstopper.  It featured an innovative, curved design with a ridged wood finish.  Spectacular. Novamobili specialise in highly stylish and incredibly good value wardrobes, modular wall units and home offices, all extremely flexible and customisable. Everything they do is also available in a wide range of colours and finishes.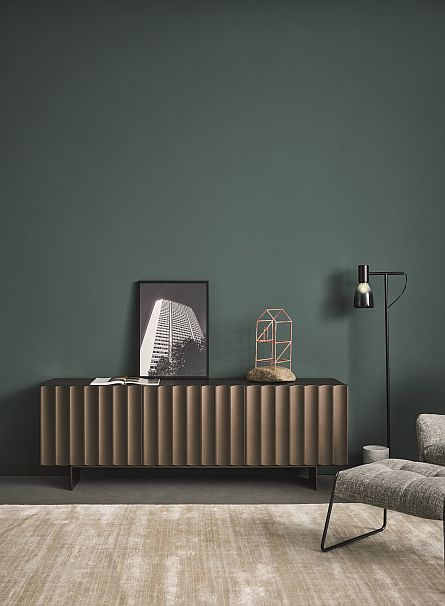 Bonaldo's new Dorian sideboard, by Spazioameno, also got into the groove. The dramatic finish also gave it a great sense of movement.  An eye-catching piece (and fab storage) for any room.
Milan Design Week Highlights – Eco
We were so impressed with the lengths manufacturers had gone to with efforts to combat climate change.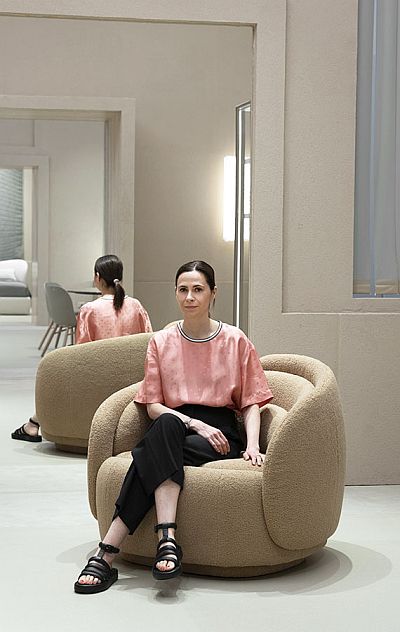 Venice based Pianca have exhibited at Salone del Mobile since its inception in 1961.  This year's calm and elegant stand was designed by the renowned Cristino Celestino who had also created a new seating Collection for them, Peonia (yet more curves). New designs too from Raffaella Mangiarotti and Federica Biasi.
Pianca's green credentials are second to none.  They put enormous emphasis on recycled materials, including eco-friendly recycled fillings and sustainable wood.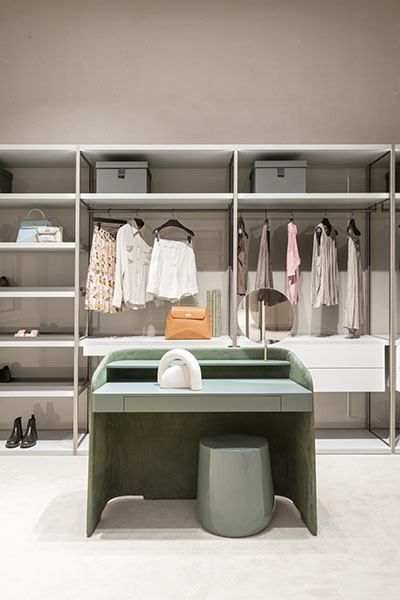 Their designs are also incredibly flexible.  Why?  Because they're offered in a huge range of widths and depths.  Which means they're incredibly useful for those non-standard spaces.
Manufacturing close to home has always been of huge importance to Italian companies.  Because of this most of these wonderful family run businesses have kept their manufacturing bases in Italy. And they are quite rightly very proud of this.  Not only does this cut down on the travel miles a product incurs it also means that the provenance of materials is much easier to verify.
Quite a few companies, particularly in the outdoor sector, have also started using newer, sustainable woods including eucalyptus and bamboo, along with traditional and sustainable wood such as teak.
Milan Design Week Highlights – Sculptural
If it's sculptural you're looking for, 2022 will be your year.  From tables to sofas and chairs the sculptural look was making its self known.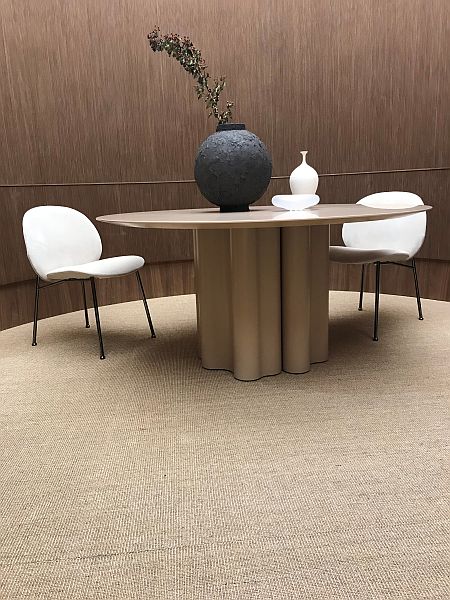 Say 'hello' to probably the sexiest table design we've come across.  Teatro Magico by studio Arch for Saba Italia wins the prize. Why?  Well just look at that base. Sculptural, rippling 'fabric like' (it's not) and a compositional freedom (the leg bases can be apart or together).  Another wow from us.
Elegant Porada gave their sculptural and spectacular Infinity table a new finish. We think the new marble top takes their signature design to another level.
So, until next year Milan!  In the meantime, keep an eye on the Go Modern website for all of the 2022 designs and much, much more.