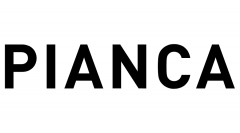 Pianca Italy are one of the industry's best kept secrets - manufacturing versatile & sophisticated wardrobes & wall units with one of the shortest lead times in the industry (usually 7-8 weeks from order to your home) thanks to their ultra efficient production. 
In addition wardrobes (hinged, sliding, & walk in wardrobes) from Pianca can be cut to size with no additional cost (straight cuts only) including height, width & depth, making these a perfect combination of the flair only Italian wardrobes have, with the ability to create a fully fitted wardrobe or dressing room/walk in wardrobe.
As well as wardrobes & wall units, Pianca have a beautiful collection of living room, dining & bedroom furniture, all of which is made in Italy. Established in 1956, making beds & bedroom furniture, Pianca are a high respected brand & in addition to home furniture can produce large numbers of wardrobes etc for projects.
Go Modern has been designing & installing wardrobes & wall units for many years, & our expertise & breadth of choice enables us to select the right option for you, from economically priced Cinquanta to the very top of the market, Molteni. We have childrens wardrobes from the Nidi collection, & as well as beautifully designed wardrobes from Lema & Novamobili all made in Italy & available in multiple sizes, finishes & designs.
For more details, international enquiries, trade enquiries, or anything else please feel free to Contact Us via email or phone us on 020 7731 9540, or visit our London showroom.