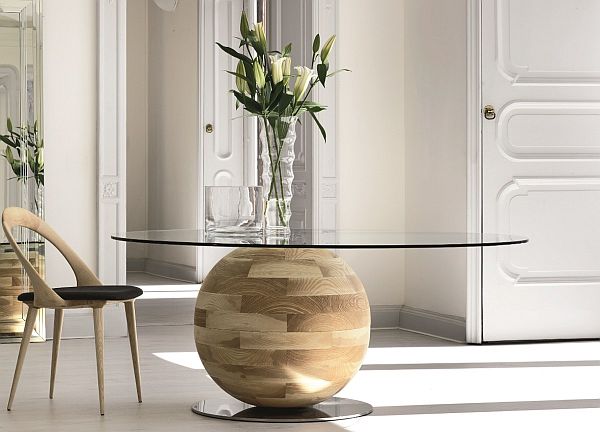 Embrace your curves! That's certainly our collective mantra for the New Year – it's all about curve appeal.
Most furniture design is rectilinear: all straight lines and squared off angles.  But if you're looking to soften your interior design style, curves are the way to go.  They've always been a feature of design but designers seem to be embracing them a whole lot more recently.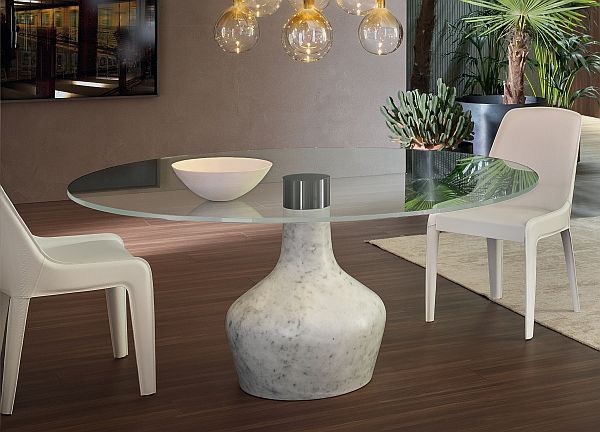 The Nature of Curves
That's maybe a reflection of our attraction to all things natural and, after all, the human body is definitely a curvy piece of design. The Romans liked their straight roads and Haussmann turned Paris into a huge building site for many years to achieve his beautifully grand, straight boulevards and city parks.
We've got nothing against lines and angles.  We're just suggesting that sometimes it's an idea to mix them up a little.  Bonaldo's Curling table (above) by Mauro Lipparani could appear cold and uninviting.  Lipparani carved the base from one single piece of marble and chose a top created from strengthened glass.  Cold, hard materials.  However, the beauty of these incredible materials is enhanced with the undulating curves and smooth curves of the design. Definitely a table with curve appeal.
The Hug of a Curve
Who doesn't like a hug? Curves are definitely furniture's way of giving you a hug.  Curves can create the perfect cocooning effect – ideal for a bedroom.
And of course of all the rooms in the house the bedroom is the sanctuary.  Where you want to feel cocooned. Even if you go for an austere grey colour scheme like the one above, which isn't particularly warm, the headboard saves it.  Along with the pops of orange/red from the throw, cushion and bedside table.
Bonaldo have produced a number of beds with curved headboards like the Basket Air bed here. It gently wraps itself around the top of the design suggesting an embrace. The upholstered base has also been given gently curved corners along with the round, minimalist legs, creating a quiet synchronicity.
Giving it Movement
Curves aren't just about curve appeal.  They also give a design some movement.
These pretty Geo Poufs from Saba Italia are a great example. Accessories such as poufs or side tables are a terrific way to mix up shapes.  If you've opted for a corner sofa for example, all straight lines and angles, throw in a couple of curved poufs like these and you've not only got extra seating you've also added personality to a room. The legs are optional and we guarantee the poufs don't literally have movement – with or without legs!
Get the Balance Right
Too many straight lines and you might feel hemmed in.  Too many curves and you might feel like you're in a kid's soft play area.  It's all about balance.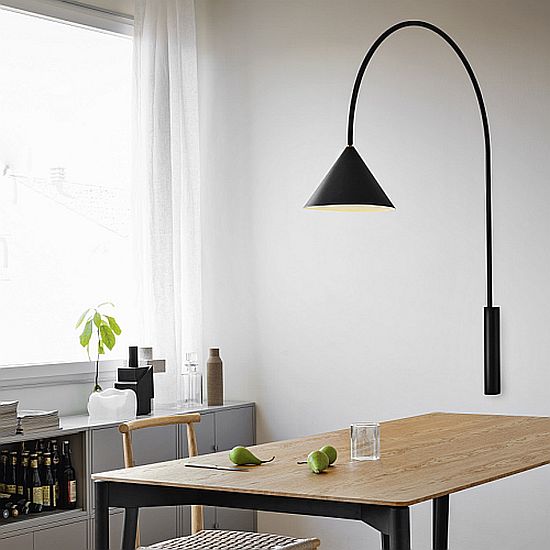 We love the cool curve of the Miniforms Ozz wall light.  It moves the design from the purely practical (it's a wall light) to something that has look-at-me appeal. The dramatic trajectory of the curve finishes and is juxtaposed with the triangular 'bait' of the lampshade. It looks fabulous paired with the rectangular table and squared storage unit. Curve appeal.
Curves and Emotion
We all, it seems, generally prefer curves.  Think glasses, iPhones, watches… the list is endless.  In *research undertaken back in 2013 it was discovered that people are far more likely to consider a room 'beautiful' when it abounds with curves and 'not beautiful' when it's filled with straight lines. Why?  It apparently gets our aesthetic pulses going.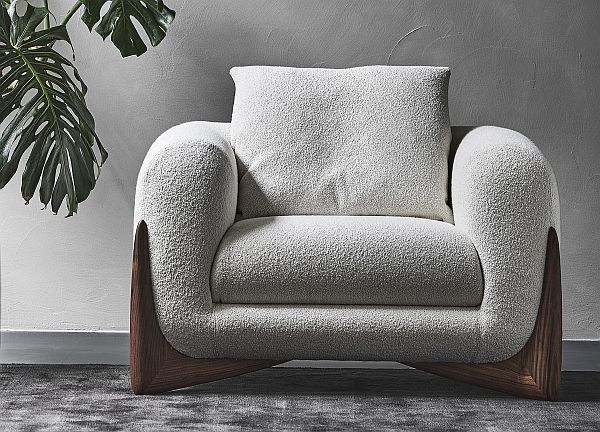 Voluptuous Curves
The Porada Soft Bay armchair is one of the company's latest chairs – and if it's a curvy armchair you're looking for, you've just found it. If a chair could win a prize for being voluptuous, then this chair get's first place.  Fabulous isn't it. There's also a sofa and bed within the Soft Bay range.
It won't suit a small space.  This is a design that needs plenty of room.  Its undulating curves and deep padding, plus the tactile boucle fabric used here, make it a chair that you'll find very hard to leave. It's definitely a design that shouts "come sit on me and never leave"!
So embrace your curves – our hearts and brains approve.
*Impact of contour on aesthetic judgments and approach-avoidance decisions in architecture – PNAS Proceedings of the National Academy of  Science of the USA