It's always fun at this time of year to look out for the coming year's predictions.  In our case the 2022 interiors trends.  Everyone, it seems, has their own set of predictions for what will be a dead cert in the new year. And frankly there are so many of them.
As yet our suppliers 2022 launches are all under wraps.  The international trade fair, Salone del Mobile, normally happens each April in Milan, and that's usually when we get to see what the designers and manufacturers have been working on.
So until then, we thought we'd do a round up of what the UK's leading interiors titles have to say on what's going to be hot in 2022.
Fluted
Top UK glossy Livingetc is very keen on fluted designs as one of their picks.  It's a trend that's been around for awhile and one we've always liked. We also spotted it everywhere during the London Design Festival. Livingetc describe it as:
'…vertical and beautiful three-dimensional lines.  Flat slats are dominating furniture design soon to be seen adding depth and subtle pattern to a piece of homeware near you.'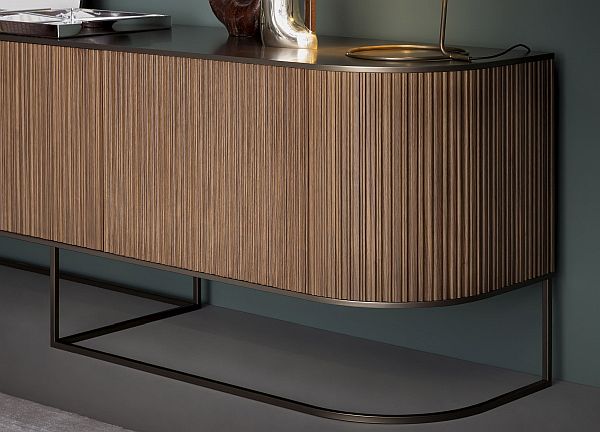 One of the latest sideboards, Dune by Bonaldo, is a perfect example of the fluted style.  It's a pattern we've seen replicated on everything from wardrobes to bedside tables. The vertical wooden ridges create a wonderful light and shade effect. It's a definite must-have in our book.
Eco-Friendly Design
All the big titles give a thumbs up for this one.  Livingetc, House & Garden, House Beautiful, Country Living – they all site 'sustainable design' amongst their top 2022 interiors trends. Here's what the House & Garden team have to say:
'..a stronger focus on sustainable choices, especially as there are now more calls on the government to stop pulling down buildings and replacing them with new ones, because of the huge quantity of natural resources used in making, for instance, steel.' 
Environmentally friendly, sustainable design.  It's definitely something we champion too.  Our latest brand signing is Pianca, one of the kings of environmentally friendly, sustainable design and manufacturing.  For them, however, it's not a trend.  This approach to design has been a major part of their ethos for many, many years.
All of the wood used by Pianca has FSC® Chain of Custody certification. This means it's sourced from certified forests, with carefully controlled logging to combat deforestation. Their wood panels contain no toxic adhesives. Their strong focus on the environment also includes upholstery. Pianca leathers are 100% sustainable, which means they're produced without using heavy metals. And they offer eco-leather, a faux leather that looks like the real thing.
In 2005 Pianca were one of the first companies in Italy to completely overhaul their paint systems. They now exclusively use environmentally friendly water-based paints and varnishes, significantly reducing the release of polluting solvent emissions. In 2011 they switched to solar power for all of their manufacturing. They also reuse processing waste to produce heat energy, reaching their target of using 100% renewable energy. All packaging is made with 100% recycled material.
As far as environmental credentials go, Pianca are hard to beat.
Reworking the Living Space
This is another biggie 2022 interiors predication from almost everyone. Based, of course, on the fluidity of the way we're all living and working at the moment.  Which generally means carving out useable space for working from home.
Many new builds also combine kitchen/dining and living space all in one room.  Pair this with trying to find some 'working from home space' and many of us have working from home headaches.
However, we think we've found a great solution in screens or 'double-sided' bookcases.  Bontempi Casa's Charlotte bookcase, above, has attracted a huge amount of attention.  It's modular, which means you can opt for a combo of shelves and closed 'containers' to suit requirements.  And the eagle eyed of you will, of course, have spot those fluted fronts!
The beauty of a design like this is that it doesn't block the available light source.  Moreover, it's also useable from both sides if it's ceiling mounted.  It's what we call a win win piece. Hugely useful for dividing living spaces alongside providing ever needed storage.
Sleep Sanctuary
According to House Beautiful:
'Bedrooms have had to work harder than ever over the last 18 months, for many of us doubling up as home offices as we navigate working from home. For 2022, there's a desire for the bedroom to return to a calm, peaceful sanctuary to retreat to'.
We think that since that copy was filed the rules have changed. Again. Working from home is back on the agenda. It looks like a pattern/way of life that is going to be here for quite some time. But the idea of your bedroom being a sanctuary as well as a work space doesn't have to be the non-sequitur it seems.
If your bedroom does have to double as the office we have a number of suppliers with the ideal solution. Pianca's Plana wardrobe is one example. As it's a modular design you can opt to have a 'hidden' desk, shelves and space for cabling incorporated into the structure.  Which means that at the end of the working day you can just close the office door and reclaim your sanctuary.
Cottagecore
Apparently, one of the biggest searches this year across Google and Instagram has been 'Cottagecore'. This is down to the desire for a 'dreamy, rural idyll' and 'an attempt to bring the outside in'  The Good Life if you like.
We can't claim this as something we major on as a retailer of contemporary furniture. We do, however, love the idea of mixing and matching old with new, maximalist with cool Scandi.  And basically finding your own style.
So if you're keen to bring nature and wildflowers inside and take on a bit of Cottagecore, but want to hang on to your contemporary feel, our huge range of fabrics are probably the way to go.
The Missoni Home Tiamat sofa (above), for example, is covered in one of their colourful and iconic floral fabrics. And if when you've tired of the rural vibe and fancy something a little calmer, lots of our sofas and chairs come with removable covers. Opting for something that allows you to follow trends without completely ditching every bit of furniture you own might be the way forward.
So, there you have it, five of the top 2022 interiors trends.  For now that is!