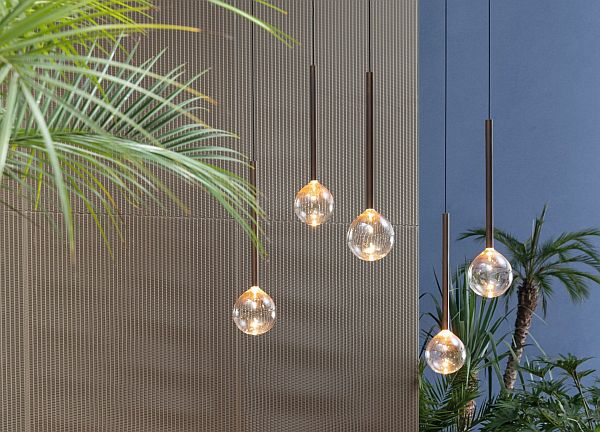 It's getting darker earlier.  How many of you dread these short days?  Yep, us too.  Is it time to up your game on the home lights front?  Probably.  So let's throw the spotlight on current lighting trends, because good lighting can make all the difference to these cold, dark winter days.
Along with furniture, many of our leading suppliers also have superb contemporary lighting collections. Which means a greater choice for our customers. Unlike many stores where you are relying on the taste of a single buyer we are able to offer the very best from an eclectically wide range of designers and manufacturers.
Glass Globes
One lighting trend that seems to be reflected in all of our newest collections are spherical and sculptural shapes. In other words lots of glass globes.
Bonaldo's Sofi lights are a perfect example. Featuring a single glass globe, Sofi can be hung as one solitary light.  The design also looks superb in clusters.  Try using them together over a table or breakfast bar in an eye-catching display.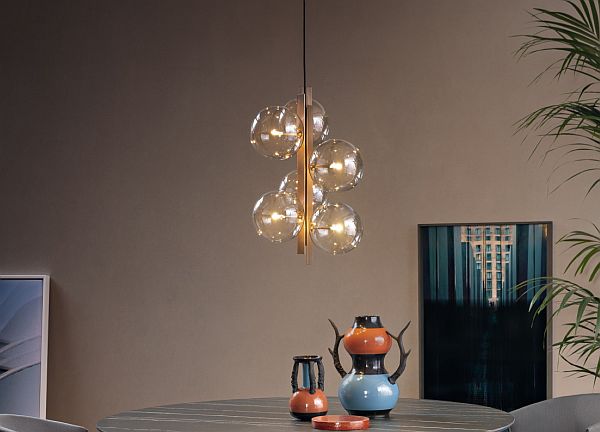 And here's the globe idea again.
Bonaldo's Bon Ton lights look like a suspended glass sculpture.  The structure features globes positioned irregularly around a central metal 'blade'. Moreover, you can choose to style the piece very minimally, with just one globe, or clusters of three or six.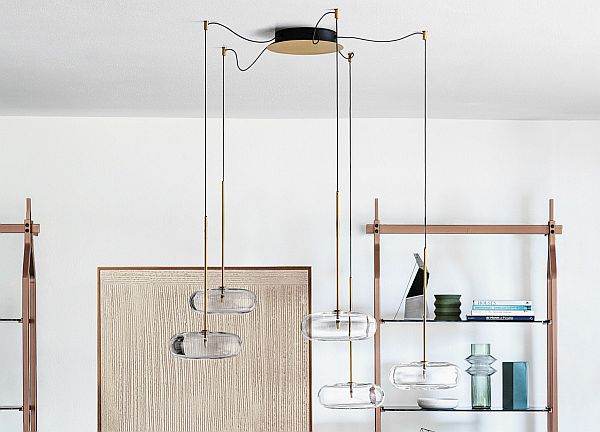 Manufacturer Bontempi Casa is one of Italy's oldest furniture companies. They too have chosen globes for some of their latest lights.
Amongst them is Spark. Each flattened, spherical glass shade in Spark is made from borosilicate glass, designed to be more robust and heat resistant than ordinary glass. Borosiliate is glass ordinarily used in cookware etc. so as you can imagine it's fairly tough.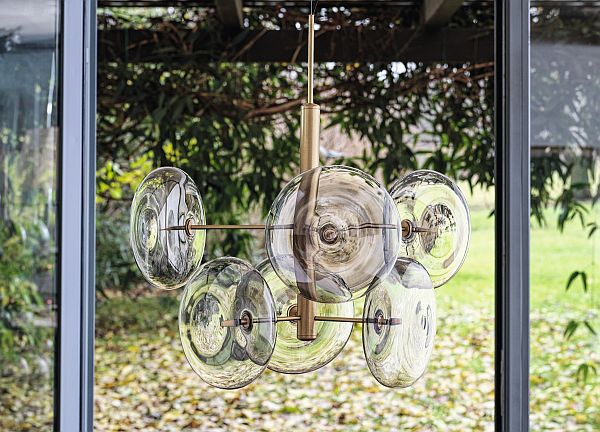 Bontempi also leave the configuration of the design up to you.  It's available featuring one to six glass globes or in a chandelier style. And while we're talking of chandeliers…
Modern Chandeliers
Who doesn't love a chandelier? But by chandelier we don't mean the beautiful intricate Murano glass designs of old. Although we do love those fairy tale designs. Let's bring it bang up to date.
Our Italian suppliers have taken the idea of a chandelier and waved their modern wands to produce some beautifully futuristic designs.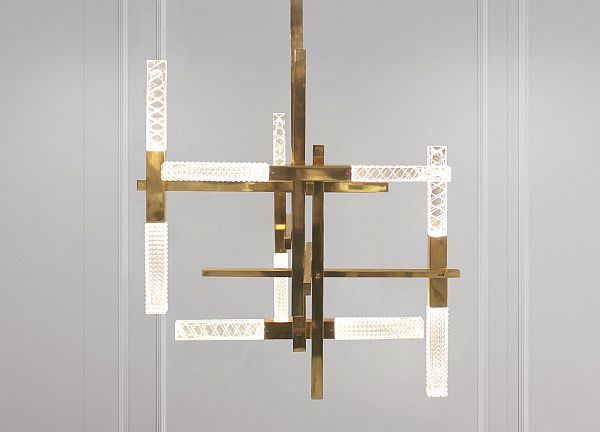 Take Contardi for instance.
This established specialist lighting manufacturer began over 30 years ago creating 'couturier' lighting for hotels.
Earlier this year we caught up with Contardi's Art Director Massimiliano Raggi.  Raggi, it turns out, is also passionate about the chandelier style. We asked him, if he could travel back to one particular design era, which would it be. Without hesitation, his response was:
"I would like to find myself in the workshop where the chandeliers for the Versailles Palace were built. Or at the turn of the 1960s and 70s; a moment of experimentation for design and lighting".
Futuristic styles
Raggi's Mikado Chandelier, by example (above), looks like a lighting version of 'pick-up-sticks'. It's a combination of brass and glass tubes in beautifully engraved crystal. A stunning piece of craftsmanship that captures the glamour of a chandelier in a thoroughly modern way.
Alongside this is the Kubric Chandelier, also by Raggi.
Once gain, it's a wonderfully modern chandelier. As you can see, these lights create a stunning centre piece in a large void or somewhere with a double height ceiling such as a stairwell. Choose a cluster of five or ten, or make a statement with one individual light.
"The challenge, I believe, is to design a product that creates an atmosphere", explains Raggi. "It must have personality and be easily recognizable. At the same time it has to have a precise function.
This is achievable during the design stage.  Alongside this I always ask myself where and how I would use it and what emotions it will give me".
Art Deco
Luxury, glamour, exuberance, and bold geometric forms. A modern take on Art Deco style, it seems, is also all the rage.
The stunning Ongo lamp, for example, designed by Jessica Corr, exudes modern Art Deco glamour.
Firstly the material used: light satin bronze, black graphite or copper. In addition, the beautiful domed shade is finished on the interior in luxurious gold lacquer. This futuristic take on Art Deco style ticks all our boxes. Superb.
As is Contardi's glamourous Coco light.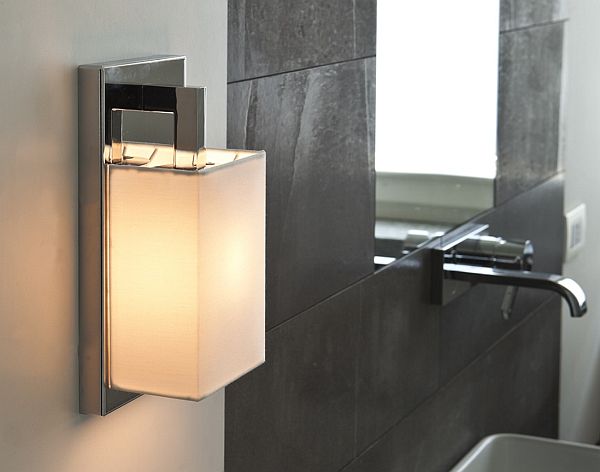 There are various versions of this design, which pays homage of course to the iconic Coco Channel fashion house.  The mini version (above) has a waterproof shade, making it suitable for bathrooms.  And we love the mix of contemporary and retro. Always a perfect combination.
Meanwhile, the Bach wall light here practically sings its Art Deco style credentials. Combining metal and Plexiglass tubes, it's quite simply a work of art.
Artisinal
'Made-by-hand'. 'Rustic'. 'Natural materials'.  These are some of the buzz words of the moment in furniture design. So it's no surprise that some of the new lighting collections are also reflecting this.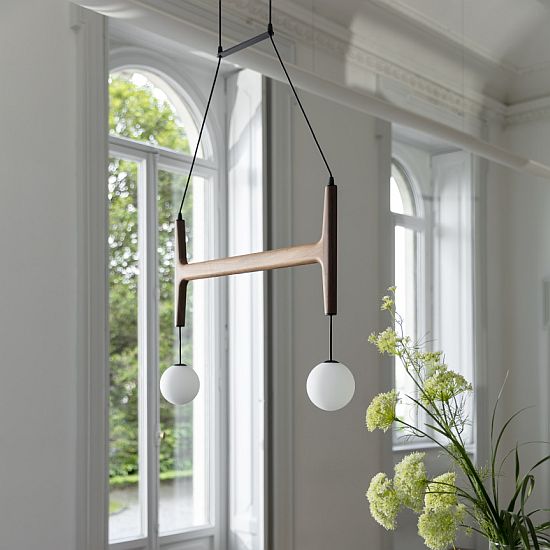 Take a close look at the stunning Porada Astra lights (above) for instance.  The design is made in Porada's signature material of real wood. Astra has a grace and simplicity all of its own, simply carved in solid canaletto walnut. Stunning.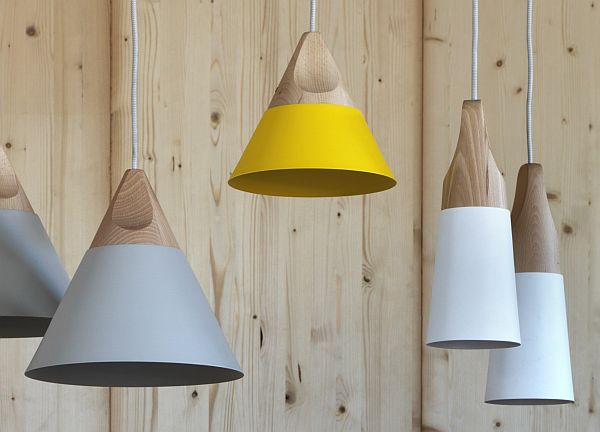 Another example of the artisanal style is Miniform's hand-finished light, Slope.  It stylishly combines two different materials: steel and wood.
These mesmerising conical lights are carved from beech wood with the grain of the wood left visible.  Moreover, depending on the angle you look at them, you'll be treated to lots of different profile shapes.
From pendants, to wall , floor and table lamps we have designs that will suit your interiors style.  Hop over to the lighting section of the Go Modern site and be dazzled.