Stylish storage.  It's something that we can never have too much of.  And as we all know,  "It's a truth universally acknowledged, that a person in possession of a good home, must be in want of storage". To steal and terribly adapt that well known phrase!
So that's where we come in. At Go Modern we offer stylish storage for every room in the house.  From the entrance hall to what's often the smallest room – which is often the hallway.  Either way we will have something to suit your personal style and sort out your storage issues.
Entrance Hall
It's always good to make a good first impression.  Or at least provide space for your family and guests to gain entry. Hallways are often long and thin.  And even if they're not, they aren't usually the largest of  spaces.  Which can cause all sorts of clutter problems. Coats, shoes, umbrellas, dog leads, sports equipment…  Sound familiar?
Our German brand Schönbuch are one of our 'go to' brands for anyone looking for stylish storage for a narrow or small space.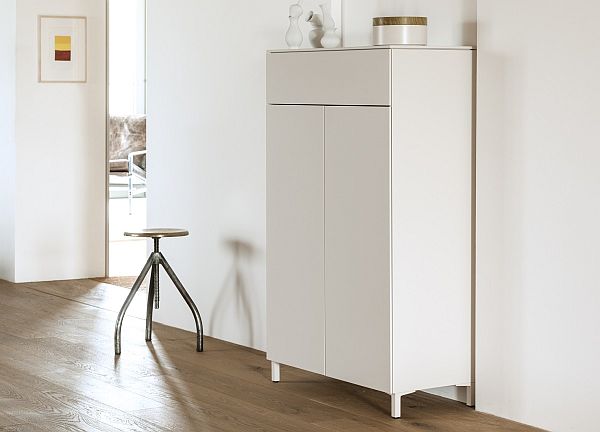 Schönbuch combine practicality with elegance. Their USP?  The ability to create stylish, slimline designs from shoe cupboards to sideboards and wardrobes.
The Cosmo Tall Sideboard is a great example of what's on offer.  For starters it's offered in that holy grail of slim depths, just 31cm. For those with a little more room it also comes in a 40cm depth. Internally you can choose to have the Cosmo fitted with loose shelves, drawers or shoe racks.  We think it's pretty neat.
And it's not just hallways in which their designs are super cool and practical.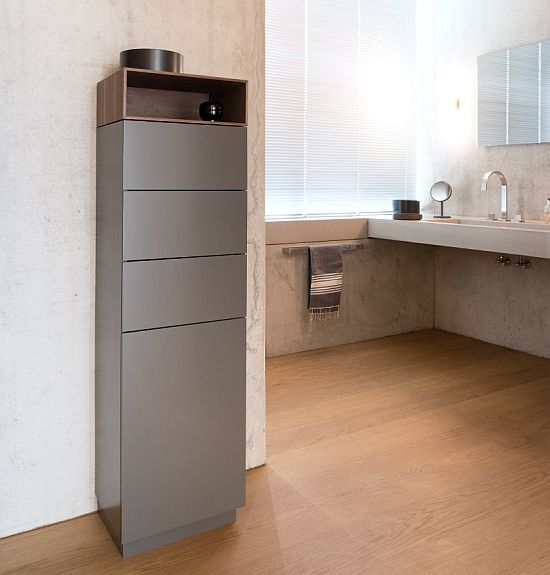 Here's the Cosmo again, designed for Schonbuch by Dante Bonuccelli, in a narrow version, and looking pretty smart in a bathroom.  This version has three drawers  and a lower cupboard, all with push-to-open mechanisms.
Utility Rooms
It's well known that utility rooms are one of those areas that can become a bit of a dumping ground.  For that reason we searched high and low for a brand that could show our utility rooms some love. And we found them.  Say hello to Cinquanta.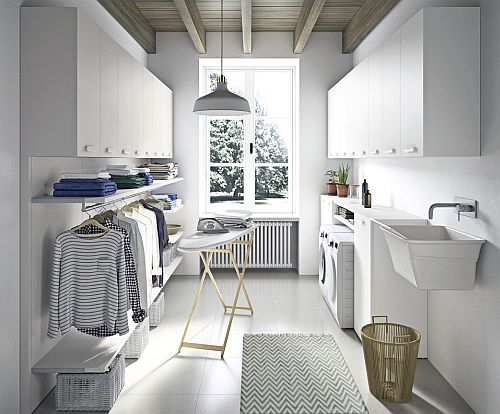 Cinquanta create designs that are simply functional and flexible. The key to their success is in the customisation. That's because their wardrobe designs can be cut to a wide range of sizes. In turn this makes them perfect storage for under-stairs, around doors and utility rooms.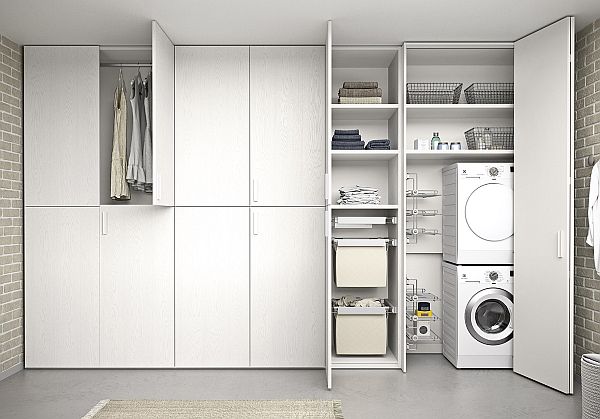 The Cinquanta Utilita (above) is another great example. It's seen here in a basement utility room.  The flexibility of this design allows for cupboards and doors of different widths.  The interior has also been adapted to accommodate a washer and dryer (the Utilita has more depth than a standard wardrobe).
There are also pull-out laundry bags, wire shelving for products and ample hanging space for laundered clothes.  It's a work of art. Our expert installers love working with Cinquanta products (although if you prefer us to just do the delivery that's not a problem either).
Working from Home
There's a lot more of us doing it.  Our fluid lifestyles, it seems, may have to stay fluid for some time.  But if working from home is a permanent fixture, creating a stylish, organised, functional work space is essential.
This 'Working From Home' bookcase/home-office is part of a modular system. It can be customised to suit the space you have and the working style you want.  The version above is just one of many variations on offer. It has lots of great storage, open shelves, cupboards of different sizes,  a desk and LED lighting.
Lots of different finishes too from a variety of woods alongside matt or gloss lacquer colours.  The version here is in Rustic Oak with Light Grey lift-up flap doors. You tell us what you need and we'll do the rest.
Living Room
If you're a book lover, and someone who likes to hang on to their books, you'll probably never have enough shelves in our experience.
Our collection, however, is guaranteed to keep every bibliophile happy.  To be honest, we think we've probably got more shelves than the British Library.
We've almost certainly got a greater range of styles. For example, our designs include corner and narrow shelves, ceiling or wall hung shelves, stand alone and modular designs that can also incorporate cupboards.
Then, or course, there are our wall units. Bespoke, customised or (ahem) off the shelf.
The ultra-modern wall unit above is from A.Brito, an ultra-stylish Portuguese brand. The Ginza is a modular design with edges cut at a 45 degree angle.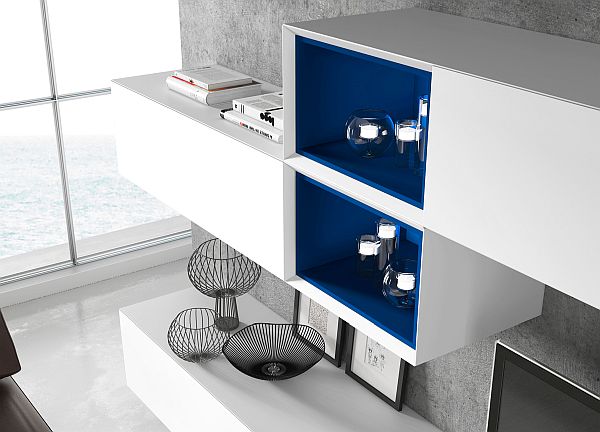 This version of the Ginza is in a white lacquer matt finish with storage boxes highlighted in a striking, contrasting Caribbean Blue.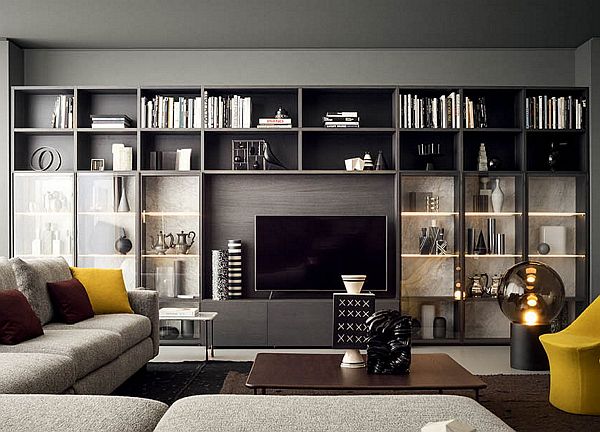 Sophisticated Systems
Our latest brand, Pianca, make sophisticated wardrobes and wall units. They also have one of the shortest lead times in the industry (usually seven to eight weeks from order to your home). We think they are one of Italy's best kept secrets.  So let us share what's on offer.
The Spazioteca Unit (above) is a beautiful piece of craftsmanship.  A combination of display unit, tv unit and bookcase. It has been created from multiple, combined elements. You choose from a small cupboard through to this masterpiece of ingenuity seen here.
Side and back panels, shelves and dividers can be customised at 1cm intervals. And the icing on the cake?  There are no visible holes or fixings.  Everything is completely streamlined, beautifully proportioned with an incredible finish.
Bedrooms
We cant' speak more highly of storage beds.
Whether it's a place to store bed linen, towels, or seasonal clothing, the team all agree they wouldn't be without one. That's because they offer a huge amount of space that ordinarily would go to waste.
The advantage of a storage bed with a lift-up base, as opposed to pull-out drawers, is ease of access.  Pull-out drawers, in our experience, almost always involve moving furniture from either side of the bed.  Not ideal. Designed to raise the blood pressure.
The Novamobili Tape storage bed (above) has what's called a 'Simple' storage base. This not only opens at an angle from the bottom of the bed, but the whole base can be lifted. Totally hassle free.  And, the bed stays perfectly made – so long as you've already made it.
Wardrobes
Finally. Wardrobes.  Go Modern's speciality. Hinged, sliding door, fitted and walk-in wardrobes.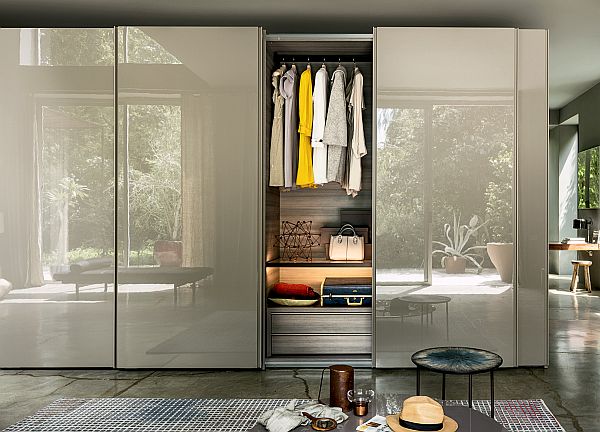 Again, it's the versatility of our wardrobes that make them so popular. Lots of options for customisation. Great interior accessories. Great storage.
So, maximise your space with our huge range of storage ideas for every room in the house.