Drinks cabinets are in!  Almost all of our wonderful Italian suppliers now offer at least one design in which to store your favourite tipples.  And, as always with Italian design, they're incredibly glamorous and beautifully well made.
Five of the Best
We source the very best of European design and have done since 2006. We're design junkies, love what we do and hope this makes choosing a design easier for you. So, as Christmas looms and you find yourself looking longingly at drinks cabinets, here's a round up of five of our favourites.
Our latest super brand is Pianca. Along with some of the best environmental credentials we've come across, they also make beautifully stylish furniture.  Including the Tosca drinks cabinet.

Pianca Tosca Drinks Cabinet
Let's start with the interior. Tosca can be (and is) a simple but beautiful cabinet.  Here's the USP however. You also have the option of adding a stylish bar 'kit' to create the ultimate luxury bar cabinet.
The kit includes internal lights and an argento mirrored back panel (where splashes of dark silver subtly stain the mirror surface). There's also a beautiful glass rack and eco-leather (faux) covers for the sides, shelf and top.
And then there's the the frame.  This too is the height of luxury as you can choose from exotic woods including beautiful rosewood and ebony. Dare we say it, but it's the 'at home' bar equivalent of a night at the opera.
Next and also new from Pianca is the Brema drinks cabinet.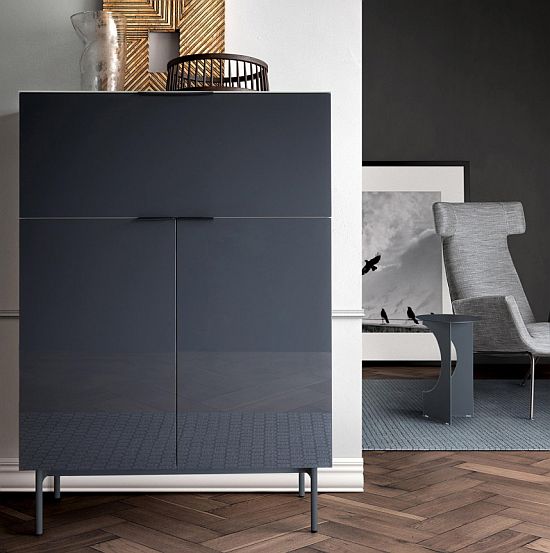 Pianca Brema Drinks Cabinet
We love Brema's minimalist styling.  It's completely unfussy while quietly exuding a modern elegance. Externally the doors and frame come in lots of different finishes including high gloss lacquers, matt lacquers, woods and materico (with a subtle grain). There are also three types of leather handles or, to complete the minimalist vibe, you can opt for a push-system opening.
The minimalist glamour continues internally with a drop-down top door, a glass shelf, optional lights and mirrored back.  You can also choose to leave the compartment open.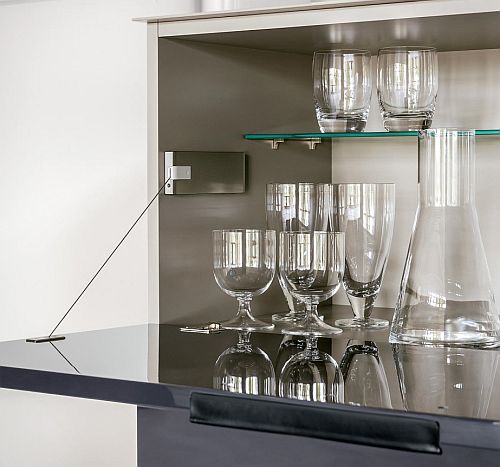 Our third choice is a show-stopper. We came across the Molteni&C Horizons cabinet a few weeks ago.  To call it a work of magnificence may suggest we're prone to hyperbole.  Honestly we're not.  It is truly magnificent.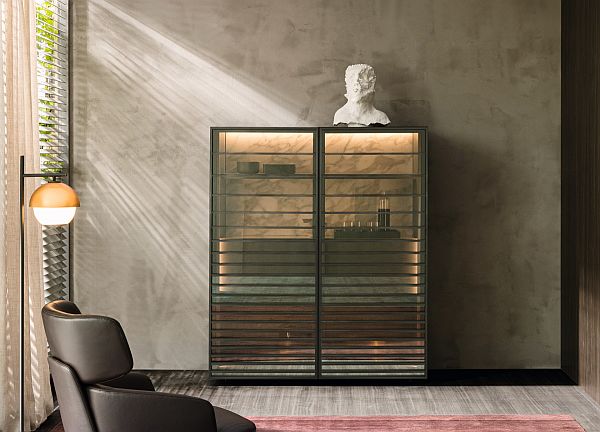 Molteni Horizons Cupboard
It was designed by Dante Bonuccelli for Molteni.  It's maybe because Bonuccelli began his career in building design that Horizon has such an architectural presence. Molteni describes Horizons as a 'cupboard'.  So we do too.  But the word cupboard seems to suggest something a little more inferior to be honest.  And inferior is certainly not a word that should go anywhere near Horizons.
So where to start?  It stands 155cm high, is 130cm wide and 59.5cm deep. Majestic is also a word that springs to mind here.  The remote controlled internal lighting draws the eye and tantalisingly illuminates the interior. Additionally, the base of the unit has a patented mechanism for smoothly opening the doors.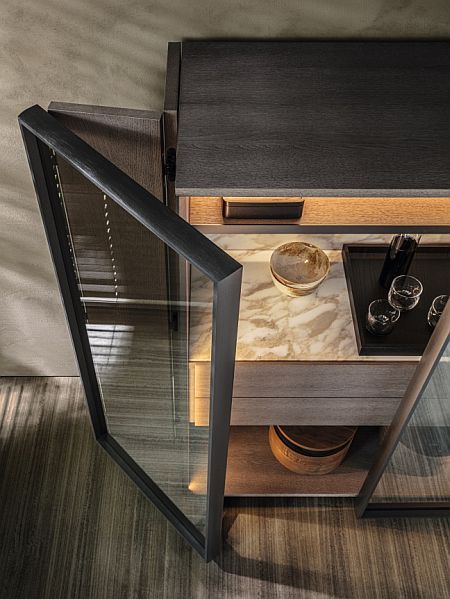 With a hinged rear section, the stopsol glass, pewter coloured doors neatly fold back to frame the main body of Bonuccelli's stuning design.
The ultimate interior
Then comes the pièce de résistance. The Horizon interior is simply exquisite.  It has a detailed graphite oak structure, two suspended drawers and a top shelf finished with calacatta gold marble (seen above) and gloss lacquered back panels. Optional extras include cutlery draw dividers with bases covered in luxurious ivory-coloured eco-leather. This is the Maserati of bar cabinets.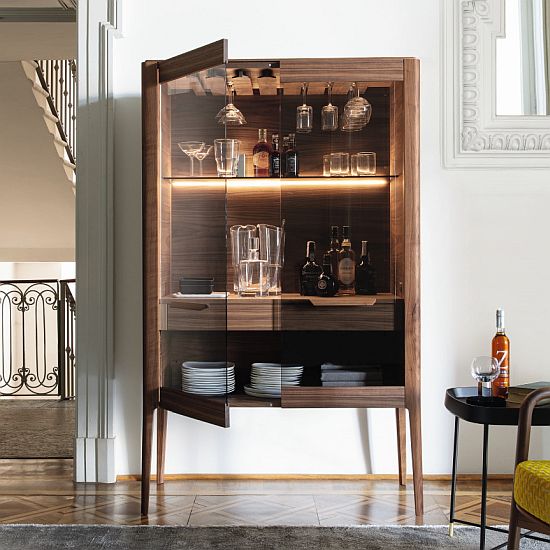 On to an old favourite. Porada make beautiful furniture in solid wood.  Their stand at the Salone del Mobile exhibition each year is breath-taking.  We all mentally make a note of everything we would personally like to take home.
Porada Atlante Bar Cabinet
So it's no surprise that one of our favourite cabinets is the solid wood Atlante bar cabinet, designed by Carlo Ballabio.
You can choose the Atlante in either canaletta walnut, or frassino ash.  Porada also give you the option of leaving it natural or having it stained.  Tall smoked glass doors open from the centre to reveal an LED lit interior with three compartments, a smoked glass shelf and a soft closure drawer. It's superb.
The detailed shot above perfectly exemplifies Porada's wizardry with wood.  The interior ceiling of the cabinet has been fitted with a solid wood, hanging glass rack. A fabulous and totally practical way of storing glassware.  All done with impeccable Italian style.
Now, we've also always had a soft spot for this next drinks cabinet.
Bontempi Madison Cocktail Cabinet
So what do we love? The Madison simply has a timeless elegance.  This two door cabinet sits on top of slender tapered legs, with stylish metallic tips.  The version seen here has been finished in a grey-white veined marble.  There are, however, a total of 27 other finishes to bedazzle you.  Choices include matt lacquers, lacquered or velvet glass, and a variety of super-marbles.
The version below for example is finished in Rust, anti-scratch velvet glass.  We love the way the vibrancy of this shade pops against the dark grey of the walls.
Madison's 'treasure chest' interior contains a simple clear glass shelf and a mirrored back panel with optional lights.
So there you have it.  Five of our beautiful drinks cabinets. Lots of cupboard love. And if we have wetted your whistle, our full collection of drinks cabinets can be seen here.