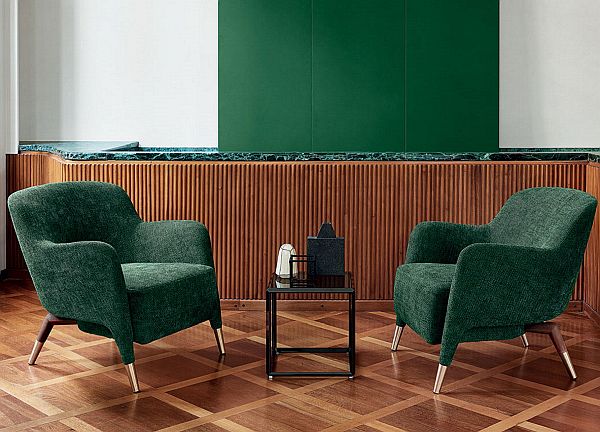 Italy has an annual 'Italian Design Day'. Such is this country's love affair with all things design they have a special day to commemorate it. Dates for anything special have been messed around with this year but we thought now was as good a time as any to flag up this celebration of creativity.
Italy's passion for design began many years ago.  From the early 1600s we Brits loved nothing more than the Grand Tour of Europe.  Visits to Rome and Venice were, of course, a must. It was a chance to study Italian design up close.  Proper painting, sculpture and the wonders of Classical architecture.
From Fashion to Ferraris
So Italian Design Day celebrates all things 'Italian Design'.  From couture to cars, Italy is recognised as a worldwide trendsetter.   In the world of luxury fashion, for example, Italian design names trip off the tongue: Versace, Prada, Gabbana, Armani, Valentino, Moschino and Missoni to name a few. If you've  never visited Milan, take our word for it – people watching is akin to immersive theatre!
In the world of cars, Italy has produced some of the planet's most coveted designs: Ferrari, Alfa Romeo, Maserati… and those cute Fiat 500s making a big comeback on London streets!
The Greats of Furniture Design
So when it comes to furniture design the stakes are high.  It's no surprise, therefore, that Italy has produced some of the world's greatest furniture designers. Which is why we were thrilled this year to partner with one of those original furniture greats:  Molteni&C.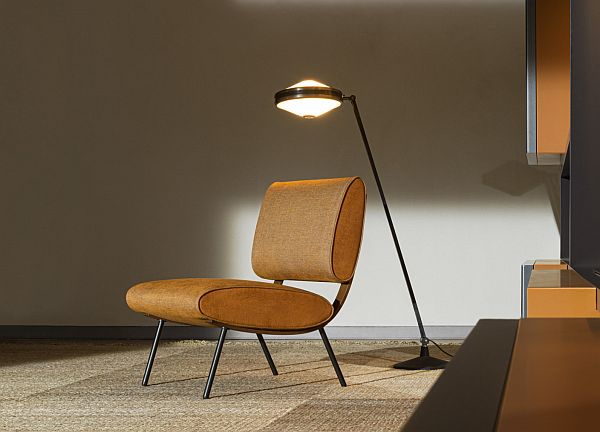 Gio Ponti – the Father of Modern Italian Design
Designer and architect Gio Ponti (1891-1979) is recognised as one of the world's most iconic designers.  He was one of the original proponents of modern, stylish Italian furniture.  His designs were also extremely creative.
Molteni&C, with the agreement of Ponti's family, have undertaken an amazing project to reissue many of Ponti's original designs.  With painstaking research into original designs and materials the results are breath-taking. What's also striking is how designs from the 1940s and 50s more than stand the test of time, and obviously influence much contemporary furniture.
Which is why we can confidently say that Italian furniture simply offers timeless, top-quality craftmanship with the finest attention to detail.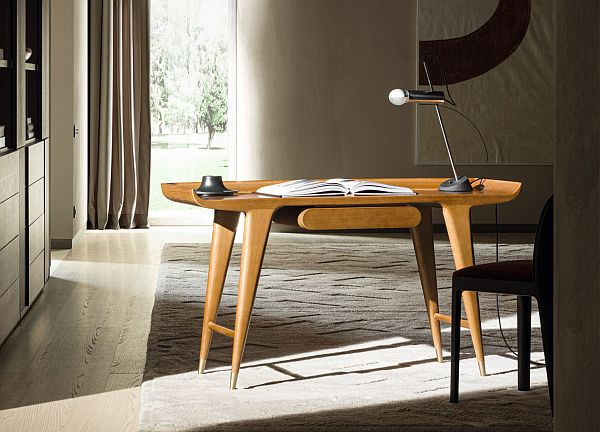 Celebrating the Greats
Founded in 1954 was another of Italy's 'greats'. And also another of our brands: Zanotta. They too specialise in some of Italy's iconic design names.
One of Zanotta's latest Collections is by the multi-talented award-winning architect, designer, writer, photographer Carlo Mollino (1905-1973).
Celebrated for his many outstanding buildings, Mollino's furniture has a complex design style.  Think abstract with a touch of surrealism.
As with Ponti's work, Mollino's furniture has a very contemporary style.  His Cavour desk, for example, was created in 1949 – but how modern is that look?  Its slanting structure alongside the bold, geometric drawers either side is positively futuristic.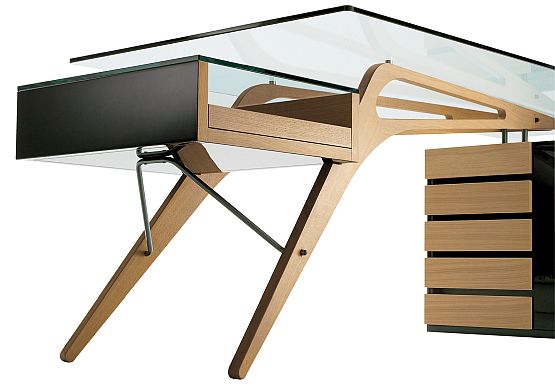 As investment pieces go, these vintage designs are definite hand-me-downs for future generations. Christies in New York, for example, set a world record in 2005 for one of Mollino's originals – a 1949 oak and glass table selling for $3,824,000. Food for thought!
Great Ideas
Another Italian 'design first' was the bean bag.  Although not to do with the price tag.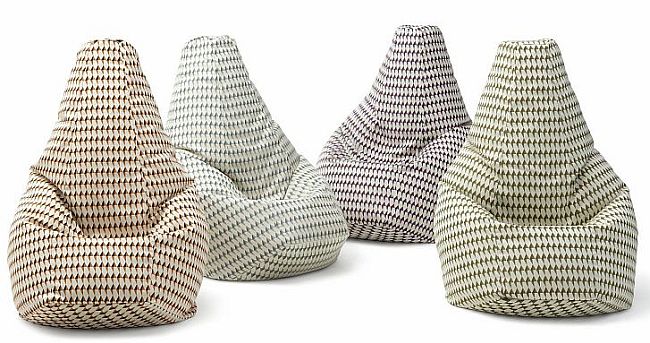 'Sacco' is Italian for sack. Back in 1968 three young designers from Turin approached Zanotta with a crazy idea. They'd come up with a design for a chair which was actually a sack filled with polystyrene beads. It was ergonomic and light. It also moulded itself to the body. Zanotta loved it.
Designers Piero Gatti, Cesare Paolini and Franco Teodoro had created a future design icon. The 'bean bag', as it became known, overturned all the furniture rules.  And we all loved it.
Modern Designers
It's by no means all about harping back to the past however. That's because Italian design is constantly producing award-winning furniture from award-wining designers.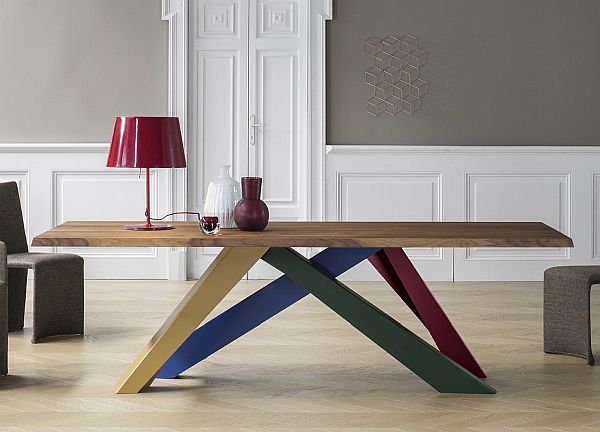 Step forward Bonaldo.  Take a bow Alain Gilles (he's from Belgium we know – but an honoury Italian for the sake of this!).  Gilles' award-winning Big Table not only won a plethora of awards when it was first released in 2009, it went on to be an international best-seller.
Thinking Out of The Box
We're always told to 'think out of the box'.  Which is exactly what Gilles did with Big Table. Its laser-cut sheet steel legs, of different widths, splay out from under the table top. Each leg is folded and then  lacquered in a different colour. It's a table with a big personality.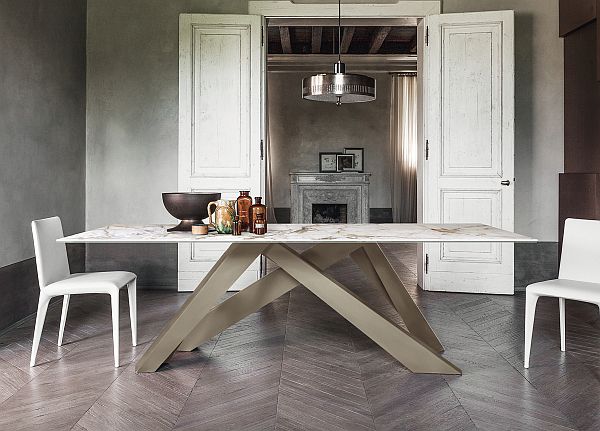 This is also a design that hasn't stood still – which is what you'd expect with those lively legs!  In its latest incarnation Big Table is offered in ceramic and clay versions. Ceramic, of course, is well known for its indestructible qualities – great for family life.  While the latest, simply stunning clay version is offered in a hand-spatula finish in six different shades.
Not Just About the Big Boys
When it comes to award-wining, innovative design it's not just a Big Italian Boys' game. Our fun loving, quirky brand Miniforms produce plenty of their own winning designs.
Paulo Cappello and Simone Sabatti received a Cleverest Design Award last year for their Miniforms' Ozz lamp.  It's one of our favourite, coolest lighting designs. Alongside its good looks, Ozz is also multi-functional. It's a lamp and a small side table.  Perfect for bedsides or next to your favourite armchair.
Design x Technology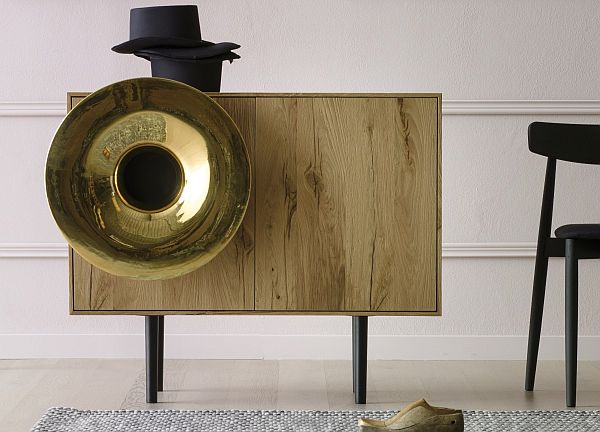 Miniforms also love a bit of technology alongside their winning designs.
The award-winning Caruso sideboard, also by Cappello, is fitted with blue tooth technology.  It also has the most glorious His Master's Voice trumpet style speaker.   We love the mix of old meets new.
Italian Design Day 2021
The theme of Italian Design Day 2021 is "Project and matter: new challenges for the sustainable restart of Made in Italy". One of the aims is "the improvement of life and the protection of the planet".
With that in mind, we thought we'd give the last word to Porada.  With their "for the love of wood" slogan and dedication to sustainable own-grown wood. Like other great Italian companies, Porada began life in the post-war period where hope and optimism finally began to emerge.
With their roots in tradition, over 70 years later Porada's contemporary, solid wood designs never fail to impress.  And, as with all our brands: Always Made in Italy.