A year or more of working from home has reshaped a lot of how many of us think about just that: home.
It's made us question what home is. According to the interior's press it's also made us take a deeply critical look at our home space. Almost as if we're seeing it for the first time.  Home was somewhere we dashed out of at 8am and returned bone weary to at 8pm. Various lockdowns have altered all of that.  Maybe for good.
Many of us are back in the office.  Some of us are still working from home.  Others will end up doing a hybrid of the two.  All of which means we have noticed the stuff we've been putting off.  The corners that need decorating.  The sofa that needs replacing.
New Designs
Designers too ended up stuck at home.  And out of that has come a wealth of new designs to reflect a growing trend. A need for cocooning shapes, textures and tactile finishes. So let us introduce you to some of our latest designs, all perfect for this new journey. 
Porada's new design bed, Softbay covers all of those bases.
It's an extension to their Softbay range by designer Giuseppe Vigano.  And its generously proportioned shape invites you to melt into its curves.  It's a bed with a deeply padded headboard and frame, styled here in the wonderfully tactile boucle; the fabric de jour, next to velvet of course. And there are numerous other fabrics to choose from, including velvets and luxe leathers.
Spaced Out
Another focus for many of us has been how to carve out extra space to work from home. Without going insane.  Step forward Porada's brand new room divider – Gamen.
Made in Porada's trade mark beautiful canaletta walnut this immensely stylish, sculptural design creates the perfect partition.  Designed by Tarcisio Colzani it comes in modular panels (101cm wide x 23.5cm deep x 192cm high) that can be hinged together.  Which means you can decide on the width and shape you want. It's literally a moveable feast because you can adapt it to suit your space. 
Warm New Designs
Designer Yiannis Ghikas has been busy collecting awards during lock-down.  Or rather his new hand-blown glass Soda coffee table from Miniforms is. Already a double-award-winner and, fingers crossed, now up for another award from the architecture and design bible Dezeen. Watch this space.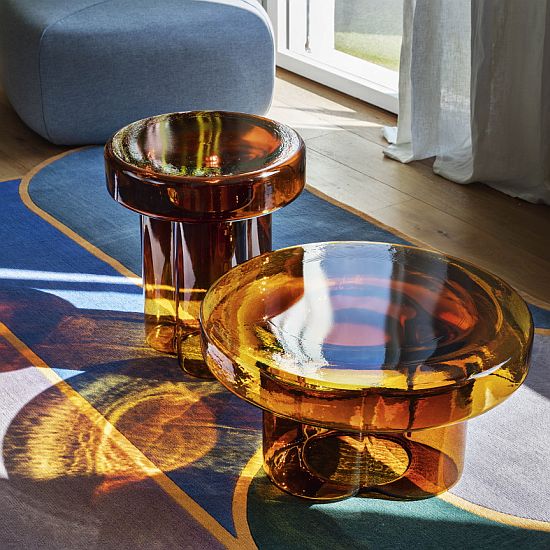 We don't need to describe the warmth of Ghikas' new design.  One look and touch says it all.
Soda was born in the home of hand-blown glass, Murano.  It takes three master-craftsmen and a furnace to create every table.  The temperature also has to be kept the same throughout the mould to give the glass a textured, hammered feel. And it's a weighty design. The beautiful petal shaped base and circular table top weigh in at 20 kilos.  We love this artisan creation – and so it seems do you. It's available in two wonderfully warm colours – amber and petrol green.
Tactile Touches
We decided not to participate in the London Design Festival this year. We have in the past and it's great to be caught up in the excitement of it all but, to be honest, we felt crowds and the dreaded C-Word still loomed large.  However, we did venture out to a few places to get a feel for the general zeitgeist and enjoy the normality of a glass of Prosecco with colleagues and friends.  And, of course, to ogle some of the interior world's latest.
Our luxury brand Lema has also tapped into the current desire for warm textures.  A colab with Italian fabric company Dedar has resulted in the use of their wonderful fabrics as finishes on some of their superb designs.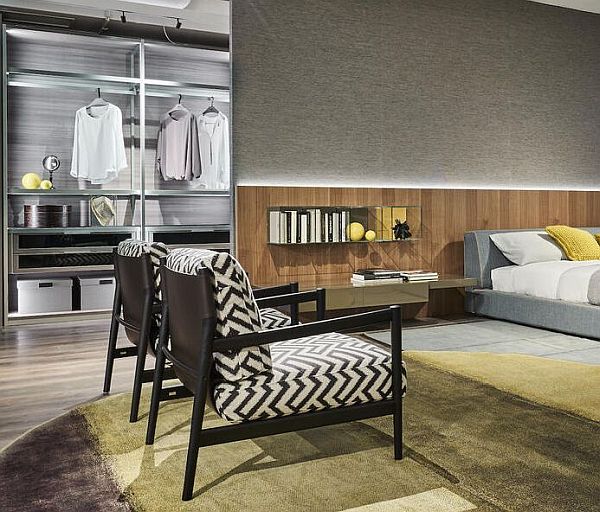 Dedar fabrics are now available across a range of Lema's occasional chairs, bed headboards/frames and as a finish on wardrobes (where suitable).
Dedar was founded in 1976 and is still a family-run fabric house.  They're located in Como, the centre of Italian manufacturing.  Dedar are known for their seductive colour palettes and unexpected patterns. Like what you see? Have a chat with one of our team to find out more.
Vintage Designs x New Designs
The latest brand to join the Go Modern family is Molteni&C. One of Italy's original furniture manufacturers and with a worldwide reputation for excellence.  As with many of Italy's furniture makers they are still family run.  They are also the licenced keepers of designer Gio Ponti's fantastic archive of designs.
The Molteni&C Heritage Collection has always made us swoon.  The latest addition, however, has had us in raptures.  Gio Ponti's (unromantically) named D.847.1 writing desk is a stunner. It looks as fresh today as it did when it was first designed 70 years ago.  In fact the only thing that dates it slightly is the notion that Ponti designed it as part of his 'bedroom for a bachelor'.  Although we're sure Mr. Bond would have approved.
Alongside being the most incredible design, and made from honey-stained solid ash wood, there is also something deeply comforting about it.
The D.8471, at 70, has lived through quite a few world changing events.  It's very presence as part of Molteni's latest Collection seems life affirming.  It is definitely a beautiful investment piece that we can guarantee you will want to hand down to the next generation.
So immerse yourself in our new designs and feel the warmth of all the new sumptuous shapes and tactile textures.  We think they'll be around for a while.