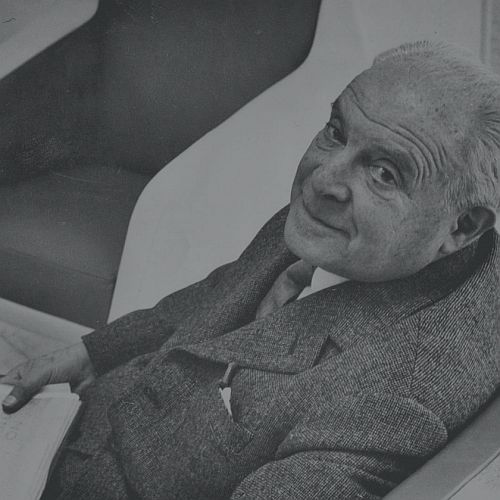 Gio Ponti – "the Ambassador of Italian design".
So was this most prolific of 20th century designers described in a sparkling event at the Italian Embassy this week.  Architect, artist, furniture designer and writer. Just a few of the titles this iconic designer can lay claim to.
Giovanni (Gio) Ponti (1891–1979) was, as with many designers, a polymath. You may not be familiar with his name.  You will, however, almost certainly own something that reflects his influence.  That's because his incredible body of work has a totally modern, enduring quality.
Ponti's glittering career spanned more than 50 years.  His design skills embraced everything from buildings such as Milan's famous Pirelli Tower, to the legendary 1948 Pavoni espresso coffee machine.
After his death Ponti's popularity waned somewhat. 1980s and 90's minimalism became king.
Roll forward a few years and Gio Ponti's time has definitely come again.
Gio Ponti as furniture maker
It is, of course, Ponti's amazing skills as a furniture maker that we are particular fans. To own an original of his designs is quite a rarity.  Which is where Molteni & C have stepped in.
In 2012 Molteni & C created their Heritage Collection.  As part of this, and in co-operation with Gio Ponti's heirs, Molteni painstakingly 'brought back to life' some of Ponti's original designs. Following immense research the company have re-issued 16 of his original furniture pieces.
As part of the process Molteni carefully examined prototypes and original design notes, along with dimensions and materials.  The results are spectacular.
Molteni now produce one or two of Ponti's pieces each year.  They are also looking at previously unproduced designs. Older manufacturing techniques it's thought were possibly not sophisticated enough to accommodate them.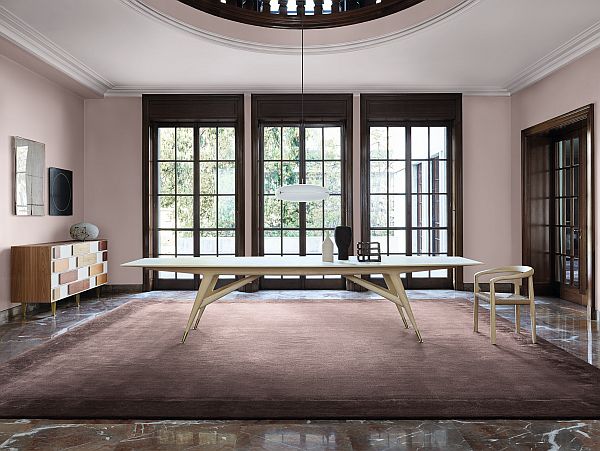 Never Elegant – Simply Beautiful
There was no Ponti manifesto, no agenda. Ponti simply wanted to communicate with people, explained his grandson Salvatore Licitra, along with Giuliana Molteni and journalist Brian Kish at Monday evening's event.
Ponti was never tied to one particular philosophy of design (as for example the Bauhaus). Moreover, to Ponti "all history was contemporaneous".
Equally Ponti didn't want his designs to be seen as 'elegant'.  They were beautiful.  His intention was to reflect the "sentiment of the Italian people". Their way of life. Beauty was an instrument.
One example of this can be seen in his creation of 'whole room furniture'. After the second world war Italy, like much of Europe, was left in a very poor state.  Ponti's solution therefore was to create 'whole room furniture kits' to improve the way people lived. Revolutionary at the time. Simple, affordable designs.  As with everything he designed, the furniture was exceedingly well made using the best materials. Ponti was very much a man for the people.
Molteni Re-issues
One of Molteni's latest Ponti re-issues is the Round Chair.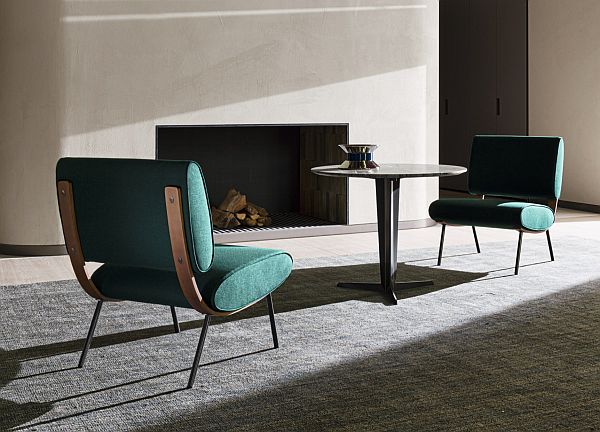 The Round D.154.5 was designed by Ponti in 1954.  Sixty plus years later this incredible design still has a very has a very modern look.
The design world of the 1950s had never seen anything quite like it. As a result it was considered very 'other worldly' and, to begin with, not particularly successful.  Produced originally in very limited numbers it's now, however, highly sought after.  A prototype sold at Christie's a few years ago for eye-watering amounts.
The name of the chair comes from the rounded shape of the seat and backrests.  It's also known as the 'soap bar'.  The materials and technology too were considered very avant-garde. The upholstery, for example, uses Vipla, a plastic material resembling leather. Similarly, curved plywood joins the backrest and seat. Metal feet have non-slip tips. Alongside all of that it's remarkably easy to assemble.
Other new additions
Another new addition to the Heritage Collection is the strikingly beautiful D.8471.1 desk created in 1947.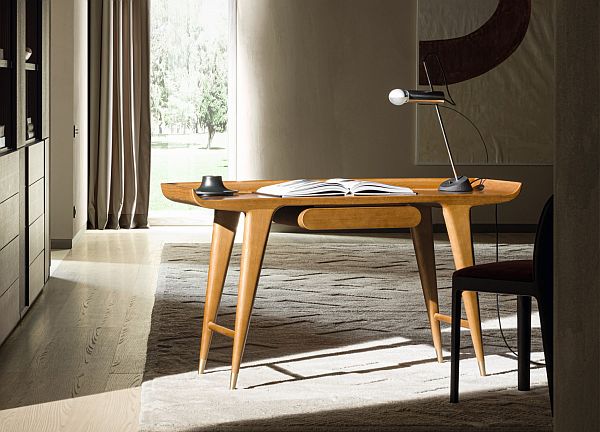 It's beauty lies in it's fabulous shape and materials. Firstly its solid honey-stained solid ash wood with feet in satin brass. The desk top also deserves a very special mention. Featuring curved edges it resembles an aeroplane's wing.  Suspended below is small drawer with a rounded front.  This rounded look was incredibly innovative for the time and became a hallmark of many Ponti products.
Another absolute favourite of ours is the D.151.4 armchair.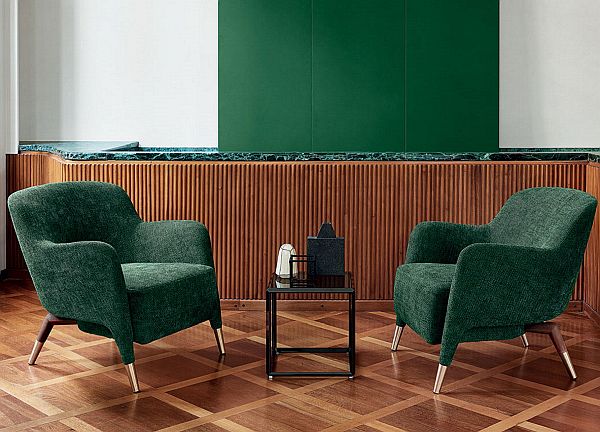 These stylish, easy chairs were originally created for use on board various ships. Fabulously comfortable, compact designs that also work beautifully in townhouses.  The frame is made from solid American walnut.  Legs, also in solid wood, include brass tips. We want to say they're the height of elegance.  Ponti, however, would not have approved.
To Set Sail but Never Arrive
Also on display at the Embassy event were various of Ponti's drawings including one of a fantastical ship.  The idea, explained Licitra, was that you "should board but never arrive anywhere".  Ponti's view was that we shouldn't focus on the arrival, simply on the going.  A great metaphor for life perhaps.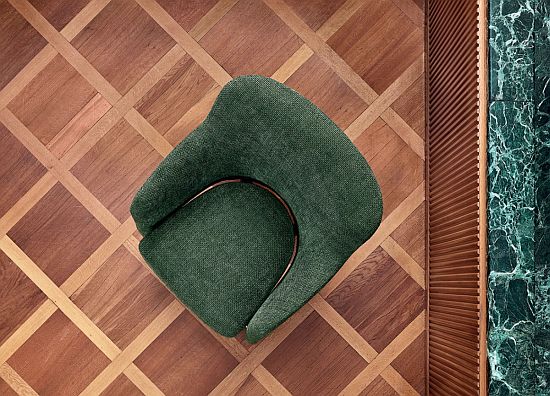 Spreading the Word
Ponti was also co-founder of the world-famous architectural magazine, Domus, which he edited until his death.  In this he laid bare his world view of design. Modernism was at the forefront of everything he did.  The central principle?  Design should always focus on function.  Ponti insisted that decoration and modern ideas could sit comfortably side by side.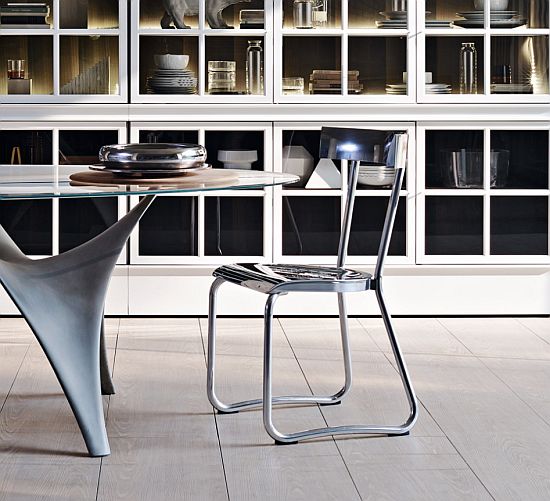 A fabulous example of this is his 1938 dining chair, D.235.1. It's made entirely from polished aluminium with a wonderfully futuristic look. Although utilitarian in style, the curved backrest and seat make it beautifully comfortable.
Authentic Design
Every piece in the Gio Ponti Heritage Collection carries a unique serial number. Molteni also strictly adhere to the design and materials of the original design documents. Ponti's screen-printed signature is a further guarantee of their origin and authenticity.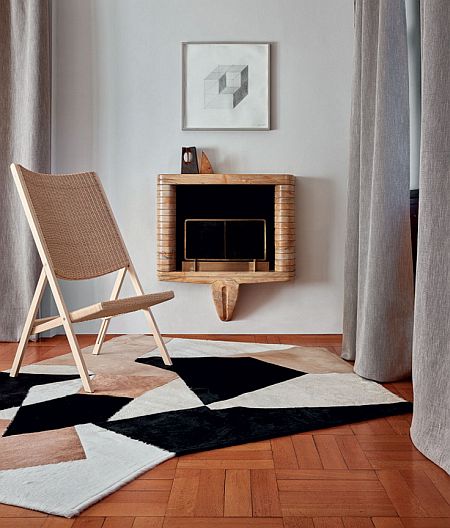 The Gio Ponti Collection is contemporary, chic and practical.  It always will be. His designs continue to radiate. Would Ponti have approved of the Molteni Collection? Absolutely. Although he was a firm proponent of the 'look forward, not back' philosophy. Evident, we hope you'll agree, in every piece.
Our thanks to Salvatore Licitra, Gialua Molteni and Brian Kish, plus Molteni and the Italian Embassy for a wonderful and illuminating event.