So, they've only been and gone and done it! Soda is an award winner.  Not once.  Not twice. But three times!
The beautiful Murano glass coffee/side tables designed by Yiannis Ghikas for Miniforms have now won three prestigious design awards. How cool is that?
In the last year Soda won awards from Archiproducts, along with design/architecture magazine Azure. Azure described them as "a splendid merging of modern artistic expression with old world tradition".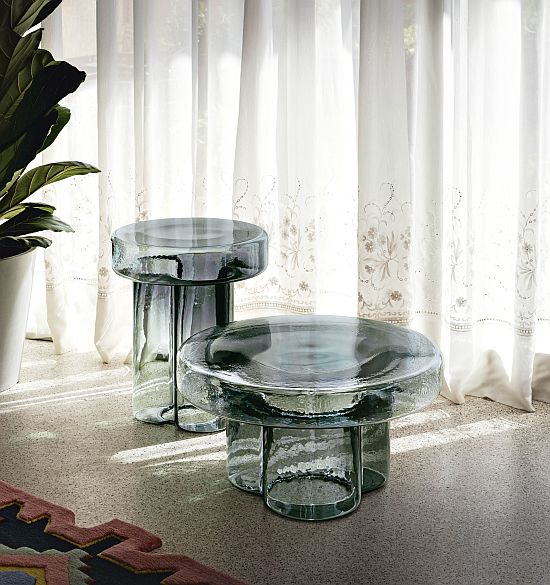 They've done it again!
And now they've done it again!   Influential architecture/design platform Dezeen has just announced that Soda has won their Public Vote for Furniture Design of the Year. So it's many congratulations all round from us!
How they tell it
According to Miniforms, "Soda was born upside-down, with a puff of air" in a Murano glass workshop.
These stunningly beautiful tables weigh 20 kilos each, and the glass is blown, drawn out and shaped by three master glassmakers. The result?  A single volume of glass with three large petals which form the stem/base.
"In Soda," Miniforms tell us, "the glass vibrates.  Its tough, hammered surface fragments its transparency to give a primitive aesthetic. This is artistic value granted to an industrial product". 
What's with the name?
Soda is named after one of the three main ingredients of glass (sand, sodium carbonate and limestone). For Ghikas and Miniforms it was "our way to celebrate this charming material".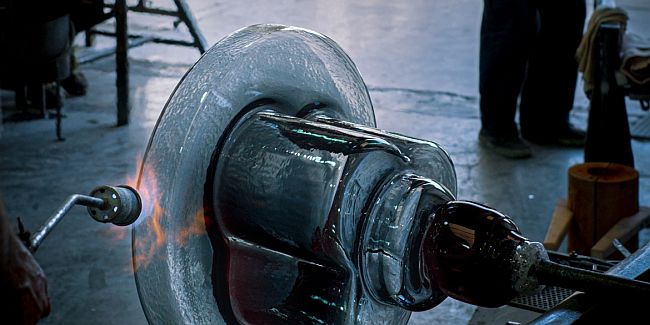 While researching and designing Soda, both brand and designer were astonished at the parcity of glass-blown products of this size and kind. Once they'd embarked on the project they discovered why. Alongside the enormous amount of expertise required to work with a design of this kind, there were also a lot of technical issues to overcome.
The expertise they needed was found on the Italian island of Murano with a small number of highly skilled artisans.
Light and shade
Among Miniforms and Ghikas' main objectives was to capitalise on the most characteristic part of glass: its transparency.
It therefore allowed them to create a design with a geometry that plays with light and shadow. As the viewer's perspective changes so does Soda's shape.  Because the layers overlap, it's possible to see darker sections within the design.
They also discovered that they had no control over the glass texture. Which required a certain amount of chilling on their part and an acceptance that this would emerge from the the artisanal process. Thus began an exciting journey.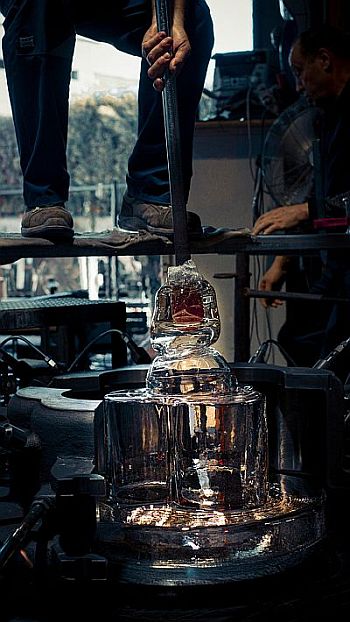 The stunning Soda tables are are available in two sizes (38cm dia x 45cm high,
55cm dia x 30cm high) and two colours: Amber and Petrol Green.
About Yiannis Ghikas
Award winning designer Yiannis Ghikas was born in Athens, Greece. He has a background which includes Computer Science alongside Design. Ghikas sees the ultimate purpose of his designs as "functionality alongside exploring their emotive responses". He regards design as a process of "satisfying needs either tangible or intangible".
In 2018 Ghikas was selected to participate in a three-month design residency in Arita, Japan.  Here he worked with the local potter's community.  He says it was an invaluable experience in design and culture.
Ghikas' Soda tables for Miniforms instantly attracted the attention of the design world and have so far won three awards.  However, we recommend you watch this space…