We thought we'd throw the spotlight on storage.  Always a popular topic.  Always something we all need more of. So it was  great to see that this year's new designs include a number of superb storage pieces that not only look stylish but also tick all the practical (storage) boxes.
Clever architectural solutions
We all love a clever architectural piece of furniture.  Our insta feed lit up when Bontempi Casa's Charlotte bookcase made an appearance.  And our followers are a pretty discerning lot!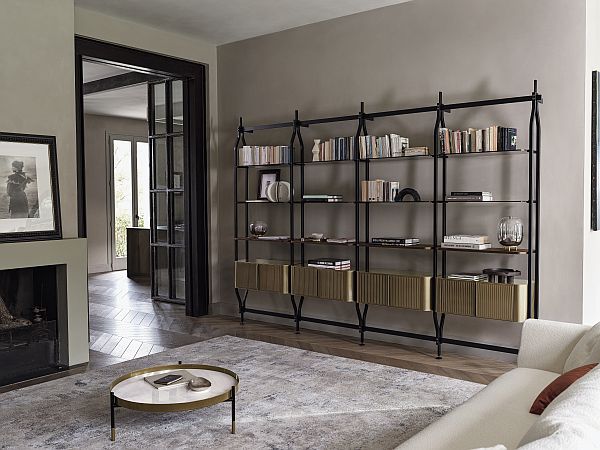 This fab, modular piece was designed and manufactured in Italy by Shannon Sadler for Bontempi.
The images do the talking. Charlotte is a unique design which combines a tubular metal structure which can be lacquered in different colours including white, matt black (seen above) rose gold or aged brass.
And its minimalist frame leaves a lot of room for all those new books we've acquired during various lockdowns.
Behind closed doors
The glass or wood shelves and optional storage boxes will allow you to show-off, or hide-away, your most prized things.  And what do you think of the ridging on the boxes? We absolutely love it – it's a design detail that raises this bookcase's style to another level.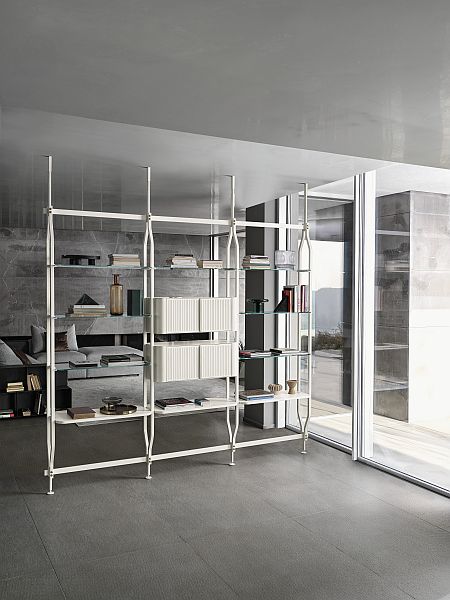 Seen in all the best places
Our furniture is seen in all the best places. A doyen of interior design, the October issue of  Elle Decoration loves Bonaldo's latest bookcase so much it's featured in their Design Preview section. High praise indeed.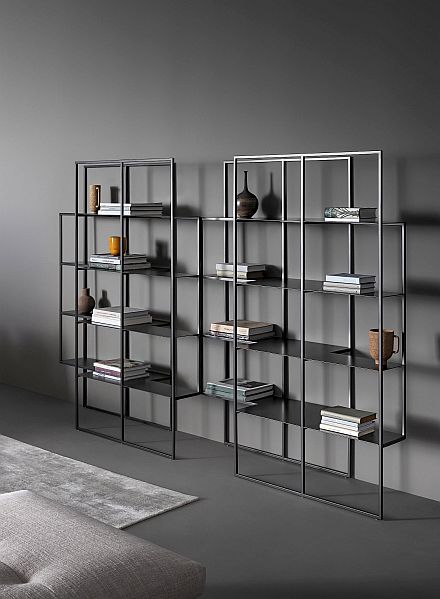 So what's all the fuss about?  Well, this superb piece, the Optic bookcase designed by Marco Zito, shows off Bonaldo's first-class manufacturing skills perfectly.  And as the name suggests, Optic plays with our perception. 
Optic's two supporting frames slide to create a staggered shelving system.   Shelves are wider in the middle with side shelves slimmer and cantilevered. Clever, practical, stylish and very, very cool.
Storage ladders and shelves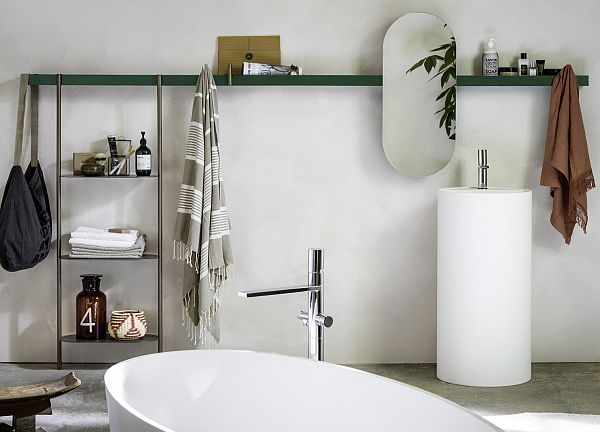 Low-key, paired back and Scandi.  That's how we'd describe the new design from those clever people at E-ggs and one of their latest creations for Novamobili.
Riga is a minimalist display shelf with a mirror, ladder and hanging hooks. It can be used in any room but it looks particularly good here in the bathroom. The ladder is perfect for folded towels and bottles while the hooks are great for hanging towels or bath robes.  The rimmed shelf is also ideal for bottles and every day items.
The storage shelf is offered in six different sizes. The oval mirror comes in a choice of three. This piece is a definite proponent of that well known storage philosophy: 'less is more'.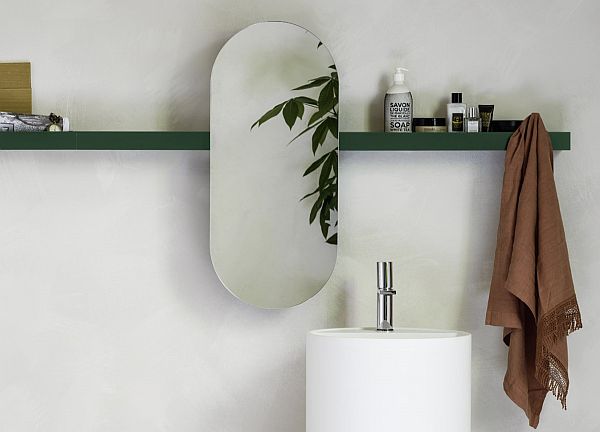 Big on storage
Novamobili are big on storage.  From wardrobes to sideboards they've got it sussed.  As a result some of their best selling pieces get a little tweak occasionally and ranges are expanded or additional colours offered. Their Reverse sideboard is one such design.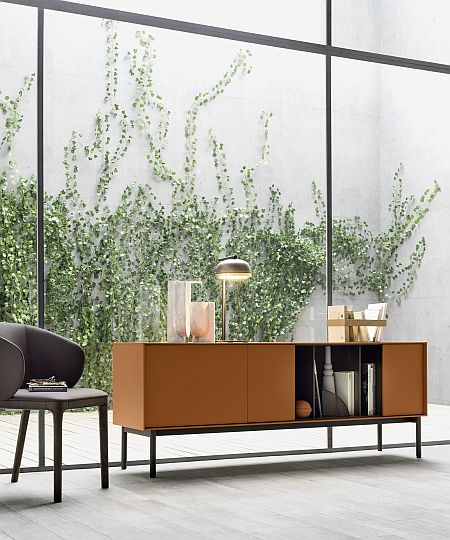 Reverse has been around for a while and loved by our customers.  2021 sees this popular design released in a different size (181.6 wide  x 40 deep x 67.9 cm high) and in this stunning mustard finish. And we're definitely as keen as…
And while we are talking sideboards…
Bonaldo's Dune sideboard demonstrates that stylish ridged look that we saw above, used by Bontempi on their Charlotte bookcase. Do we see a trend emerging here?
It's again another design that's got good looks and fabulous storage space.  Three doors, 48 cm deep, and transparent glass shelves.
Cross purposes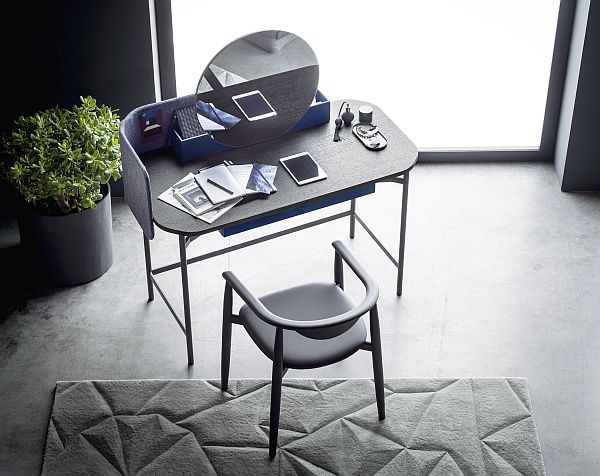 If you're at cross-purposes with something/one, it usually means you've interpreted something differently. That's what we like to think of Novamobili's Ninfea desk/vanity unit.  Is it a desk?  Or is it a dressing table?  Or could it be both?  Yes.  It could.
Perfect as a slim, contemporary dressing table.  Also perfect as your 'working from home' desk. Buy it with the mirror, or without and add your own.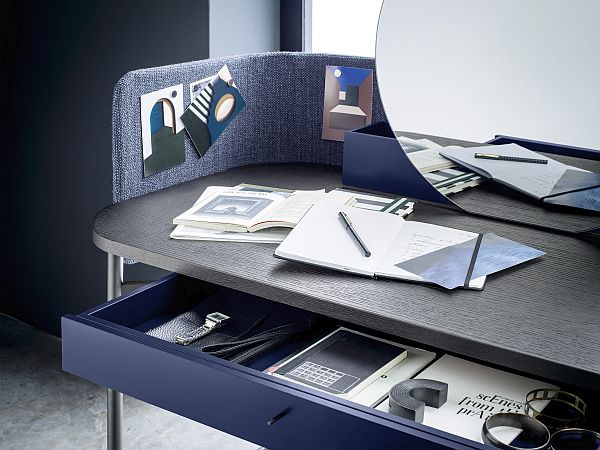 The lightly upholstered 'privacy screen' is designed for pinning notes or pictures of family, friends, Brad Pitt etc, and the slimline drawer will house stationery, make-up and trinkets or, cleverly divided, both.
Light from within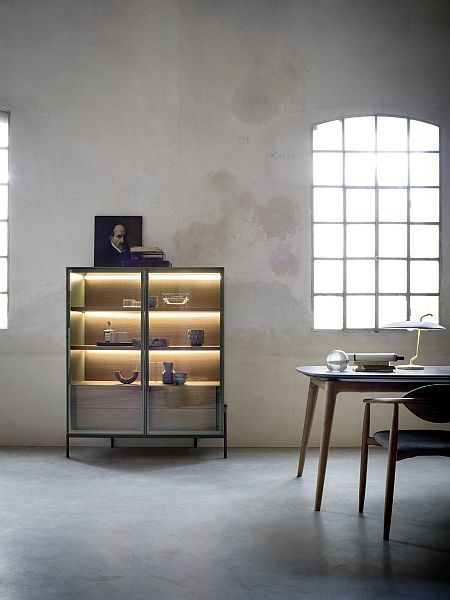 Put it all on display and light it up.  The optional LED lights on offer with Novamobili's new Belt Collection will allow you to do just that. The glass sideboard version, above, also has modular drawers – storage for the things that don't looks so good centre stage.
The Belt Collection is by expert storage designer Philippe Nigro. It comes in various configurations, allowing you to create tailor made pieces.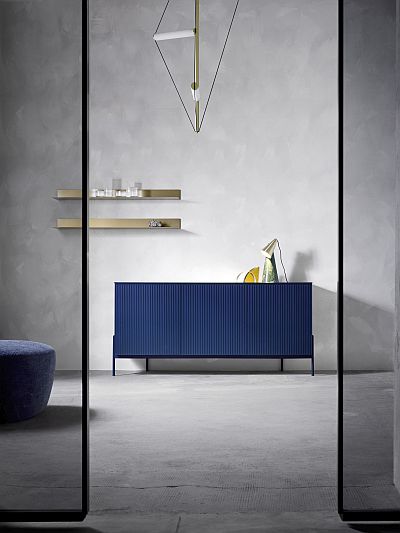 And here it is again for example in a striking midnight blue finish (and we spy those on trend ridges again).
So as with bad weather (i.e. there's no such thing only badly chosen clothes) we're tempted to say there's no such thing as bad space (only badly chosen storage).  There's really no excuse is there.