Salone del Mobile. It's normally one of the big highlights of the year for us.  Held every April in the Rho Fiera, Milan, this international trade exhibition showcases more than 2,000 of the world's most dynamic furniture companies.
It's huge.  Both in terms of location (around 200,000 square metres in dozens of exhibition halls) and the number of visitors. At the last count over 370,000 professionals visited the 2019 Salone del Mobile. And then it all ground to a halt.
It's back!
Absent for two years, Supersalone, as it's being dubbed, is back! Milan will come alive again from 5th-10th September (fingers crossed). We have already received design previews from our amazing suppliers, so we thought we'd share a few pieces that have already caught our eye.
Bonaldo
We are proud to have worked with this incredible company for over 15 years. That's because Bonaldo's designs are stylish, superbly well made and always stand out from the crowd. They rarely, if ever, produce a piece that we don't fall in love with.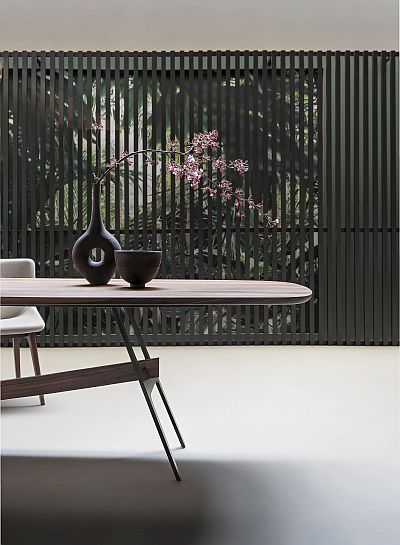 Geometry leading the way
One of Bonaldo's latest tables is called Slot.  It's part of a collection that comprises a dining table, console table and three coffee tables. And how fabulous is that base? Taking geometry as its inspiration, the slim horizontal table tops are supported by two 'H' shaped legs, one vertical the other slanted. Designed by Giuseppe Viganò.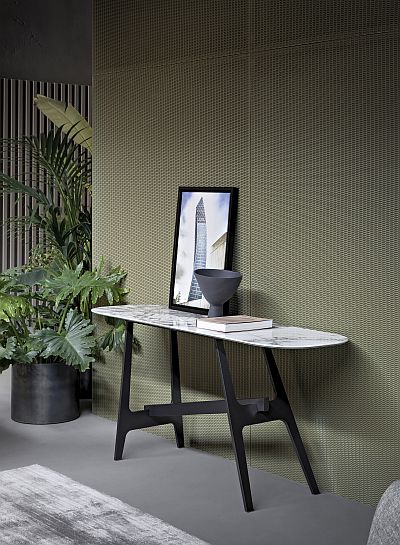 Wonderfully wavy walnut
We love a sideboard.  And we particularly like this one. Why?  The Dune sideboard has some seriously stylish doors, shown here with a rippled/corrugated walnut finish.
Delicious isn't it! The beautiful asymmetrical base, frame and top are in bronze-coloured metal, and there's also version with a lead lacquered wood outer frame and ash Carbone doors.
Hot, hot, hot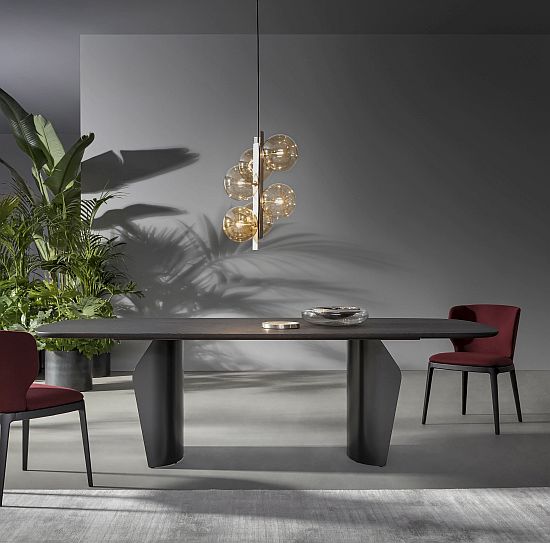 And staying with Bonaldo, here's another of their new tables. Flame by Gino Carrollo.  We're guessing the name is derived from the look of the 'flame-shaped' base which curls sinuously towards the table top. And it's a beautifully slim top in numerous finishes. Choose from wood, ceramic or marble with various metal options for the base.
Bontempi Casa
Bontempi Casa is one of Italy's oldest contemporary furniture brands.  They've specialised in beautiful but practical modern furniture since 1963. The company's now run by a second generation of the same family, and their passion remains undimmed.  Their designs just as exciting.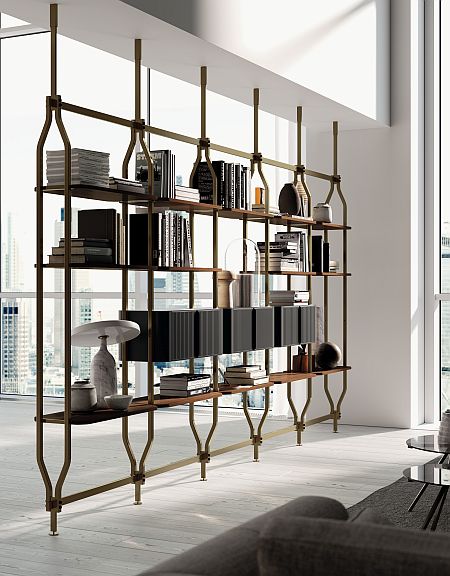 We absolutely love their new modular bookcase, Charlotte. This stylish design can be customised to suit the space you have, neatly store your stuff or elegantly show it off.  It's an absolute stunner. Fix it to the ceiling or the floor.  Attached to the ceiling it can also serve as a subtle room divider.
It was designed by Shannon Sadler and, as always, made in Italy. You can customise it by adding shelves in glass or wood, plus optional storage containers in lacquered ridged metal (as seen above). This has already had more than its fair share of likes on our Insta page.
Let the sunshine in
These Ray coffee tables are set to get a lot of love by a certain UK glossy magazine this autumn. The stylist there fell in love with them.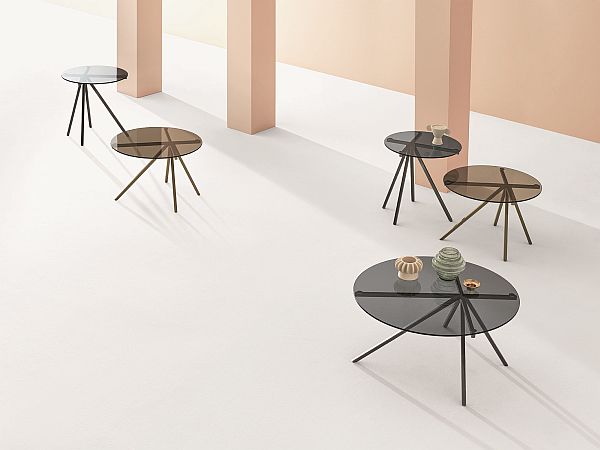 Ray is designed by that clever bunch E-ggs, who never fail to impress us. The leg configuration, they tell us, is inspired by the concept of 'light's luminous rays'.  Quite magical. They're offered in three kinds of transparent glass and the lacquered metal base is in various colours, including pretty rose gold and natural silver.
Saba Italia
Saba Italia is a company that exudes cool. They've also just opened their own small showroom in the Brera design district of Milan. Pop in and take a look if you're there.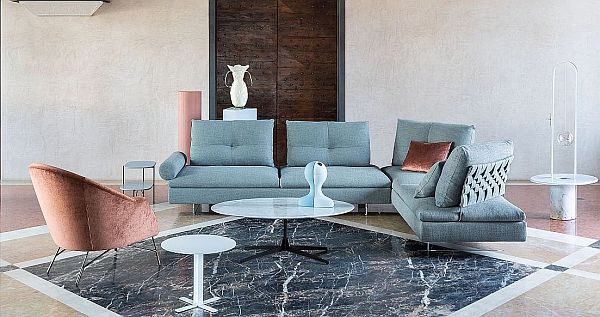 Saba's Limes sofa is designed by Sergio Bicego.  And its already turning heads. Not easy to do in the world of sofas. So what's all the fuss about?
Well, it's modular so you can create your own design.  It also has the coolest of elements: detachable backrests.  These can be placed anywhere along the base. And you've also got a choice of the backs being plain or plaited. The arms come as cylindrical roll cushions or more traditional rectangles. Decisions, decisions.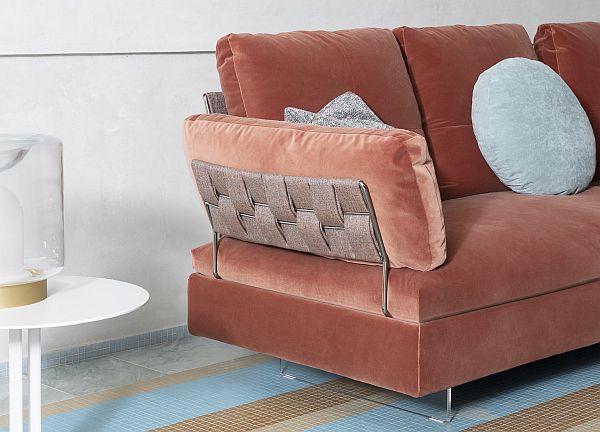 Fashion Led
We're not great ones for fashion or trends.  But we couldn't resist Saba's new take on their New York chairs.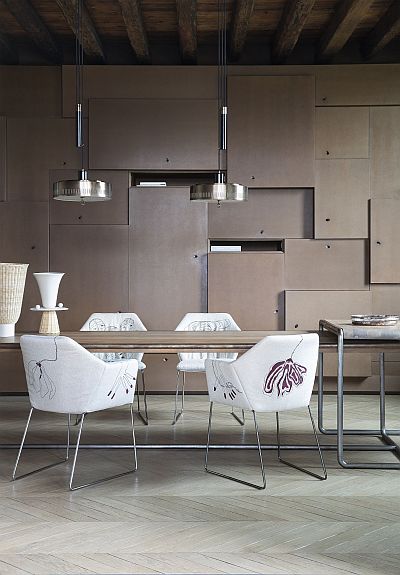 The New York chairs are designed by Sergio Bicego.  And they are fabulous in their own right (they've been best sellers since 2014). But just look at those new covers!
The new fully removable covers are by acclaimed Italian fashion designer Antonio Marras. This multi-talented designer has his own fashion label but his creativity also spans art, photography, installations and costumes for theatre.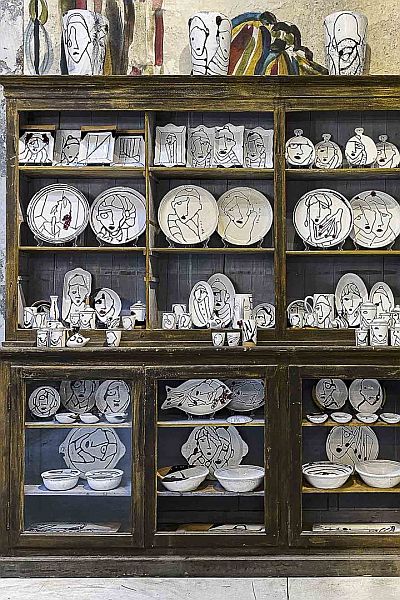 The new striking limited-edition New York chairs, with or without arms, are available in four distinct patterns. The 'with arms' also features Marras's designs on the back. They are probably the coolest chairs we've seen this side of Milan. And we've seen a few chairs.
Glamour
And yet more glamour.  This time from Gallotti&Radici, Italy's masters of interior glamour. Superb quality, fabulous materials, proper grown-up style.
So what's new from them?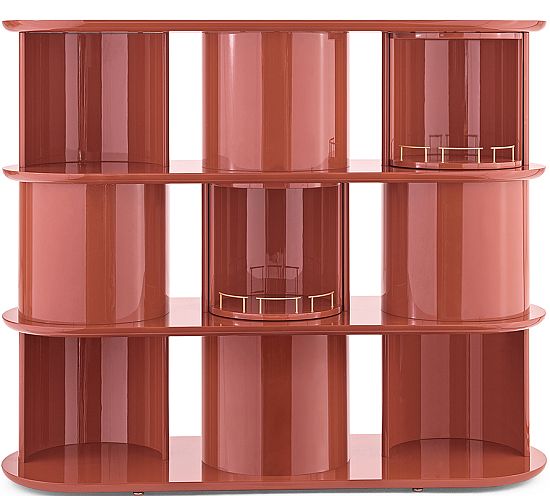 The aptly named Hide & Seek cabinet for starters.  Designed by Pietro Russo and already featured by Wallpaper* Magazine this summer.
This striking lacquered wood cabinet is made up of three vertical columns with or without rotating cylindrical compartments. This means you can close some and leave others open. It comes in three sizes in glossy or matt Persian Red or London Grey. You can also add some satin brass details within the cylinders to stop items from falling.
A game of balance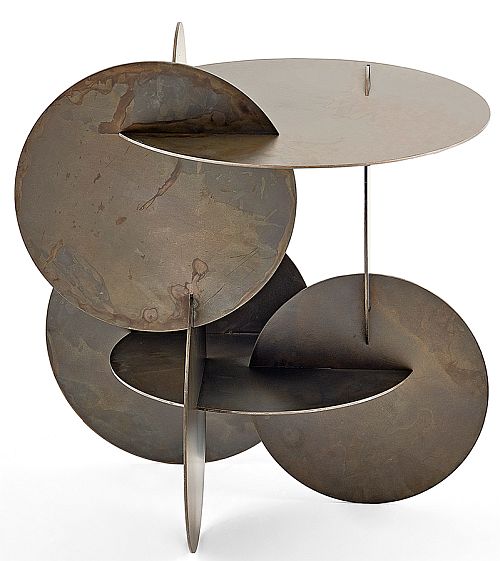 Finally.  The Monete or Coins (in English) coffee table, designed by the great Massimo Castagna. It's in two sizes (47 x 48 x 52cm or 52 x 55 x 47cm). When we first saw it a 2-D set of drums came to mind.  It's so clever and so stylish.
In reality this unique piece is a series of 'balancing' discs in hand burnished metal which are naturally stained and uneven. The technique means that no two pieces created will look exactly the same.
So they you are.  Our brief edited highlights of some of the wonderful pieces coming your way over the next few weeks. Keep an eye on our site or speak to one of the team.