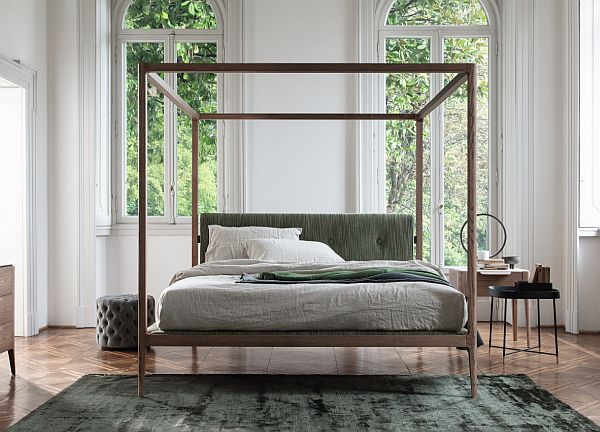 Everyone needs different amounts of sleep. We're told that, on average, adults need 7 to 9 hours, children 9 to 13 hours and toddlers and babies 12 to 17 hours sleep.
According to the NHS, "insomnia usually gets better by changing your sleeping habits". Something easier said than done. Their advice however includes going to bed and waking up at the same time every day.  Trying to relax at least one hour before bedtime. Ensuring that your bedroom is dark and quiet.  Plenty of daily exercise.  And finally making sure your bed, mattress and pillows are comfortable. Which is where we come in.
Luxury Beds for Sleeping Beauties
We're reliably told that we spend up to a third of our lives in bed. So for something that takes up such a large part of our existence, it makes sense to invest in the best and most luxurious bed possible.
Beauty Sleep
Here's an interesting fact that we came across a few years ago but still find astounding: a couple sharing a UK standard 4'6″/ 137cm double bed each have less sleeping room than a baby's cot! It therefore follows that also buying the largest bed possible for the size of room will reap untold rewards (for sleep and your relationship!).
Sizes of individual beds vary so always check our sizes/finishes tabs carefully once you've decided on a style you like. As a general rule of thumb our European beds are more generous than the UK average.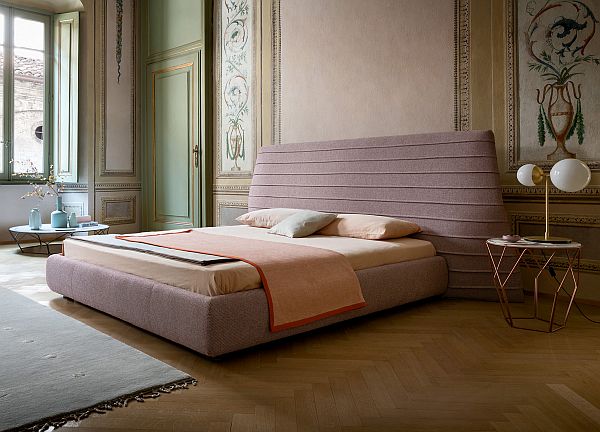 We work with the very best of European designers and manufacturers when sourcing our luxury beds.  With that in mind, it was also important to us to find the very best luxury mattresses available.  And we found them right here in the UK.
Luxury Mattresses
Our mattresses are all hand-made using traditional English craftsmanship.  They are filled with cotton, lamb's wool or cashmere and are supremely comfortable.
We can also supply mattresses for any size of bed; from single to Emperor. And we have a wide choice of depths, from 15cm deep through to the ultimate Sleeping Beauty luxury at an almost 30cm deep, 3,000 sprung mattress. And they can also be ordered to size. Whatever the frame size of your chosen bed we can arrange to have a mattress made to fit it.
We're also aware that people often prefer different levels of mattress firmness.  If that's the case, our manufacturer can create something to accommodate both of you. The different density mattresses will then be firmly zipped together to create one mattress that will suit both of you perfectly.
Our standard mattress sizes are as follows:
UK King 150 x 200cm
Large King / US Queen 153 x 205cm
Euro King 160 x 200cm
UK Super King 180 x 200cm
Emperor 200 x 200cm
A good quality mattress should last 8-10 years, depending on use and care.  Consumer champions Which have a few tips for longevity including unwrapping your mattress immediately and airing; turning it regularly; banning bouncing; using a mattress protector and keeping it as clean as possible. All good advice in our books.
Material Matters
Alongside the most comfortable mattress you can find, we think it's also important to choose a bed finish that adds to the luxury comfort levels.  Luxury beds are not only exquisitely made, and made to last, they are also finished in the best quality materials on the market.
The stylish Alivar Oasi bed (above) for example, is shown here in 'Leather Luxe', the highest quality leather around.  Incredibly durable and beautifully soft to the touch.  Along with a wide choice of leathers and fabrics, there are also numerous choices for the base including Golden Bronze, Empire Gold and Black Pearl.
Porada also offer exquisite materials and are champions of real wood. Both of the beds featured here are offered in Walnut or Ash with options to leave the wood natural or lacquer stained.  The warmth of real wood is hard to understate. Although mattresses should be replaced every 8-10 years we like to think that a bed frame is something that you will want to hang on to for a lifetime.
Go Modern In-House Beds
With years of experience sourcing and testing beds we know exactly what a beautifully well made bed looks like alongside being very good value for money.  Our new in-house bed collection is just that.  We have worked with our manufacturer for many years and know that their reputation is second to none.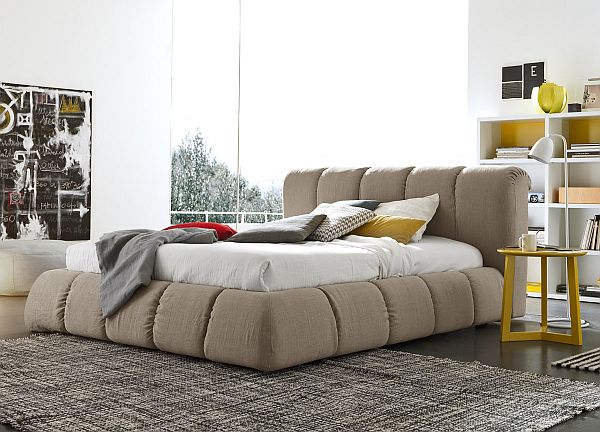 Our in-house collection has a wide range of beds with features such as removable covers, roomy storage bases and larger Emperor size beds. The Nimbus bed (above) for example, and as its romantic namesake suggests, appears to float on a cloud. The highly upholstered base can also be ordered as a storage base and in King or Super King sizes.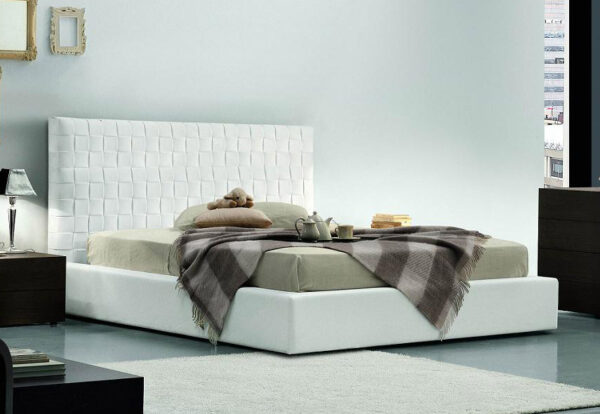 We have an extensive choice of finishes including wood, matt/gloss lacquer, and fabric, leather or eco-leather (a faux leather that looks just like the real thing). Many of our upholstered beds can also be covered in your own fabric, or we work alongside the UK's top fabric houses and can supply fabric from brands such as Romo, Designers Guild and Missoni Home.
Best Selling Models
The Plait Alto upholstered bed (above) is one of the most popular of our in house collection and there is also a storage version. It has a fabulously tall, plaited headboard and can be fully covered in eco-leathers, or a variety of real Italian leathers.
So whatever your budget or style we definitely have a luxury bed to suit. We always have samples of all the upholstery and finish options on offer for every single bed.  If you don't live near our showroom, or don't have time to pop in, we are very happy to post samples out to you.  Beds ordered now are also on time for delivery before Christmas.