We love any excuse to celebrate at Go Modern.  Achievements, marriages, birthdays… we're always open to suggestions. So we are delighted to have a very special reason to celebrate our terrific outdoor furniture brand EMU.
With its impeccable Italian roots EMU is celebrating 70 years!
Those 70 years for EMU have of course seen a number of changes. There have been adventures and exciting innovations along the way.  But above all there has been the creation of stylish, functional outdoor furniture.  All manufactured in Italy at their 140,000 square metre factory in Perugia. Made with Italian style and environmentally-friendly consideration. Designed for life.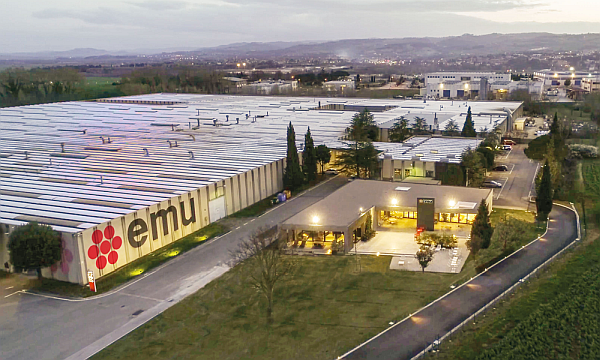 The Founding Years
The company was formed in 1951, originally for the production of military transmission equipment.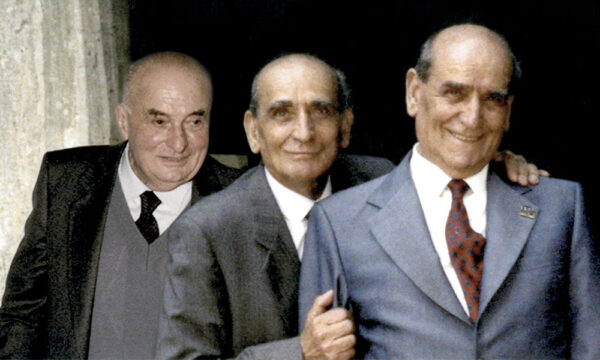 It was in the Umbrian village of  Marsciano, that brothers Aldo and Angelo Biscarini, with their brother-in-law Dante Menconi, established Elettro-Meccanica Umbra (EMU). The Biscarini brothers had been radio-transmission officers in Africa during World War II, while Menconi contributed as a mechanical expert.
As a result EMU soon became the pioneering technical experts in metal processing and protection.
With post-war changing markets, however, there was the need for reinvention. The company therefore decided to move into the production of metal furniture. To begin with it was school and office furniture, where they experimented with PVC finishes.  They quickly discovered that by protecting the furniture in this way it could be suitable for outdoor use.
Greatest Hits
There have been many successful designs for EMU over the years. The Rio chair, however, was one of their earliest greatest hits.
For over a decade in the 1960s and 70s Rio was produced as a garden chair. Then in the early 70s an American distributor promoted the chair as 'suitable for any environment'. It became the 'must have chair' of the decade!
Fame
Rio was also exhibited at the Rockefeller Centre in New York and on the historic Mark Twain boat. It also somehow made its way on to an album cover by influential singer/songwriter Lucio Battisti, "Una Donna per Amico". Rio made its mark.
The Transition Years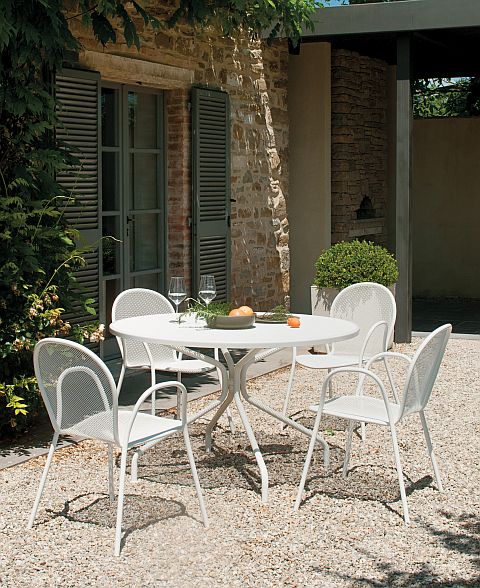 Fast forward 20 years and EMU's popularity around the world had grown immensely. Their product base, however, was still fairly simple. Some fresh creative input began with the restyling of the original iron collections.  Rio, for example, was replaced by the even more popular Ronda in lacquered steel.
Working with the Stars
EMU now collaborates with some of the design world's biggest names. Designers such as Arik Levy, Christophe Pillet, Paola Navone, Patricia Urquiola, Jean Marie Massaud, Stefan Diez, Jean Nouvel, Samuel Wilkinson, the Chiaramonte/Marin design studio, Florent Coirier, Sebastian Herkner and Patrick Norguet.  There is therefore a constant flow and exchange of ideas and experience.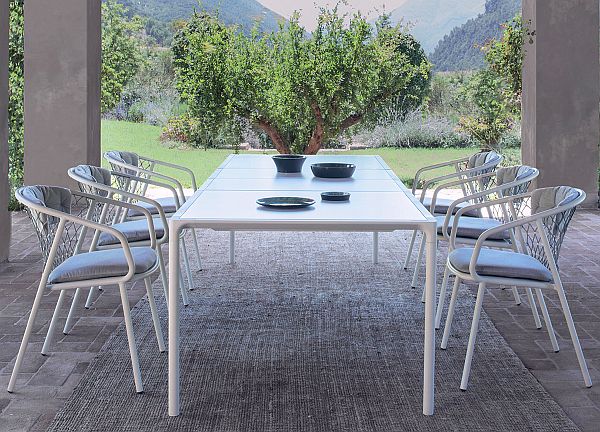 Patrick Norguet's Nef collection is a beautiful example of some of what EMU does best.  Inspired by the graphic design of hot air balloons, it has an aluminium frame, with backrests of interwoven ropes. Striking to look at and supremely comfortable.
Re-Trouve is an inspiring reinterpretation of a more traditional chair by Patricia Urquiola.  It works beautifully in both classic and contemporary spaces. Its lacquered steel geometric design has a pretty repeating diamond pattern.  And, as with much of EMU's output, it can be used indoors and out.
Ongoing Research and Development
Ongoing product research has always been high on the agenda at EMU. In 2018, therefore, the company opened its Design & Simulation Centre.  It's a place of intense research where technicians, designers and academics can find inspiration.  Importantly it contributes to the company's ongoing research and development.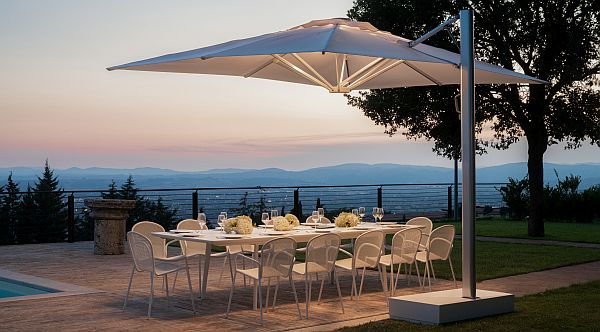 EMU 1951 – 2021
From its humble origins focusing on school and office furniture, EMU is now one of the world's leading outdoor furniture manufacturers.  Latest designs include upholstered garden sofas through to illuminated parasols and stylish outdoor dining collections.
So Happy Birthday EMU. Buon compleanno – and here's to the next 70 years. Because we know there will be many more adventures.