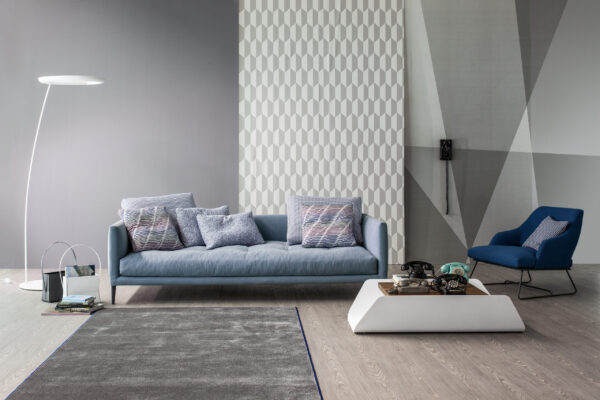 Each year the major paint companies assess the mood of the moment and predict how that will reflect on our choice of interiors' colours for the coming year. It's always fun seeing how the current zeitgeist has been interpreted. And interestingly how different the predicted colours can be too.
Major paint manufacturer Dulux has just announced their chosen shade: Bright Skies.
It's a beautiful shade of blue.  Light, airy and one that they describe as an "optimistic blue that's good for the soul". Their prediction is that it will "open up and revitalise your home".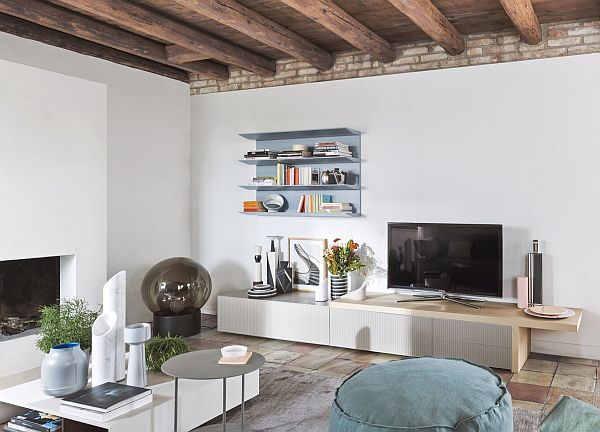 A Tough Old Year
It goes without saying that everyone has experienced a tough old year.  So the need for some optimism is undoubtedly welcome.
In choosing next year's colour, Dulux asked a panel of international design experts to interpret the mood of the moment. They wanted to know what colour trends will shape the way people live. The resulting shade reflects their findings. That's because, they tell us, it's something that will "feel right in our homes for years to come".
The Dulux experts considered such things as how 2020/21 saw many of us begin working from home for the first time. Lots of us also found getting out into nature to be even more essential. The arts and creativity also came top of priority lists. And of course, looking towards a brighter future. Hence Bright Skies.
A huge choice of colours, fabrics and finishes
One of the things that we pride ourselves on at Go Modern is the ability to offer our furniture in a wide range of colours, finishes and fabrics.  We can also match colours in many cases.
Novamobili make superb wall units for example, and the Horizon wall unit above is a great illustration of the huge number of matt or oxidised shades the company offer. The Horizon's supports are also hidden, giving a clean, streamlined look, alongside matching the unit to your shade of wall.
Novamobili is renowned for its innovative use of technology. This Italian company offers exceptional custom-made systems with fast turn-around times. All the painting and assembly is carried out by hand by expert craftspeople who diligently oversee all stages of the production process.
Shades of Blue
Blue is incredibly versatile as a shade.  That's because there are so many variations. Rebecca Williamson, the senior colour and design manager for Dulux says of the colour: "Blue has such a sophisticated, luxurious feeling. It will always bring me back to lounging and watching the sea while on the glamorous Mediterranean coast."
I think we'd all agree with that one (if we can remember what it looks like!).
As there are so many shades, it also means there's something to suit everyone. Whether you are a blue/green person, an aqua blue or a navy blue fan they all have the same thing in common.  Serenity.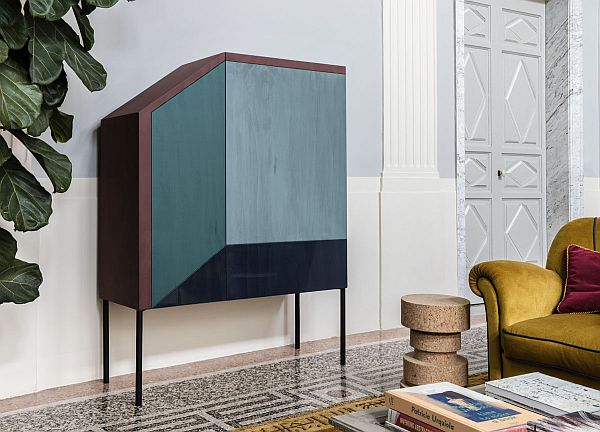 The Ritratti Cabinet from one of Italy's most creative manufacturers is a symphony in blue.  It was designed by Marzia & Leo Dainelli and made in Italy for Mogg.  The designers tell us that the piece was inspired "by the light and reflections of Paris as the sun crosses Notre Dame".  It is a strikingly beautiful piece with strong bold colours and clean lines. The design geometry also cleverly plays with perspective
Ritratti is made using laminated phenolic wood mixed with glossy and matt resin finishes. There's a second version mixing grey and yellow shades which is equally stunning.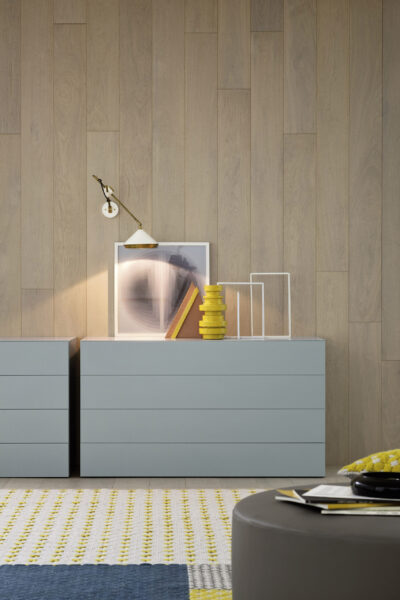 Bedroom Blues
Blue is an obvious choice for a bedroom because it's calming and gentle on the eye. Dulux tell us that it's hard to go wrong with blue. That's because: "Pale blues like sky blue, aqua and ice blue are expansive, airy and will help to make your bedroom seem larger and brighter" they say.  But on the other hand: "Darker shades like denim, indigo, or slate blue are sophisticated and warm and will lend large rooms a more intimate appearance".
All of which makes our Novamobili Easy bedroom furniture a great choice.  Along with being superbly made, it's offered in a range of eco wood finishes which are a high quality Italian laminate. As with all Novamobili's furniture, there are a wide selection of matt and gloss lacquer colours for the finish.  We also have samples of every colour in our Kings Road showroom (and don't forget that these can be posted out to you).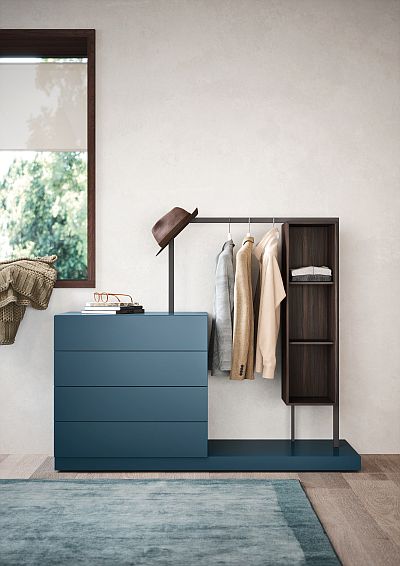 A Blue Light
Blue lights can be a bit unnerving.  But in the home they're simply a great finishing touch to a room.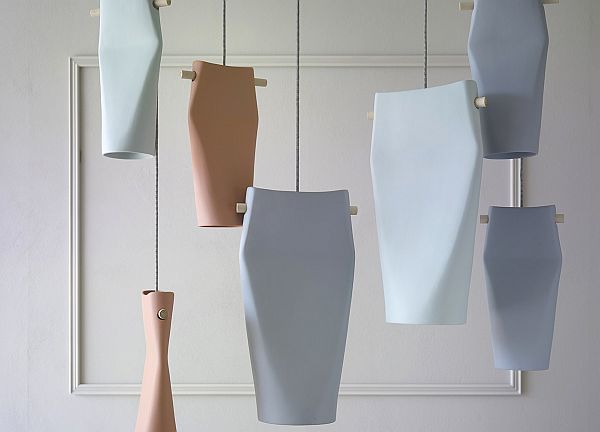 Miniforms is a family run company that began furniture production back in the 1970s.  Fast-forward 50 years and this quirky brand has successfully reinvented itself as one of the finest cutting-edge furniture designer/manufacturers in Italy.
We love what they do and their ceramic pendant lights, Dent, are a great example of their inventiveness.  Dent is a combination of natural wood and ceramic which gives a delicateness to a very strong, design-led piece. They're hand-finished and offered in four beautiful colours including the intense blue and jade shades seen here.
If you'd like more advice on colour then please do get in touch with the showroom and chat to any of the team. Between them they have years of experience, strong design and interior design backgrounds – and love to chat design and colour.