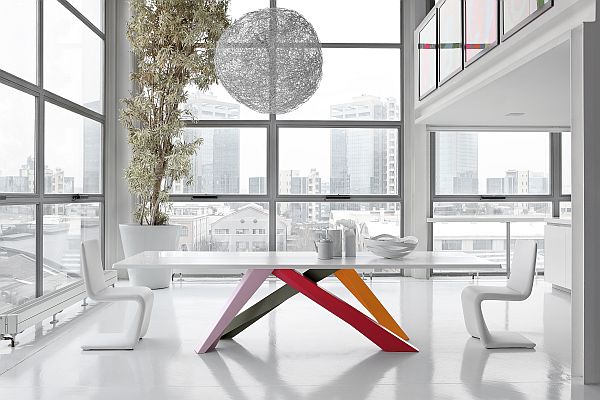 At the last count our Go Modern site featured almost 300 dining tables of different shapes, sizes, and variations on original designs.  It's an impressive offering and each one is very carefully chosen.  Along with contemporary good looks, each design must also be practical, with longevity an essential.
With so many tables to choose from the question is: where to start? So, we decided to share with you our top dining tables ever (and why!).
Bonaldo Big Table
The only place to start is with the amazing Big Table from Bonaldo, designed by the creative genius that is Alain Gilles.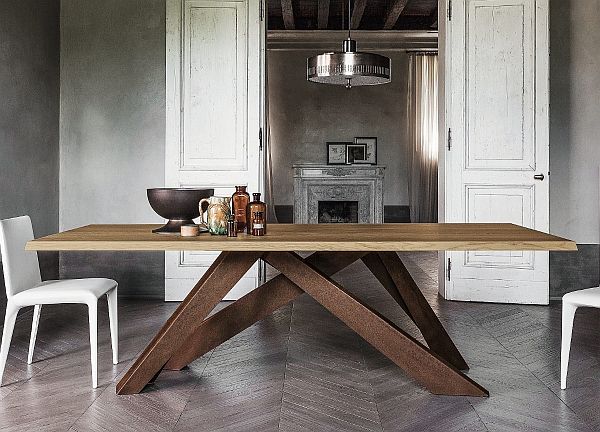 This iconic design (and we try not to use that word too often) was launched back in 2009.
"(Big Table) is a strong personality, always in movement, always trying to put one foot in front of the other. As if it were walking, each foot stretches to reach further away. Whatever the angles, it always looks strikingly different from one point of view to another, as if you could never really grab it" – Alain Gilles
Big Table was sculpted in 3D by hand rather than using traditional computer software. It's a large functional table.  It  follows the usual design rules BUT with legs that have their own characteristics.  Each leg has been positioned and oriented manually to give the whole structure a warmer, more human feeling.
The original design was created with a mix of traditional materials; steel and wood. The legs are made of steel plates, laser-cut and folded. Each leg has a different width, cut and bent in order to reveal different tonalities of colour.  They in turn cleverly play with shadows and perspective.  From wherever you view Big Table it will look excitingly different.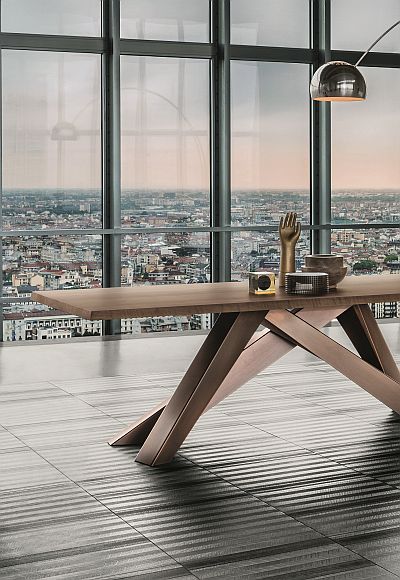 A much loved design
In the years that followed its launch Big Table was so successful that Gilles and Bonaldo created an extending version and increased the number of finishes. This much loved design can now be chosen in multiple table top finishes including various oaks, walnut, ceramics and glass.  And those multi-coloured legs will beguile you even more in Corten steel, burnished metal and copper bronze.  Each version is equally stunning.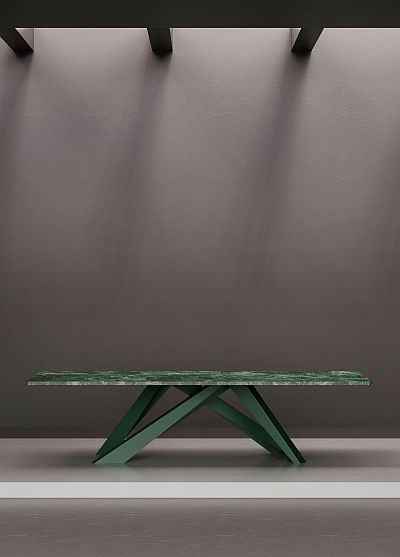 In honour of its 10 year anniversary a beautiful Special Limited Edition was created with a top in fabulous St Denis Marble with a matching green base. So, top marks all round from us for our best seller.
Old favourites
Bontempi Casa is one of Italy's oldest contemporary furniture brands. They also specialise in beautiful modern dining tables.  So it's no surprise to find a number of their designs in our top dining tables 'best ever' list.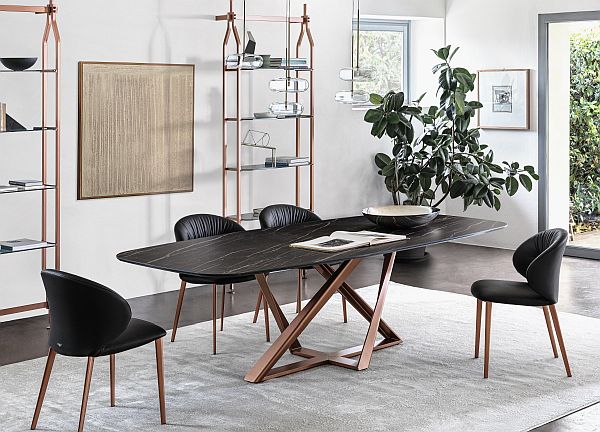 Millennium
The gracefully elegant Millennium table is simply a striking piece of modern design. It's part of the extensive Bontempi Millennium Collection designed by Marco Pocci and Claudio Dondoli. The two designers originally met while studying architecture in Florence and went on to work in theatre set design before focusing on furniture.
There is an element of drama with everything they create. Every piece within the Millennium Collection has a a distinctive angular base. The newest incarnation (above) has a barrel shaped table top featuring an extremely hard-wearing SuperMarble.  As with all our best selling designs there are multiple finishes including oaks, walnuts and anti-scratch glass.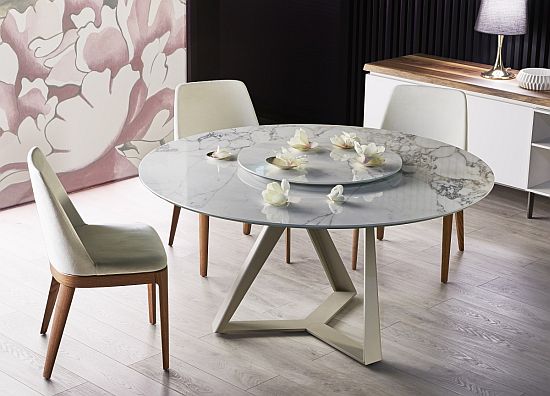 Artistico
Customisable design is always high on our agenda.  And also that of our customers. Which is why the next of our top dining tables is another Bontempi.  Artistico is designed to fit every style requirement with numerous options for the finish of both the table top and base.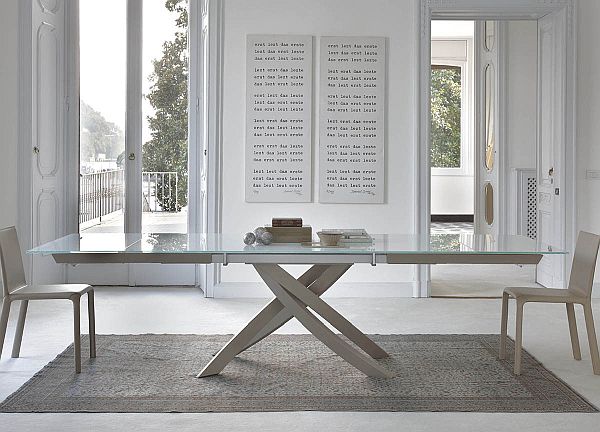 Artistico's striking metal base is manufactured using an old forging machine and is designed to look like medieval criss-crossed swords.
It can be chosen in a variety of metallic lacquer colours or even subtle multi-colours (white, sand, mud and dark brown) plus solid woods. Hard-wearing surfaces include SuperMarble, SuperCeramic, and anti-scratch glass.  There are lots of sizes and a popular extending version.  All of which adds up to a design hard not to love.
Cruz
If you are despairing of ever finding a simple but stylish workhorse of a dining table your search stops here.  Let us introduce you to Cruz.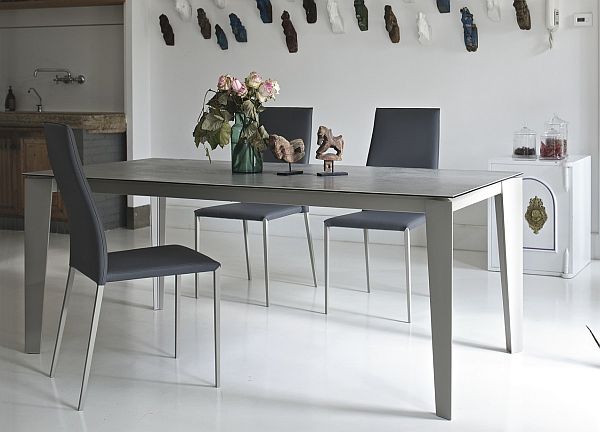 We absolutely love this table.  We've had one in our Kings Road showroom FOREVER and it looks as good now as when it first arrived. And boy has it been put through its paces over the years. In its time its withstood multiple assaults from (in no particular order): small children with sharp toys, hot coffee/tea cups, spilt red wine (don't ask) and the occasional indignity of having other furniture stacked on top of it.  And it doesn't care. It quietly and stylishly gets on with it.
Pop into the showroom and take a look for yourself. Bring a small child.  Better still bring red wine. There are four different sizes to choose from with the small version being one of our smallest extending tables. We guarantee Cruz will win you over.
Barone
In our experience good quality, stylish, extending round dining tables are sometimes a little thin on the ground. Why?  We're not sure. But step forward Bontempi's Barone.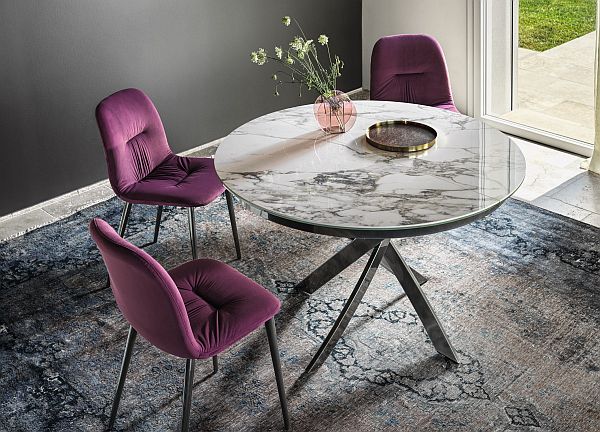 For us, this design fills a much needed gap in the market.  And our customers think so too.
Barone's good looks and multiple finishes are a given. Other things we should flag are a super-easy opening mechanism, updated this year. Extending it is easy: simply pull from either end and the central 50cm extensions will pop up out of the middle. The size, prior to extending, is 125cm diameter which extends to 175cm x 125cm.
There's a non-extending version available too.
Infinity
Our much loved annual trip to Milan to source new designs has bitten the dust for the time being.  However, one of the highlights is always the Porada stand. With headquarters in the breathtaking Como region of Italy, Porada have been producing equally breathtaking furniture since 1948.
Porada's entire Infinity Collection is a wonderful example of their mastery with wood. Customers love it and it's way up there on our 'best ever' list.
The company mantra is "everything is born from the love of wood".  Because using solid wood, combined with marble, glass, metal and upholstery is what Porada do so well. It also gives them worldwide recognition for their quality craftsmanship and attention to detail.
Designed by Stefano Bigi, Infinity is the height of elegance.  The version above is entirely in solid Canaletta Walnut with beautifully carved sculptural bases. Below its sheer artistic beauty however hides a strong, practical, functional table:
"I do not intend to create pieces for museum collections; my furniture is made to be lived and to live with its owners. These round and harmonic forms are always looking for an atmosphere, a peculiar environment, a separate space, a space apart, a space at one" – Stefano Bigi
Infinity is produced in two sizes including a smaller version with just one base. And, again, there are different options for the finishes, including clear, smoked or coloured glass, or a special supremely hard-wearing 'Rock' surface for the top.
Eclipse
We talk a lot about our shrinking city living spaces and our customers' subsequent requests for multi-functional furniture. Which is why we were so excited when we found the masters of stylish multi-functional design, Ozzio. A visit to their exhibition stand in Milan is like being allowed entry to the Magic Circle!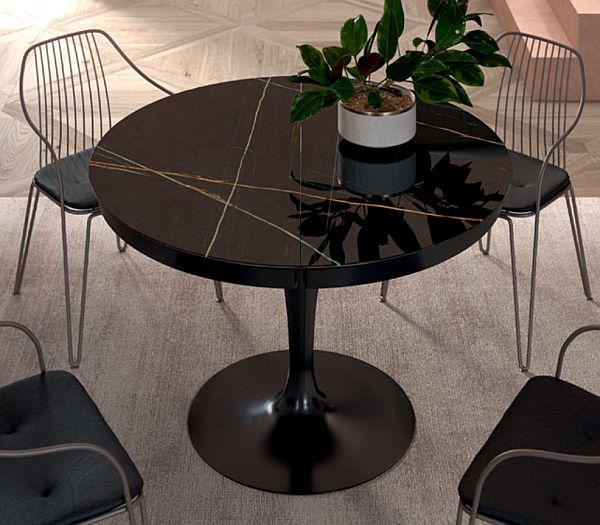 Ozzio specialise in innovative transformable furniture.  Console tables and coffee tables, for instance, that magically transform into dining tables.
However, it's their Eclipse round and extending dining table that is a winner with everyone.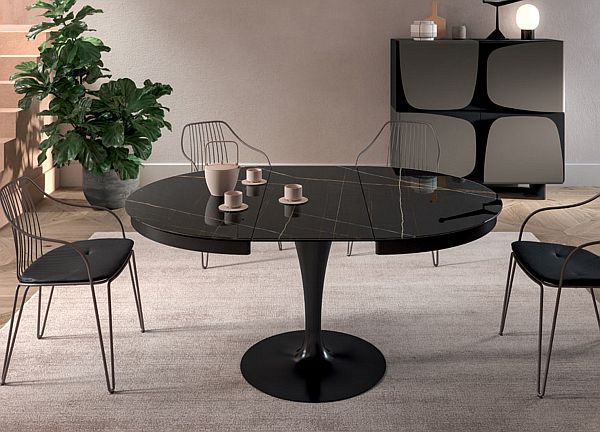 Designed by Studio Ozeta this elegant design ticks all the boxes.  A smooth mechanism allows the round table to easily extend to an elliptical shape which will comfortably seat eight people (163cm long).
Again, there's a variety of options for the table top, including lacquered glass and wood.  The glass options are numerous and glorious.  For example, extra-white (where most of the green tinge of normal glass has been removed); mark-less glass – softly acid etched that won't show fingerprints etc and which is almost impossible to mark or scratch; pyro-ceramic glass – heat resistant and waterproof; and marble glass.  Add to that extra colour choices for the central metal column. All of which explains why Eclipse is in our 'top dining tables ever' list.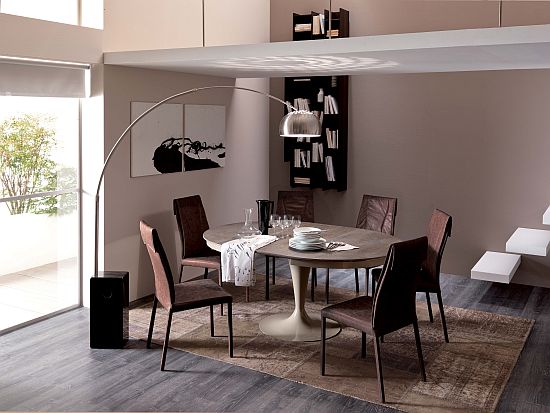 Get in touch if you're bamboozled at this stage, because we're always more than happy to talk you through the choices. And we'll send you home with samples (or, if you can't pop in, post them to you).
Gustave
A bit of philosophy now. Italian author Italo Calvino once wrote:
"Take a light approach to life. Lightness does not mean being superficial, but gliding above things from on high, not having burdens on your heart".
That whimsical statement, according to Italian furniture brand Miniforms, is something that reflects who they are.  They love creativity and above all good design. But with a light touch. And that, therefore, is one of the reasons we love working with them.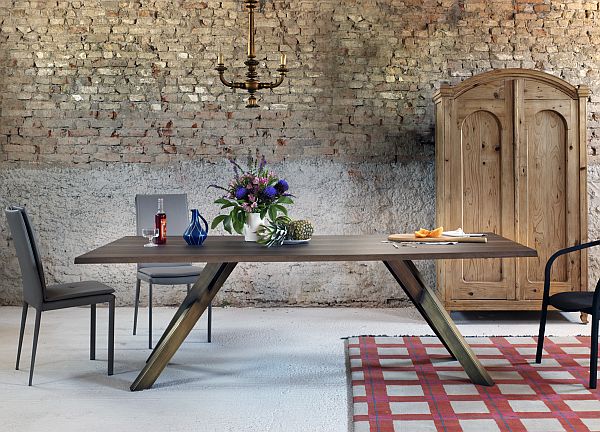 Gustave was designed by the multi-talented Paola Cappello (who kindly subjected himself to an interview with us last year. He also promised to visit us on his way up to Scotland sometime – a place he planned to visit – but we all know what happened then).
So.  What is Gustave's USP?
Firstly – six different sizes. Secondly – eleven different table top finishes. Thirdly – four leg finishes. And bonus points for the tilted legs which form an X shape. We were sold on it the first time we saw it.  How could you not be?
AX
And finally we're back to where we started with Bonaldo.  This time with however with the Ax table.
Ax takes it's name from the shape of the base, formed by two central criss-cross components. It's designed by Gino Carrollo and, of course, made in Italy.
This bold table comes in five different sizes. Lots of beautiful and hard-wearing table top finishes (lacquer, wood, glass, ceramics) plus numerous coloured lacquers for the legs. Looking for an extending table?  Ax can do that too.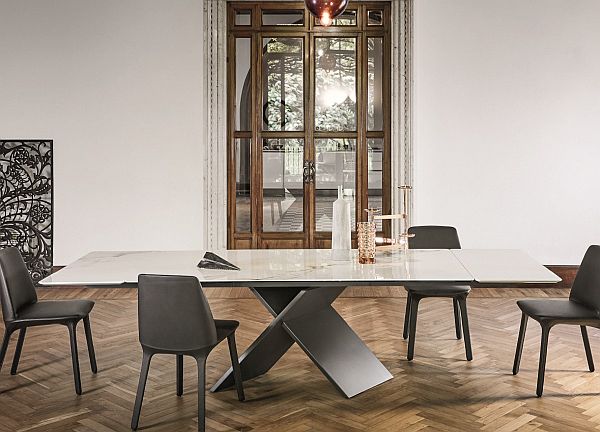 Hopefully this brief (or not so brief – there was so much to say!) walk through our best ever dining tables has helped.  Get in touch, tell us what you're looking for and why.  We know we'll have the perfect design for you.