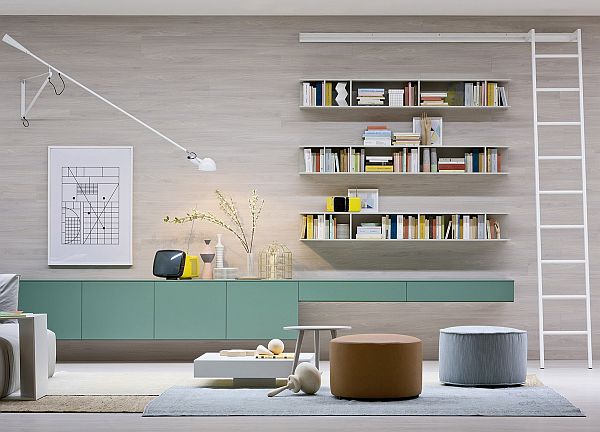 Pastels have made a big comeback.  Spring 2021 catwalks and interiors are reflecting the trend with beautiful shades such as Mint, Purple Rose and Pirouette Pink, and they're popping up all over the place.  Fashion and interiors magazines can't get enough of them.
Maybe it's because they're the calming shades we're all hankering after at the moment? These wonderful colours quietly whisper reassurance and optimism.
Mint
It's one shade in particular however that's caught our eye. Mint.  It's the prettiest of the pastels in our book. It also works incredibly well for interiors.
As colours go, this one's multi-talented.  Soothing and fresh paired with Scandi bleached woods for example, and stylishly cool with darker tones such as teak and mahogany.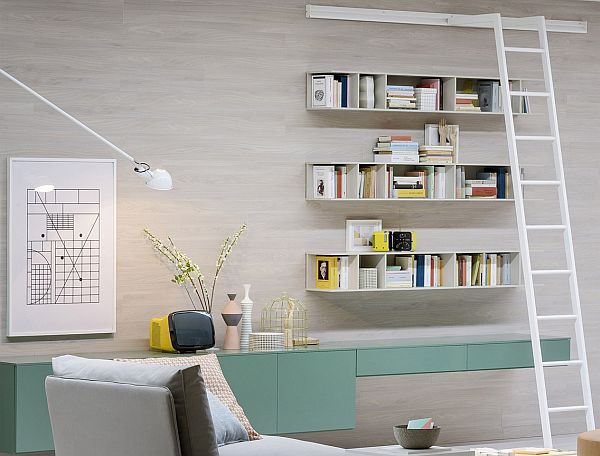 Pastels are big with the colour forecasters too.
Executive Director Leatrice Eiseman of the Pantone Colour Institute describes their choice of the spring/summer 21 trends:
"A range of floral hues reflective of gardens in springtime awakens our spirit, reinvigorating our interest in colour that inspires feelings of much needed optimism. Colours that are flexible and can work year-round, colours that amalgamate our desire for comfort and relaxation with energy and determination" – Leatrice Eiseman, Pantone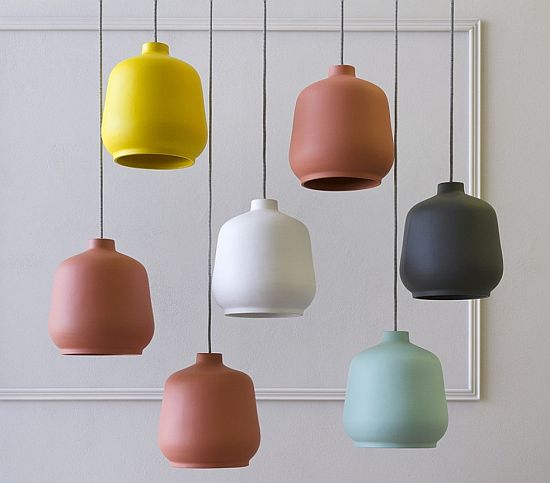 Spring colour choices
Our stylish Italian brand Novamobili are always big on colour choices.  Their wall units and bookcases for instance are offered in 20 different lacquered shades, including the beautiful minty '325/thyme' shade seen above.
If you're wondering which shades work best with mint, the team at House Beautiful magazine advise pairing with grey, black, white, sage green, teak, and sandy brown. That works for us.
Judy Smith, Crown Paints Colour Consultant describes some of their new spring 21 shades as 'Cocoon'.
"Cocoon is about simple beauty. No embellishment, no frills.  It focusses on rounded sculptural shapes and sensuous curves to create a calm and a quiet haven. Shapes are organic, materials are enveloping and comforting. Colours are natural with an underlying warmth that harmonise and tone." Judy Smith, Crown Colour Consultant
Mint in the bedroom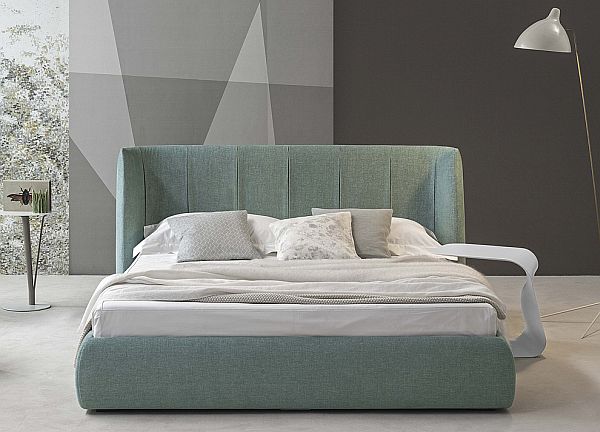 When it comes to bedrooms mint is a perfect choice for a calm, restful vibe.
The Bonaldo Basket bed (above) is covered here with a mint green fabric which works beautifully with the slightly higher than average, pleated headboard and generous base.  The wrap-around design creates a great sense of being cocooned.  It's an ideal sleep inducing combination.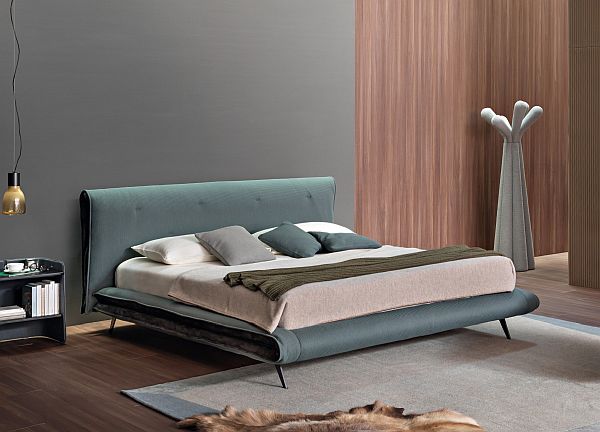 Mint on the side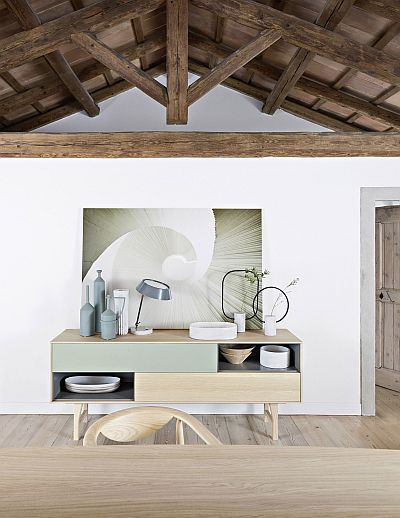 The Kuri sideboard by Japanese designer Makoto Kawamoto for Novamobili is available in numerous, stylish colour combinations.  The mix-and-match eco-wood/thyme lacquer finish here for example creates a cool Scandi vibe.  They've then added a darker 'fango' (mud) colour for the internal shelves to complement the look.
Minted sofas
The Bonaldo Structure corner sofa looks fabulous in this textured mint green fabric, and is perfect with the sofa's informal, modern style.  Along with a wide choice of fabrics the feet can be chosen to match or contrast with the upholstery.
Bonaldo's styling is always inspirational. Those cute metallic side tables are the new Frinfri, perched stylishly on a fabulous two-tone dusky blue rug.
Miss Filly impresses in mint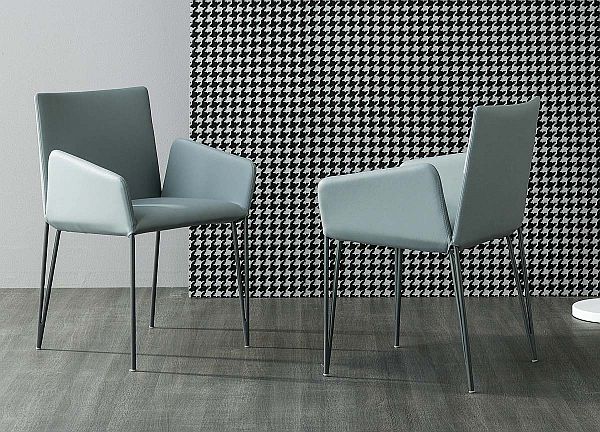 Amongst our most popular dining chairs ever are Bonaldo's Miss Filly. Why?  Simply because they just quietly get on with what they're supposed to do.  Such is their favoured status amongst the Go Modern team they've even had a whole blog article devoted to them in the past.
The Filly family of chairs are elegant and timeless. They're also extremely hard-wearing and practical.  We've had Filly chairs in the Go Modern showroom for years and they look just as good now as when they first arrived. And the mint green Capri leather upholstery used here is definite head turner.
Accessorise with mint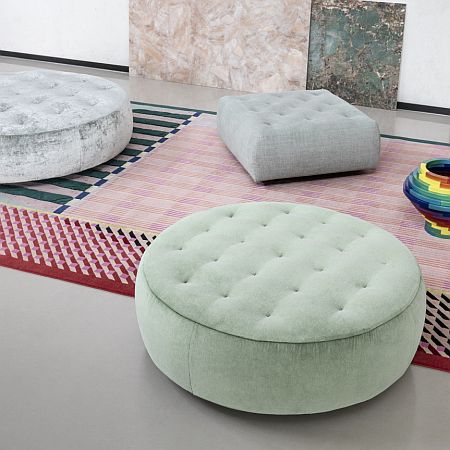 Finishing touches such as poufs, rugs and cushions are a great way to introduce a fresh colour to an existing scheme.
Our Saba Italia's Cookie poufs are a big favourite.  They also have removable covers so it's possible to restyle them as and when you want.  Go for shades of mint in the spring/summer, then simply style them up with a darker earthier fabric for autumn/winter.
Mint outdoors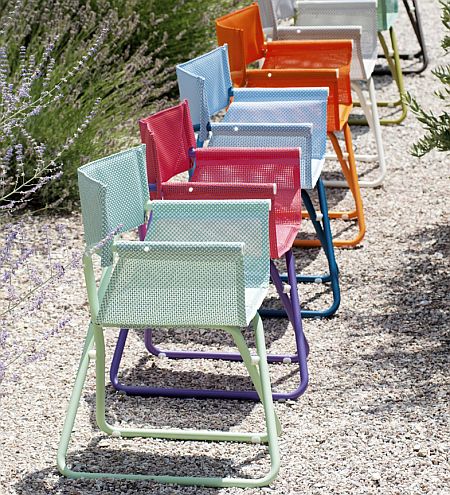 Fancy some mint outdoors?  Then our Italian outdoor furniture specialist Emu is your go to choice. Why? Because Emu LOVE colour!
Their Snooze Director's Chair  is an example of what they do best.  They're also a great way to add a splash of colour to your garden. They're in eight bright colourways including, of course, on trend mint.
As with all our outdoor furniture, the Snooze chairs are weather-proof with a powder-coated aluminium frame. The seats are made from Emu Tex, a technical fabric made to withstand the elements.
So, plant it, eat it, wear it and take it home!  Mint is this season's fashion and interiors must have.