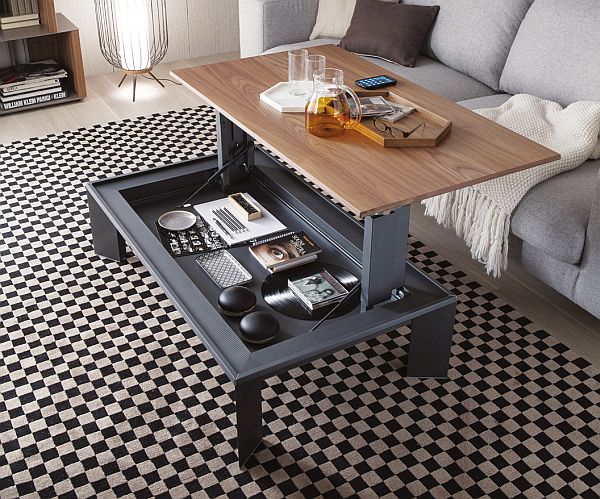 Small space living.  It's a trend were afraid to say.  More and more of us are squeezing into smaller (or as estate agents say) 'bijou' homes.
Consumer champions Which claim that research they have carried out shows that new homes built in the current decade are smaller than ever before. The size of new homes steadily grew from the 1930s, hitting their peak according to Which in the 1970s. Further research showed that it's not just houses, as new build flats are being downsized too.
The key to living with this trend and making it work for you is in the choice of furniture.  So, we've focused here on some of our many designs that are suitable for compact, small space living but that won't compromise on style.  We never do.
Shrinking living rooms
It's living rooms that have apparently shrunk the most.
And as all good living rooms need a good sofa, a small living room will need a good small sofa.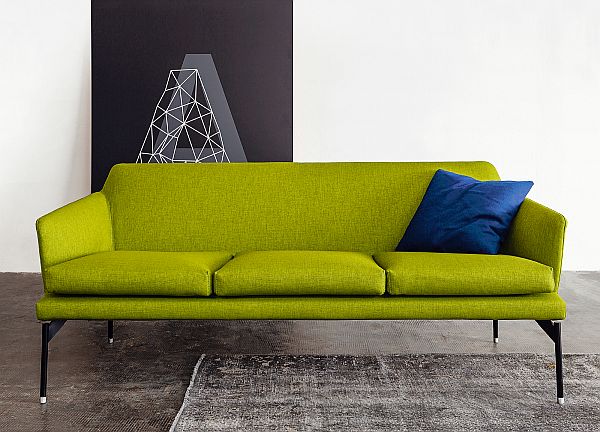 Top tip. Avoid the bulky.  That's because although it may look comfortable it will always gobble up space.
Vibieffe's Level sofa is one of our most compact.  The two seater measures a neat 124cm wide x 78cm deep x 78cm high and, despite its compact measurements it doesn't compromise on comfort.  Cushions are filled with polyurethane foam and then covered with thermal bonded fibre.
The covers come in a multitude of cotton and linen fabrics, in a wide range of colours, or leather. The pencil slim steel legs are incredibly sturdy and also give the design a greater sense of space.
Don't ditch the coffee table
With minimum floor space in a smaller living room, it's probably tempting to think a coffee table is a luxury you can't afford.  However, we see this particular piece of furniture as a clever way to introduce more storage.  So if we haven't already, let us introduce you to the joys of transformable furniture.
The very clever designers at Italian brand Ozzio are the leaders in this specialist design field.  As the transformable coffee table above demonstrates, this piece of furniture not only provides hidden storage, it also magically transforms into a work-from-home desk, perfect for laptops, or a casual table for a TV dinner. The top is available in a variety of different oak shades and the base in bronze or graphite (as above).
It's all in the drawers
This cute circular coffee/side table from Novamobili is big on storage.  With sides that smoothly open out, this 'secret' pull-out storage provides lots of hidden interior space.  It's obviously great for storing any number of things from TV remotes to laptops and notebooks. It's also got a neat diameter of just 54cm.  And as is always said – "you can never have too much neat storage".
Kitchen/dining/living rooms
Most new build flats now feature a kitchen/dining/living room. If you don't want this space to be dominated by a dining table, but you love entertaining, the answer is a transformable console to dining table.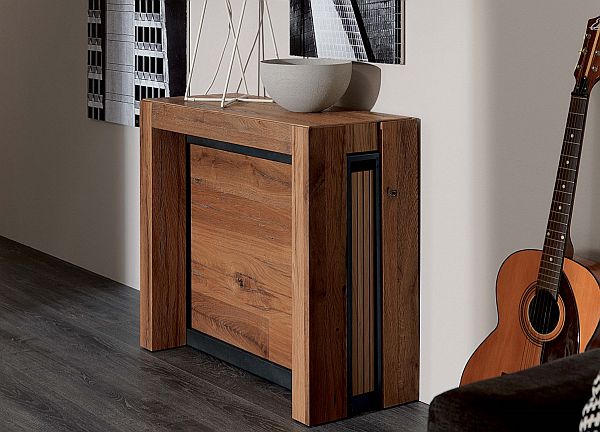 Ozzio's A4 table is the ultimate space saver!  It's amazingly compact as a console table with a depth of just 35cm.  However, this ingenious and sturdy design quickly and simply converts into a dining table that will seat up to 12 guests.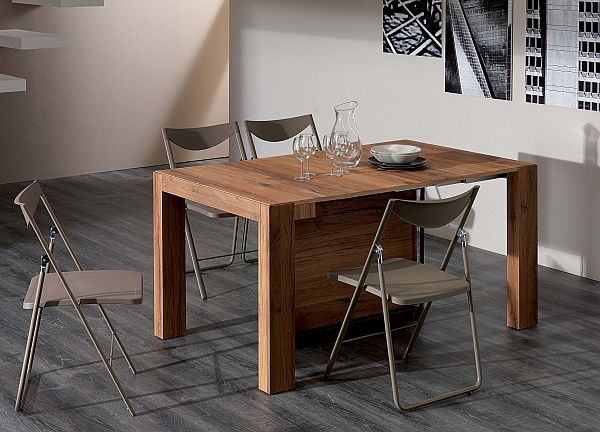 There are four separate extensions, each 58cm long, which are neatly stored under the table within a matt graphite frame. You chose how many extensions to use depending on your number of guests.  And when the party's over, it neatly goes back into place as a console table.
Ozzio have numerous variations of their transformable tables with finishes and styles to suit any interior.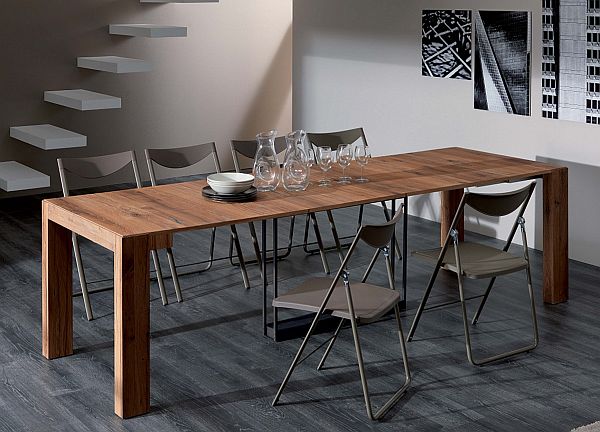 Small Space Living & Bedroom space
We recently saw a new build flat that, although a unique and interesting design, had really skimped on the bedroom space. It had been cleverly styled by the developers to feature a small double bed and a clothes rail but no wardrobe.  Our suggestion?  A slimline customised wardrobe with sliding mirrored doors.  The mirrored doors reflect light from the opposite window and also give the illusion of a much larger room.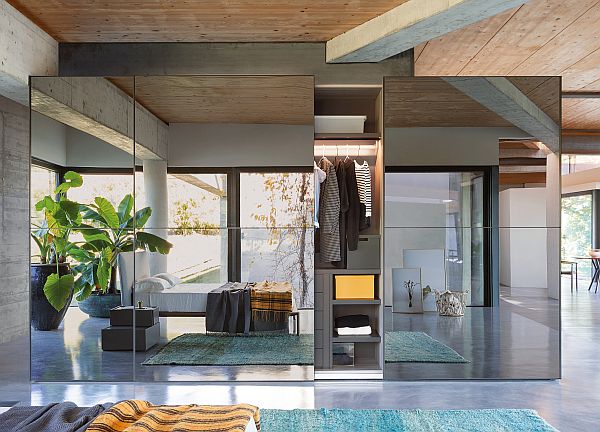 Novamobili's Crystal mirrored sliding door wardrobe is one of our highly flexible wardrobe designs that is offered from two doors upwards.  It's possible to combine different door widths to create different sizes.  Most of the finishes can be reduced in size to suit your space with customisation of the height also a possibility.
With a slimline wardrobe in place there's then the possibility of including a slightly larger bed.  The clever money here is in choosing a storage bed.  If space is compromised either side of the bed the kind of design you go for is crucial.  Our suggestion is one with a lift up base.
The 'Comodo' base, seen here on Bonaldo's Cuff bed, has gas piston mechanism, and this design allows greater access to the storage below.  It also means that the beds sheets and duvet will stay in place even when the bed is fully lifted. The slightly wider headboard for this design also gives the illusion of the bed being bigger.
Lighting & small space living
If you have no space at either side of your bed for a bedside table, but would still like to have bedside lights, our suggestion is wall lights.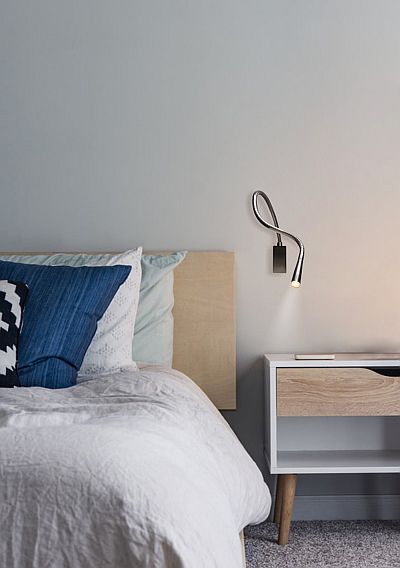 Italian lighting specialists Contardi have a variety of styles to choose from, including the ultra modern  new design here, Flexiled.  It's slim profile makes it perfect for either side of a bed in a small room.
Flexiled features a stylish braided steel flexible arm which allows you to angle the light perfectly for any reading position. There are two sizes (60cm or 90cm long) and the satin nickel plate can be fitted with or without a switch.  There's also a very desirable leather version of this light.
So if you're about to move into a new build home and wondering how you'll fit everything in, don't despair.  There are lots of clever designs out there which will hopefully make you feel you have so much more space than you every thought you could have.