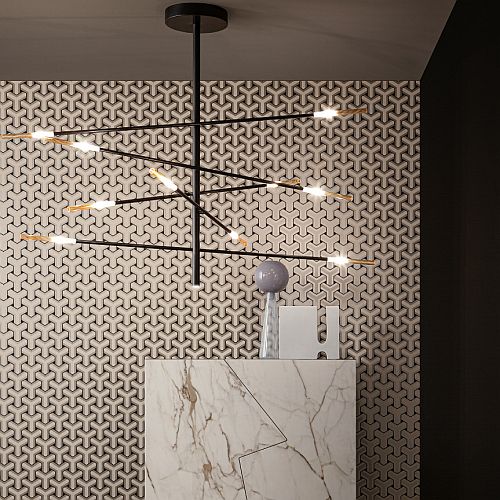 If you are deciding on designer lighting for a room the first place to start, we're always told, is with your furniture. The style of furniture, and where it's going to be placed in a room, will lead your choice of lights.  Unless that is you fall in love with the light design first and do it all the other way round!
Wherever you start, the expert interior design advice is to decide on a main focal point in the room. Something that your main source of light will draw the eye to.  So, for example, starting with with the simpler stuff, in a dining room that will of course be the dining table.
The dining room is where designer lighting can play a major role.  However good the menu and fabulous your dinner guests, the focal point is obviously the dining table. So step forward some of our latest designer lights, ideal for a dining room setting.
Top of our menu are Bonaldo's fabulous new Bon Ton Lights.
Beautiful glass globes are the centre-piece of the Bon Ton Light, designed by Bonaldo's Studio Team Design.  The glass shades are offered in transparent, amber or smoked glass. This dynamic design can also be just one single globe, as above, creating a dramatic centrepiece.  Or for added drama choose multiples of three or six globes, arranged in an irregular order, as below.  We think they are all rather fabulous.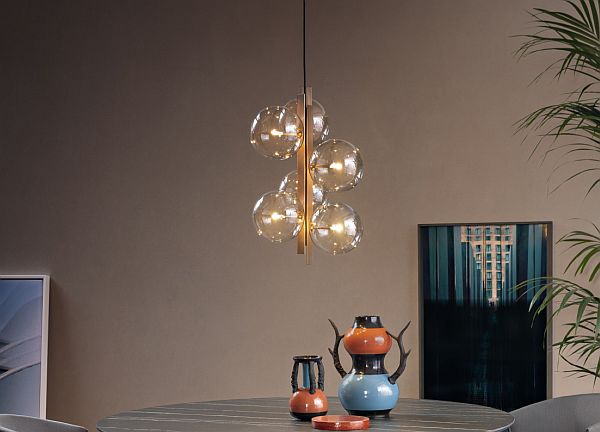 "Crossroad is a lamp with an audacious and dynamic character" – Oriano Favaretto (designer)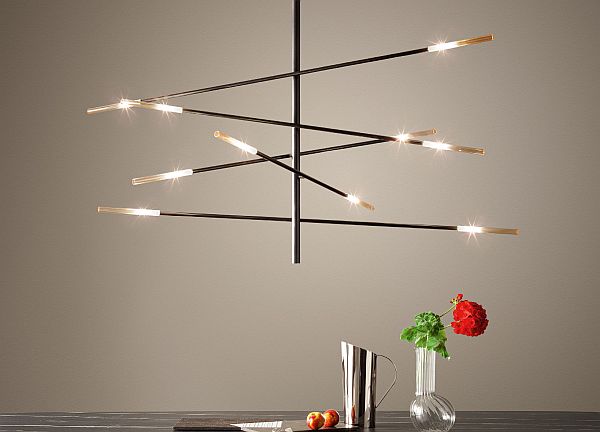 When sculpture meets lighting design
Crossroad is a pure sculptural design by Oriano Favaretto.  Favaretto is a designer extraordinaire, and someone who has also created designs for two of our other brands, Porada and Miniforms, plus a host of other well-known industry names.
The basic element of Favaretto's new design is a series of matt lead-coloured lacquered metal cylinders. At either end of the cylinder are sophisticated amber-coloured glass elements which provide the light source.  Pure magic in our book. Favaretto has also played with light here, criss-crossing the slim cylinders in a multitude of directions.  It creates a tremendous impact in any room.  If you're looking for a light that will leave a dynamic mark in a setting, this is your design.
And if you're taken with the pendant version of this design the Crossroad collection also includes a dramatic floor lamp.
A very clever design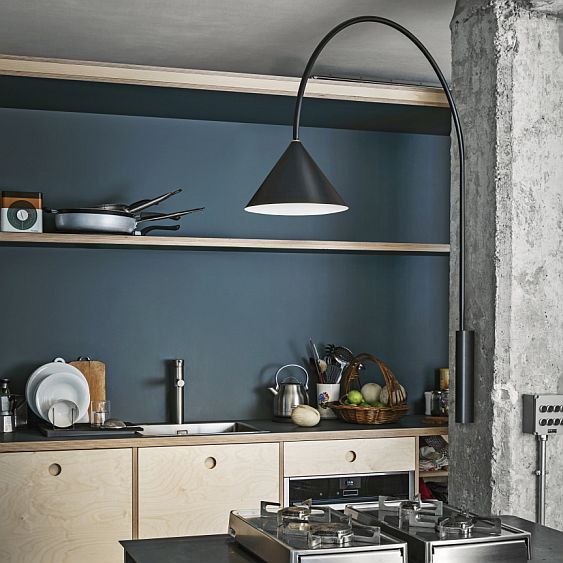 We've featured the Ozz lamp from Miniforms previously.  It ticks all our contemporary design boxes  AND it's an award-winner.  Recipient of the 2020 Cleverest Awards no less. Designers Simone Sabatti and Paolo Cappello have now given us two new versions.  Ozz is back.  This time as wall and floor lights.  And we love them.
"Ozz shifts from shy domesticity to become central to the home, proving itself a key figure, with its large, look-at-me arc" – Miniforms
The design of Ozz as a floor lamp starts in the concrete base and ends at the lampshade. Between the two, the shaft curves in a dramatic trajectory until the point where the light bites the bait. It's poetry isn't it.
This superb design works incredibly well next to a kitchen table, or as a clever, stylish way of illuminating a desk or corner of a room.
Lighting with an industrial vibe
If you like your interior design to have an industrial feel, then the Bio-S floor lamps will get your pulse racing.
Bio-S has a metallic, architectural structure with a metal frame that can be chosen in bronze or lead adding to the industrial vibe.  Then there is the introduction of the design's contrasting elements with blown-glass lampshades, in smoked mirrored or transparent glass. Pure genius yet again from Bonaldo's Studio Design Team.  Bravo!
Lights that (really do) make a statement
We have a very soft spot for Mogg's Bla Bla ceiling lights.  Probably the only design in our portfolio that can truly call itself 'statement lighting'.
Designed by Emanuele Magini for this quirky Italian brand, Magini has also worked in the field of scenography and for Disney Italy, as well as a host of other international brand names. He sites some of the influence for these lamps as the comic pop art of Roy Lichtenstein.
As you can see, Bla Bla is a speech bubble with its black PVC frame containing a light (a perimetric LED 270 degree light box). The inner plexiglass is an optional accessory which can be inserted inside the frame allowing you to write whatever you want: thought for the day, the memory of yesterday, the promise for tomorrow… bla bla. Available in two sizes (see above) which means you can start endless conversations with your other half – even when you're not speaking.
And a special 15% off…
And as a special treat as the nights are shortly to get longer and our afternoon's darker, we're offering 15% off our specialist lighting brand Contardi.  Be quick, this sale will finish on Monday 2nd November (10.am to be precise).
So share a lightbulb moment with us and take an illuminated stroll through our lighting collection.