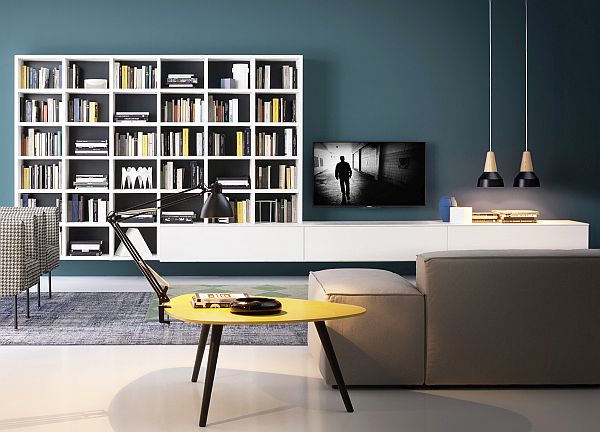 Are you spending more time indoors?  Tick.  Working from home? Tick.  Need more space?  Tick. So many more of us are answering a big yes to these questions at the moment. So let's talk storage. Stylish, practical storage.
Clutter free spaces
Creating organised and clutter free areas at home is definitely one answer to unlocking precious extra space.  But where to start?
The low down
Our new season arrivals have a number of fab new storage pieces including the beautiful Bonaldo Frame K sideboard above.  Designed by Alain Gilles, Frame K is part of his larger Frame Collection.  What has caught our eye with the new Frame K is the addition of a great new finish.  In this version the wood of the original has been replaced by hard-wearing ceramic.  As you know, we love this material for both its stylish good looks plus its utterly practical credentials.  With ceramic, it's such a hard-wearing surface you needn't have any worries about coffee cup marks, scratches or any number of other horrors we subject our furniture to.  It's built to last and will stay looking good for eons.
Any good sideboard will also greedily conceal an enormous number of all those items you really don't want on show. Sideboards are also designed to store everything in a practical and easy-to-find way.  And they're great for showing-off those favourite possessions we do want everyone to admire.
The big divide
The latest bookcase from Miniforms is definitely one of those pieces that deserves a much closer look. That's because designer Paolo Cappello is a leading master of clever design. And his Milonga bookcase doesn't let us down on this score.
Milonga's bold and distinctive good looks include long tubular metal legs.  These can be lacquered in lots of zingy colours from apricot to Veronese green, meaning you can make it unique to you.  The shot above shows the legs in a bold marsala red, apricot, canapa and white. And the shelves too can be lacquered or finished in various woods such as the flamed oak seen above.  The bonus with this piece is that it's designed to also be used as a room divider if needed.  Its sturdy frame will stand safely on its own to partition a space.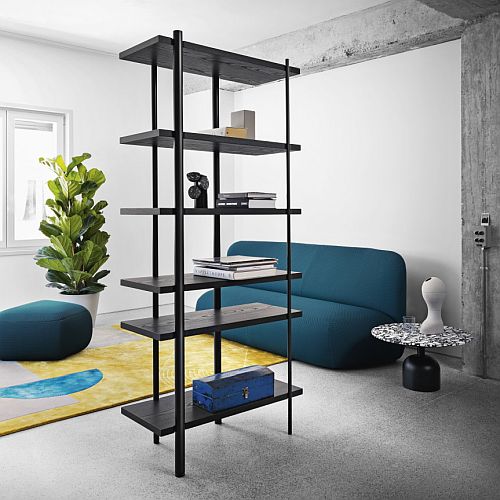 Open storage like this is great for items that you need close to hand.  It's also another way of displaying the odd piece you're mighty proud of.
Roll with it
Another clever design here. The Roll bookcase from Bonaldo. We love the industrial vibe with this piece and the fact that it manages to exude some understated elegance all at the same time.  We also love its modular flexibility.  It can be fixed to both the ceiling and the wall, which means its another superb room divider if you choose to use it like that.
As with all of Bonaldo's designs it's also about attention to detail.
Designers Dondoli e Pocci have excelled on the detail front. The metal uprights can be chosen in the same finish as the supports, or in a different finish, for a stylish play of contrasts. Stunning isn't it.
Space age living
Using your walls to create more room for storage will not only leave you with more floor area it will also utilize space you didn't even know you had.
Wall units are the clever solution to 21st century living's 'short on space' dilemma.
These flexible, modular designs can transform the way you live.  And all while staying quietly in the background. Places such as under the stairs are often overlooked.  Equally alcoves and areas over door frames offer huge potential for tapping into extra space.  A customised, modular design is a great solution.
And for those who like to keep a TV screen out of sight until it's switched on, designs such as Lema's Selecta wall unit/bookcase offer tons of clever, stylish storage potential.
This modular system consists of individual components with various widths, depths and heights.  This flexibility means you can design your own, personalised storage. Centralised sliding doors for example will keep the TV hidden until needed, or even house a slim-line home-office set up.  Some versions have pull-out drawers, cupboards, pull-down fronts etc. The world's your oyster.  Just ask us… our in-house team are experienced CAD designers and love a challenge!
High glass storage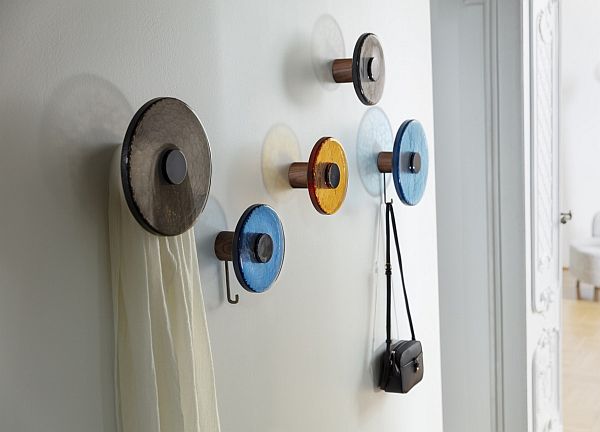 We have a soft spot for glass. So as you can imagine, Porada's beautiful new Jupiter coat hooks are a big talking point in the office.  They're made from cast glass (or 'Pate de Verre' as it was known in the early 1900s when it was all the rage in Art Nouveau design).  The technique involves creating a paste from powdered glass and colouring agents, filling a fire-proof mould, and then firing it in a glass-furnace.
Making cast glass is a slow and precise process, requiring a large amount of skilled craftsmanship. The trick, we're reliably informed, is to avoid any cloudiness, bubbling or cracking during the cooling process.  The end result with Jupiter is pure glass perfection. There are four beautiful colours to choose from, including clear glass, and two sizes.  These are definitely on our Christmas wish list!
Storage born from the love of wood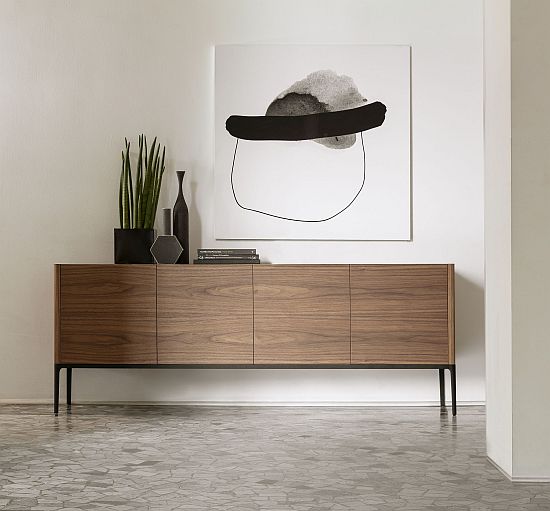 We keep saying it but that wont stop us saying it again:  Porada* make some of the most breathtakingly beautiful wooden furniture on the market. And their brand new Kanto sideboard is simply fabulous.  It is pure contemporary minimalism at its best combined with the utmost in luxury design – which has us swooning. Porada own three sustainable 450 acre plantations in the heart of Bourgogne, France, so you can also be assured that the wood they use has the very best credentials.
Designer David Dolcini has given Kanto four hinged doors and two compartments, with two inner shelves in clear glass (with a thickness of 8mm).
"Design is in my opinion a magical balance. It is a synthesis process able to condense all complexities of a project into an essential and organic product"  David Dolcini
Nature inspired storage
Is Anemone a sculptural coatrack or a sculpture that incidentally serves as a coatrack? – Fabrice Berrux
And yet more tree inspired design.  And let's face it – the world needs more trees. This time from the wonderful designer Fabrice Berrrux and his new coat stand Anemone – shaped like a tree.
This is cute.  And majestic all at the same time.  Anemone is the height of the average person – 163cm/ 5'5″ high and 52cm across.  Perfect for a hallway or in the corner of a bedroom for hanging dressing gowns, nightwear etc. from the 'branches'. The fabric covered version adds a wonderful textural layer to a room or you can opt for a smooth finish in anthracite, grey or white.
As Berrux himself says, there are two types of design: the 'butler products', useful and practical, that step back into the shadows when we're no longer using them.  And then the 'guest products', the products we want to show-off or exhibit in our home.  Anemone definitely falls into the second category.  Berrux, ever playful, also poses the question: is Anemone a "sculptural coatrack or a sculpture that incidentally serves as a coatrack?".  You decide.
*Look out for our special 15% off all Porada designs until 2nd November!