It's mid summer and predictably temperatures have dipped a little – but we're sure the mercury will rise again soon!  In the meantime we thought we'd bring you a few of our 'shades of summer' – from hot and sultry to lush and botanical, summer colours to enjoy all year round.
Red hot to Scandi cool
If deep, hot colours are not your thing – don't worry.  Every design we offer comes in a multitude of colours, and in a variety of fabrics and finishes.  So if you're more of a Scandi cool kind of person, we can do that too.
Bonaldo's fabulous and modular Coral sofa (above), designed by Sergio Bicego, has removable covers in a vast selection of fabrics and leathers. We keep samples of all fabrics and finishes in our Kings Road showroom (opening again very soon!). If you can't make it to the showroom we're always happy to post out… just let us know.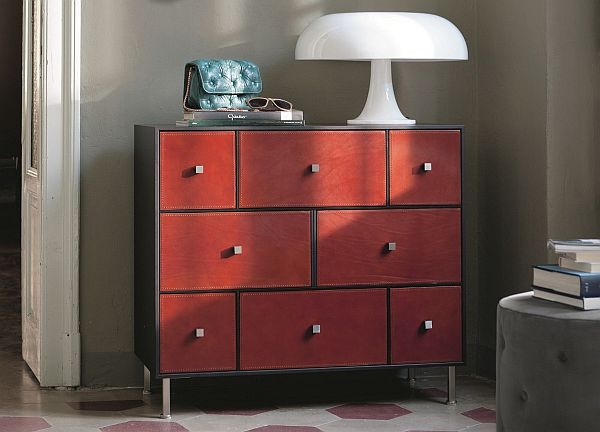 Smouldering leather
Porada's love of wood has not been forgotten with their superb Rucellai chest of drawers.  The frame is made from beautiful canaletta walnut; the drawer fronts, however, have been finished in high-grade leather. And there are ten different leathers to choose from.  It's the rosso/red bulgaro leather, shown here, that really caught our eye.
Summer yellows
A palette of yellows, golds and terracotta orange always shouts summer.  And rich sunshine hues will lend a room warmth and a fabulous focal point.  Novamobili's stylish and highly practical Reverse sideboard (above in ochre) is by the multi-talented Gherardi Architetti.  A great feature of this sideboard is that both the carcass, internal shelving and door fronts can be selected in 21 different matt lacquer colours. And to be able to offer that makes us feel very summery.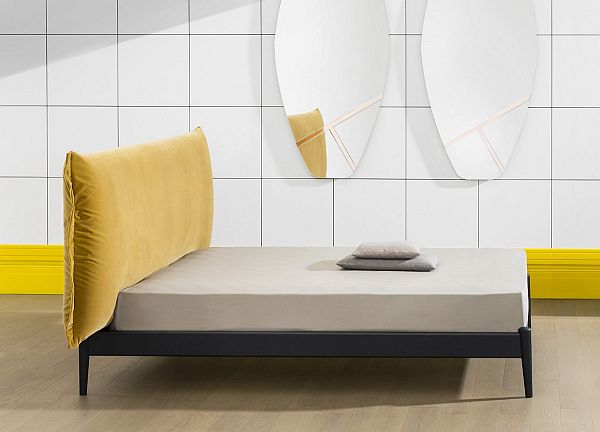 The wonderfully sounding Studio E-ggs designed the Shiko Wonder bed for Miniforms. And if the colour of this headboard doesn't make you wake with a smile, we're not sure what will.  But if you're not a 'yellow in the bedroom' kind of person, there's a huge selection of other colours and fabrics on offer.  The model above is covered in a luxurious 'Regal' velvet. The frame too can be lacquered in various colours.  Opt for a block matt finish or aniline, which is where you can also see the grain of the wood through the colour.
Earthy tones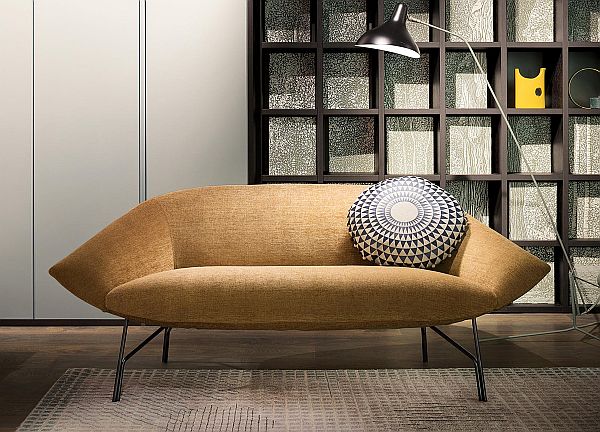 Lema's Lennox sofa by Gordon Guillaumier is all about curves and texture.  And that's an ongoing summer trend we're deeply into.  The upholstery options for this great sofa are endless.  We love the warm, biscuity coloured fabric used here, which gives the whole design a warm, seductive edge.
Metallic glamour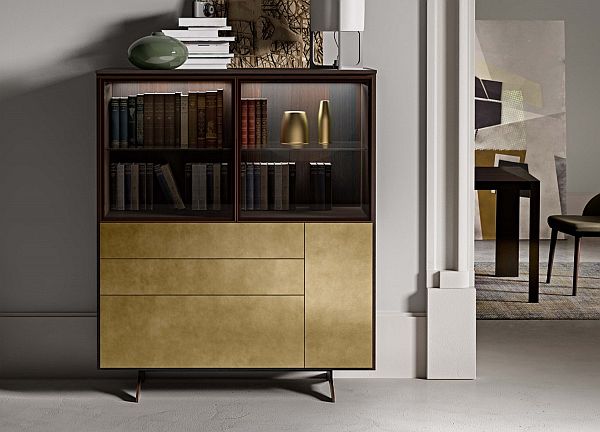 Jesse is one of Italy's best known and loved contemporary furniture brands.  Whatever you're looking for – bedroom, living room or dining room furniture, Jesse will have something to tempt you.
Their Open Sideboard 06 is part of a system of sideboards, bookcases and wall units. Adding to the luxurious look is the addition of front panels in metallic finishes. We love the wow factor! Choose from gold, lead or bronze (as above).  A lot of love, care and attention goes into the creation of this piece.  Each panel requires eight to ten cycles of skilled polishing and brushing.  The result is stunning, with a tactile 'textured' look. An added bonus is that these luxury finishes are remarkably resistant to abrasion, scratches and stains.
Lush greens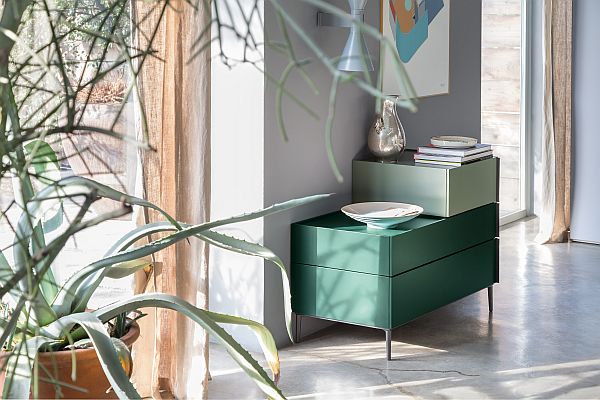 British summers vary in temperature, don't we know it, but there's no ignoring the lush greens of early summer. The UK's rolling hills and fields at this time of year are what we all crave after a long winter.  The beauty and variety of green offered up by nature is incredible.
Novamobili's kaleidoscopic range of colours include, amongst many others, shades of green such as 'forest', leaf' and 'thyme'. Their Giro chest of drawers  (above), can also have 'mix and match' finishes.  The effect is a great way of adding another layer of interest to a simple style.
Flower power
We couldn't visit 'shades of summer' without referencing some of our range of accessories that are absolutely bang on trend. From catwalk to sitting room, big, bold blooms are in.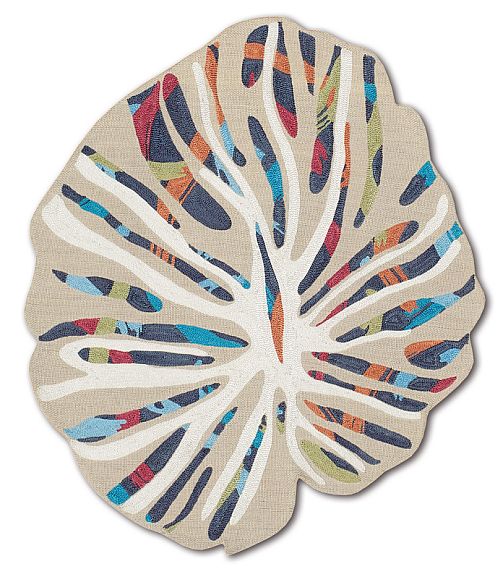 Check out our carefully curated selection of beautiful rugs from two leading European names: Missoni Home and Nani Marquina.
Missoni is celebrated the world-over as an iconic fashion brand, and we were thrilled to be able to introduce Missoni Home Furniture to the UK a few years ago. Many of Missoni's home accessories feature their famous bold patterns along with some eye-catching botanicals.
The Missoni Home Yoro outdoor rug (above) can also be used indoors.  It's a leaf shaped design, with dazzlingly intricate embroidery, and a pattern in shades of blues, greens oranges and red.  It is exquisite, comes in two sizes, or can be requested in a custom made size.
And yet more botanicals from one of the world's leading rug makers, Nani Marquina.
Flora is one of  Nani's latest designs by Barcelona/New York based artist Santi Moix (a latest special project includes a mural for Prada in their SoHo store).  And the collection is quite simply breathtaking.  There are three styles within the range: Backyard, Promenade and Bloom. Each one representing a different part of the life-cycle of a flower, and in different settings.
Every one of Moix' beautiful hand-tufted designs has a thrilling depth of colour. In the case of Promenade, a dizzying 38 different colours.
So let's enjoy summer – hopefully we have a good six months or so left. And when this glorious time of year begins to fade we can keep a little bit of summer indoors – from red hot russets to lush greens and beautiful, blousey botanicals.