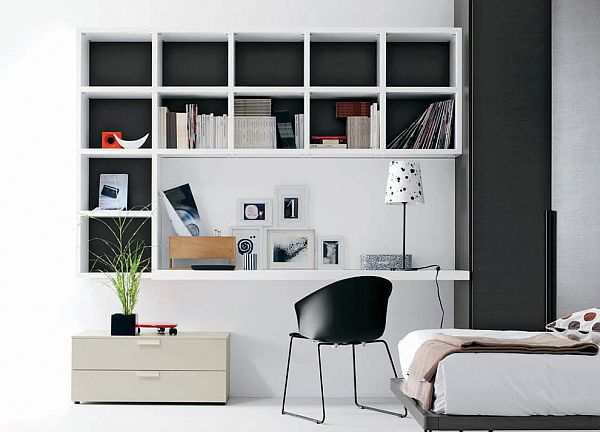 #WFH – working from home, it's the new 'normal' for a lot of us in this crazy old world today.  And many of us have realised – we actually quite like it!  Goodbye commute, we wont miss you. No more awkward avoiding the person you always need to avoid at the water cooler. You feel more productive – and you are. You're happier. You can have your work space as you want it. Zoom, which was a raspberry, strawberry, banana retro ice-lolly, is now part of your every day lexicon.
Working from home – pros and cons
Actually, we're not going to list the cons… there's enough depressing news out there already.  And if you've been working from home – you already know them.
Instead we're going to flag up some of the superb bespoke home-office compositions and products we have ready and waiting for you.  If #WFH is the new normal, and it almost certainly will be for sometime to come, sorting out your space has got to be on the pro list.
Bespoke home-office ideas
Battistella, is one of our go-to companies when it comes to ideas for the home-office, they offer the best office seating options. They also make fab children and teenagers' bedroom furniture btw.
Their designs are beautifully made and include fully modular desks, wall units, bookshelves and chests.  By modular, we mean that you are the boss with this type of design.  However you want to organise your office or however you want your office design, and whatever your space, we will make sure it works.
The Blog home office composition no 25, shown here, combines several wall units, and a long desk panel.  One of the stand-out stylish details for us are the graphite back panels, which are very cool, and work beautifully as a backdrop to coloured files, books, ornaments or the odd plant.  The drawers/filing cabinet here are finished in a matt canapa lacquer.
Bedroom v home-office
If your bedroom is now your home office, compositon 28, above, shows how to stylishly incorporate an office between two wardrobes.  Neat isn't it. The long desk panel is topped with shelves in different lengths, all finished in natural betulla .  The zig-zag style shelving has then been attached to a back panel, which is in the same canapa finish as the wardrobes. By using back panels we can also incorporate any extra lighting that's needed, as well as hide all those ugly cables.  As with all wardrobes we offer, there's a wide choice of great finishing touches, such as handles in different shapes and styles.
Colour references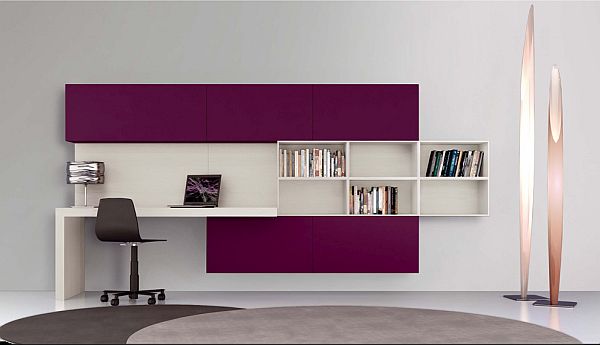 The titles and references of some of our compositions are, admittedly, a little dull, but the choice of finishes definitely isn't.
At the last count there were 25 matt lacquer finishes and 16 gloss lacquers.  So, you're spoilt for choice. You can stick to soothing, calming Scandi colours, with all the neutrals from white to sable, or throw caution to the wind and opt for zingy colours such as peach, tangerine or ocean.  The GD-169 composition here consists of drop-down doors and open spaces compartments.  A desk top has also been incorporated which offers some roomy working space and adds to the aesthetics with its streamline design.
We have samples of every single lacquer or finish in our Kings Road showroom.  If you can't make it over to us, don't worry, we'll post out samples for you to look at at home. If you like a little colour drama, the colour here is granato.
From coffee table – to home-office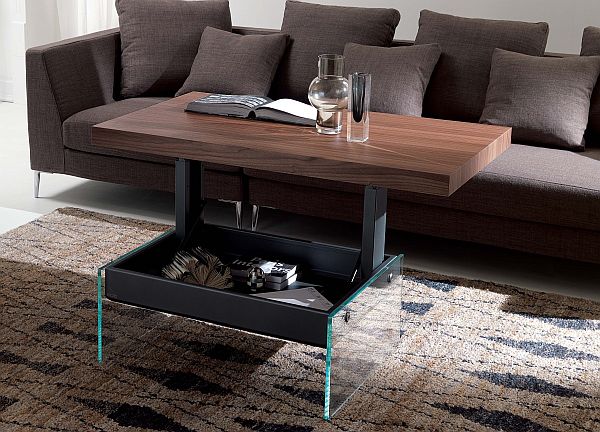 If your default work space is your sofa, the incredible designers at Ozzio have got you covered. They not only specialise in clever space-saving furniture, such as consoles-to-dining tables, they also have a nifty line in coffee tables-to-home-office-desks.  How do they do this?  There's absolutely no smoke and mirrors involved, simply sophisticated mechanisms with a powerful hydraulic lifting system.  And they are incredibly Italian-stylish to boot.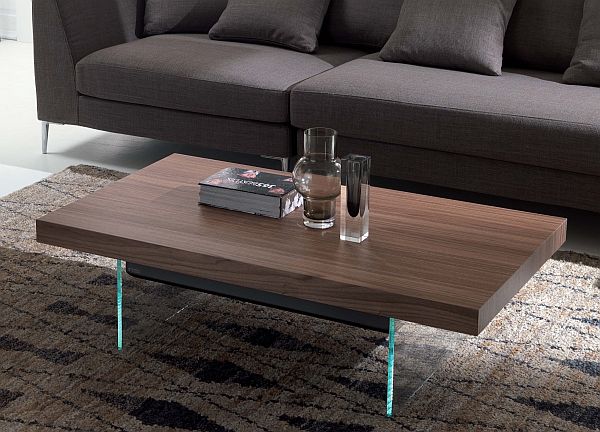 The two images above show you how it works.  The Bellagio multi-functional table comes in two shapes, rectangular or square. The rectangular coffee table above measures 68cm wide x 117cm long x 32cm height. As a home office desk, the design pulls out from 68cm to 97cm wide, with a full height of 65cm.
That's pretty clever in our book.  And, as mentioned, it also manages to stay stylish; how stylish is down to you and your desk clutter of course! There's also a handy desk drawer hidden below the table/desk where you can store your laptop, note books etc for when you want to 'leave the office' and reclaim your living space.
Good luck with the new 'normal'.  Talk to us if you'd like more ideas of what we can do with your home-office.  If you can't visit the showroom, that's not a problem, we can do virtual link-ups and advise you on the space you have, and what we think might work.  We like to think we're pretty expert at this, and have been for years – we've fitted lots of wall units and wardrobes without even meeting our lovely clients. Although we obviously love meeting you too.  See you in the showroom or online.