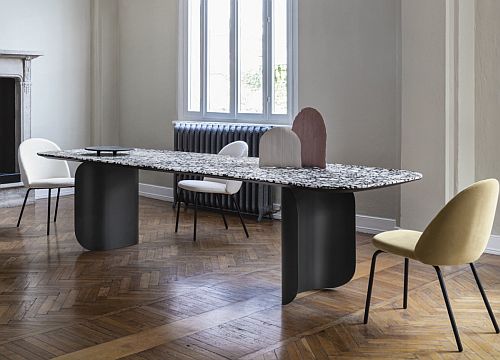 We get lots of enquiries for 'large, stylish, family-friendly dining tables'.  And it seems that most of us are looking for something similar: that is, a table that looks stylish and works on a day to day basis with family life (i.e. needs to be pretty near indestructible!).  It also has to be flexible enough to accommodate 12-16 people at a sitting when it needs to.  It's the reliable work horse of the kitchen/dining room. Unless of course you thought that was you, then an induction hob is also a great choice as they are so fast and efficient, we found this guide to the best induction hobs recently and it's great so give that a look if you are considering buying an induction hob.
Our brand new website is designed to make the search for furniture such as 'family friendly dining tables' a whole lot easier.  It has simple-to-use filters which help you find exactly what you're looking for.
And our latest dining table collections tick all the boxes.  Hard-wearing. Easy to maintain. Flexible. Award-winning. In fact everything you need for family life – without losing the style!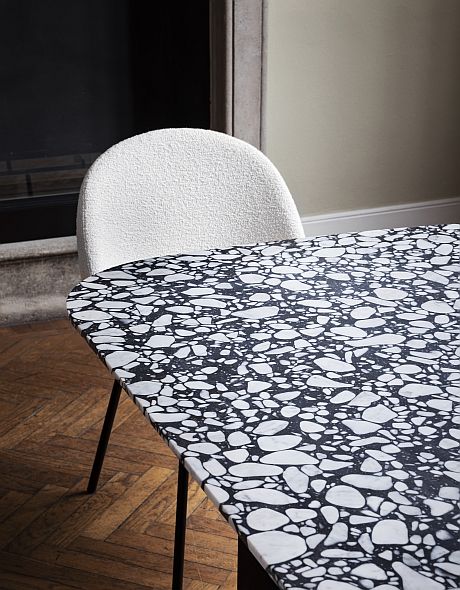 Ceramic Table Tops – a little science
Ceramic table tops are made from extremely durable, inorganic clay. It's a material that is flexible and soft in its natural state but becomes rock-hard after the firing process. This creates a finish that is far less prone to scratches and stains than a natural stone, such as marble. Which makes it perfect for messy eaters, plate throwers, or those adult wine drinkers who spill more than they drink.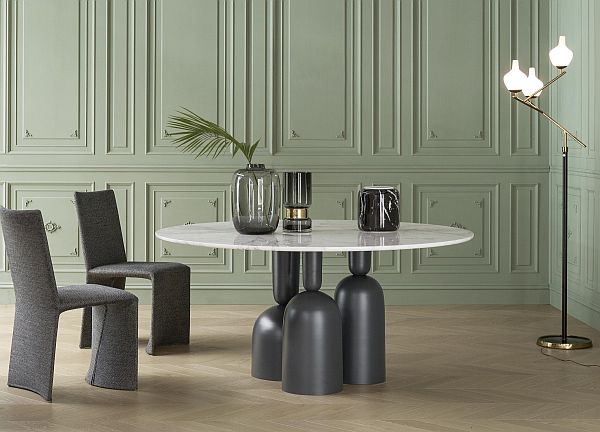 Another added bonus with a ceramic top is that it's very un-needy when it comes to the maintenance.  Very pleasingly it requires a minimalist approach to cleaning. A damp cloth plus a mild detergent will keep a ceramic table top clean and looking brand new every time. Which gives us all more time to do the far more interesting things in life.
The Bonaldo Cop dining table above is offered in three solid woods, acid treated glass (a softly sand-blasted glass) or a top quality ceramic.
Ceramic & Glass – a little more science
Glass wouldn't ordinarily be at the top of anyone's family-friendly list.  But ceramic and glass are a winning combination. Tonelli Design are one of the world's most respected manufacturers of glass furniture.  They were established in 1980s – so they know a thing or two about manufacturing with glass.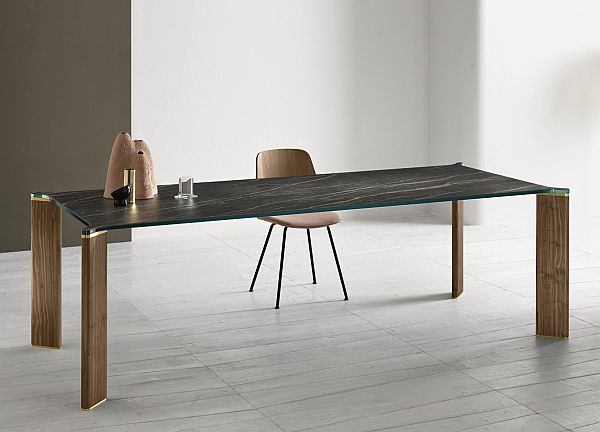 The Tonelli Can Can table (above) features a range of table tops in beautiful marble-look ceramic glass with an abundance of colours to choose from. It wears its grown-up style elegantly while hiding its family-friendly credentials discreetly.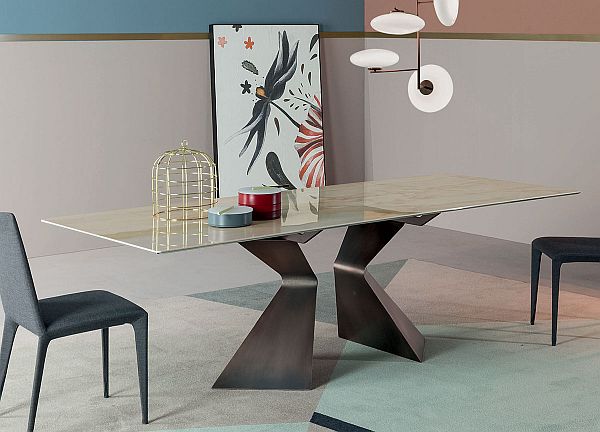 The beautiful Prora table (above) from Bonaldo wows everyone!  Its impressive bow shaped legs are a real talking point. And its five super-hard wearing ceramic finishes add to its eye-catching appeal.
Extending Dining Tables
One of the things that's always at the top of the wish list when choosing a new dining table is the question of how many family and friends you can ultimately seat on special occasions. A table takes up a lot of space, which is fine if you've got the room but a bit inconvenient, or nigh on impossible, if you haven't.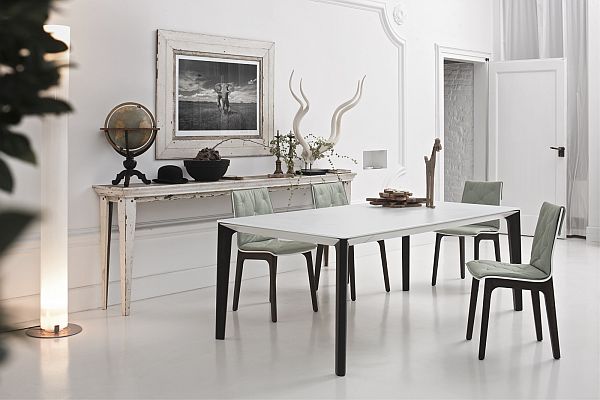 The Versus dining table (above) by Bontempi Casa is available in two different sizes, and the top can be chosen from three hard wearing finishes, including glossy SuperMarble, gloss lacquered glass, or velvet matt anti-scratch glass (seen here in white).  It's a superb finish which is impervious to scratches. The two extensions slide out from one end of the table.  Its minimalist good looks make it perfect for everyday life but its coolly elegant monochrome style (the legs here are in charcoal oak) would suit the smartest of dinner parties.
But you want a real wood table
If you're a lover of real wood and searching for a family friendly table, you may have to compromise a tad.  But when that compromise comes in the shape of Porada's Quadrifoglio table, we think you'll be happy with the deal.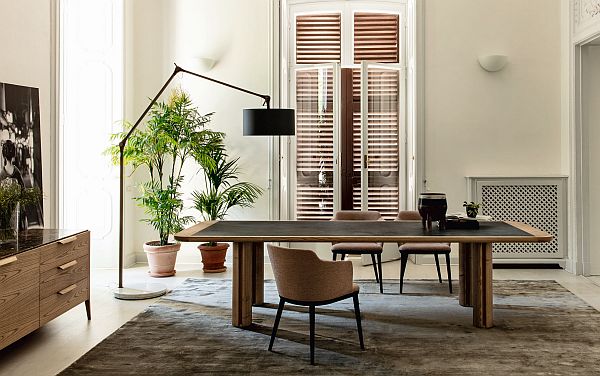 Porada creates high end furniture that is all about the love of wood.   The Quadrifoglio is made in a number of different ash finishes, but what gives it its family-friendly credentials is the table top 'insert'.  Porada have used a new 'rock' material, including Calacatta, Emperador or matt Oxide Black (seen above).
And more science
'Rock' is a new laminated porcelain which is extremely hard-wearing and non-porous.  It's created by wet-grinding clay, granite and metamorphic rock with ceramic pigments. The result: a lovely matt finish which is resistant to coffee, wine, oil and lemon stains.
So that's the best bits of life covered right there.
If you're searching for the perfect dining table we are sure that we will have it. Check out the dining tables section on the site and take the stress out of the search by using our special filters.