Declutter & re-organise with our modular wardrobes & wall units
Is your Achilles heel clutter? Is a lack of space and storage, or no proper wardrobes, cupboards or shelving getting you down? Well you're not alone. We all know that our surroundings have a huge impact on how we feel.  Lack of space and the resulting clutter can really lower our mood. Conversely a well ordered and tidy space can lift the spirits.
In fact a study by the University of California found links between people's negative descriptions of their homes and depressed moods:
"When coming home from work means noticing piles of clutter or a long list of to-do projects, it is perhaps no surprise that cortisol levels fail to show a normal diurnal decline.  Ratings of depressed mood increase over the course of the day. Similarly, focusing on those features of the home that are restful or that incorporate nature may ease the transition from work to home".  
The problem may be of course that we all have too much stuff. Or that the houses and flats we live in are getting smaller with fewer options for storage. We know that buying more stuff isn't the solution to all of this. But rethinking your storage space and investing in top quality, well-built and designed storage, that will last a lifetime, has got to be a good idea.
De-clutter and re-organise – it's nearly spring!
The link between spring (just around the corner) and de-cluttering is an obvious one.  The light is brighter.  Days are longer. Organising and de-cluttering doesn't only look good, it also makes us feel good. And importantly it allows our brains to process and store information.  It's an all round life-enhancing thing! So seize the moment and take a look through our extensive ranges of storage ideas.
Go Modern specialises in customised wardrobes and bespoke wall units.  Two important areas that can transform a room with their accompanying clever design ideas.  Our wardrobes and wall units are created to make the most of every last centimetre of space (and add some that you didn't even know you had!). They also have ingenious inner storage features.
Customised wardrobes
The Cinquanta Sotto wardrobe (top) and Novamobili Alfa (above) are highly flexible designs that can be customised to fit any space. They are both shown here cut to size; one under stairs and the other under the eaves.  These designs are perfect for tricky spaces. The Alfa's doors can also be painted to match an existing decor, adding to the feeling of space, or chosen in a wide range of matt, gloss lacquer or eco-wood finishes.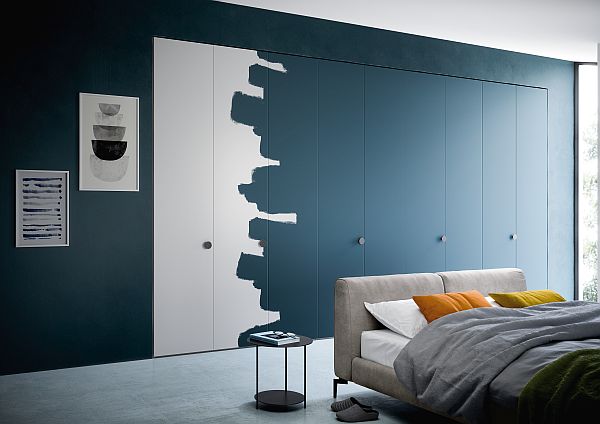 Reveal or conceal?
Store away or display? Storage that has the option for both may be the answer. One of the distinguishing features of the new Perry wardrobe (below) are the attractive glass doors in toughened glass, smoked or Stopsol (with a reflective glaze).  They also have a stylish bronze-finish frame with built-in handles. And the Perry's hinged doors usefully open to 180°- making access and storing things away a whole lot easier.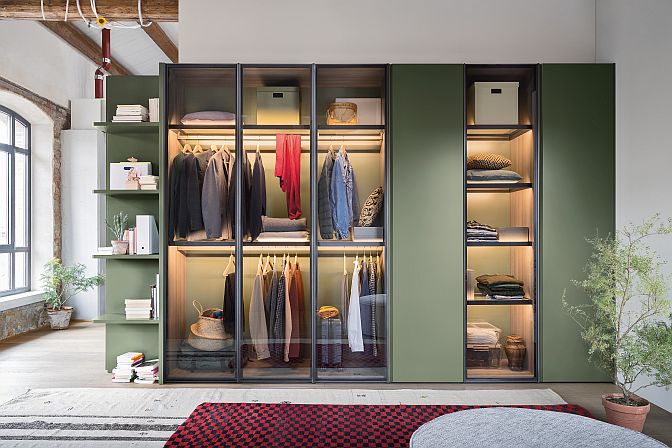 Along with open and closed sections, the Perry wardrobe, has an open corner unit. This provides great extra storage and is a clever way of utilising corner space in a room or at the end of a run of wardrobes.  Stylistically, it's also quite simply a very nice design touch.
A corner unit is also an interesting way of dealing with an L-shaped room by usefully linking the two areas.  In the shot above the corner shelving has been used as book shelves and links the bedroom with a dressing room area.
We also have a fantastic choice of internal accessories to go along with our wardrobes.  Think shoe-racks, pull-down rails, pull-out trays, handbag stores, trouser racks, tie racks, pigeon holes and internal LED lighting.  Plus, our designs have a wonderful choice of matt lacquer and gloss lacquers for the finishes.
Storage – take it to another level
Lets talk wall units. From a simple, compartmentalised, single shelf to a whole vertical storage system or a wall mounted sideboard with a home-office arrangement.  Our wall units are flexible, modular and totally accommodating. The numerous designs on offer are created to ensure they can be configured to suit personal style and individual storage needs. Choose to hide everything away or keep it all on display.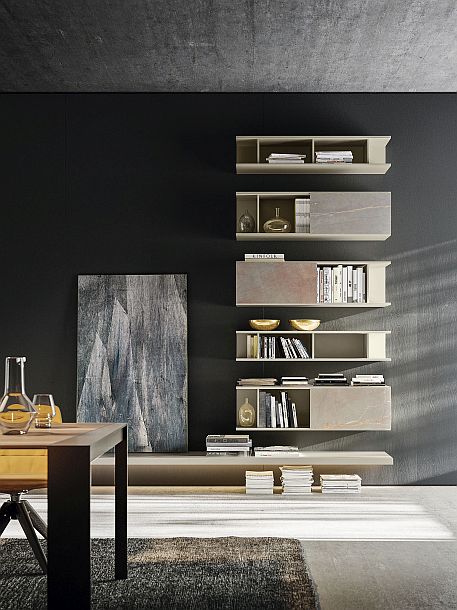 The Holdy wall unit system is a new wall mounted range with a difference – there are no vertical elements. And it's a system that is incredibly flexible. Choose from a simple shelf to a whole vertical unit, or both of these (as above). The doors are optional – you can position them anywhere along the integral shelving tracks.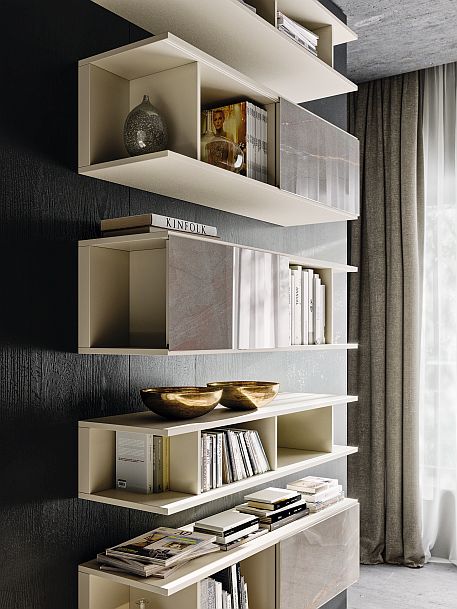 The evolution of the bookcase
Bookcases have come a long way. The bookcase below is part of the Jesse Logiko range and can be configured as horizontal and/or hanging shelves, and customised with drawers and chests of drawers, lacquered or glass sliding doors, drop-leaf or hinged, in a choice of lacquered wood, metal or clay finishes.
The lengths of the shelves can be long, up to 2.37m, supported by light vertical elements, such as metal spacers, which create small recesses or L-shaped elements and also provide colour and movement, stylistically breaking the continuity of the horizontal lines.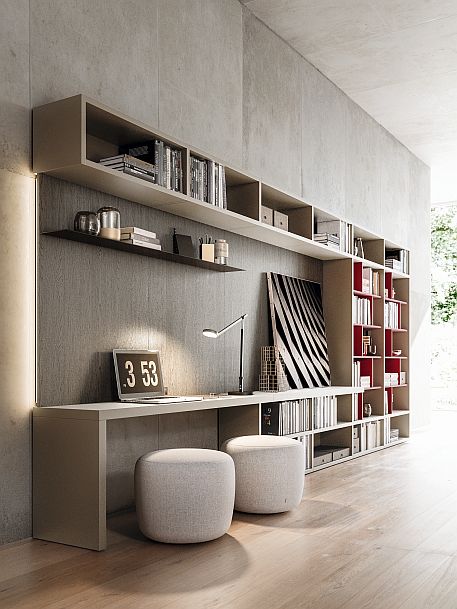 Floor-standing, suspended and wall fitted the Logiko system here incorporates shelves and storage units, plus useful tech solutions such as recharging points and hidden channels for cables. The configuration above includes a useful home-office/writing space which blends seamlessly with the rest of the unit.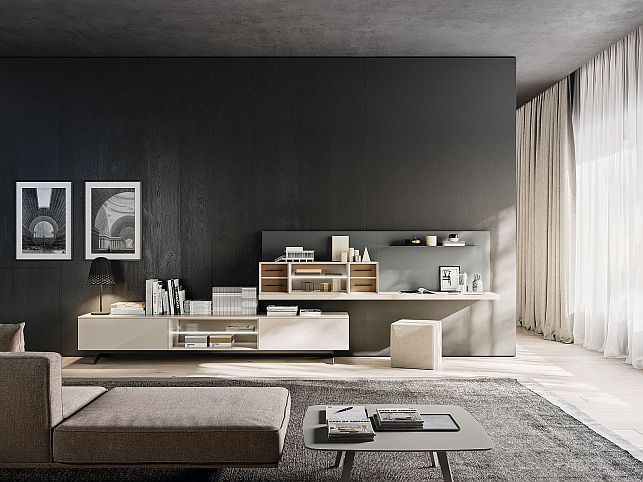 So, get de-cluttering and re-organising.  Choose clever, well designed storage that will make coming home a pleasure!
Talk to one of our design team about the many storage options we offer.  Whatever your space, we'll have something stylish and well-made to suit what you're looking for.