E-ggs. It's a name that has long intrigued us. Beautifully simple but cleverly complex. Very much like the designs produced by this creative design studio of which we are long term fans.
E-ggs is a collective of four designers based in the wonderful Italian city of Florence. The studio was founded in 2012 by Gaia Giotti and Giona Scarselli, joined by Cristina Razzanelli and Erica De Candido.
Over recent years we have noticed the E-ggs name appearing increasingly frequently and always attached to some of our most favourite designs from Italian brands Miniforms and Novamobili – two of the companies we represent. The coveted awards too have started stacking up:  The German Design Award, Red Dot Award, Wallpaper* Design Award to name but a few.
Whenever a new design arrives with the E-ggs name attached, we know to expect something exciting, beautifully made, out of the ordinary, always a little different but with a practicality demanded of modern life.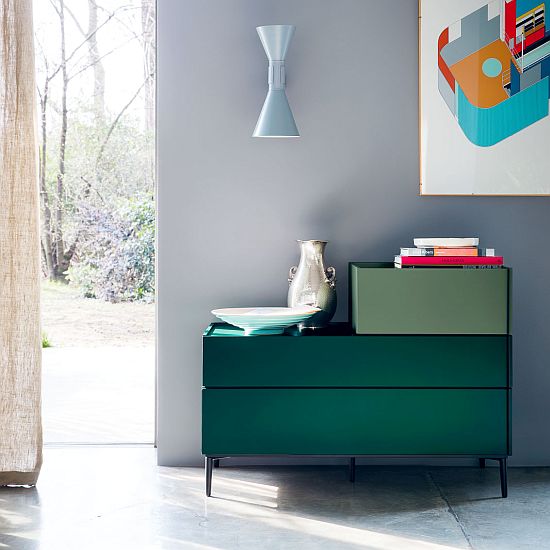 So we were delighted when E-ggs agreed to a little probing from us.
Amongst other things we were keen to crack was how they would describe their collective DNA?  What inspires them?  How do their ideas come to the boil?  Do they all agree on everything all the time? And what new designs are currently simmering away?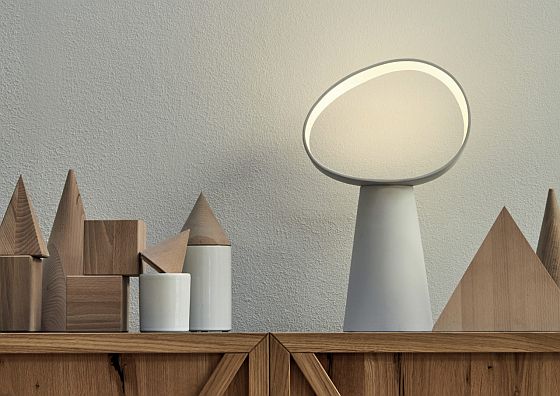 GM: We're guessing this is one of the most frequent questions you get asked (so apologies) but how did you arrive at your name?
Giona: We liked the idea of linking our studio to a natural element so full of meanings like the egg.  An archetypal, organic, simple shape.  A symbol of new life and a source of inspiration for architects, designers and artists. It's also a wonderfully versatile ingredient to cook with, but you need more than one egg to prepare a delicious omelette (in Italian "frittata").
We are a collective of four designers with very different personalities but we blend very well together! For us the recipe for good design comes from a mix that balances and parallels different points of view.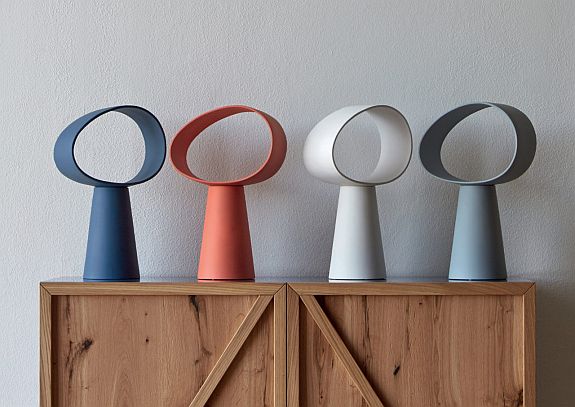 GM: How have you all coped during the various lockdowns?  You're presumably having to work for some of the time in your own individual (ahem…) 'shells' rather than sharing a design space and spontaneous thoughts?
Erica: During these 'unprecedented' times, as for many of us, we worked from home, and at least once a day we shared projects and ideas in virtual meetings. We are used to working closely, sharing every phase of the design: it's a continuous exchange of ideas, chatter and jokes. Working remotely had no effects on the quality and quantity of our projects but it was certainly less fun.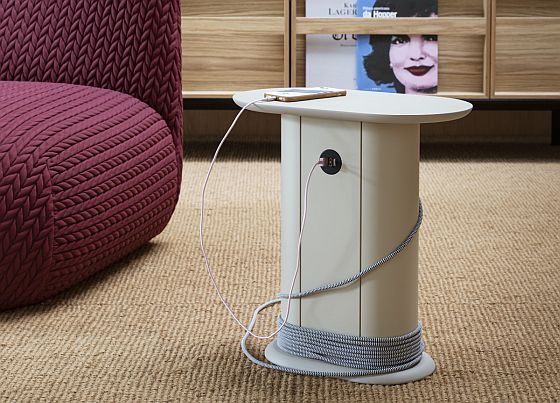 GM: What draws you all together as a collective?
Gaia: Despite our differences, we have many things in common: the design method, the research of coherence and attention to detail in every product, and of course the sense of humour! In the creative process different point of views (including the fights 🙂 ) are very important.
GM: E-ggs designs have a very distinctive look. Clean lines, minimalist… with a graphic feel. You are also big on colour. Is this something that has evolved or something that has always been part of your design DNA? How would you describe your signature look?
Cristina: We are very happy that you identified the distinctive look of our work! We've been working together for many years now, so it was a natural progression to blend our personal styles. Such juxtapositions contributed to our distinctive character as E-ggs.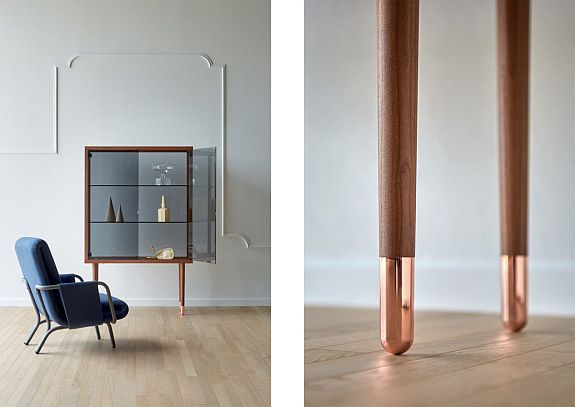 Every project has its own unique rhythm but our goal is always to design simple and intuitive products and leave our mark on them. That can be seen in tiny and big details, in intentional and inadvertent ways: the colour, the graphic touch, the concept.
GM: One of your newest (& award-winning) designs is the Botera seating system for Miniforms. It's a highly unusual design with relaxed, curvy lines and 'sit on me' appeal.  What was the idea behind it and where do you see it working best?
Giona: We wanted to create a very comfortable seat with a big personality. Botera invites you to sit in and feel good on its soft and continuous lines.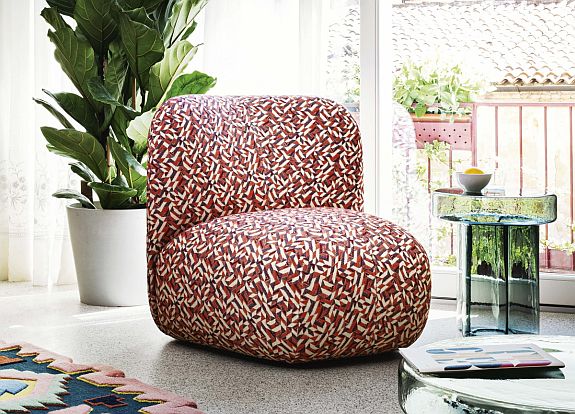 Just like floating on a cloud; it's perfect alone but it can also be grouped side by side with Boterina, Botera sofa and Botera pouf to create endless compositions and creatively configure space.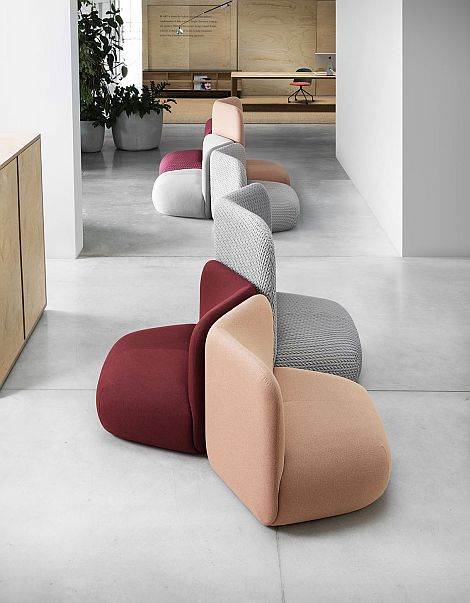 GM: Another 'stand out' design for us is the Stoya sideboard. It's a sideboard x work of art with the beautiful silk-screen detailing on the door panels. Tell us more about the look and inspiration.
Cristina: The panels' silk-screen conjures up the texture of a fabric, which discreetly decorates a simple volume. The geometrical texture seems hand-drawn so that the imperfections become part of the decoration itself.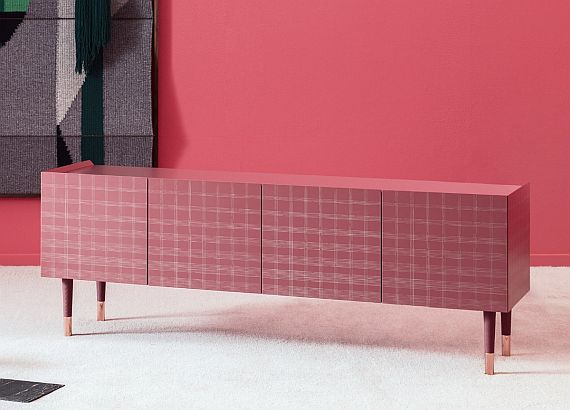 GM: You were asked to come up with a modern storage system for Novamobili. Cube and Giro-Giro were the results.  They are clever modular box systems in a wonderful array of colours. Can you tell us about the ideas behind these and what you set out to achieve.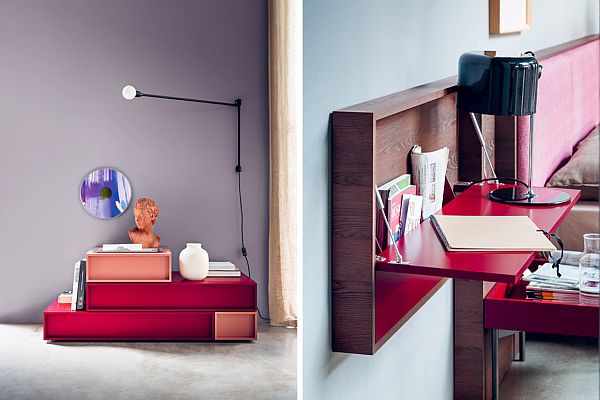 Erica: The starting point of both projects was to simply create boxes designed to be placed one next to each other or stacked in unlimited configurations. From that point we found two parallel ways: Cube that is able to create more complex arrangements with the addition of accessories such as wall panelling, benches, trays, document holders, desks, clothes racks and mirrors, and Giro-Giro that is a multi-dimensional module of different sized boxes that can be rotated in every direction, also for mid- room compositions.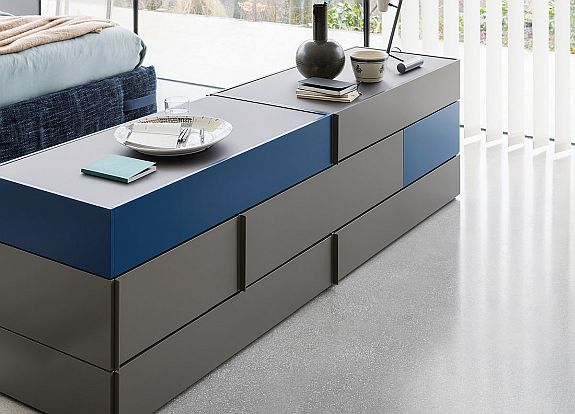 GM: A fair number of very distinctive dining chairs have come out of the E-ggs lab: Mariolina, Iola, Mula, and Pelè, amongst them. All of them stylish and individual. When asked to produce a new dining chair where do you start, surely there is only so much you can play with?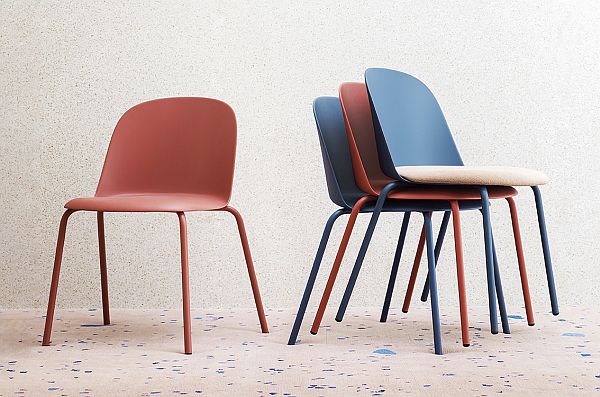 Giona: We love to design seats! Besides the aesthetic and symbolic components there are the ergonomic and basic comfort needs, plus a huge variety of materials and technologies that can be used during the design.
There are so many chairs on the market that it's very exciting to find a new and original idea. Frequently our projects start from a tiny detail or an unusual balance of proportions.
GM: Your Shiko beds definitely have the wow factor. The headboards are higher than standard headboards but soft and comfortable. How and why did you arrive at the idea for the over-sized elements?
Gaia: As the name suggests, this bed was inspired by the Sumo's wrestler, athletes that are incredibly agile but enormous, out of proportion.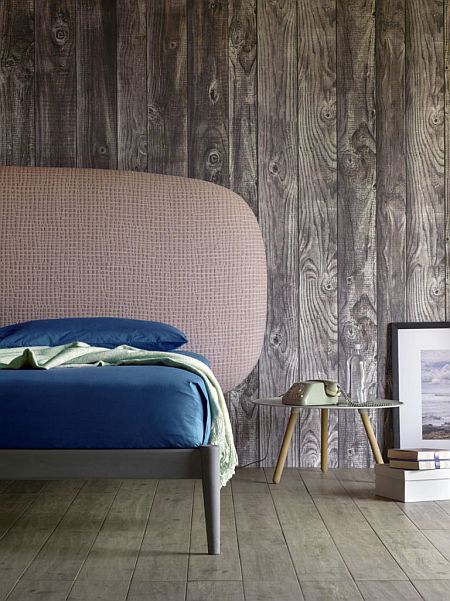 GM: Yes, the name… ('Shiko' = a ritual exercise performed by sumo wrestlers)? Tell us more.
Gaia: Well, the name describes perfectly the graphic lines and shapes of the bed, the wrestler with his hands resting on his own knees, big and stable.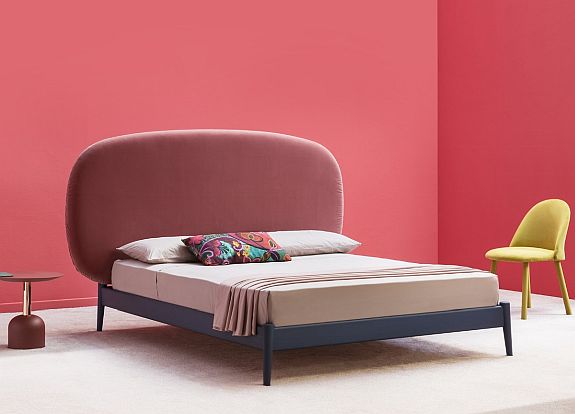 GM: Talking of names. How do you decide on names for your designs? It must be hard trying to satisfy an international market?
Erica: When we choose the names of our designs we don't think about the market's needs, we follow our inspiration and sometimes the name comes straight from the idea itself.  That's maybe because it is connected with the shape or the concept of the project, other times we choose the names with a bit of humour, to have some fun together.
GM: Please can you each pick your own favourite design and tell us why?
Cristina: We don't really have a favourite design, they're like our children, we can't choose just one, that wouldn't be fair.
GM: If you had to pick five words to describe E-ggs what would they be?
Giona: A very difficult question.  We are a collective and each of us has many different words in his head. I'd say the five words are simplicity, softness, colour, balance, graphic plus a sixth, curiosity.
GM: Can you tell us anything about what exciting projects E-ggs has simmering away for the near future?
Gaia: We have plenty of things to do! We are preparing our new website and we have many projects to be released within the upcoming and next year: a bed, a sofa bed and a bathroom system for two new clients, an armchair, a table and a chair… We worked a lot during this very strange year.
Our huge thanks to E-ggs for taking the time to talk to us – and for their huge creativity and inspiring designs.  We look forward to seeing what comes next!