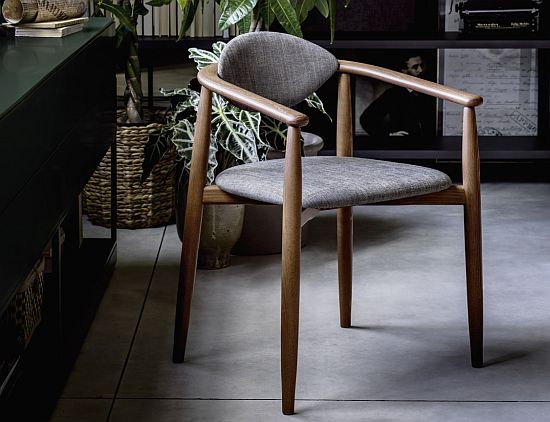 We've been quite taken this month with the buzz around Modern Rustic. As passionate devotees of all things ultra contemporary you'd imagine that wouldn't particularly be our bag.  But you'd be wrong.  We have also noticed a shift towards this softer vibe.  And we like it.
Modern Rustic
As the style watchers tell us, you don't have to live in a country cottage to earn the label.  And with more and more of us buying into new builds and converted warehouses etc it's nice to blur the edges a bit.
We have long championed furniture that is either hand-made or hand-finished.  Just because something is modern doesn't mean that it hasn't received the same love as a vintage piece.  Our Italian brands are big on artisanal skills.  Their designers and crafts people spend many years honing their skills and learning the trade.  It is a true labour of love.
Hand Woven
Lema's Alton armchair is a great example of this. That's because its  distinctive semi-circular seat back is completely hand-woven.  Designer David Lopez Quincoces used over 200 metres of aged natural hide cord to achieve the look.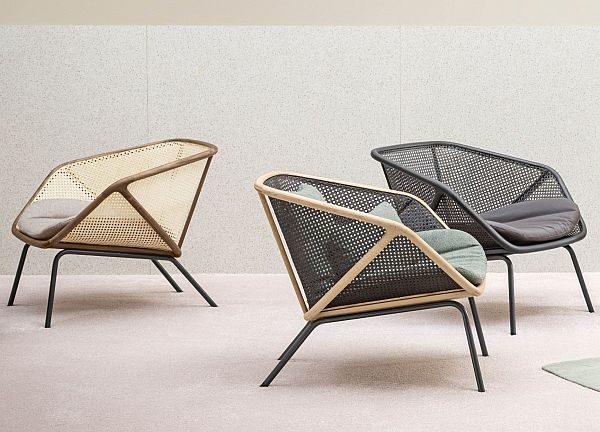 Miniforms' Colony armchair is another perfect fusion of contemporary meets rustic. The frame is made from natural beech or canaletto walnut, with the distinctive shape achieved through steaming.  The seat, meanwhile, features rustic woven Vienna straw.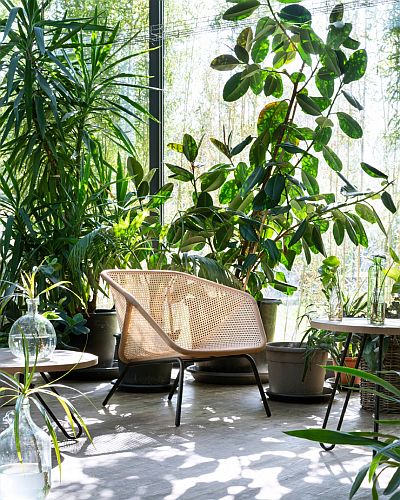 Natural Materials
We pride ourselves that most of our suppliers offer a rainbow's worth of matt and gloss lacquer finishes.  If pillar box red or sunshine yellow are your thing we're with you all the way. Modern Rustic however tends to favour paler more neutral, natural shades.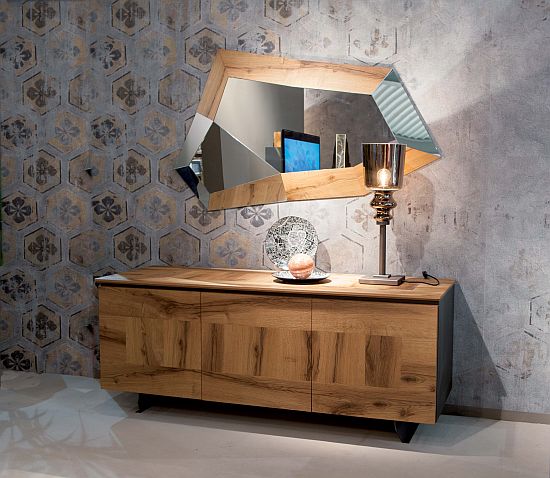 The Ozzio Alizee sideboard is a modern design with a natural look.  The top and doors are in canaletto walnut or oak and the natural grain still visible.  The contemporary touches here, however, are matt lacquered sides and feet in a matt graphite. Superb.
Tactile Fabrics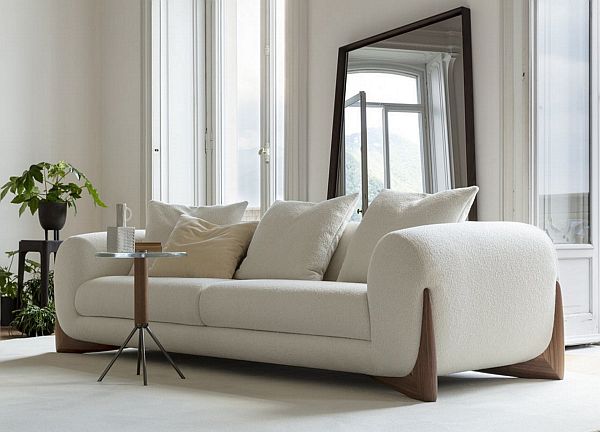 Think undyed, organic cottons, linens and, the latest hot Modern Rustic fabric, boucle.  The striking Softbay Sofa from Porada (above)  is styled here in a pale boucle fabric. It beautifully complements the organic, rounded shape of the design. We also love how the walnut legs remain visible. A great rustic touch.
Modern Rustic x Leather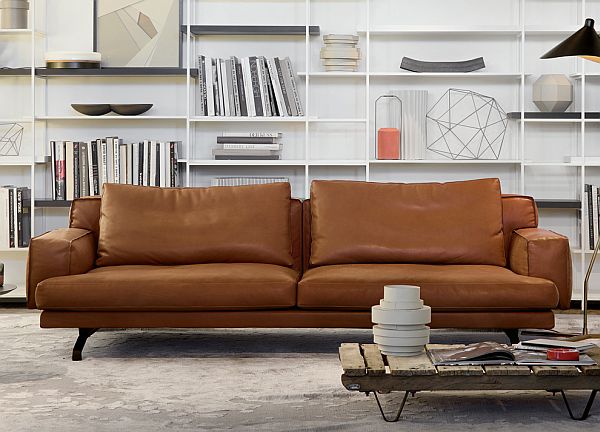 There's something about leather.  But only the right kind of leather. Why? Because it's totally Modern Rustic. However, in the absence of finding that perfect, lived in leather sofa go for something in the highest quality, softest, full grain leather you can find. Anything hard, plasticky or thin is definitely a no.
Lema's Mustique sofa is high on our wish list.  Here's why. We love the shape. It's beautifully upholstered.  It's offered in several categories of top quality leather.  The best leather should be warm and soft to the touch with that distinctive leather aroma. And a good full-grain leather over time will also develop a distinctive patina.
Pay attention to the stitching too.   The Mustique is finished with detailed stitching which follows the outline of the sofa. Simply a great sofa.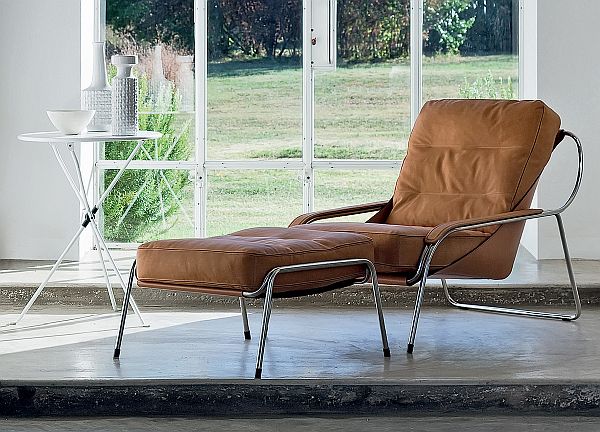 Vintage
Original pieces will always be a major part of achieving that Modern Rustic look.  In the absence of bagging your favourite original, go for a heritage piece.
Zanotta have been in the international spotlight since their formation by Aurelio Zanotta in 1954. In this time they've amassed amassed a vast collection of award-winning designs.  Many of these are on display in some of the world's most prestigious design museums.
Take the fabulous Maggiolina armchair, by Marco Zanuso.  It was originally designed in the 1940s for a competition held by the MoMA of New York.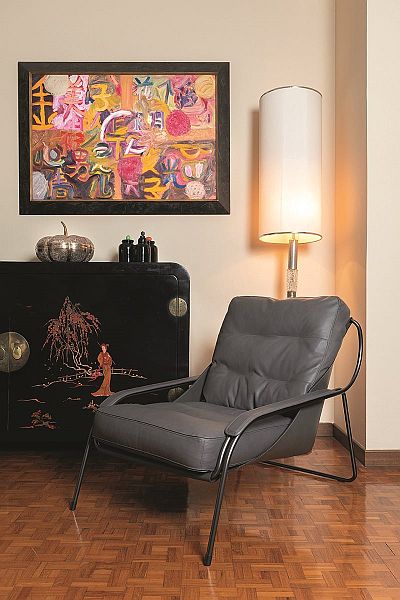 Fast forward 80+ years and Zanotta's new and faithful reinterpretation (originally launched in 1972) fits superbly into the Modern Rustic look. And it's an absolute classic.  We also guarantee this timeless design will outlive any trend.
Rustic Lighting
Our lighting collection goes from minimalist cool through to rustic/traditional.  And the right lights will nail the look.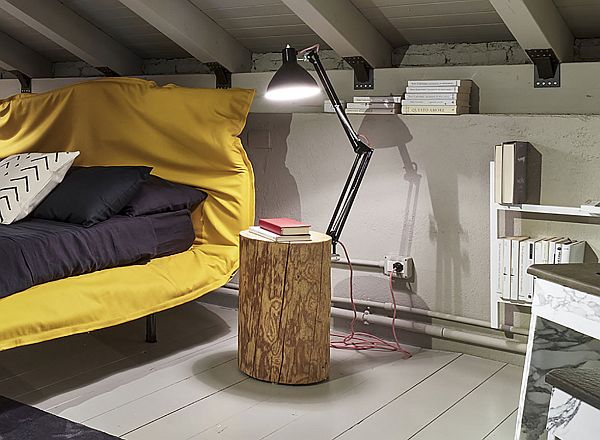 The unique Piantama floor lamp from Mogg is an original, hand-made piece.  Designed by Marcantonio Raimondi Malerba it's inspired by the 'connections between man and nature'.
It's easy to see how. Made from a one metre high log, no two logs are the same.  As a natural piece it will also darken and become more characterful with time. You probably don't get more Modern Rustic than this light.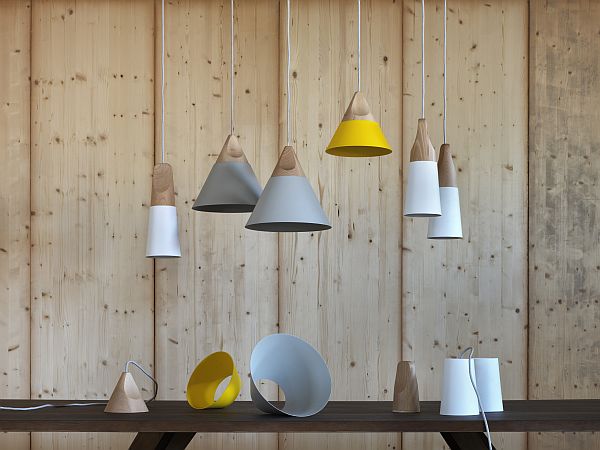 Likewise, Miniforms' conical Slope lights combine beechwood and steel.  The wood element is left to reveal the grain. Each light is hand-finished in shades of apricot, white or grey.
So take a seat (a Modern Rustic one of course) and browse our extensive collection to find the perfect piece.