The Tribù Elio garden armchair, designed by Canadian design duo Yabu Pushelberg, has won this year's prestigious Red Dot Design Award for Product Design.
The Elio Collection
The beautiful Elio range includes a high-back lounge chair, easy chair, an armchair, a two-seater sofa and a footstool all in woven weather-proof Tricord rope.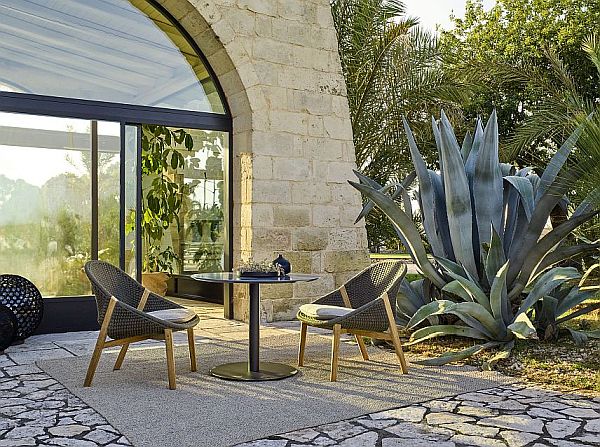 So what's the USP? Easy.  As well as being incredibly stylish the Elio look is inviting and cocoon like. Its weather-resistant cord is soft and subtly light-reflective. And pleasingly it's offered in three shades: wenge, moss and linen. The frame, by contrast, is made from beautifully smooth, sustainably sourced plantation teak.
Yabu Pushelberg
The Canadian based company are no strangers to winning awards.  The list is ever growing including 'Officers of the Order of Canada' and a place in the Interior Design Hall of Fame.  They were also named as 'one of the world's most influential design studios' by Wallpaper* and Elle Decoration.
As they modestly say themselves, however, "the trophy shelf is not our main concern." 
George Yabu and Glenn Pushelberg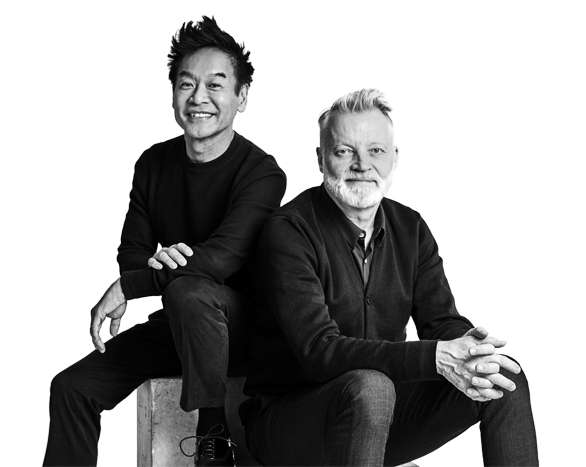 The dynamic duo of George Yabu and Glenn Pushelberg founded their company in 1980.  Forty plus years later Yabu Pushelberg is now one of the most recognized design firms in the world.
They are simply design industry innovators.  Attention to detail and a spirit of exploration remains a hallmark of their work.
When we chatted to them last year we asked about Tribù's brief for the Elio design.
High on the list was the material they should work with: Tricord, Tribù's signature material. No surprise there as this is so much a part of Tribù's DNA.
Having fun with design
The problem, they said, was how to make it feel light and airy. But as they 'fiddled with it more and more' they eventually 'found their footing'.
By twisting and bending the material they got a feel for what it was capable of. Then a bit of alchemy. They discovered they could weave Tricord, unknowingly resulting in a macramé effect.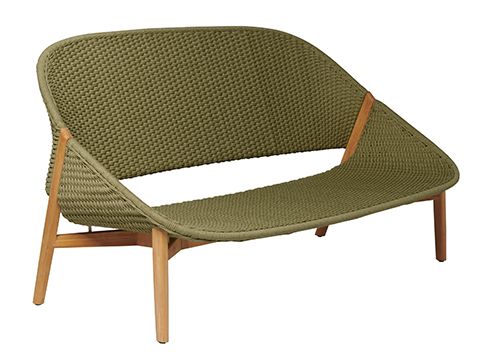 The end result:  a stylish, timeless, light and compact range that will suit any garden or patio.  For extra comfort seat cushions can also be added. Outdoor textiles now include water and dirt repellent fabrics, including velvet, and pretty prints.
About Red Dot
The 'Red Dot Award/Product Design' awards the best products of each year.
With more than 18,000 entries annually from designers, companies and organisations from over 70 countries, the Award is now one of the world's largest and the most renowned design competitions.
The evaluation process is based on various judging criteria, complemented by each individual juror's expertise and socio-cultural background.
The judging criteria includes:
Degree of innovation
Functionality
Formal quality
Ergonomics
Durability
Symbolic and emotional content
Product periphery
Self-explanatory quality
Ecological compatibility
Statement by the Red Dot Jury
Red Dot's international award panel of 50 design professionals looked for new pieces that express originality and creativity, with a low impact on nature.
Of Elio they specifically highlighted: "The aesthetic design of the Elio armchair, based on harmonious contours and the use of weatherproof and visually appealing materials".
So, many congratulations to Yabu Pushelberg and Tribù – we can't wait to see what this incredible partnership creates next.