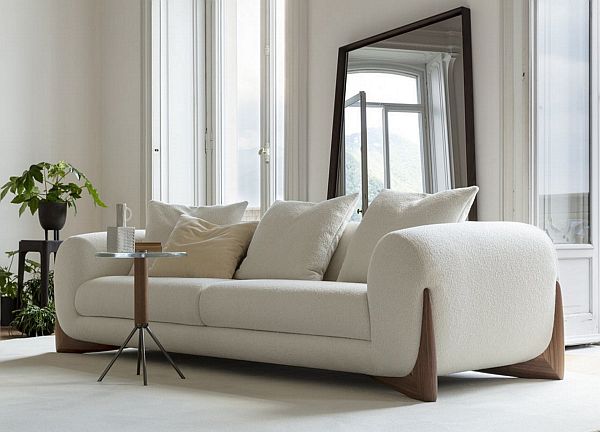 Natural textures are high on Go Modern's trending list as we stumble into spring.  It's been a long winter. And it's the longer days and extra light that creates that urge to freshen up/restyle our interiors.
We often talk about 'taking the indoors out' but at this time of year it seems that we like 'bringing the outdoors in' too.
Natural textures
Spring weather is always unpredictable.  We're apparently more likely to have snow at Easter in the UK than we are at Christmas. Which means it can be darned cold. Our sense of smell is also reawakened in spring, simply because there's usually more moisture in the air. Which means rain.  However, with temperatures in London reaching 24 degrees last week, but minus one over the last few nights, it's all guess work really isn't it.
Natural textures are the thing to go for at this time of year – or in our book all year round.  They are fabulous whatever the weather – cool in summer and warm in winter.
Materials such as wood, stone, wool and linen are enduringly popular and not likely to disappear any time soon.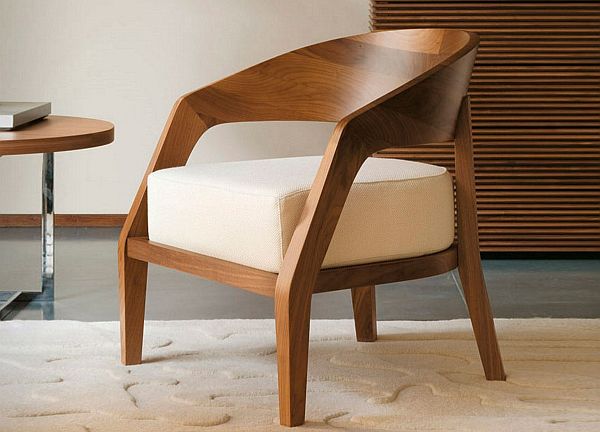 The masters of natural material
Porada are the masters of natural materials.  Their use of wood is breathtakingly beautiful and during Milan design week the Porada stand is always an absolute pleasure to visit.  The purity of their craft is evident in everything they do.
The company also owns three sustainable 450 acre plantations in the heart of Bourgogne, France, consisting of 15.900 m3 of ash and oak wood. Their slogan 'for the love of wood' is at the forefront of the company's ethos.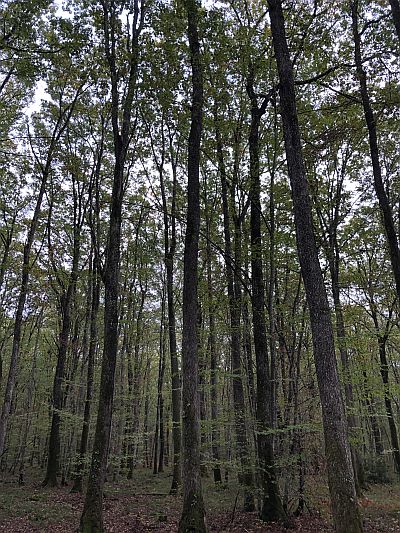 The Porada plantations are very strictly managed and controlled. In fact the company always cuts a lower percentage of trees than is officially allowed under full compliance.
Their Softbay sofa (above) is a beautiful example of what they do.  The sofa's feet have been designed to run partly up the outer edges of the design and are made in solid canaletta walnut while the inner structure is poplar and solid fir.
The covers are removable and the sofa is pictured here with a beautifully tactile bouclé fabric.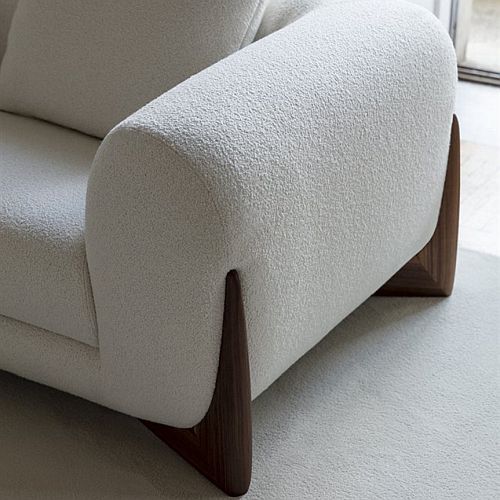 Bouclé is all about tactile texture. It could appear coarse to the touch but in fact it's one of the softest materials around as its made from natural fibres. It's spun with double-twisted yarns of different lengths and thicknesses that create small uneven loops.  And right now it's THE material de jour as the fashion crowd say.
Bouclé right on trend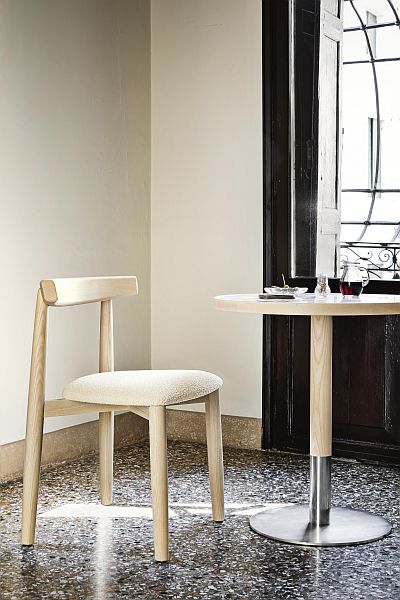 The innovative Italian brand Miniforms' also love natural textures.  One of their latest chairs is the stylish Claretta Bold dining chair, by Florian Schmid.  It's big, bold and curvy with a frame offered in natural ash, walnut or oak.
Lots of fabrics are available, and for the photoshoot (above) they've gone for bouclé. The combination of pale ash and an 'I can't stop touching it' fabric gets five stars.
Nature reclaimed
From Miniforms again is the uber stylish Pixie dining table.  The ash wood used in this design comes from reforestation areas, and the oil used is 100% non-chemical, giving this dining table great green credentials as well as a fab natural textures look.
The Pixie table is also very flexible. If you like the look but want a table with a top that's 'family-life bomb proof', the Pixie is also offered with a ceramic finish, totally scratch and stain proof.
Natural textured nights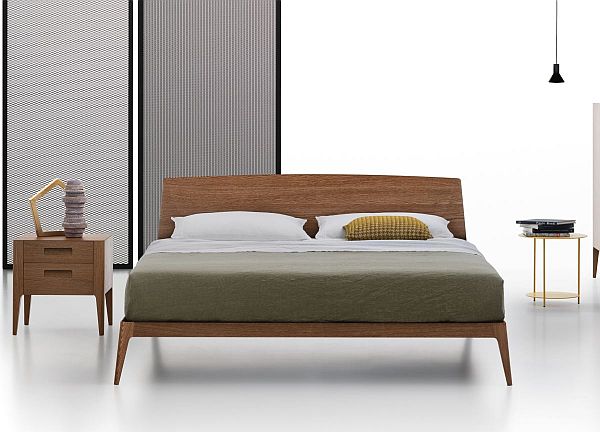 Keeping it simple and calm in the bedroom is often given as a tip for improving sleep quality.  Using natural textures such as wood and linen is a great way to achieve this.  Novamobili's Siri bed (above) has a gently sculpted headboard made from a mixture of solid wood and MDF covered in a high quality wood veneer. The base is pure solid wood and it's a wonderfully contemporary but timeless design.
Natural screen time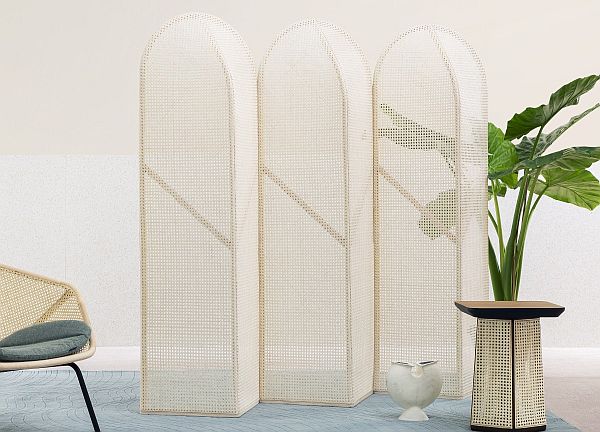 We love a screen.  They're so incredibly useful for masking the corner of a room, as a room divider, a focal point or simply to give a bit of privacy.
Miniforms' Colony range includes the Colony Screen (above) – another of their designs making full use of natural textures. It's made in Italy from Vienna straw which is an extremely durable, resistant material (this screen can also be used outdoors but we'd recommend a protective cover for when it's not in use).
Bit of history
Vienna straw first gained popularity when German cabinetmaker Michael Thonet designed a chair that could be mass-produced and sold at an affordable price. The No.14 Thonet chair was launched in 1859 and made from beechwood and woven raffia.
The Thonet chair was first used in a Viennese café and became known as the 'Vienna coffee house chair'.  From then on this material with its distinctive octagonal woven pattern also became known as 'Vienna straw'.
Miniforms have used this iconic material creatively across the range which consists of tables, chairs and the modular screen.
Natural textures underfoot
Spanish rug maker Nani Marquina has a world renowned reputation for creating beautiful and durable rugs. Her eponymous company only uses the finest raw materials with traditional hand-made, hand-loomed techniques.
All Nani Marquina rugs also bear the Care & Fair logo, which guarantees they were produced without child labour. Members also set aside 1% of the value of thier rug imports to fund Care & Fair schools, training projects, hospitals, and health programs.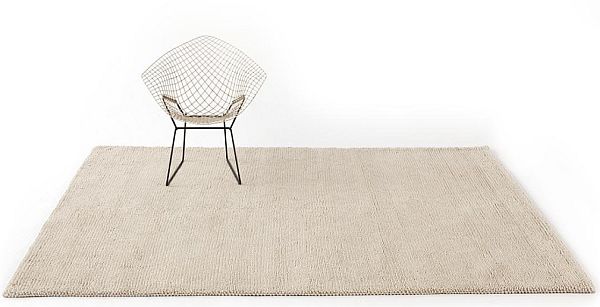 The majority of Nani's rugs are made using 100% New Zealand wool which is natural, sustainable and biodegradable with a world-wide reputation for the highest quality.
Nani's Velvet rug is a fabulous example of the natural textures she's renowned for. It also has a rich density of 6,600 knots per meter squared and a total pile height of 25mm. We reckon it's the nearest you'll get to walking on a silky cloud.
The idea behind Velvet was to create a rug that "captured moments of peace, tranquillity and calm".  We'd fully go along with that  – this rug simply invites you to walk across it barefoot, and we guarantee that, as with all natural textures, it will help you relax and unwind.