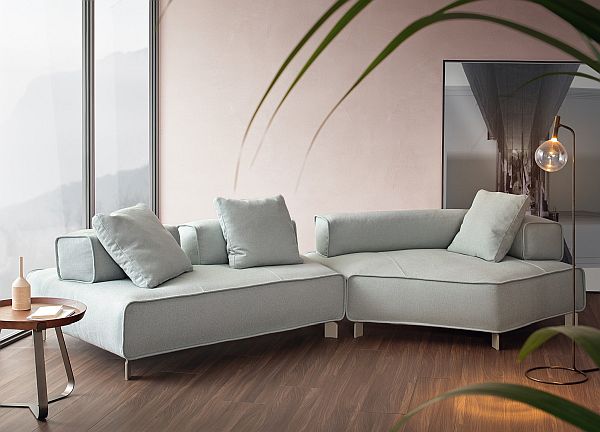 Simplicity, functionality, natural materials, and a deep respect for craftsmanship. That is Japandi, one of 2021s most interesting design trends.  It's also something that the team at Go Modern have long recognised and championed.
Japanese minimalism
'Japandi' or 'Japanese minimalism' is quite simply a beautiful fusion of Japanese and Scandinavian style. The growth in its popularity over the last year may also be a reflection of many of us spending more time at home and able to reassess our busy/cluttered lives.
We first started banging the Japandi drum, however, back in 2016.  As part of the London Design Festival that year we hosted an exhibition focusing on the design and manufacture of outdoor furniture.
Joining us was French designer Lionel Doyen who discussed two of his latest designs: the San garden bench and his outdoor seating range Kumo.
Mastering the art of Zen
Both of Doyen's creations, for Belgian outdoor specialists Manutti, have Japanese names.  San (さん) is a Japanese honorific title (similar to our Mr/Mrs/Ms). While Kumo (雲) simply means cloud.
There is, however, obviously more to Japandi style than simply having a Japanese name.  Japandi's stand-out characteristics include clean lines, neutral tones and natural textures.
Doyen set out to create pieces that would wholly embody these characteristics.
With San, a simple low to the ground garden bench, he chose to use Iroko wood, a warm, sustainable west African wood.  Hand-crafted, San's look is one of purity and simplicity of line. In Japanese design, less is always more.  There is a strong connection to the natural world, a pronounced sense of balance and a taste for elegance and refinement. Which perfectly encapsulates San.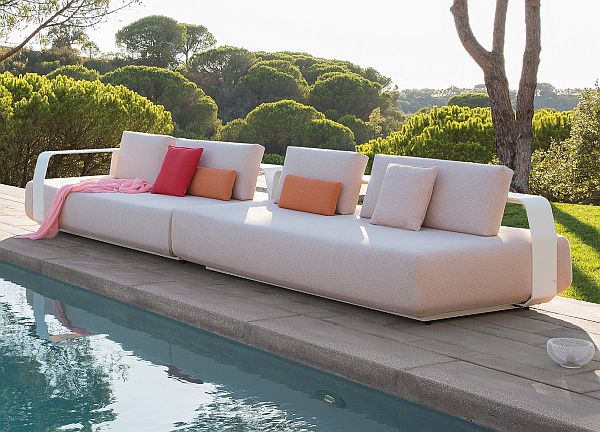 Kumo, like its name, appears to gently float above the ground.  It has an airy look. Simple lines, no overly fussy embellishments.  Both of Doyen's designs are practical and modular (meaning you can add to or configure in a number of different ways).
Kumo invites you to create a personal cocoon. It's also very practical: interchangeable covers, with armrests and back supports that are easily adjustable.
Above all, both designs evoke a calmness.  They practically insist that you just sit and chill.  Again very much part of the ethos that is Japandi and popularised with the phenomenon that is Scandinavian hygge.
Cultural fusion
Most of our furniture is designed and manufactured in Northern Italy.  So while obviously not of Scandinavian origin, our brands work with award-winning, international designers who have long embraced the Japandi style.
In his recent interview for us, Italian designer Mauro Lipparini addressed his love of this cultural fusion, and his architectural design work frequently takes him to Japan.  His latest sofa design for Bonaldo, Tètra, very much exemplifies the Japandi look:
 

"As an entirely contemporary interpretation of the Japanese tatami (

a type of traditional Japanese mat

) I want Tètra to be used without constraints.  To be free of preconceived notions of how ergonomics and fitted elements are supposed to work together" – Mauro Lipparini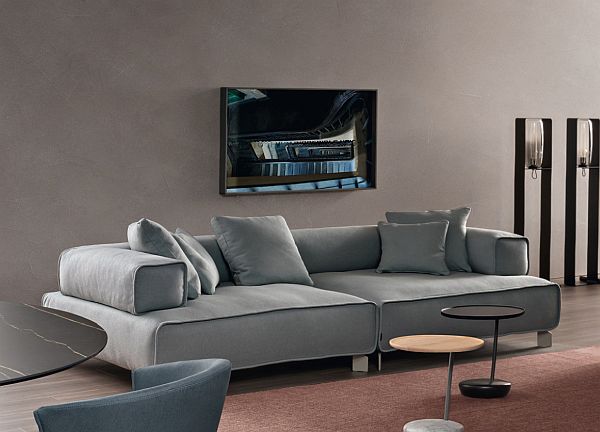 According to Lipparini, the idea for the Tètra sofa is non-conformist but straightforward.  He wants us to think of it as "raising the floor of the home to create a more inviting place to lounge". It's also a functional 360 degrees of comfort, because you can settle into it from virtually any angle.
Tetra features rectangular, pentagonal and irregular-shaped cushions all of which are easily combined to form geometric shapes.
The low back and armrests, simple rectangular cushions, 'perch' on top of the 'seating islands'.
Artisanal skills
Scandinavian and Japanese design share not just an aesthetic but also a very strong focus on craft and artisanal skills. The creation of furniture is of course driven by ever-changing technology.  Equally important however is the quality of the materials and the use of traditional skills.
The majority of our furniture is made to order.  It is because many of our pieces are modular or customised that very little of it rolls relentlessly off production lines.  Most is hand-made or hand-finished to precise specifications. It's what we have always done. As such it fits beautifully with the ethos of Japandi.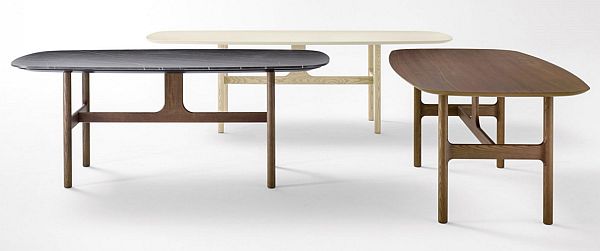 Novamobili's beautifully stylish Torri dining tables, for example, have carved wooden bases (which also pay homage to the traditional Japanese gates commonly found at the entrance to Shinto shrines). Again there's a clean simplicity to the design, made in various woods and matt lacquers.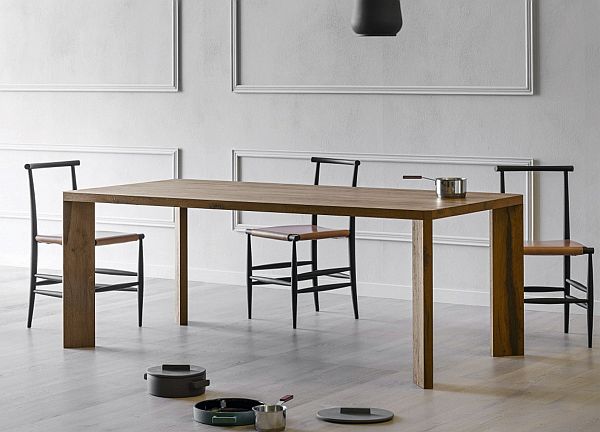 Another table that fits the Japandi mould is italian designer Paolo Cappello's minimalist Manero dining table.  His design is characterised by traditional carpentry joints between the legs and table top.  The finishes include Canaletto walnut and vintage oak.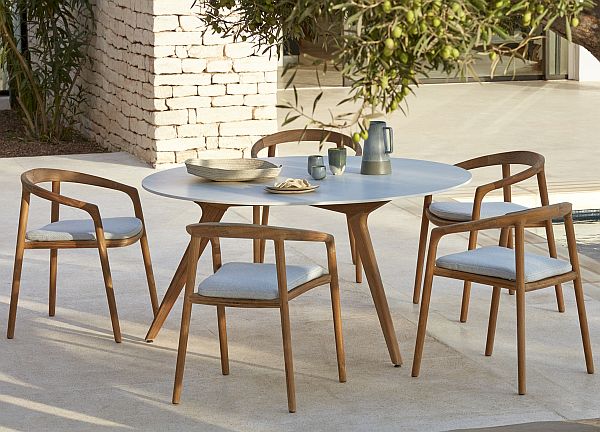 Designed to last
A fundamental part of Japandi is also the creation of products that will last. It is as far away from throw-away culture as you can get.
Our growing concern about environmental damage, and the urgent need to do something to stop this, hopefully plays a part in the growing attraction of Japandi.
Using sustainable materials, such as the teak used in Manutti's Torsa range is a great example of one of the style's favoured materials.  The teak used is, of course, responsibly sourced and 100% recyclable.
Our mantra 'buy well, buy once' has never meant so much as it does today. The trend for fast, cheap, disposable furniture, usually poorly designed, is hopefully on its way out.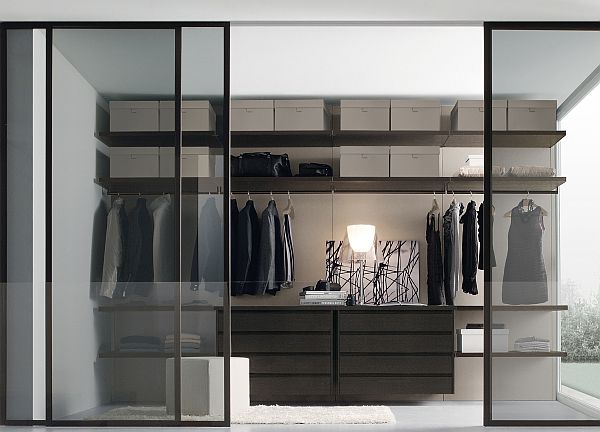 Traditional frames
It's easy to guess the inspiration for the Jesse walk-in wardrobe above. The dark framed, glass sliding doors are of course reminiscent of the traditional Japanese doors, windows and room dividers called Shōji (障しょう子).  These usually consist of translucent or transparent sheets on a lattice frame.
Shōji are not supposed to create a solid barrier but act as interior partitions between rooms.  The design deliberately allows for silhouettes and natural light to filter into a room.  They're are also thought to encourage one to speak and move softly, calmly, and gracefully.
Sliding door wardrobes, particularly those with smoked glass or, as in the example above, reeded glass, have been growing in popularity. There is an obvious requirement to keep the contents fairly tidy – no bad thing – as the well known Japanese decluttering expert Marie Kondo would support.  But the light, airiness they lend to a room is a big attraction.  Most also include discreet internal lighting which helps to cast an ambient glow. They're also functional in that they allow you to see at a glance where something is stored.
Our wardrobes include a multitude of internal accessories.  So if you like the look of sliding glass doors but are unsure about keeping the clutter out of sight, remember that they can be fitted with internal drawers and pull-out trays that will hide a multitude of smaller items.
If you are keen to bring more Zen into your life embrace as we have the Japandi look. We think it's here to stay.