What's your bedroom style?  According to research (and there's a lot of it out there) the one activity we spend most of our life doing is sleeping.  So it naturally follows that we must also spend a lot of that time in bed.
The bedroom, could in fact, be the most important room in your house.  And your bed the most important thing in the room. We haven't managed to find any figures on how long people spend researching a new bed. But whether you're updating your bedroom or starting from scratch it will obviously pay to do your homework. A new bed is an investment piece, something that should be built to last, uber comfortable and pleasing to the eye.
According to research published in the Huffington Post we spend on average 33 years in bed. 33 years! 26 of those years are in sleeping. Sadly seven of those years are apparently spent in trying to get to sleep.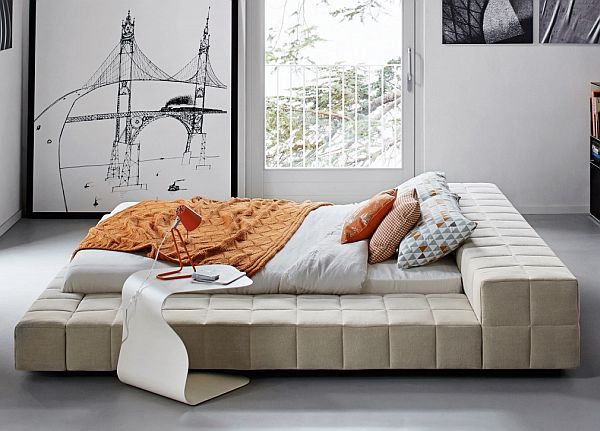 What's your style?
The NHS guidelines on how much sleep we need suggests most adults need between six to nine hours. And if the Huff Post's findings are right about the inordinate amount of time we take to get to sleep, our surroundings play an important part.  Sleepstation, recommended by the NHS, is full of great tips on managing sleep and insomnia.  It seems that our bedroom environment plays a part in this complex puzzle.  So what's your bedroom style?
Minimalist
If you like calm, neutral shades, simple lines and natural materials you undoubtedly fall into the minimalist camp.  The trend for Scandi style interiors has been around for quite a while and one of the best ways of achieving the look is to go for pale colours and a natural, pared back design.
Although we'll add a rider here: we have no idea if Scandinavians sleep better at night. Scandinavian couples do, however, generally prefer two single duvets on a double bed. This is because, were told, they love each other very much and have outlawed duvet hogging. Try it: it apparently works.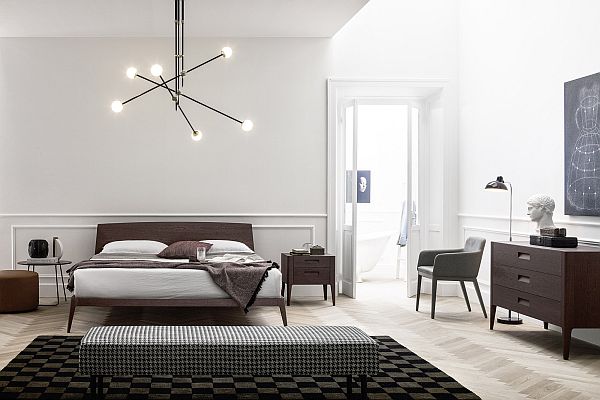 If this is your chosen bedroom style beds with natural wood frames are a great place to start.  If you've gone for pale walls and floors, natural materials are also a terrific way of bringing some warmth into a scheme. The styling above could appear austere but it's saved by the dark oak of the bed frame, chest of drawers and side table. The ultra-modern pendant lighting is also a unfussy centre piece.  Take a look at Bonaldo's Crossroad ceiling light or the Gallotti & Radici Bolle light to achieve a similar look.
Maximalist
In our books you either love it or hate it. It's how far you run with it that's probably the clincher. It may just mean letting the bed take centre stage by choosing a design with an overly large headboard.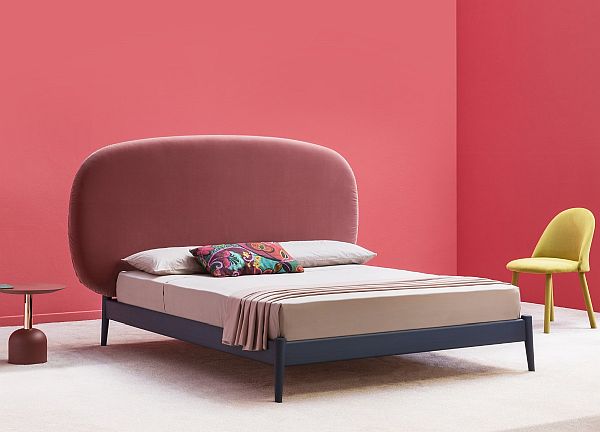 The Miniforms Shiko bed above is a King size but it's the large headboard that gives it the maximalist tag.  Miniforms have also not been afraid to pair this with bold colours. The 130cm high headboard has been upholstered in a deep pink velvet and you can choose black, white or marsala red for the frame.
Shiko, by the way, is apparently a ritual exercise performed by sumo wrestlers.  It involves lifting the legs and stomping hard on the floor to chase away evil spirits. Now there's something to swap counting sheep for.
Not satisfied with a high head board (this one's 150cm high) Missoni Home have gone the full monty with their Screen bed. Never shy of a bold pattern or two they've upholstered it with their world famous Zig Zag fabric for both frame and headboard. The linen, if we're not mistaken, is the iconic Passiflora.  So, zig-zags, stripes and florals. Would it keep you awake or would you find it reassuringly comforting?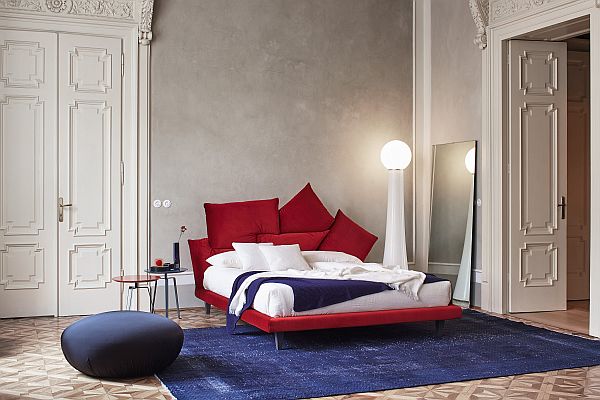 Bonaldo went full on maximalist/statement bed with their Picabia design. Designer Giuseppe Vigano gave the headboard five individually upholstered cushions so you can choose to combine textures/patterns/colours.  Interestingly the same bed done in soothing shades of grey gives an entirely different feel. But if you like symmetry this one might have you constantly trying to rearrange the cushions or there again you may see it as a quirky focal point.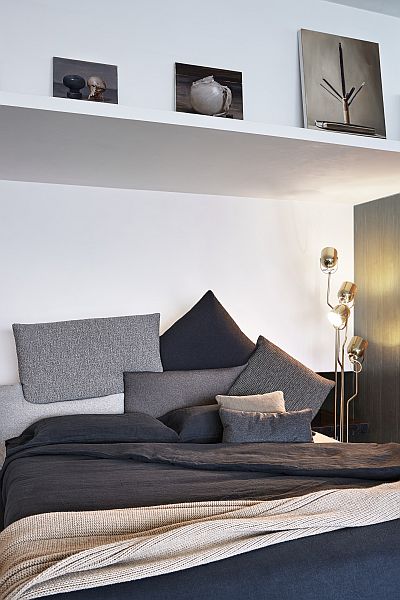 It's certainly a great way to inject some personality into a room.
Sleeping space
Here's an interesting fact that we've raised before (but we still find astounding): a couple sharing a standard 4'6″ double bed have less sleeping room than a baby's cot.  We'll say it again.  A baby's cot. We could dig out research into divorce rates at this point but we won't.  Just to say – two people having the equivalent amount of sleeping space as a baby's cot have the odds well and truly stacked. So it follows that buying the largest bed you can, for the size of room you have, will reap untold rewards.
Sizes of individual beds vary so always carefully check our sizes/finishes tabs when deciding on a style you like.  As a general rule of thumb our European beds are more generous than the average and measure up as follows:
Single: W102-131cm x L200-220cm
Small Double (Queen): W127-161cm x L210-220cm
Euro Double:  W154cm x L213cm
Euro King: W166-183cm x L210-231cm
Super King Size:  W193-202cm x L220-230cm
US King: W207-217cm x L218-230cm
That sinking feeling
Looking for a mattress? As we all know it's a very personal thing. Once you've chosen the right frame and headboard then you need to decide on the mattress. If you're unsure which mattress to buy for your chosen bed design talk to our team who will give you the precise measurements. We will look at the bed you ordered, check the frame size and make sure it all works perfectly.
To make life easy we have also partnered with a leading UK mattress supplier.  These mattresses are custom-made to size right here in the UK using traditional handcrafting skills, with cotton, lambs' wool or cashmere fillings. Choose from 15cm deep mattresses for the spare room, right through to the ultimate luxury of a 30cm deep, 3,000 spring mattress.
And if you and your partner prefer different comfort levels, we can create two zipped designs allowing you to share one mattress but two sleeping surfaces. So, as long as you're not still sharing a baby's cot you can look forward to 33 years of happy sleep.