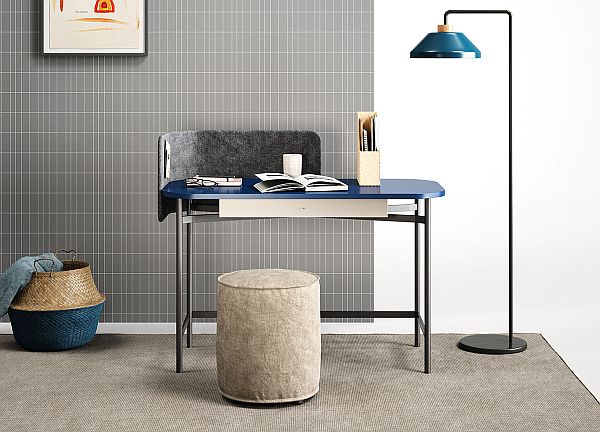 The spare room is having to work harder than ever at the moment. With lots of us trying to carve out extra space for home working we thought we'd highlight some of our multi-functional/flexible designs to help you make the most of your extra room – while keeping it stylish.
Sofa beds
The most obvious place to start is of course with the spare bed.  If the spare room is now your home office, sharing it with a bed may not be the greatest productivity incentive.  But you will also (one day again soon!) want to be able to offer a spare bed to family and friends. The answer of course is a sofa bed.  But so many sofa beds can look like hand-me-downs from a previous life that have been, well, relegated to the spare room. Step forward Bonaldo's superb Bandy sofa bed.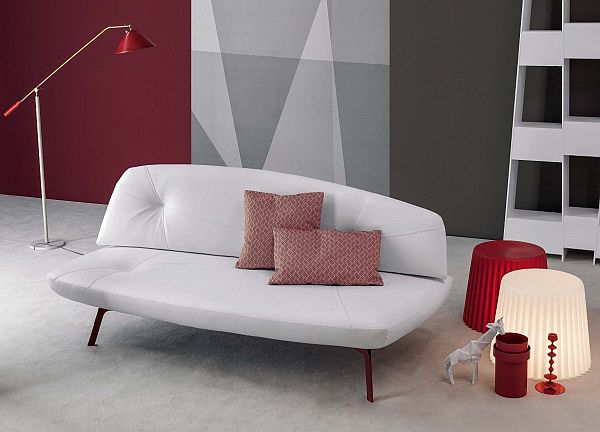 The Bandy has a great contemporary look and gets top votes for ease of use.  The manual mechanism moves the seat forward and lowers the backrest to form the bed surface. For anyone who has battled with trying to fold a traditional sofa bed out or back into the inner depths of its workings  – and failed – this one is for you. It's also got removable covers for regular cleaning.
With a width of 203cm and a depth of 107cm this might be a little too roomy if your spare room is small. In which case you may be better opting for a day bed.  Equally stylish but more compact.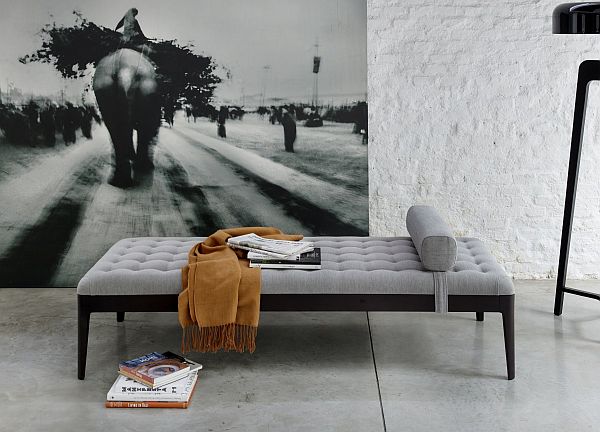 The Webby Day bed from Porada is one of a number of our stylish day bed designs. Webby is more compact at 183cm wide and 73cm deep.  Just about long enough for those six footer friends and supremely comfortable. It has a deeply padded base and a beautiful walnut frame (lacquered here in wenge).
Dressing table or desk?
The style of desk you choose for your spare room/home office is all important.  We have a number of desks that can easily double as dressing tables – ideal for a quick transformation when the guests arrive.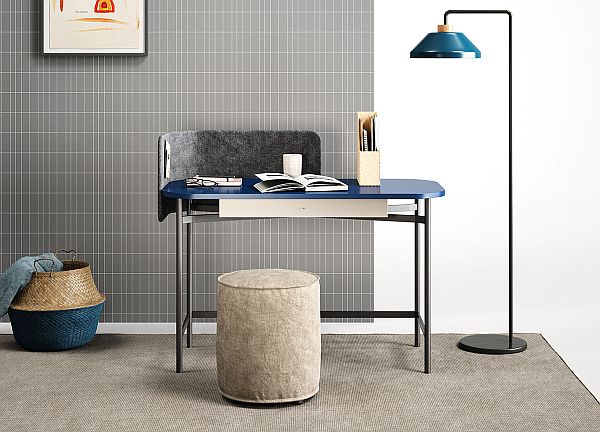 Novamobili's Ninfea writing desk is a minimalist design fitted with a 'privacy screen' that has multiple fabric options for the finish (and can also double as a useful pin board).  For its transformation from desk to a dressing table, fit a clip-on mirror for your guests to use.  They'll be hard pushed to know their dressing table has a secret life.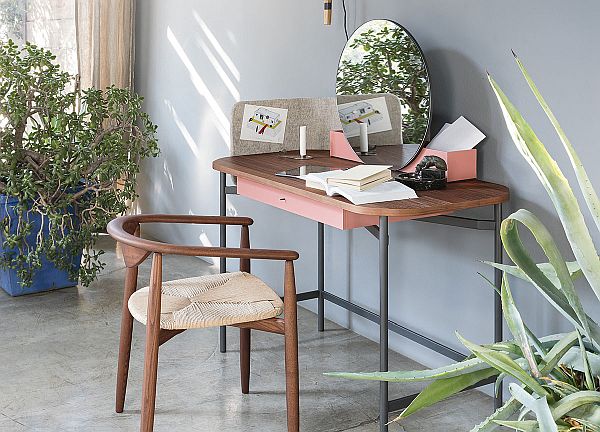 The Ninfea design above is the dressing table version.  It's been pre-fitted with a storage box and circular mirror.  It gives you a good idea however of how to make it work as a multi-purpose piece of furniture.
Compact space?
If your spare room is tiny you'll want to make the most of every last centimetre. German brand Schoenbuch are one of our 'go to' brands in this area.  That's because they are world experts in storage ideas for smaller homes. Schoenbuch are the holy grail of efficient organisation, from slimline shoe cupboards and sideboards to complicated storage 'systems'. Their superb designs also come in a wide range of sophisticated matt or gloss shades.
Schoenbuch's Stripes wardrobe is a great example of what they do best.  It's 100% customisable.  Individual elements are made in different widths, heights and depths.  Each element is available in a minimum depth of just 35cm.  Front panels also have no visible handles (they really do think of every last space saving idea).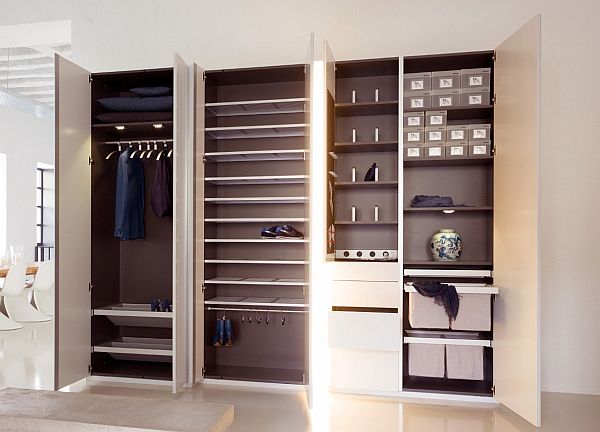 You can also have fun deciding on the internal layout. If a cross between office storage and guest wardrobe is what you are looking for you're home and dry.  Examples of internal accessories include a charger for tablets and mobile phones, apothecary-style pull-out drawers, a pull-out shelf/writing shelf, shelves fitted at the required heights to accommodate files, plus pull-out bags and rails, internal lighting and as little or a much room as needed to hang clothes. Talk to the Go Modern team to discuss a bespoke design that will work for you.
Go modular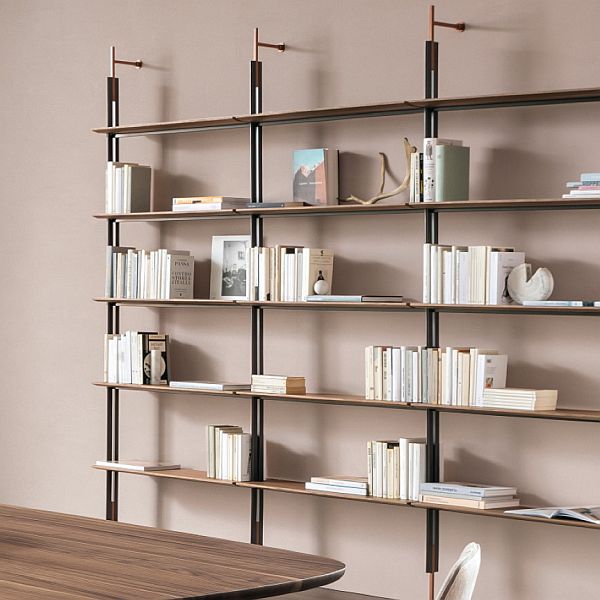 Whatever the size of space you have to play with, choosing a modular designs will make the space work for you.  Utilising a corner or a small stretch of wall totally benefits from modular design.  Bonaldo's new Roll bookcase can be wall or a ceiling fixed, and has shelves with depths of 30cm.  Its open architectural look creates a great feeling of space.  The version above has five levels of shelving and is three sections wide.  The choice of height and width is entirely yours.
Loft working
If you've relegated yourself to the loft/spare room you're undoubtedly working under a sloped ceiling or in an irregular space.  If that's the case, and you are wondering how to use the space efficiently, consider one of our customised designs especially created for sloped ceilings or awkward spaces.
The stylish Alfa wardrobe is one of our most popular wardrobes for tricky spaces.  It comes in several standard sizes, which can be reduced in width, depth and height to fit into almost any space. You can also choose a matt or gloss lacquer finish.  A great way of upping the style stakes.  At the last count Alfa was offered in 24 different shades.  Finishes include sophisticated neutrals to shades such as zingy limes and fruity junipers.
Zoom out
Worried about how your background looks during Zoom meetings?  The easiest solution is a slimline screen.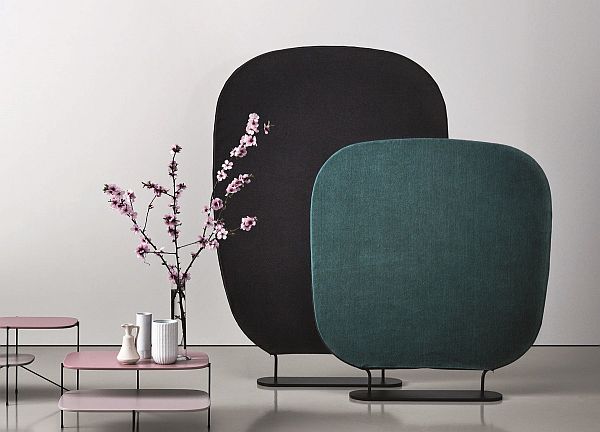 Screens are great for dividing your home office space from the rest of the room. And they're highly useful for those Zoom meetings where you worry that the titles on your bookshelf might not be up to scratch! Saba Italia's Shade screens (above) can be upholstered in a wide range of fabrics, from cottons to lush velvets, in a variety of colours, or with material you supply to us.
Your home office in a trunk
If space is really tight we may have the answer (if you have the budget).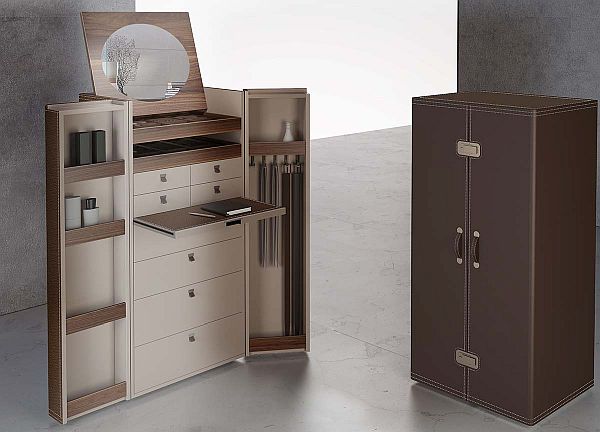 The amazing Bombay Storage Trunk is a beautiful, clever design with very useful internal features.  It's the Tardis of the furniture world.  Designed by Bavuso Giuseppe and made by luxury brand Alivar.
The frame of the Bombay trunk is solid wood (Italian walnut, heat treated oak or black oak). Once open, the interior reveals an astonishing secret world of useful compartments and ideas. There are four large drawers, four smaller drawers and a sturdy pull-out writing shelf, upholstered in leather.  There's also a lift up mirror and a series of storage shelves in the doors, along with hanging hooks. With the doors closed your 'home-office' / 'spare room' could be one of the world's best kept secrets.