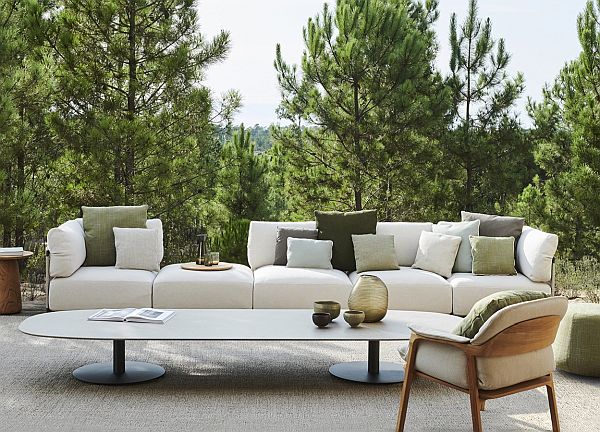 Material matters. And outdoor material matters a great deal. Don't get us wrong, we go as doe eyed as the next person when it comes to looks.  It's with our garden furniture in particular however that we demand that extra mile, or ten, before we allow good looks to turn our heads.
No one needs reminding that last year was more than a little testing.  Manufacturers were hit hard and production lines ground to a halt for a while until everyone figured out how to do things safely.  This extraordinary time however was used very wisely.  Our garden collections are not quite as extensive this year but happily include exciting new pieces, alongside additions to best-selling lines and some fabulous new finishes.
Two years ago Tribù and Canadian design duo Yabu Pushelburg created Nodi.  An extremely beautiful piece of furniture design. We'll admit that Nodi as a name for a chair initially struck us as a little strange (those brought up on a diet of Enid Blyton will be with us here) and yes, the spelling is different.
As huge admirers of the range we were delighted to see the addition of the Nodi sofa. Equally as beautiful, and capitalising on the same technology to create an all-year round outdoor sofa with head-turning good looks. It's also modular meaning you can create the look and size you need – from a small sofa to a corner design or day bed.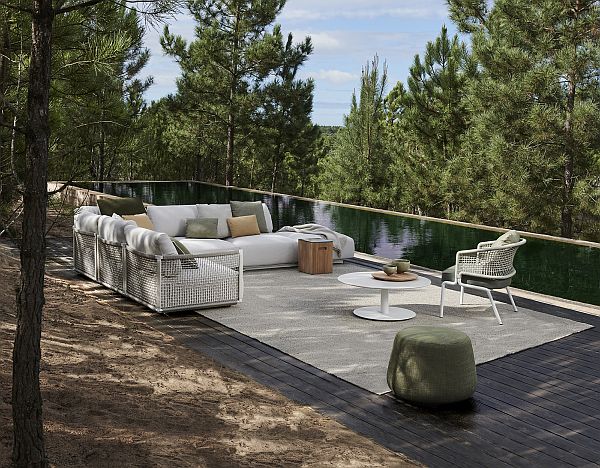 Outdoor material matters: Canax®
The science behind the Nodi collection's good looks and all-weather reliability lies in a material called Canax®, used on the back and sides of the design, which has a hand-woven, knitted matte appearance, but feels soft to the touch, almost like leather.
Canax is a unique combination of natural hemp and synthetic fibres. Along with its great strength, it's also stain repellent and resistant to all those 'bad news for outdoor furniture' things such as mould, frost chlorine and UV rays.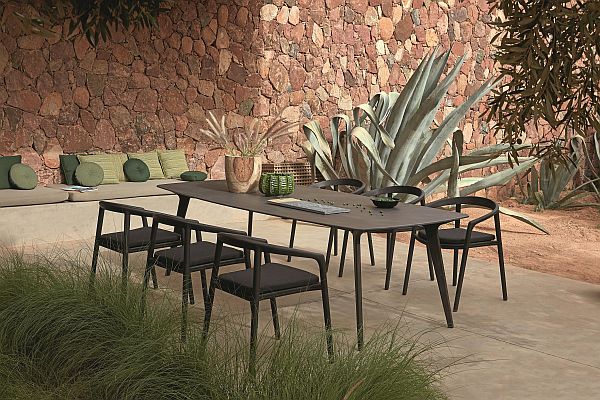 2021 table matters
One of our favourite outdoor table collections over the past couple of years is Torsa from Belgian specialists Manutti. Why?  Simply because it has the ability to up the style stakes of any outdoor occasion. The Torsa table featured above is in brushed nero teak with a new top in a ceramic basalt black. It's fabulous with a choice of eight different ceramic tops and an ability to suit any style of garden.
Outdoor material matters: Ceramic
Ceramic is perfect for areas where there's going to be a lot of action.  It comprises a mixture of sand, clay and natural stone.  During the manufacturing its layered and heated at 1100°c with the resulting plates cooled and glued together using a resin of polyurethane and fibre glass.
This process creates an incredibly hard-wearing, hygienic surface, that's also environmentally friendly.  Super hero credentials and perfect for all outdoor (and indoor) use.  Its attributes include resistance to fire, high temperatures, bending, scratching and chemical products. We don't know what sort of outdoor dining you do but we reckon all of that covers us nicely.
Outdoor material matters: Wood
It's obviously a perfect choice for outdoor furniture.  But there are two woods in particular that our specialist manufacturers tend to favour as they are natural winners in the outdoor material stakes:  Teak and Iroko wood.
Teak is quite simply a 'super wood'.  The companies we work with only ever source from sustainable plantations where the wood is usually between 60-80 years old before harvesting. Whenever you are buying teak we advise to always check the provenance.
In its natural state teak is practically maintenance-free. It can be left outside all year round, surviving even the most extreme weather conditions. Over time, untreated teak furniture will turn a silver grey. However that shouldn't have you turning grey as it's purely cosmetic and doesn't harm the strength or quality of the wood. Seasonal oiling will help maintain its beautiful natural colour.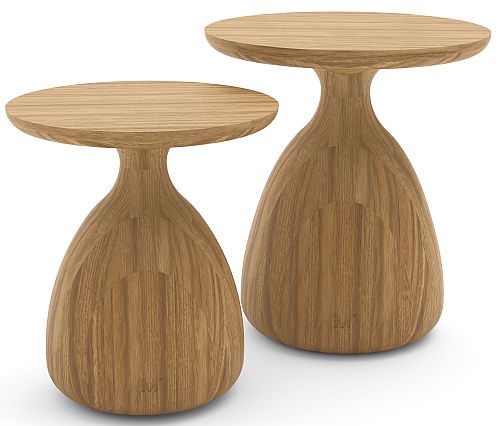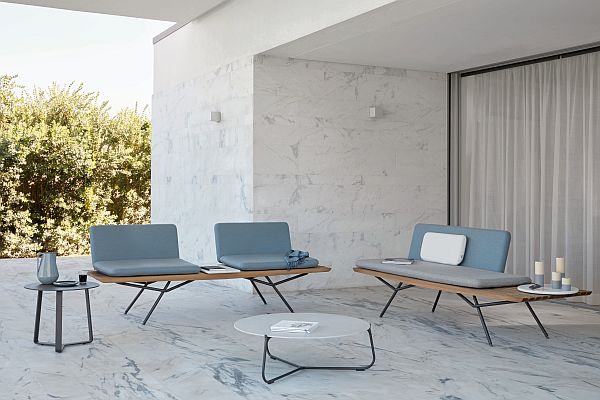 Iroko wood is sometimes referred to as 'African teak', although it's unrelated to the teak family. It works really well for joinery and is commonly used in boat building or decking as well as outdoor furniture. Again, this is because of its superb resistance to the elements – UV rays, chlorine and seawater, which makes it perfect for outdoor use. It's naturally yellowish in tone, turning a deep amber brown over time.
Outdoor material matters: Rope
"It's rope Jim, but not as we know it".
Manutti have taken rope a whole technological step or two further on. Their highly popular Kobo range features a structure made entirely of hand-woven rope around a welded aluminium frame. The rope used is a blend of Textilene® and polyolefin, which again ensures resistance to UV rays, chlorine and sea water. And another big tick in our books is that it's recyclable. Although as with all our outdoor furniture you won't be changing it anytime soon.  Buy once, buy well is the Go Modern mantra.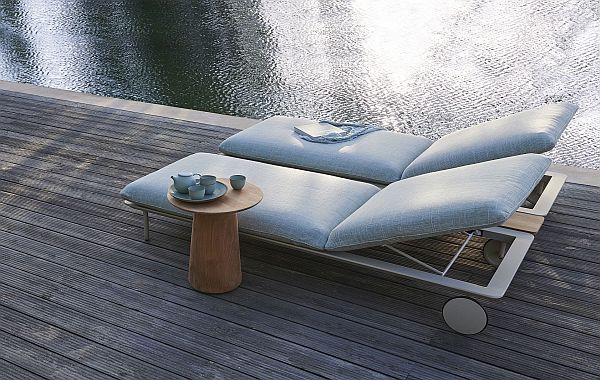 Outside material matters: garden fabric
There have been huge advances over the past few years in the type of fabric available for outdoor furniture.  Gone are the days of scratchy, rough material in place of much softer tactile fabrics.  We often have to persuade clients that the outdoor sofas we have in our showroom really do have outdoor fabric on them.
Outdoor fabrics come in a variety of materials and include acrylics, polyesters, polyolefins and often combinations of all. Some are removable and washable at 30 degrees, others are easily cleaned with water and a mild soap solution.  What they all have in common is that they have been developed specifically for outdoor use. Which, as with the frames, means they have a very high resistance to UV rays, chlorine and rain water, and abrasion.  Polyester and polyolefin are also 100% recyclable.
A glossary of terms
For quick reference, we've compiled a list of the most common materials used in our outdoor furniture*.
OUTDOOR FURNITURE FRAMES:
POWDER COATED ALUMINIUM
– Fluidised powder coating applied to the aluminium structure by electrostatic spray. For maximum solidity and resistance of the powder coating, the material is heated at a temperature between 160°C (320°F) and 210°C (410°F).
STAINLESS STEEL
– Electropolished stainless steel 316L and 304L. The treatment concentrates chrome, nickel and other materials of the steel into the surface improving the corrosion resistance and leaving it with a lasting bright finish.
WROUGHT IRON
– Sanded solid forged iron, with antioxidation treatment and heated at 180°C (356°F) min. 100% recyclable.
ROPE
– Blend of Textilene® and polyolefin. Recyclable.
WICKER
– A synthetic fibre (HDPE), high quality thermoplastic fibre. Resistant to great variations in temperature, even extreme, from -25°C (-13°F) to + 70°C (158°F). 100% recyclable.
TEAK
– Superior quality teak wood aged 60 to 80 years, sourced from ecological plantations. 100% recyclable.
IROKO
– Superior quality, sustainable West African hardwood. 100% recyclable.
CERAMICS
– Composed of sand, clay and natural stone formed into a layer & heated at 1100°C. The resulting plates are cooled, and glued using a resin of polyurethane and fibre glass.
OUTDOR FURNITURE FABRICS:
100% ACRYLIC FABRIC
– Washable at 30°C (86°F); Light fastness: 7-8; Resistance to pilling: 5
Resistance to abrasion (Martindale): 12,000 – 25,000.
100% POLYESTER / PVC
– Light fastness: extreme light stability: > 3 UVA 340/2000 h
Resistance to abrasion: very high use.
POLYOLEFIN / POLYESTER
– Washable at 30°C (86°F); Light fastness: ≥ 6; Resistance to pilling: 5
Resistance to abrasion (Martindale): 30,000; Recyclable.
100% POLYOLEFIN
-Washable at 30°C (86°F); Light fastness: 7; Resistance to pilling: 5
Resistance to abrasion (Martindale): 15,000 – 40,000; 100% recyclable.  Light fastness 7-8.
88% PVC + 12% POLYESTER
– 'Artificial leather' (leather appearance) with PES fabric + PCV coating; clean with water & mild soap; Light fastness: 7-8; Resistance to abrasion (Martindale): >100 000; Flame retardant: BS 5852 Source 0 – 1.
98.8% ACYRLIC / 1,1% POLYESTER
– Washable at 30°C (86°F);Light fastness: 7-8; Resistance to pilling: 5; Resistance to abrasion (Martindale): 12,000.
VELVET
– 100% solution dyed acrylic; Washable at 30°C (86°F); Abrasion resistance (Martindale) 5,000; Colour fastness 7-8
For more detailed information and samples please have a chat with the Go Modern team.
*source Manutti & Tribù