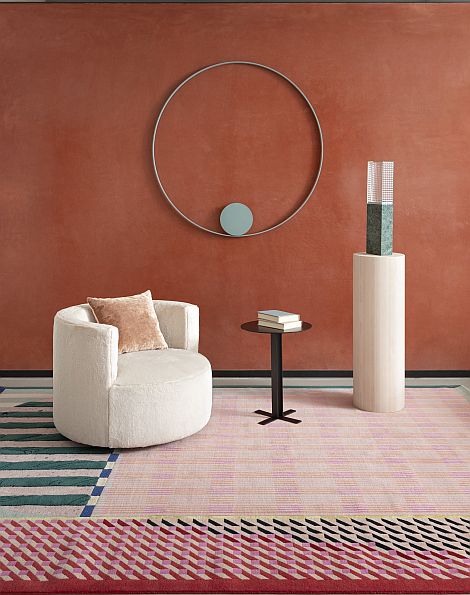 We've all got one.  That favourite armchair that we've made our own.  The one that a guest will inadvertently choose to plop themselves down in, to which you then carefully don't blurt out: "actually that's where I usually sit".  Even though you've politely said "do sit anywhere".
It feels like the armchair has been around forever. London's V&A Museum has a fab archive of chairs dating back to the early 1700s.  Although we have to say that a great many of them don't look particularly comfortable. And according to research, for a greater part of our history the human race didn't even have chairs, making do with squatting or sitting on fallen logs or the ground (a bit like our outdoor social distance meetings with friends for a lot of 2020!).
The best seats in the house
Any one of our newest collection of armchairs are guaranteed to become your favourite armchair. We've chosen them for their stylish good looks (of course), contemporary design (always) and importantly the comfort factor (absolutely).  We spend a lot of time at trade fairs parking ourselves in new chairs.  And however incredibly stylish a chair looks, if it doesn't pass the Go Modern comfort test, it definitely doesn't go on our star chart.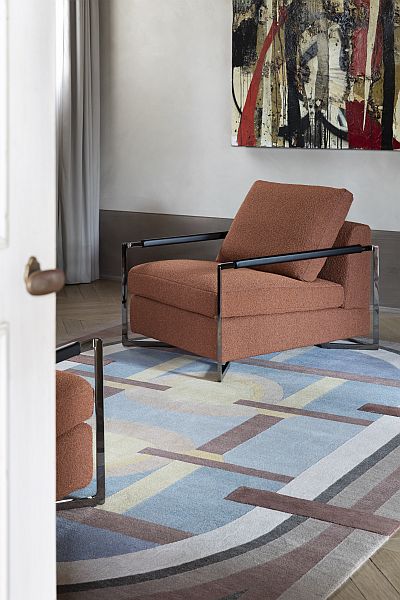 Some of our latest armchair designs
There are zillions of articles around on choosing the right bed because we spend so much of our lives in them.  But not so many articles on why you should also spend a lot of time choosing the right armchair. We reckon that if you tot up just how much time you spend in your favourite armchair – it'll probably jockey for position with your bed.
Nothing by chance
Saba Italia's Chance armchair is one of those chairs that loves to 'hug' you.  It's definitely up there in the comfort stakes with its semi-circular backrest that creates an all enveloping feel.   At 63cm high its one of our lower in height designs. It's width and depth however, 80cm each, ensures plenty of snuggling room.  Saba also provides a huge range of wonderful fabrics and leather to choose from.  The 'Couture 19' richly tactile fabric in the shot above will seriously provoke a lot of stroking. And, worth noting with this one as it's pretty unique – it's a tub chair that swivels!
And the wonderfully titled No Logo armchair, also from Saba, has 'comfortable' sewn into its upholstery.  The modern chair has a deep, supportive seat in goose-down feathers, combined with a sleek black nickel frame.  And those minimalist armrests are covered in black or dark brown leather.
Saddle up for comfort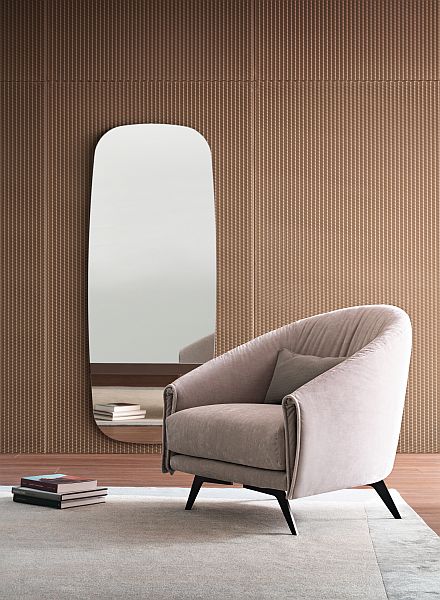 We loved Bonaldo's Saddle sofa, and this year the collection has been joined by the Saddle armchair.
Once again the design, by Giuseppe Viganò, has an enveloping backrest and gently sloping arms perfectly angled for that important elbow resting. The seat cushion is generously deep and the fabrics range from beautiful 100% cotton or linen, to cotton/linen mix or woollen compositions, through to eco-leather and leather. And we know we've mentioned the armrest inserts elsewhere but for us the devil's always in the detail – and this detail gets top marks.
For the love of: an armchair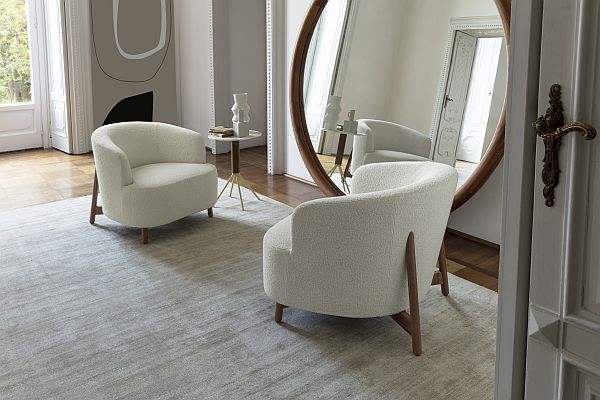 Porada's philosophy is summed up with their motto 'for the love for wood'.  We'd like to change that to 'for the love of an armchair'. That's because we've fallen in love with their latest design: Copine by designers Gabriele & Oscar Buratti.
The solid wood frame is in Porada's signature canaletta walnut (which can be left natural, stained or lacquered). Let's face it – you wouldn't need anything else in the room with this design.  Porada, as always, epitomise the best of high-end luxury and style.
A seat in the clouds
Our quirky Italian brand Miniforms love to surprise us with something out of the ordinary.  And their Boterina armchair for this year is just that.
Boterina is uber cool, contemporary and the smallest member of their Botera collection.  It's great for those spaces that don't have a lot of spare room. And Florence based designers e-ggs call it a 'cloud with a backrest' – which tells you all you need to know about its comfort.  Lots of fab fabrics to choose from including Miniforms' eco-friendly recycled fabrics and their new textured bubble fabric.
A shout out for Sacco
We love an award winner.  And we love a good design backstory!
The Zanotta Sacco bean bag/armchair (the world's very first bean bag) has just been awarded the Compasso d'Oro ADI for its lifetime achievement.  How cool is that! Established in 1954, it's the oldest and above all the most authoritative design award in the world.
Sacco's designers,  Gatti, Paolini and Teodoro, originally had the idea for their design back in 1968. They wanted to create a 'universal' seat that would adapt to any body, in any position.  An absolutely brilliant idea that has stood the test of time, and regardless of your shape, will always love you.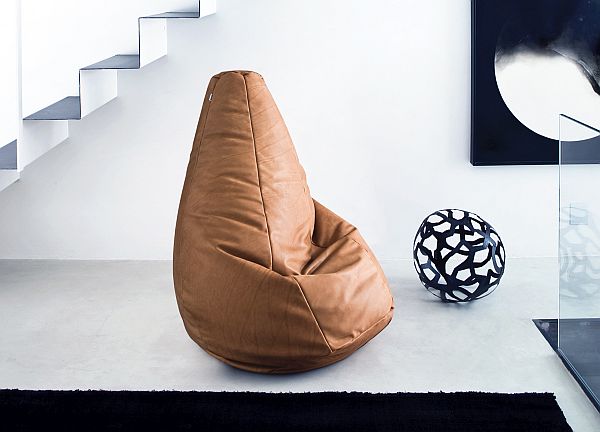 So congratulations to Zanotta and three very clever designers, none of whom sadly are still with us.
Take a seat and browse our entire collection of armchairs – they're definitely the best seats in the house, and guaranteed to be one of yours too.