Pink. Sugar and spice and all things nice? Or does that make you want to turn on your heel and run?  If pink is a colour you've always avoided we think you should think again.
This year's new launches, from fashion to furniture, all have one colour in common.  Yes, it's pink.  Lots of our manufacturers have chosen to style their latest designs using pink finishes or fabrics.  And it gets the thumbs up from us. Are you brave enough?
Pink for a sofa?
And why not.  The fabulous Oltremare sofa by the celebrated fashion designer Antonio Marras in collaboration with Saba Italia is not just an incredible shape.  It looks pretty amazing shown here in fabric from Saba's Lusso range, in a subtle, warming shade of this controversial colour.
Interior designers often advise not pairing pink with other pale shades or white for fear of creating a 'washed out' look.  Positioned here however against a sea of natural greenery it looks great.  We also love the addition of the bold maroon cushion, which gives the whole look a punchy graphic style.
Variations on a theme
Our moods are definitely affected by our environment and colour plays a huge part in that. Brands spend a fortune on the way they look, and their choice of colour is carefully considered for the affect it hopes to have on you.
Just as with 50 shades of grey, there are as many shades of pink. Fuschia, salmon, blush, shocking, bubble gum, rose, cerise, cherry, coral.  Confusing isn't it.  So many variations.  Some you'll love and others that will have you hiding behind your sofa. The colours around us play a big part in how we feel. But ultimately, when it comes to home, perhaps we should just trust our gut emotions and go for the shade that makes us feel good. And pink for us feels warm, calm and happy.
One of Alain Gilles latest tables for Bonaldo is the Geometric. As always with Bonaldo's designs there are multiple finishes and colours to choose from, but interestingly here Gilles has created a salmon pink version with what he calls a spatula finish. How often do you come across a pink table?  It's brave. We cant think of many. And Bonaldo have then styled it for the shot above with their Ika dining chairs, upholstered in a fabulous sugar pink velvet.  And it just works. Beautifully.
Saddle up with pink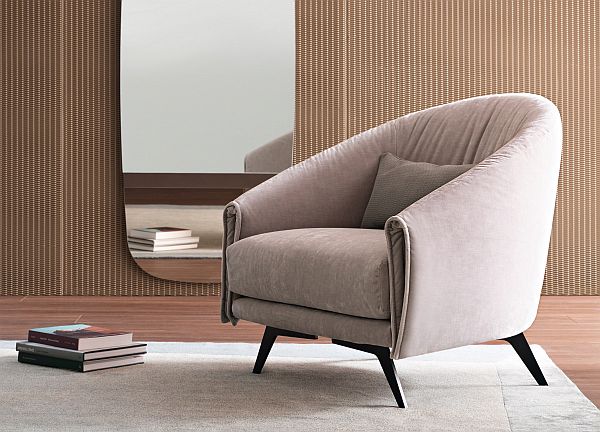 Giuseppe Viganò's stylish Saddle sofa was launched last year.  The fabrics used for the original photography were a masculine tobacco brown with the detail inserts in a dark brown leather. The 2020 collection is joined by the Saddle armchair – a wonderful tub shape that retains the saddle shape.  This time the stylists have gone for a muted pale pink velvet.  Fab isn't it.  The whole look has suddenly become much lighter.  And definitely more catwalk than gentlemen's club.
Pink drinks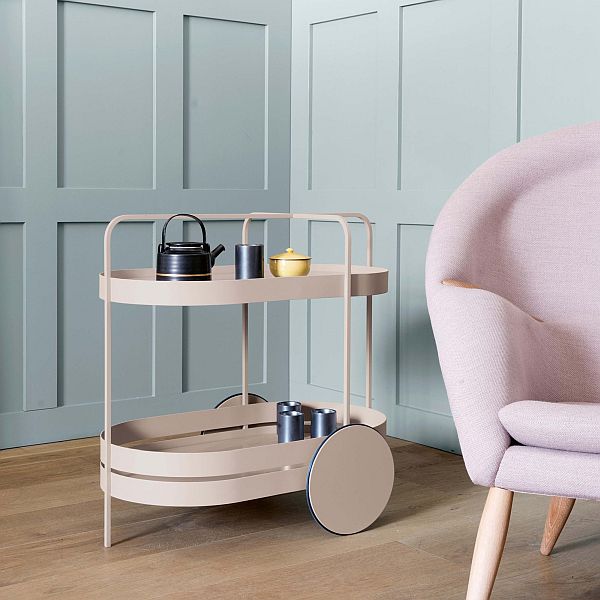 We love the campness of this design.  It's simply fun on wheels and then some. And breaking the 'don't pair pastels with pastels' rule Schoenbuch's Grace drinks trolley definitely holds its own here.  And shows you can. The stylist obviously decided to break more rules with the addition of the candy coloured chair. Respect.
Pink details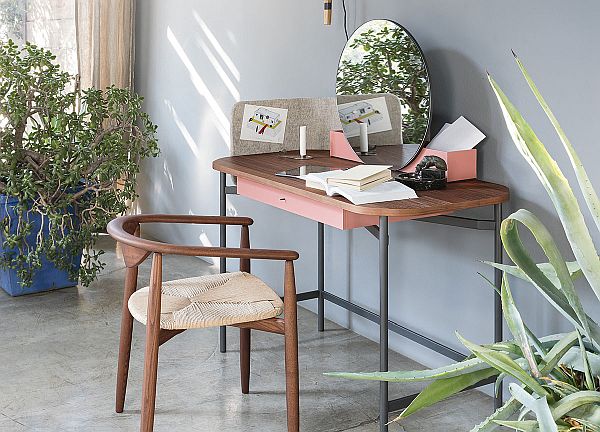 Dressing tables are definitely having a renaissance and Novamobili's Ninfea dressing table shows how to use a splash of pink to highlight the detail but not overwhelm it. The drawer and caddy can be lacquered in 25 different colours including the candyfloss shade here.  The privacy screen is in a textured grey fabric but, guess what, the fabric options offer some pretty pink shades too.
Bringing pink to the table
We said we that hadn't come across many pink tables and then someone mentioned Alain Gilles 2019 table for Miniforms.  The wonderfully named Barry dining table also comes in this glorious rose pink  (officially called 'marsala red').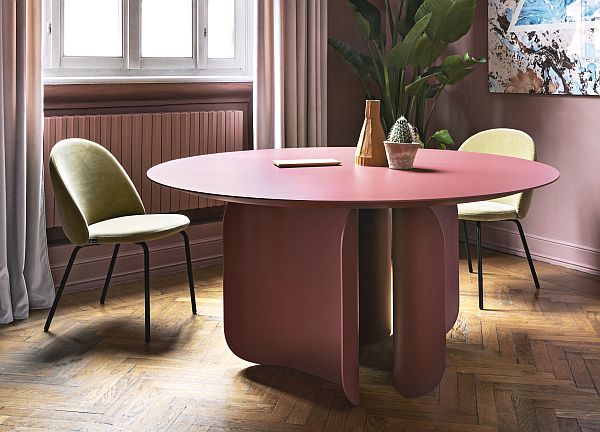 Barry is offered in lots of other finishes and we love the styling of this shot, with pistachio velvet chairs and dusky walls.
The sound of pink
Miniforms also got in on the pink colour trend a couple of years before with their Caruso sideboard.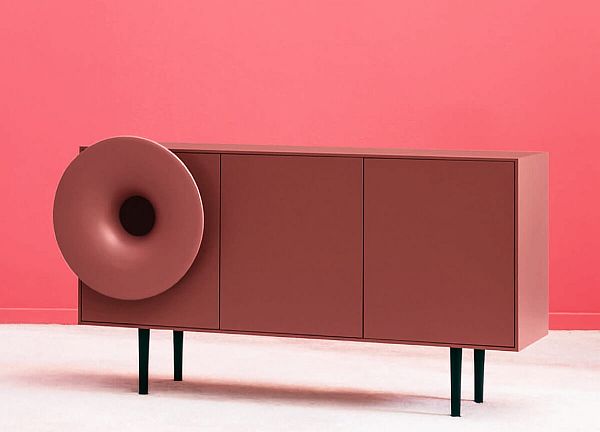 Caruso was a winner of the 'Eddie Design Award' for 2015.  The judges loved everything about it from the 13 different lacquer colours (seen here again in marsala red) and wood finishes, to the high-quality blue tooth sound system.
A pop of colour
But if all you're looking for is a pop of pink we won't hold that against you.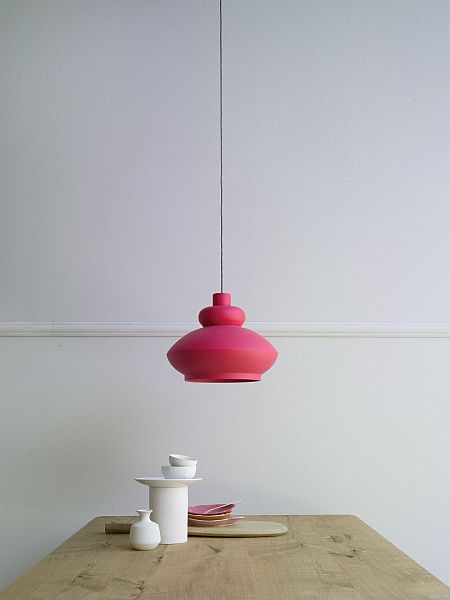 To add a bit of drama to a room there's nothing better.  Look at how the Tora pendant light above completely lifts a fairly bland table setting to a completely higher level. It also effortlessly picks up the colour of the small side plates.
So be brave.  Whether it's a new sofa, sideboard or table.  Or simply a dash of this daring, interesting colour as a light shade.  Pink is definitely IN.