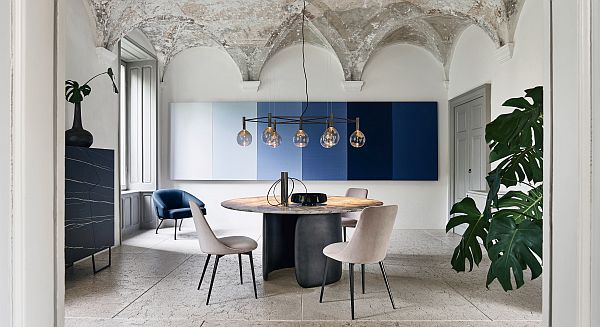 We normally spread the love but a shout out this week to our wonderful manufacturer Bonaldo and their latest launch of superb dining tables.
If, like us, you're spending much more time now dining at home, dining tables have suddenly taken on a whole new existential importance.
Bit of history
It wasn't until the 16th century that domestic dining room tables became really popular. Most Georgian and Victorian properties in the UK were built with separate dining rooms, and post war houses continued the trend.
London's V&A Museum has a wonderful treasure trove of furniture from different ages. Their written archive, including 'Domestic Life in a Modern World' also highlights why the trend for separate cooking and dining areas continued into the 20th century.
The first ever 'fitted kitchens' to be made in mass quantities were designed in 1927 by Austrian architect Margarete Schütte-Lihotzky. The aim of this vast German project, known as the 'Frankfurt Kitchen', was to standardise building elements. And an 'effective kitchen', for instance, symbolised an organised and rational domestic interior. As part of this, 'eat-in' kitchens were deemed unhealthy. The continuing influence this had on interior design was huge.
Modern life
Fast forward to the 21st century and all change. Large eat-in kitchens are generally a pre-requisite. But how to incorporate a stylish and practical dining table?  Kitchens are generally big traffic areas with a robust family life, so combining a table you don't want to cover up 24/7 can be tricky. It's something that we are very aware of and we work hard to look for tables that solve the problem.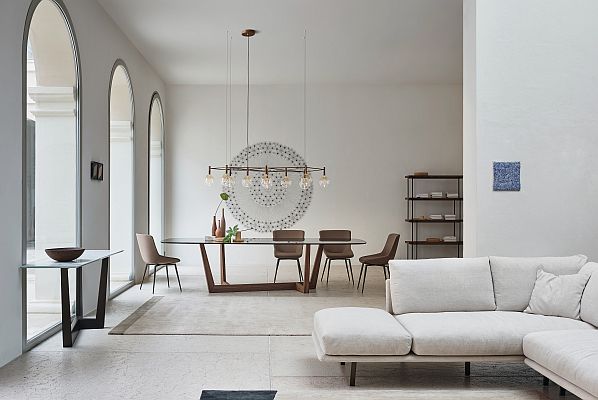 A fab new addition to Bonaldo's 2020 dining tables collection is the Art Wood table.  Designed by Gino Carollo, this new version has a solid wood base in walnut.
Durability + lots of leg room
As well as coming in four sizes it also has a choice of five ceramic table tops. Why ceramic? Well ceramic is made from extremely durable, inorganic clay. It's a material that is flexible and soft in its natural state but becomes rock-hard after the firing process. This process means it is far less prone to scratches and stains than a natural stone. Perfect for family life. Perfect for style. It also has two beautiful smoke or bronze glass top finishes too. And as for the trapezium base, the legs are angled diagonally under the top, allowing lots of leg room.
In the round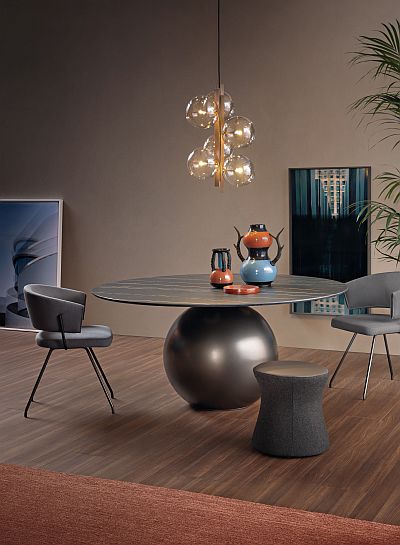 "Iconic, with an astral beauty, I hope, of an essential elegance" – Fabrice Berrux
Your search for that perfect show-stopping round table is over.  Well, we knew ours was when we saw Fabrice Berrux's latest design.  The Circus table will have you spinning plates and fire-eating from its sheer beauty. The jaw dropping element is the perfectly spherical base.  Nine materials to choose from… including bronze, pearl gold, clouded chrome, brass, and copper.  This has got to be one of the most 'centre stage' tables we have seen.  And for the table top?  14 different options ranging from exquisite marbles through solid woods and hard wearing ceramics.
We like to think that Maurio Lipparini's new Curling table is the perfect modern table. And it's another show stopper. A beautiful harmonious design with no room for superfluous decoration. Lipparini's inspiration for his sculptural concept was visits to marble quarries.
"I was inspired by these white, cubic blocks of marble" –  Maurio Lipparini
Consequently, the base of each table is carved from one single block of Carrara or black Marquinia marble, in matt or gloss. The table top is in extra-light transparent glass with a matt satin clear edge.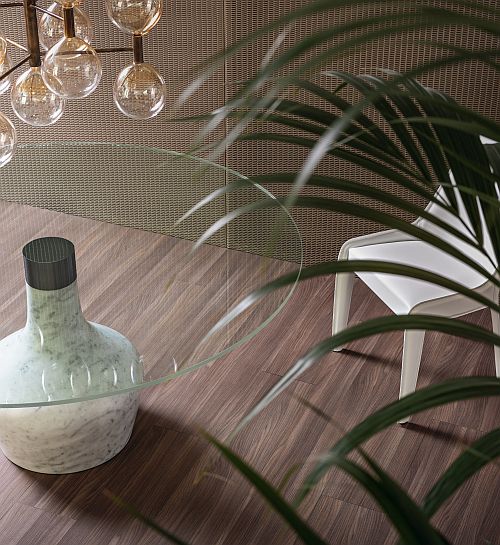 For lovers of sculptural design the Curling is hard to beat.
And if you're coveting the fantastic chandelier light in these shots they're Bonaldo's Bon Ton light.  The design comes with a single glass globe or a choice of three or six in transparent, amber or smoked glass.
Shape shifting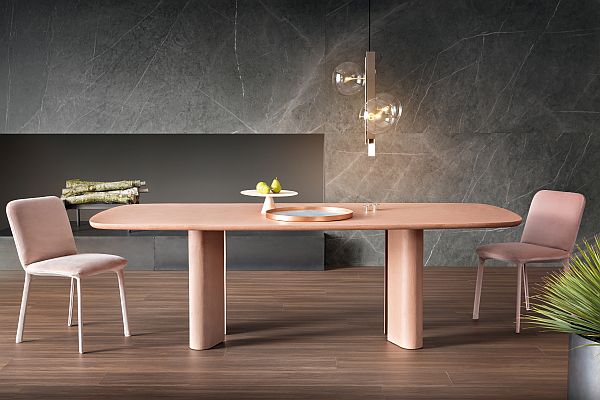 If you like your furniture to have an added layer of intrigue… Alain Gilles Geometric table will do it for you.  Think chameleon-like silhouettes. Its four legs appear to look thick, or sharp and thin, depending on your angle of view.  The entire visual weight changes as you walk around the table. Gilles is always Master of Cool.
And if you like texture.  You'll like this. This image shows the table top and base in a special terracotta coloured clay, with a hand-finished spatula effect. But you can also choose it in wood, ceramic or marble for the top.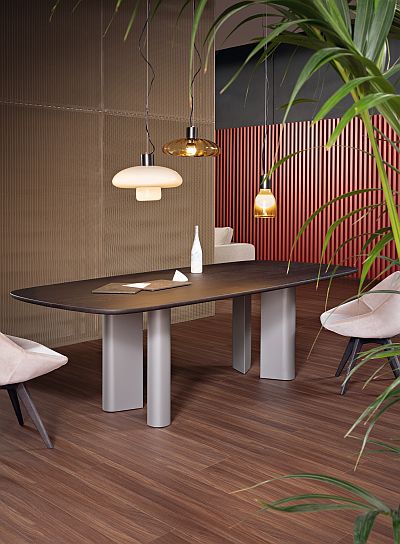 The lights featured here by the way are the Bonaldo Acquerelli lamps.  They're hand-crafted blown glass in a palette of delicate colours. Definitely on our menu.
Extending your options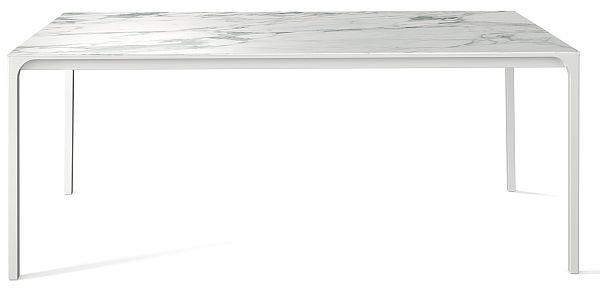 Thin, slender and resistant – with a strong impact. Who wouldn't want that as a description. The new
Zen table
is a simple concept; ideal for eat-in kitchens or even office settings.  If you're looking for occasional extra seating space (this one's great for social distancing) Zen's additional extension makes that possible. It's offered in a great choice of materials, painted metal for the base and ceramics, wood or lacquered wood for the top. The legs have lateral movement, so they're always at the edges – meaning you don't have to be.
So check out these and our
large range of modern dining tables
.  Whether we like it or not, more 'eating in' has, for the time being, become the new 'eating out'. And if you're thinking of buying a new dining table for Christmas… last orders for a guaranteed Christmas delivery are Wednesday 14th October.