The Victoria & Albert Museum's long-awaited exhibition Kimono:Kyoto To Catwalk is back on!   And that's great news for those of us who love Japanese design.  Our tickets are booked!
Japanese art forms have long been an influence on Western designs you can see at doors like the composite door Bristol catalog has to offer you.  It's a country with an eclectic craft tradition: from ceramics and woodblock printing to calligraphy and origami.  The wonderful cartooning styles of manga and anime have also become incredibly popular in recent years.
There's a simplicity and beautiful fluidity to Japanese design.  It's generally minimalist but also smart. Geometry is important too, with shapes having deeper cultural meanings.  And colour plays a big part. In Japanese tradition, for example, colours such as pink symbolise healing, red symbolises love, while white represents virtue.
Japanese design & Italian style
Although the majority of our suppliers are Italian, we've noticed a growth in the fusion of Japanese design and Italian style, and we're great fans. So we've picked out a few examples of this wonderful meeting of creative minds, starting with the stylish Haiku coffee tables.
The Haiku coffee tables from Saba Italia take their name from the famous Japanese poetry style of the same name, traditionally three short lines that don't rhyme.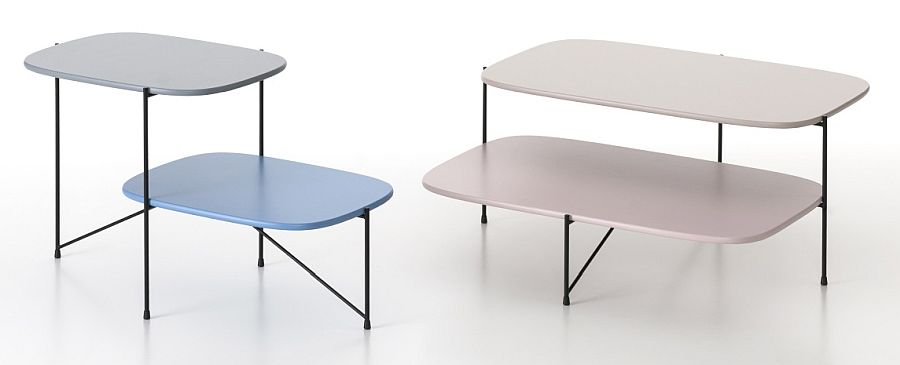 Emulating the style, the Haiku tables are made up of three parts: the frame and two separate table tops.
Created for Saba by Marco Zito, the slim matt black lacquered frame suspends two partially overlapping table tops on two different levels. It's a simple and beautiful piece of design.
Kadou – the art of flowers
A long-time favourite of ours is Bonaldo's Kadou range of accessories. The shape of the design echoes a traditional Japanese vase of flowers. And 'Kadou' in Japanese means… the art of flowers.
The designer behind the collection is the award-winning Ryosuke Fukusada and he's definitely one of our 'designers to watch'.
A graduate of Kanazawa College of Art and Design, with a Masters from Domus Academy in Italy, Fukusada then went on to assist the celebrated Patricia Urquiola for four years at the Studio Urquiola in Milan. Since 2012 Fukusada has run his own studio in Kyoto.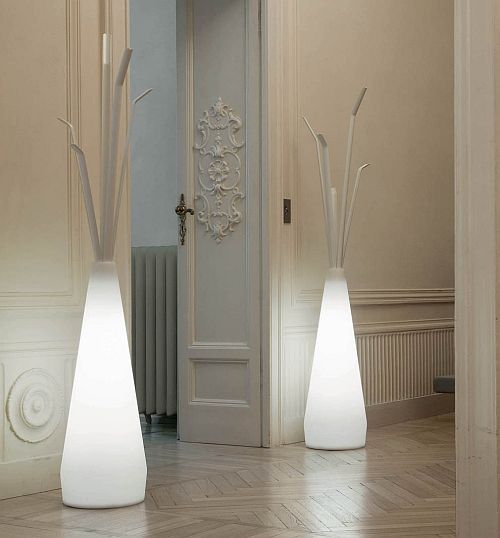 Fukusada's inspiring Kadou coat stand has a simple, sculptural style.  It's a fantastic piece of design, standing at 173cm high, and perfect for hallways (it's fairly slim at 38cm across the widest bit of the base). The branches can also be chosen in nine different shades from anthracite grey to coral red.  Plus, it's one of those amazing two-in-one ideas with a version that also serves as a light.  For this Fukusada incorporated a fluorescent light in the base which provides soft, atmospheric lighting.
French by name – Japanese by style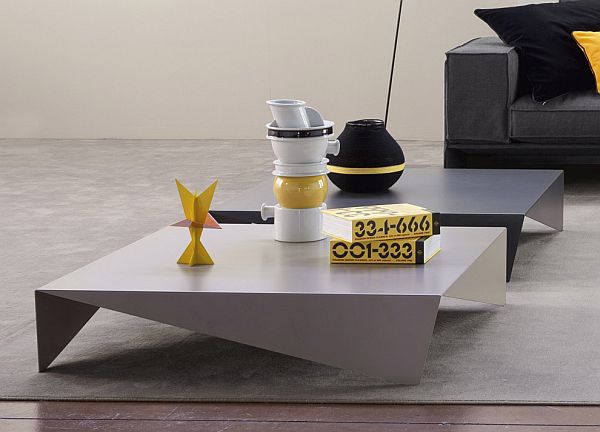 Also from Bonaldo is the Voila coffee table. And despite it's French sounding name, the Voila stakes its claim to Japanese design influence with its low lines and an Origami style shape. But this table, designed by Max Piva, is also unmistakably Italian, ultra-modern and offered in lots of different lacquered metal shades. Again its beauty lies in the clever use of a few simple lines.
Japanese sliding doors
Lots of concepts going on here with Tonelli Design's unique and versatile Shoji wardrobe.  Designed for them by Isao Hosoe and Lorenzo De Bartolomeis, there's a strong relationship between the user, the environment, the wardrobe and what it contains.  The wardrobe features two mirrors, one of which slides like the traditional Japanese door. The stylish and practical accessories, a bench and drawers in Canaletto walnut or white lacquered wood, are integrated with the wardrobe.  You can choose the wardrobes with castors, for easy manoeuvrability, or a simple fixed-base version.
Cloud like design
The striking Kumo outdoor furniture collection was designed for specialists Manutti by the award-winning Lionel Doyen.  We always like to provide a little background information on the designer behind the design, and you may be interested to know that Lionel first made his entrance into the wider world of art through graffiti (although he's also got a Masters in Industrial Design)!
Kumo is the Japanese word for cloud and, like its namesake, Kumo is dramatic, playful and airy. This Kumo, however, is a sturdy, modular outdoor sofa concept.  The metal arm and backrests are removable and adjustable, allowing you to play with the layout. The idea here is flexibility.  With this concept it's easy to change a sofa into a single chair, or a sun lounger, or combine both to create a corner sofa as seen here.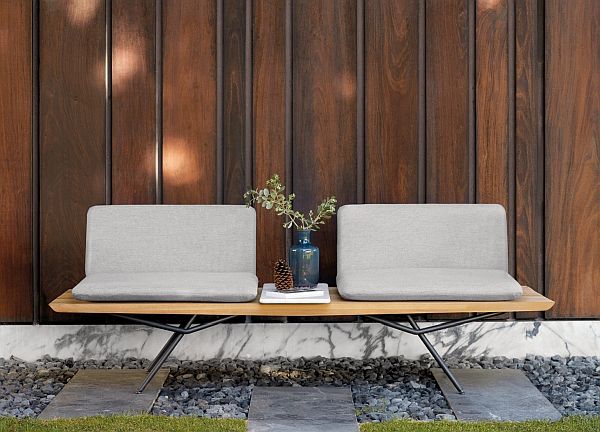 Back in 2016, to celebrate our 10th anniversary, Go Modern staged a Q&A event in collaboration with the London Design Festival. We transformed the Kings Road showroom into a glorious outside-in garden featuring, amongst other designs, Kumo, and one of Lionel Doyen's other designs the beautiful San garden bench.
Lionel joined us for the Q&A and talked about how he drew from Japanese art for his inspiration. We fell in love with San and it took pride of place in our window display. So what is it that we love? Well it's that old stalwart 'timeless and contemporary' and the sheer quality of materials.
San's minimalist frame is made from hard-wearing iroko, a superior and sustainable west African hardwood. It's also modular – ingeniously transforming from a simple bench to a two-seater sofa with a small table. It's entirely up to the user to decide on the composition.
A temple to design
We specialise in temples to design! And that's exactly what this next design is. Matteo Zorzenoni's fabulous Torii dining table is reminiscent of the shape of the ancient and magnificent Japanese temple gateways. A Torrii is most commonly found at the entrance to or within a Shinto shrine, where it symbolically marks the transition from the mundane to the sacred.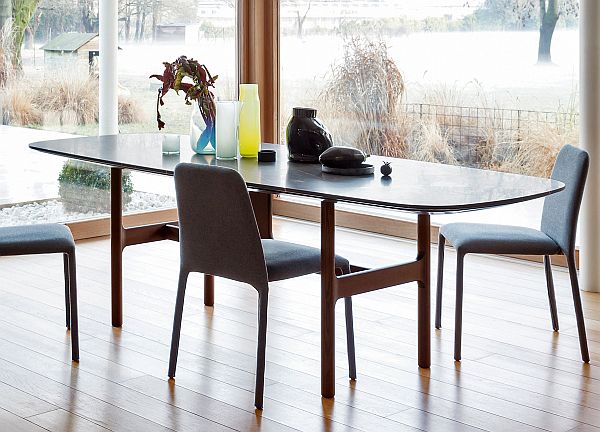 Which sums up this anything but mundane dining table very nicely.
The base comes in Canaletto walnut or light oak while the table top is in marble, lava stone or zillions of Novamobili's wonderful matt lacquers.
And finally, Bonaldo's wonderful 2020 collection includes more Japanese influence.  This time in the shape of a brand new mirror called Edgeless, designed again for them by the talented Ryosuke Fukusada.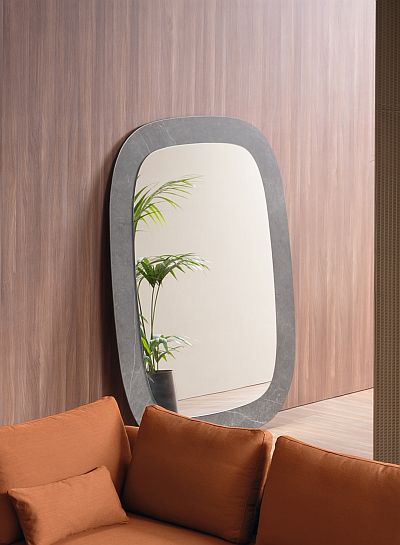 Fukusada's inspiration for Edgeless is from the shape of traditional Japanese fans: flat and without edges.
The mirror's large dimensions and no edges give it a soft shape, great for large spaces or for visually expanding a smaller room. It has a ceramic frame that's available in different finishes. (Coming soon to our site or speak to one of our showroom team direct).
So, if you love Japanese design too, take a closer look at the selection here, and of course don't forget to book your ticket to the
V&A's latest inspiring exhibition
, opening on the 27th August.  We'll see you there.