Porada Alan dining table – part of the new 2020 collection

"EVERYTHING IS BORN FROM THE LOVE FOR WOOD" – Porada
With Porada, everything stems from the love of wood.  This wonderful Italian company began life in 1948 and its wood-based furniture designs are breathtaking. To buy a piece of Porada furniture is to invest in an heirloom.  Their eco-credentials are also exemplary, with the company owning three sustainable plantations in the heart of Bourgogne, France.
We are incredibly proud to have worked with the company for many years.  We also pride ourselves on knowing their luxury furniture inside out.
"The Porada name stands for quality, craftsmanship & attention to detail"
Porada International Design Award 2020
And so onto their annual awards…
The International Design Awards are now in their 9th year and run in conjunction with POLI.design and ADI, the Association for Industrial Design. As with previous years, the competition is open to everyone, from anywhere in the world. Entries are invited from professional designers through to students, and split into two categories. The key requirements? Innovation and originality.
Back in 2017, we were honoured to be part of the judging panel.  And we were hugely impressed at the quality and creativity of every design we saw.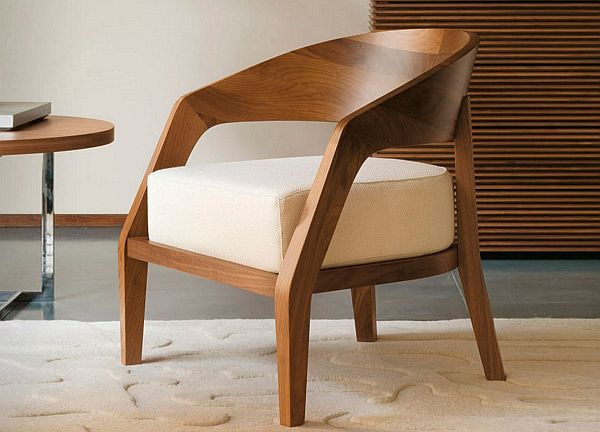 The focus this year: Chairs
This year's design challenge puts the spotlight firmly on chairs.  The company asks entrants to"interpret the values and identity of Porada". 
The jury will then choose three winners from each of the two categories: 'Students' and 'Professionals'.
What are the judges looking for?
Entrants are invited to create 'innovative chair concepts in which the use of solid wood is prevalent (but not necessarily exclusive').  They are also looking for originality.  Designs should also 'enhance the use of production and manufacturing processes used with solid wood'.
In addition, functionality, sustainability and ergonomics will be considered.  The wood used should also be that favoured by Porada.  Wood in its natural form, or lacquered.  It can of course be combined with metal, leather or fabric. You can read more about the specific requirements here.
And the winner is….
A winning design that particularly caught our eye at last year's Salone del Mobile was the 2018 1st prize student entry.  The Ninfea writing desk/vanity table is, we think you'll agree, an absolutely stunning design.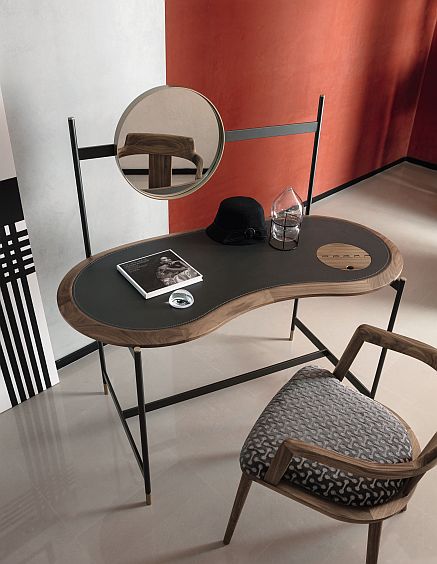 Niccolò Devetag, a student at Politecnico di Milano is the talented designer behind the creation. And it's easy to see why he got first prize in his category. Because Ninfea is the kind of design you find yourself purring over. The kidney shaped top is in beautiful canaletta walnut. The slim metal structure, in pewter grey, has stylish brushed brass details. We found it mesmerising.
As one of us noted: it just makes you want to sit down and write. The writing insert is upholstered in black Cuoietto leather and edge-finished with visible stitching.  We also loved the neat, centrally hinged opening compartment. And the optional circular mirror? Love it!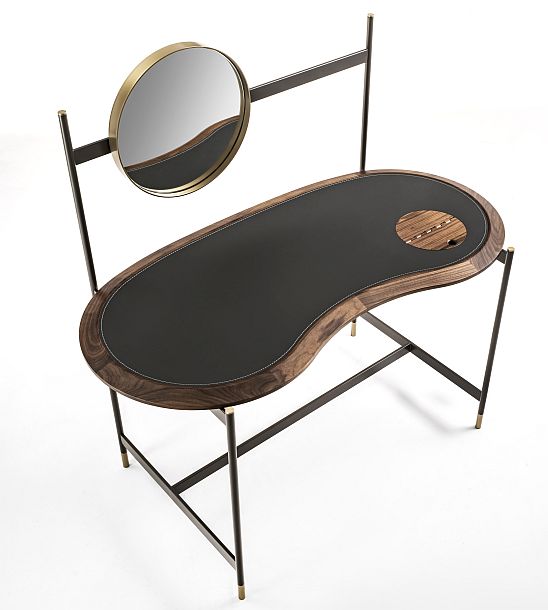 The walnut can also be stained in moka or wenge.  And for those who like to jazz things up with a little colour, there are also 10 matt closed pore lacquers from pistachio green to ivory.
Niccolò now joins a long list of prestigious names to design for Porada.  The roll call includes Marconato & Zappa, Carlo Ballabio, David Dolcini, Emmanuel Gallina, Patrick Jouin, Tarcisio Colzani, Staffan Tollgard, Opera Studio, Gino Carollo, and Studio Buratti among others.  That is an incredible line up of names! We intend to keep Niccolò on our list of 'names to watch'.
What's the competition?
Well, steep. Last year saw a total of 316 designs submitted;
222 of those from professional designers and 94 from students.
If you're thinking of entering, we hope that doesn't put you off.  And if you're just a passionate design enthusiast, it simply adds to the reverence we all feel for the effort, imagination and quality of good design.
The deadline:
Projects must be submitted no later than 15 October 2021. Good luck to all – we'll be watching.
And keep an eye on our site for Porada's stunning 2020 collection – coming soon.