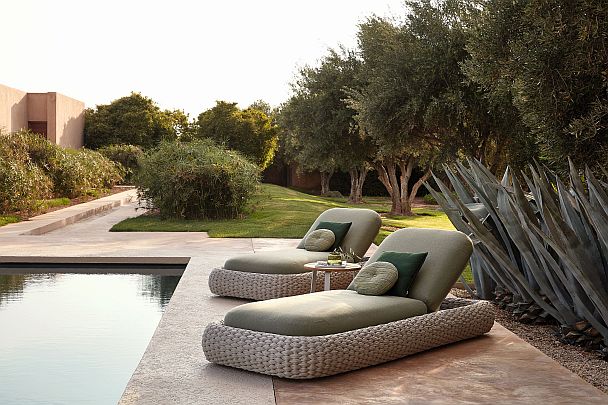 Our Kings Road showroom is located less than 10 minutes from the annual RHS Chelsea Flower Show  – the world's most famous flower show. It's one of the highlights of the year around these parts, with surrounding shops and streets bursting into bloom in the weeks running up to it. With events such as Chelsea being a 'no show' this year, many of us will be focusing on our own garden space, from small city gardens to expansive country estates, or probably something in between.
City gardens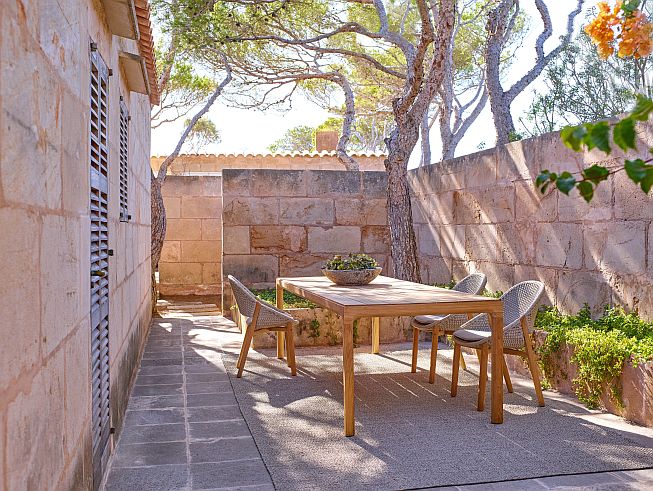 Lots of city dwellings of course are limited on garden space.  But if your outdoor area is a small courtyard or patio you can still create a big impact.  Try angular shapes and minimalist style, as with the Illum dining table, it won't swamp but will add an eye-catching focal point.  The warmth of the teak, and the neutral colours of the Elio chairs add to the aesthetic – and outdoor 'wicker' always complements any style from traditional to contemporary.
Chelsea's emphasis for their 2020 show was to be environment and sustainability. Garden designers planned to use the show as a platform to encourage a future where we "live in harmony with nature through urban design and sustainable practices". This is something Go Modern has long championed and we always look to suppliers who use best practise and sustainable materials, such as teak sourced from managed plantations, and recycled materials.
Space saving ideas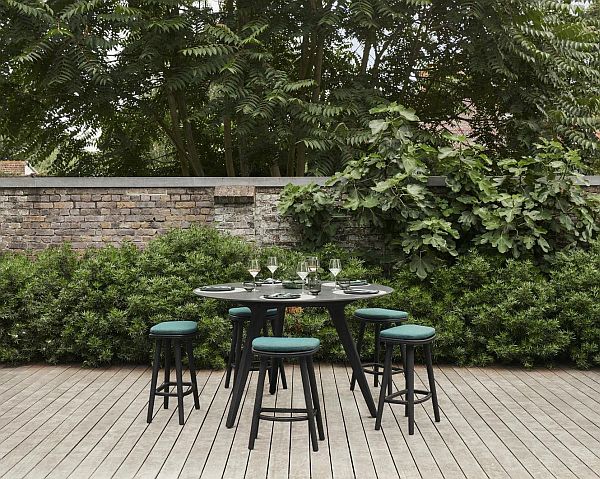 If your small town garden has no room for a large, rectangular dining table, try a round bistro table like the Manutti Torsa bistro table, ideal for smaller spaces.  It's made in natural or black nero teak, seen above, which also creates a dramatic, eye-catching statement.  The nero Solid stools with water resistant outdoor cushions complete the look. The fabric used here is 'Cottage Green', 100% Acrylic and developed specifically for outdoor use.  It's UV and light-fast, highly resistant to abrasion and pilling, and washable at 30°C.
Indoors/outdoors style
Designing your outdoor space so that there's a strong connection between the indoors/outdoors probably has more relevance with a town garden than anywhere else. So think favourite colours, textures and shapes.  If there's room for a sofa or a couple of armchairs you can create the ultimate in outdoor relaxing. Extending your indoor style to outside will create a harmonious flow and enhance the feeling of space. Adding an outdoor rug, such as the Tribu Loft rug will pull the space together beautifully (and feels great underfoot!).
Technological advances
The latest technology around outdoor sofas and chairs is fantastic.  The Natal Alu modular sofa above has a weather-proof slim-line frame in solid powder-coated aluminium.  The deep outdoor cushions have broad woven Textilene® straps which are mildew, UV and rot resistant.  You can also confidently leave these cushions outdoors thanks to covers in laminated, water-repellent polypropylene material. The thread used to stitch the seams swells when its wet which also prevents water from seeping through. And cushion fillings are breathable, letting moisture out to prevent any moulding.
Award-winning gardens
For us, one of Chelsea's finest gardens last year was the Wedgwood Garden, by the multi-award winning garden designer Jo Thompson (listed by House and Garden as one of the country's 'top ten garden designers').  Jo's garden particularly caught our eye for its wonderful planting, an abundance of Alchemilla, Angelica, Iris, Paeonias and lots of beautiful roses.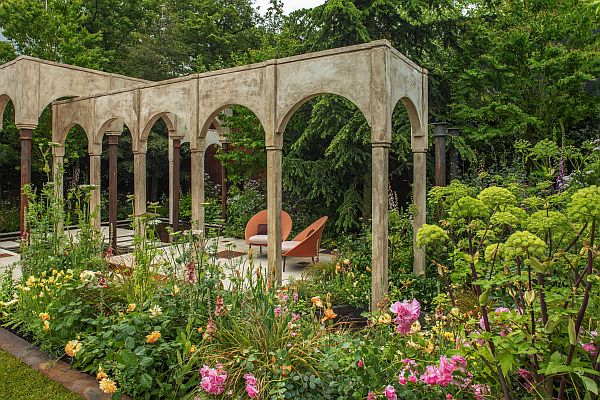 Interestingly Jo chose very bright, contemporary garden chairs to "balance the hard and soft landscaping" of her design. The combination of the classical with the contemporary was fabulous.  Importantly she advises to always choose weatherproof furniture designs, as that's: "always good for British summers". We'll second that.
Cottage gardens
In our book, contemporary furniture and cottage gardens don't always sit particularly well together. Nor perhaps does anything too formal. The best look is definitely natural with smaller furniture pieces that won't drown your garden space.
Spanish manufacturer Point creates a wide range of outdoor furniture including the Weave range, above.  The look is perfect with English cottage garden style – think rustic, weathered brickwork and aged timber, natural hand-woven materials and muted colours.
The People's Choice Best Show Garden, a Gold Award Winner at Chelsea last year, was the absolutely inspirational 'Welcome to Yorkshire Garden'.  Designer Mark Gregory wanted to capture the urban regeneration that has taken place along many of Yorkshire's canals, and the garden contained a lock keeper's lodge with a small private garden and vegetable patch.  The effect was stunning and we loved the use of native plants alongside more cultivated species.  A look for us that was totally cottage garden – and a little bit of West Yorkshire in Chelsea!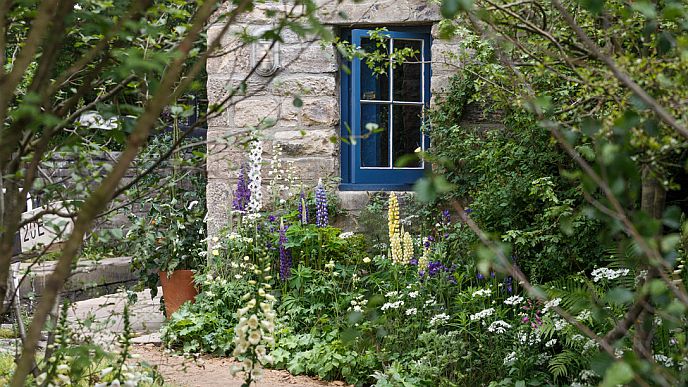 Large country gardens
If space is no object, you can afford to think big! You may also need furniture to suit different bits of your space – from an early morning cup of tea on the terrace to lunch by the pool, an afternoon siesta followed by dinner alfresco.  You'll also want to zone off those small spaces which catch the light at certain times of the day and position a chair or bench for some quiet contemplation.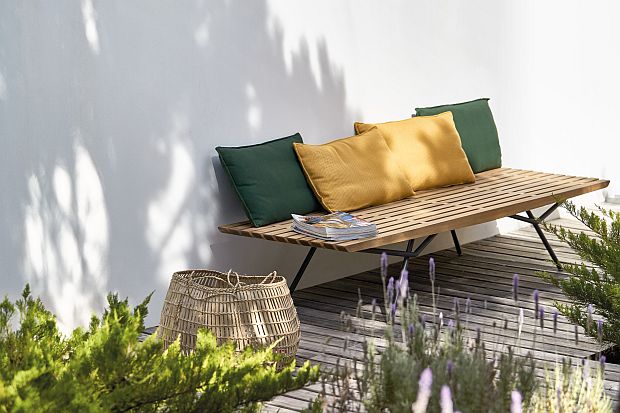 Lunch alfresco
There's nothing nicer than lunch alfresco with family and friends. You can dress your table with pretty glassware and, as here, simple black and white tableware. If outdoor table linen isn't something you normally bother with, that's fine.  There are any number of tabletop choices for most of our outdoor tables – and all far too good to cover up.
The table top for Tribu's Branch table comes in a variety of weather resistant garden suitable materials, including aluminium in white, linen or wenge, or A-grade sustainable teak.
Poolside style
You need to get extra tough when it comes to furniture by your pool. Anything placed by water, be it chlorinated or seawater, needs to be extremely durable.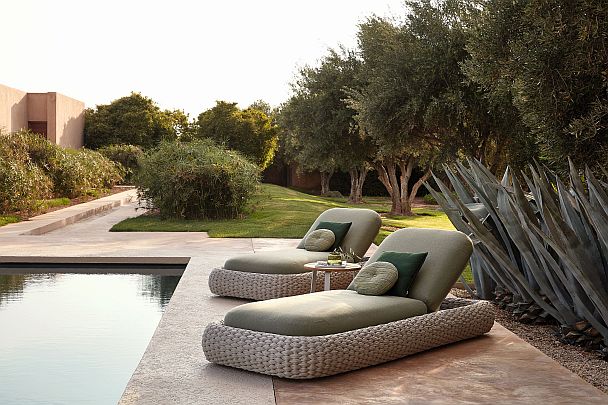 Weatherproof credentials
Manutti's  Kobo sun loungers are a great choice.  They're made entirely of hand-woven rope around a welded aluminium frame. The science bit involves powder-coating the aluminium which is applied at temperatures of between 160° and 210° centigrade. While the hand-woven rope is a blend of Textilene® and polyolefin, which is UV, swimming pool and sea water resistant/repellent.
The useful little side table in the image is the Rodial – perfect for drinks, sun lotion and a book. So all you need to do is lie back and relax.
Sun downers
Garden lighting can transform a space.  As the light fades but the warmth of the day makes you want to linger, having strategically placed lighting adds a whole new dimension.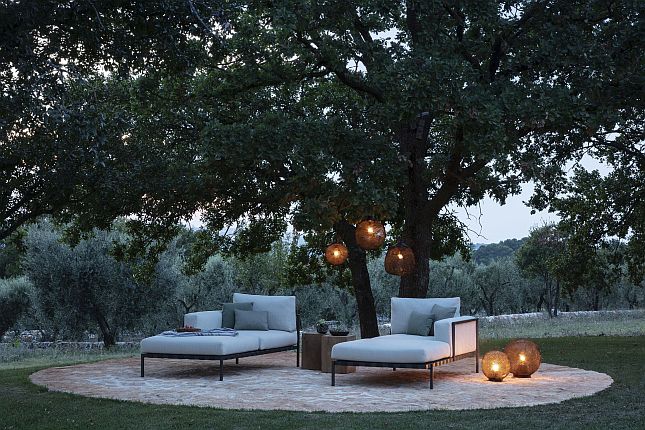 Tribu's unique hand-knitted outdoor lights, Monsieur Tricot are made as pendants, with dimmable LED lighting, or free-standing with rechargeable batteries. They're created using innovative knitting techniques and Tribu's usual high-performance weather-proof materials.
Add some drama
For out and out drama we love Emu's fantastic, over-sized, Cone garden floor lamp. It stands at a majestic 2.71 meters high – an amazing piece of design inspired by the pleated shades of mid-century lights.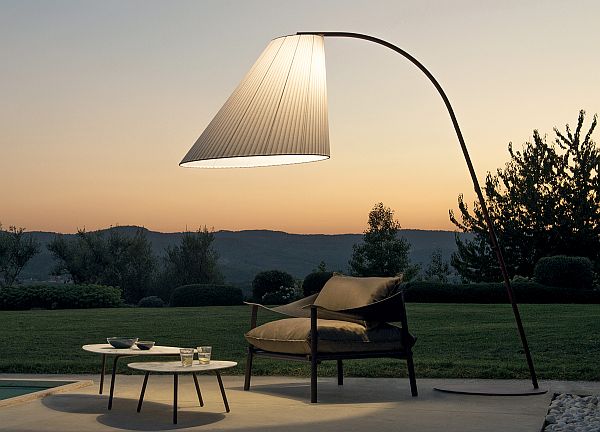 This is statement lighting and then some.
If you love the style but your small terrace or balcony couldn't accommodate the drama, Emu have produced a whole family of Cone lights.  The same look but very different sizes. The smallest, at just 22cm high, is the Cone table lamp. What it lacks in height it makes up for in style.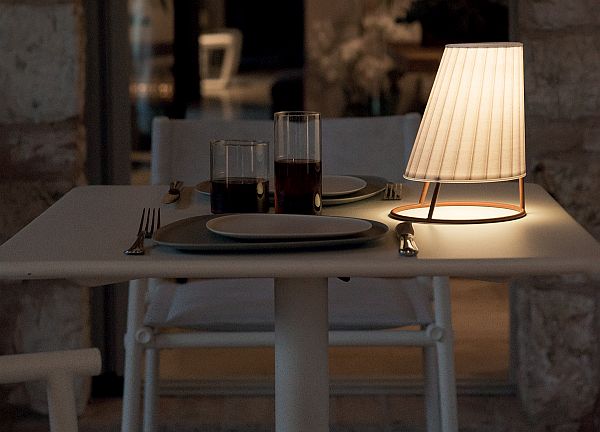 Whatever the size or style of your outdoor space, we will most certainly have something to suit.  It's going to be a long summer so think ahead – and take advantage of our current spring sale: 15% off all orders over £1,000.