If your indoor space seems to be rapidly contracting our advice is: take it outdoors!  And one of the simplest ways to do this is with outdoor rugs.
Outdoor rugs
There are any number of outdoor rugs on the market so our second piece of advice is: 'buy once and buy well'. The best outdoor rugs, as with any high quality carpet, will become family heirlooms.  Cherished and handed down from one generation to the next.
Nani Marquina is a rug designer extraordinaire.  She started her eponymous company over 30 years ago, quickly becoming an exceptional creator of exquisitely designed, hand-made rugs.  Her mission?  To create the best contemporary rugs possible using traditional artisan techniques.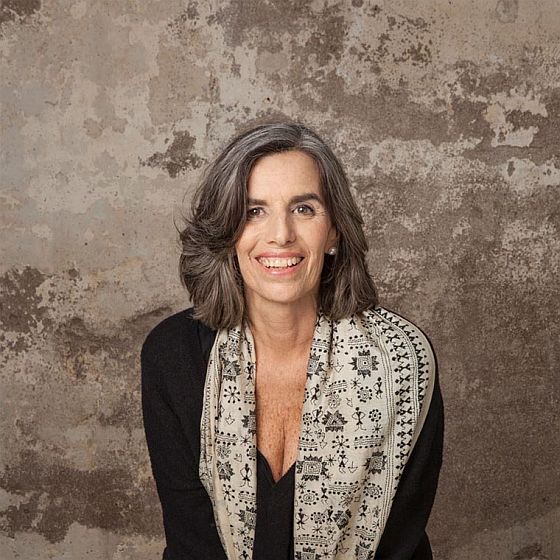 Nani Marquina
Elena Marquina, known as Nani Marquina, was born in Barcelona in 1952.  She studied Industrial Design at the city's Massana School, beginning her professional life with a firm of architects.
The Marquina family were a creative bunch. Nani's father Rafael Marquina is a celebrated pioneer of Spanish design. In fact you will almost certainly have come across his famous and award-winning Marquina olive oil cruet (or a copy of!).  It's an iconic piece of Spanish design (which solved the universal problem of dripping!).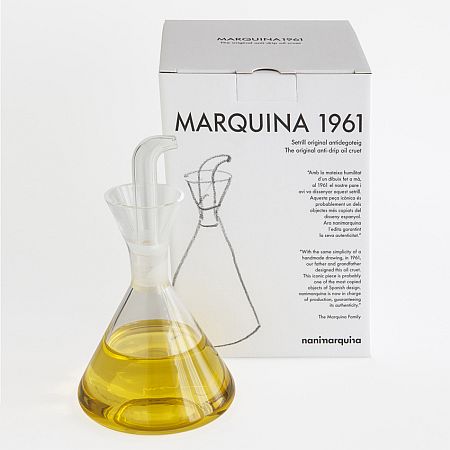 This design, along with his many others, made a big impression on the young Nani.  Following in her family's artistic footsteps was almost certainly a given. Through her work in interior design, Nani's creative interests turned to carpets.  Under Franco, the generally rather austere and conservative Spain at that time left a space in the area of modern design.  Particularly carpets it would seem. And so in 1984 Nani decided to 'reinvent' the rug.  Her first designs were followed in 1987 by her own company, Nani Marquina.
Reinvention and innovation
Innovation and quality are the key to Nani Marquina's success.  Nani and her team now travel the world in search of craft heritage. They look for traditional carpet making techniques.  They spend time understanding the history and importance.  And it is this rich tradition and skill that the company strives to incorporate within their unique, contemporary rug designs.
"We make tradition contemporary" – Nani Maquina
Taking it outdoors – outdoor rugs
Nani is now world famous for her many indoor rug designs.  But with the current emphasis on 'staying home, staying safe' – and enjoying our own outdoor personal space –  the spotlight here is on her beautiful outdoor rugs collection.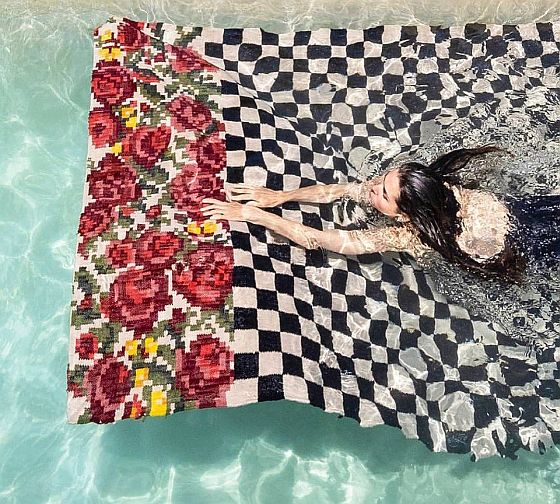 Nani's outdoor rugs are similar to her indoor wool designs.  These, however, are made with the weather in mind! Their credentials? Extremely hard-wearing.  High resistance to water and fraying. Then there's the sun to contend with. They have a high UV tolerance ensuring colours won't fade.  Plus, they're completely washable.
'A contemporary and daring piece'
Oaxaca Outdoor Collection
We're confessing to this being one of our favourites.  In fact – we love it! It might be the colourful flowers – perfect for those of us 'wanna be' green finger types.  Or it could be the simple, monochrome geometric shapes.  Maybe it's a combination of the two. But it's fabulous.
The Oaxaca rug is inspired by traditional rug designs and Nani describes the final result as 'a contemporary and daring piece'.  It has the look and feel of an indoor rug. Importantly it's wonderfully comfortable underfoot (particularly for summer feet!).
The techy stuff: density and pile height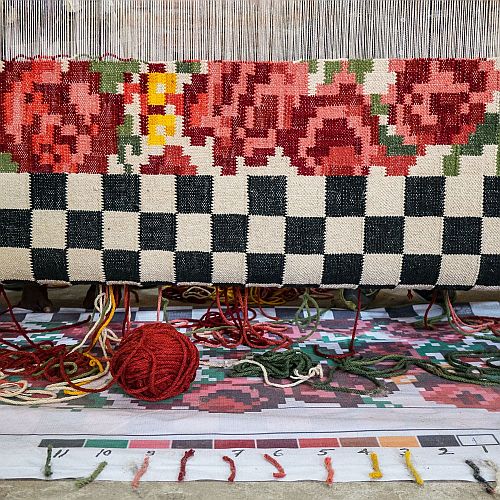 Bear with us here – we promise it's useful!
As with all Nani's outdoor rugs, the Oaxaca is hand-tufted in 100% recycled PET (polyethylene) fibre.  One of the best ways to judge the quality of a rug, and assess if it's right for you, is to look at the 'density'.  Plus 'pile' height.
Density
The density, for example, of the Oaxaca is 37,800 knots/m2.  This is the number of fibres knotted into a carpet.  The higher the number, the more closely packed the tufts.  Like a forest. Denser carpets last longer. They withstand impact better. Greater density also protects from dirt and stains.  It's simply trickier for particles to sink in. Which in turn makes for easier cleaning.
Pile height
The total pile height of the Oxaca is 7mm. 'Pile' height is the length of the carpet fibres from their tips to the carpet backing.  Pile heights typically fall into three categories: 'low' (less than 6.35mm), 'medium' (6.35 to 12.7mm), and 'high' (12.7 to 19.05mm).  The higher the pile the softer the feel.
Keeping it clean
This is the easy bit. We like this bit. Nani recommends using a garden hose when your outdoor rug needs washing.  Give it a shake and then simply hang it out to dry.
Tres Outdoor Collection
Tres started life as a collection of indoor designs, a collaboration between Nani and designer Elisa Padrón. It's now an award-winner.  This distinctive range won the German Design Award in 2019 – honoured for its excellent design quality.  The judges gave praise for its 'strong distinctive identity'. They loved the materials and the traditional production technique. In fact it's the most successful Nani Marquina indoor collection.
Unsurprisingly, Tres Outdoor was the first in Nani's line of outdoor rugs.
'The rug becomes the perfect resource to define and create comfortable outdoor environments'
Tres Outdoor has three distinctive styles:  Tres Stripes, Tres Black and Tres Mustard. Each rug shares the same vibrant textures combined with different thicknesses and fibre blends. The natural fibres of the indoor rugs are replaced by PET fibres to give the rugs their weatherproof credentials. And as before, cleaning is kept quick and simple.  Hose down, shake, followed by open air-drying.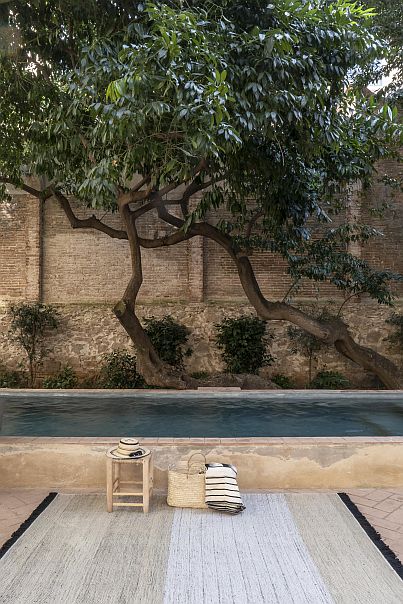 Size it up
All of Nani's outdoor collections come in three sizes: 170 x 240cm, 200 x 300cm. Plus a special request size of 300 x 400cm.  Talk to us if you have a custom size in mind as with some designs this is also possible.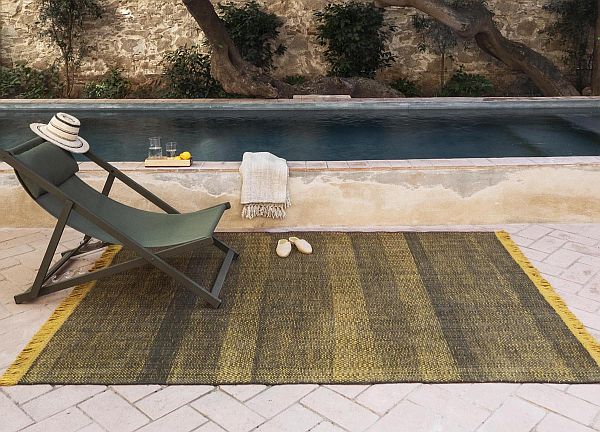 Shade Outdoor Collection
Shade Outdoor is based on the original Nani indoor Shade collection.  Designed by the inspirational Turkish designer Begüm Cana Özgür,  it uses the same vertical and horizontal gradients alongside six transitional shades. And the inspiration: 'colours flowing together in the sky' with a desire to achieve the same effect.
Shade was Begüm's first flat-weave collection and she deservedly received the Elle Decoration International Design Award. The design was relaunched by Nani Marquina in 2017.
'Inspired by the tranquil moments of nature when nothing but the colours talk'
This beautifully simple design is created via a complex technical process to achieve the resulting density and regularity.  There are four 'palettes' or colour compositions in the collection, with the same 'sky-like' shades in each.  Every rug is hand-loomed and made from recycled PET fibres.
Blurring the lines between art, decoration and design
And some BIG news for June 2020.  The dramatically theatrical 'stand out' design: Silhouette. A collection of both indoor and outdoor rugs.
Silhouette Collection
The Silhouette rug is a second collaboration between Nani and the incredible Spanish artist/designer Jaime Hayon.
Jaime, for us, is one of the most awe-inspiring artists to emerge from Spain in the last few years.  He's received numerous Awards for his incredible work including Wallpaper Magazine's 'Top 100 Most Influential Creators of the Last Decade'. One look at his latest design for Nani explains why.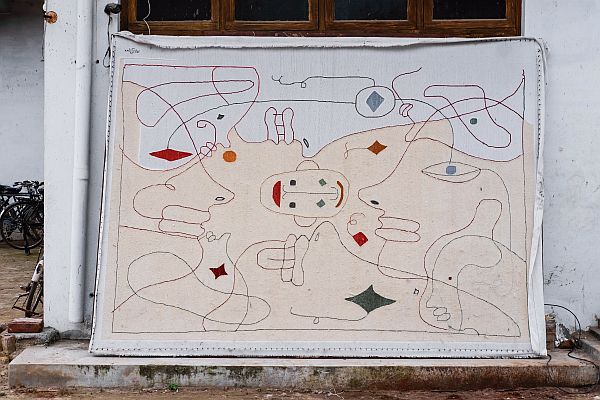 Silhouette is a Jaime freehand drawing, similar to the work seen in his many sketchbooks.
'I like theatre, I like performance' – Jaime Hayon
Using delicate strokes, Jaime's illustrations depict the silhouettes of several imaginary characters. Nine faces intertwined in one dramatic composition. With a subtle use of colour each face is positioned at a different angle so that the rug can be viewed from any perspective.
Despite its delicate appearance, Silhouette Outdoor is a sturdy composition. The outdoor rugs are hand-tufted, using 100% recycled PET fibre.  This makes them lightweight, durable, wrinkle and abrasion resistant.  As for cleaning?  It's the same routine: garden hose, shake, hang up to dry.
By his own admission, Jaime is a 'compulsive illustrator'.  Sketch books are his life. His designs range from interiors to products to furniture.  And his attraction to designing for rugs? The ability to translate artistic expression.  To use a different canvas.
And if this 'canvas' feels a little too beautiful to walk on you could always opt for the tapestry version!
Want to take your indoor space outside?  Then take a look at our full collection of outdoor rugs.