It feels very much too early to talk about the aftermath of Covid-19. The AA, however, think that it will transform the way we live, work and travel in the UK.  It predicts that there will be a permanent reduction in travel because many of us, for the first time, are now working from home – and actually quite like it.  We've also come to grips with home-office technology, and found that the amount of productive work we can get through smashes normal office output.  And no one is missing the commute.
The big challenge of working from home is how to carve out your own bit of home-office space.  Great if you can requisition a spare bedroom, or already have a study.  Not so great if you have an open plan sitting room/kitchen and no spare room.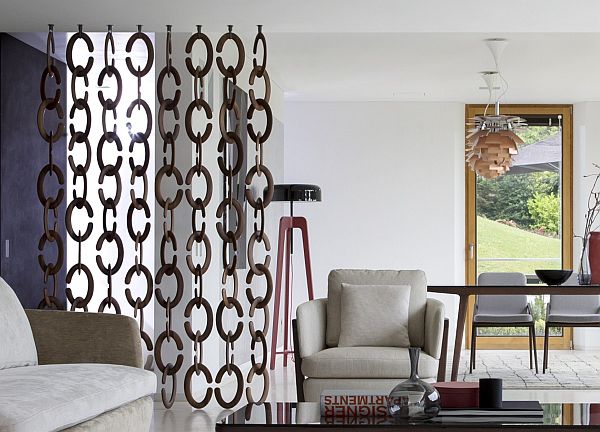 Home-office zoning + space
Recent research shows that an increasing number of new-build houses and apartments are not only smaller than they were 30 years ago, but style-wise favour a combined kitchen/sitting room.  Which is the contemporary way.  Some of us quite like it but it does leave the problem of how to occasionally 'close the kitchen door' on the washing up.  Without undertaking interior wall shifting/building, a room diver or screen could be the answer.  It's a great way of partitioning space without the need for a serious tool kit.
Increase your screen time
A screen, unlike a wall, is easy to install and it's portable.  Which also means that when you eventually move to a bigger place it can move with you.
Porada's Cozy Room Divider  (above and detail below) features strands of interlocking 'C's' in beautiful Canaletta Walnut.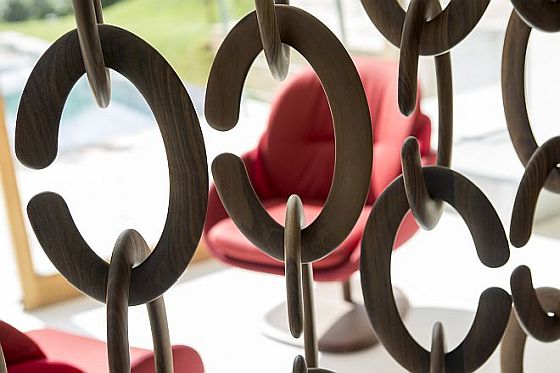 Easily attached to the ceiling via a series of pewter hooks, Cozy is a striking piece of design. You can opt for any number of strands and it's wonderfully open and airy.  Which means that if you only have natural light at one end of the room you're not screening that off.
Taking it out of the bedroom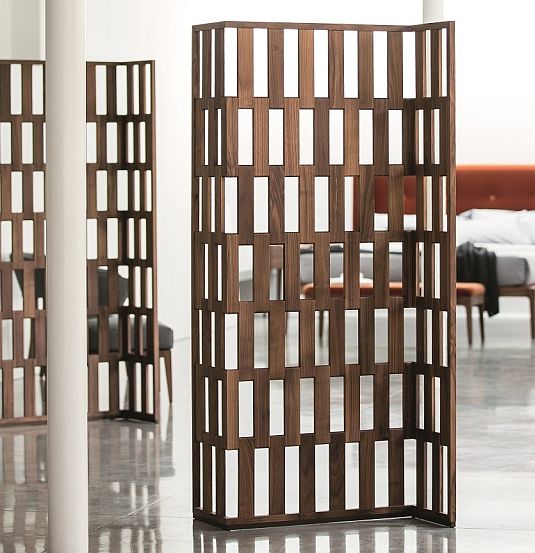 If your home-office space is a portion of your bedroom, that may well give you some peace and quiet but it won't be great for switching off at night. Porada's Hilton screen is a beautiful, contemporary design which will complement any existing decor. We've also seen customers use this to create a small, stylish dressing area in a bedroom, and placed partially in front of a window to create a little privacy. There's no end to its clever uses.
Add some glamour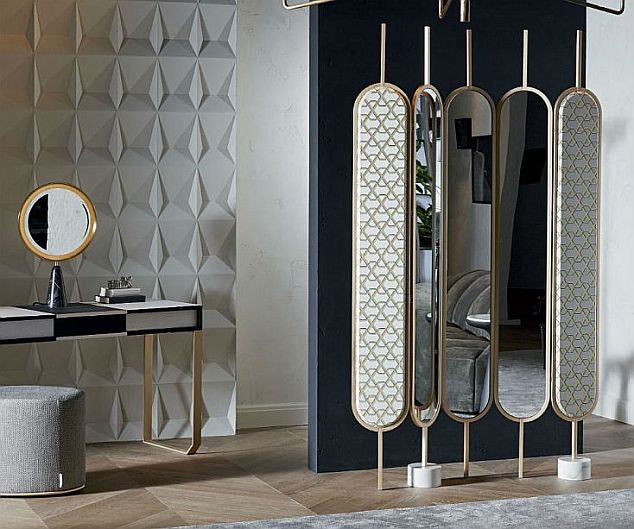 This screen is our ultimate 'glamour screen'.  If you're looking to add a little intrigue to the bedroom, plus some useful mirrors, Galotti&Radici's Chloe Mirrored Screen should do it for you.  It's simply stunning.  Gallotti&Radici are our 'go to' for glamour.  No one does it better.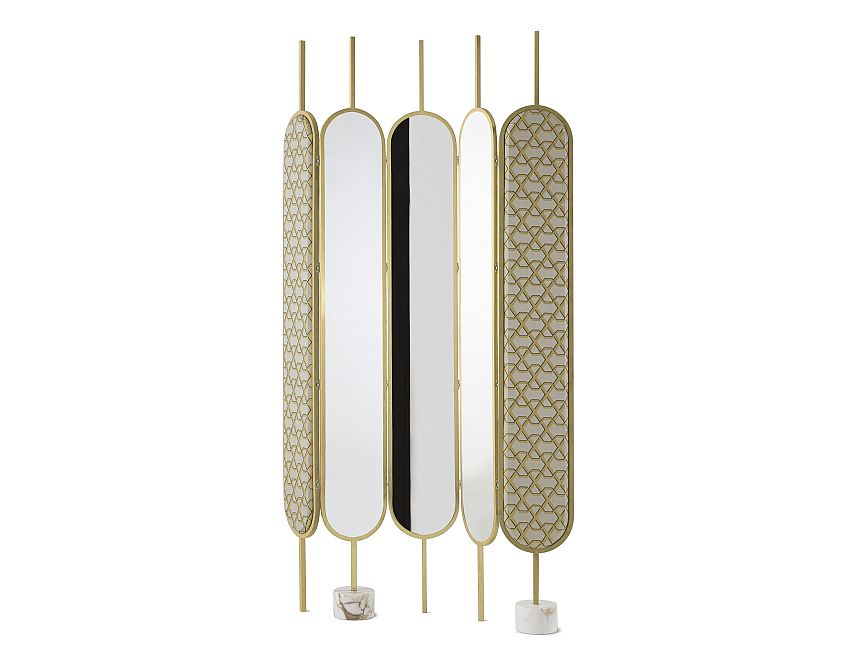 Chloe's structure is a mixture of solid wood and brass, and the vertical screens have extra-light mirrors, and fabric (and you can use your own fabric if you want).  It not only provides a neat, discreet 'dressing area' it also gives you a terrific set of mirrors, providing a 360 degrees view of what you're wearing. If you're using it to separate a home-office space from the rest of the bedroom, you could choose fabric for the home-office side and mirrors for the bedroom.
A bit of Wes Anderson
Miniforms' Colony screen was created because, say this quirky company, they 'felt the need to enhance the overlooked role of the screen indoors'.  Designers Skrivo wanted to give it a bit of drama, with 'a look that could have come from a Wes Anderson film'. And so the Colony screen was born.
It's made in ash or black ash Vienna Straw, and takes full advantage of the transparency of the cane, 'for the shyer amongst us'. It's possible to buy just one screen or add up to three. And you can also use the Colony outdoors, but only if you promise to look after it properly and cover it up if the weather takes a turn.
Screen time outdoors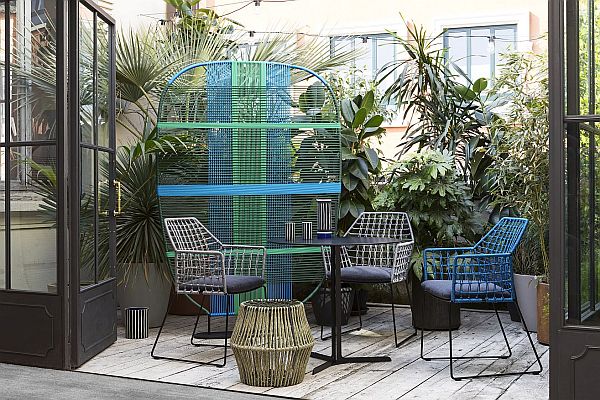 Got a balcony?  As the weather improves taking your home-office outdoors might be quite appealing. We absolutely love Saba Italia's Shades of Venice. There are four different coloured shades in two heights.
Designer Marco Zito's inspiration was the Venetian islands, Murano, Burano, Giudecca and Sant'Erasmo, and their distinctive local colours. The screens are woven from strong, weather-proof nautical cord but they can also be used indoors too.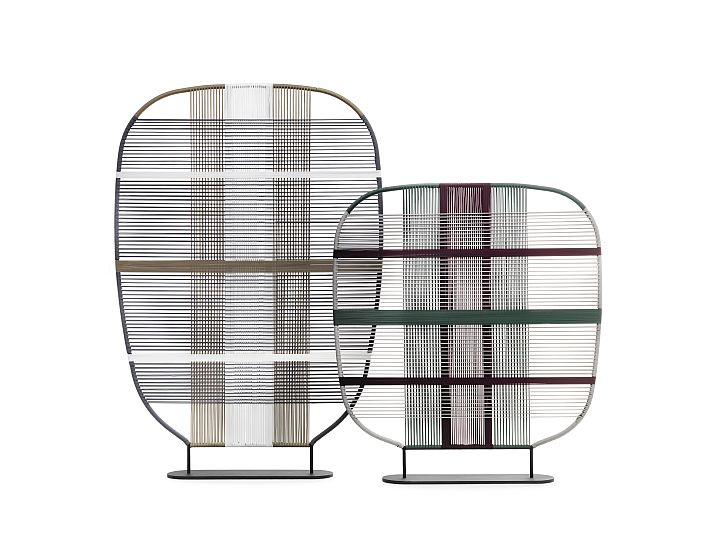 For those lucky enough to have visited Venice and its islands we'll allow little daydreaming here.  For those who haven't, come share our reminiscing…
Murano is inspired by the intense blue and green of Murano glass…  the bright tonalities and contrasts of the Burano design reflect the colourful orange and blue of its houses…  Giudecca pays homage to its white stone, and Sant'Erasmo conjures up the deep colours of the vegetables, like the abundant artichokes that grow in the gardens… And can you hear the gentle lapping of the water against the quayside?
Right, that's enough!  Back to work everyone.