Bedroom furniture for teenagers. Make life easier (for you and them) with stylish well organised designs.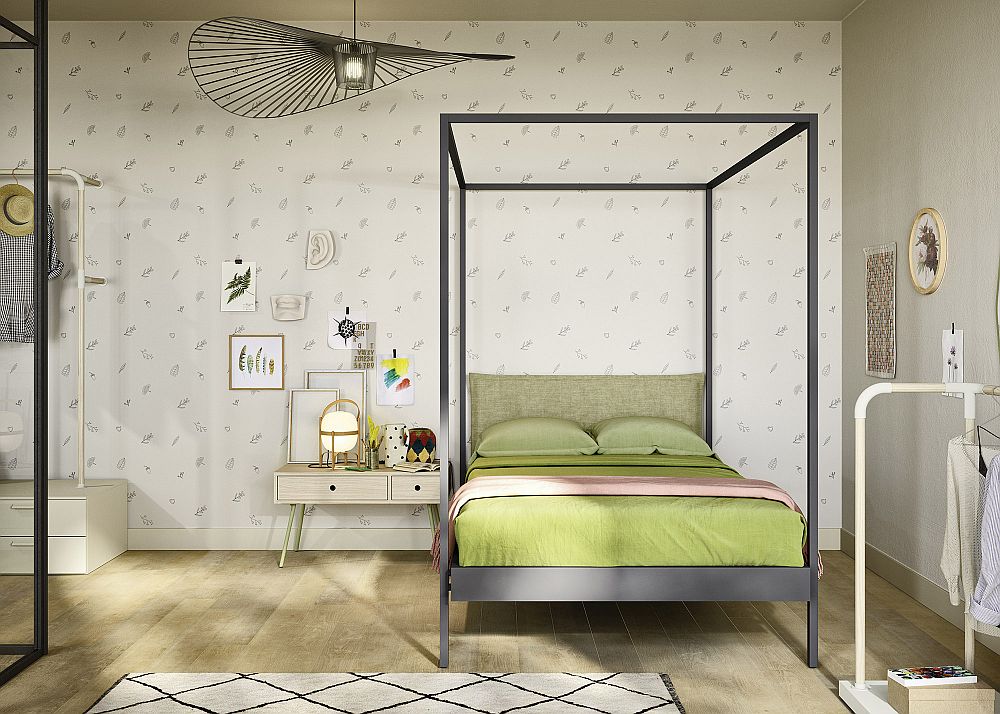 "It is a truth universally acknowledged, that a teenager in possession of a bedroom… must be in want of someone to tidy up for them."
OK, so we've adapted that well-known quote.  But if you are searching for bedroom furniture for teenagers/young adults you'll know exactly what we mean. And you've come to the right place!
At Go Modern we have some particularly impressive designs suited to organising your teenage off-spring – so that you don't have to.  Although apologies here to anyone with a teen who loves tidying and organising.  Congratulations. You've done an amazing job and you don't need to read any further.  For everyone else, take a look at our wide range of designs for teenagers. Take heart. Be inspired if not encouraged.
As a company, we spent a long time looking for brands we felt totally understood the kind of designs that would work for teenagers.  Products had to be well made and cool.  They also had to be the kind of designs that would last well into adulthood with them.  Yes, they come back. We also wanted brands with a phenomenal reputation for quality, innovation and style. Flexible, adaptable, stylish and fun!  Collections had to include everything from modular storage to stylish home-study ideas and our specialist Italian brand Nidi even has a four-poster bed.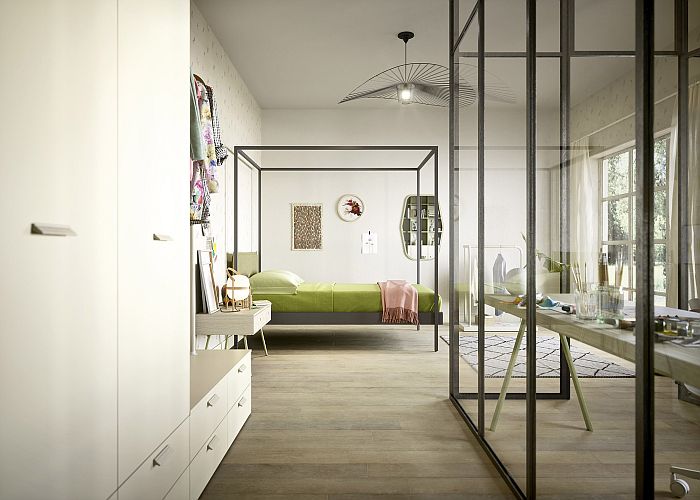 What teen would turn down a four-poster bed?
Teenage bedroom furniture as a study aid
Studying. They have to do a lot of it. It's not a whole heap of fun but it has to be done. There's probably not much at this stage you can help them with, other than being organised.  And the best place to start is obviously a desk or a dedicated study area.  The Nidi Yucca desk above is a wall mounted design that comes in two thicknesses and lots of great options for colours. Also in this shot are some of Nidi's Tynn wall units – terrific for keeping files and text books handy.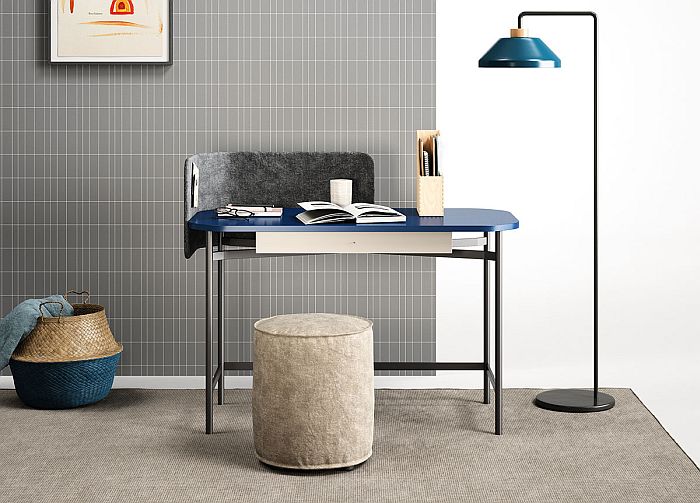 The Ninfea desk is from Novamobili, the same parent company as Nidi.  It's suitable for teens through to adults and we love it's stylish, minimalist good looks.  There's also a choice of 26 incredible colours, everything from black graphite to forest green or the air-force blue seen here. The design also includes a 'privacy screen' which doubles up as a pin board – very handy for post-it notes etc.
We can't promise that your teenager's room will ever look as neat as the set-up in the image above.  But, we can help you dream. The Blog home-office composition is again suitable for teens through to absolutely any age. It consists of fully modular desks, wall units, bookshelves and chests which can be put together any way you like.  Composition 25 here, shows several wall units combined with a long desk panel and a chest of drawers. The bookcase is in white with graphite back panels, a white desk and chest of drawers in canapa.
Teenage shelf life
Who knows what lurks there?  But a spacious well-organised set of shelves will make the business of finding text books, novels, pizza boxes, a whole lot easier.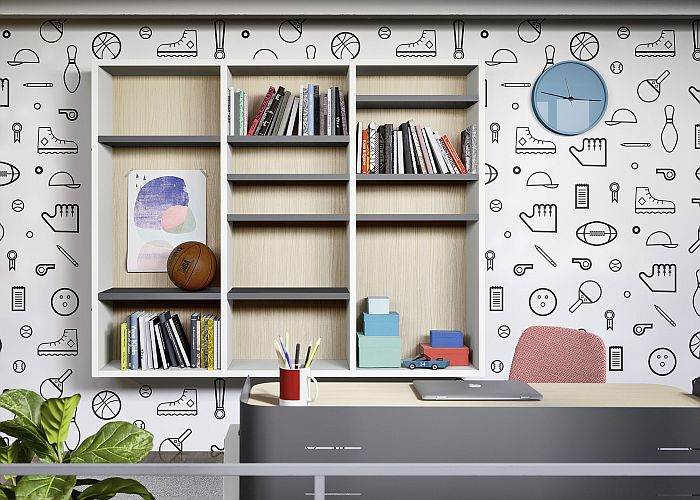 What makes these shelves particularly great for teens is that they can also be adapted to suit a more grown up space when needed. They're part of a completely modular design, so they can be taller, wider, shorter or narrower. The possibilities are endless.  Nidi Bookcase 10 is shown here in neutral colours but there are tons of other colours to choose from, including some bright, punchy shades, with something to suit even the most outlandish of tastes.
The Luce bookcase, seen on the left of the image above, is perfect for growing teens through to adults. It has a great contemporary look and slim lines (the panels are only 1.4 cm thick but are just as sturdy as thicker bookshelves). This versatile, modular system, can be left as open shelving or mixed with compartments with doors. Perfect for keeping what's needed on display and tidying everything else away.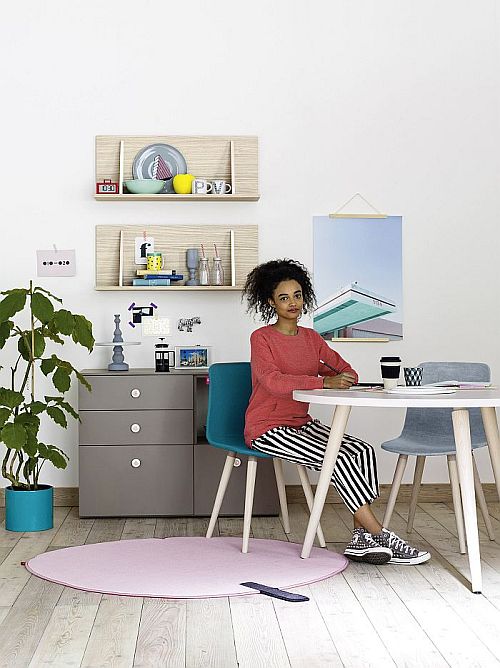 These Pitagoria wall units/bookshelves are perfect, not just for books, but for displaying all those other personal things that make a teenagers room their own space. Lookout too for Nidi's range of accessories from wallpaper through to rugs.
Teenagers and clothes
As the late, great Nora Ephron ('When Sally Met Harry' etc etc) once wrote: "Adolescence is for parents, not adolescents.  It was invented to help attached parents separate, in preparation for the inevitable moment when their children leave the nest." Teenagers and their (in)ability to put clothes away does pretty much the same job.  So how can we help here?
Well you'll inevitably get their attention with the name of this bed! So once you've got that over with you can point out just how stylish the Titi Due Plus teenage bed is. The fully removable covers, offered in lots of different fabrics or eco-leather (faux leather), have decorative cross-stitching around the headboard and backrest.  We love that the cross-stitching can also be chosen in matching or contrasting colours.  You may of course have lost them by this point. However, they can't fail to be impressed, as we were, by the under-bed optional metal storage containers on castors, which can be pulled out in seconds. And you can choose them in red, silver or yellow. What's not to like?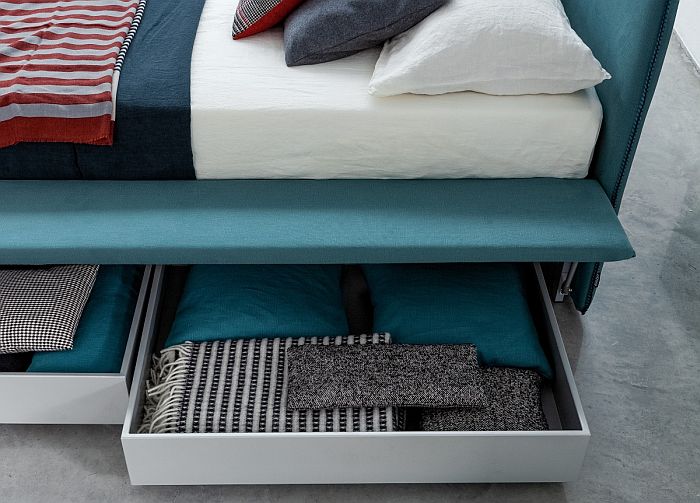 This extra storage space is ideal for smaller clothes items such as socks, underwear, T-shirts etc. with everything easy to access and see at a glance.
So, for a teenager as happy and organised as the one here… take a look at our bedroom furniture for teenagers.  The years will pass quickly.  Empty nest syndrome doesn't last long as university academic years seem to be a series of holidays or 'book reading weeks'.  And as you know, they come back. So choose furniture that's adaptable, made to last and, like your off-spring, will be loved for many years to come.