How to find the right storage
As you may have noticed, we're very big on storage ideas at Go Modern. And the trickier the space presented to us the more we love it.  There is a great feature in the March issue of Essential Kitchen Bathroom and Bedroom Magazine about this very thing… 'how to find the right storage', featuring a Q&A with … US! So here are a few tips and ideas below based on what we shared with EKBB (although do go out and buy the magazine – it's always a very good read!).
The right storage v space
Getting the right balance between storage and space in a bedroom is crucial. We often find clients need more storage than they have space for so we play around with ideas.  The idea is to try to incorporate storage wherever we can without losing the aesthetics.
We think about building wardrobes right up to the ceiling, using storage beds and tall chests of drawers in smaller spaces. We combine this with decorative hanging shelves or slimmer wall units.  A bridged wardrobe around the head of a bed can also be a great use of space.  The result should always work aesthetically as well as leaving you with plenty of space to move around.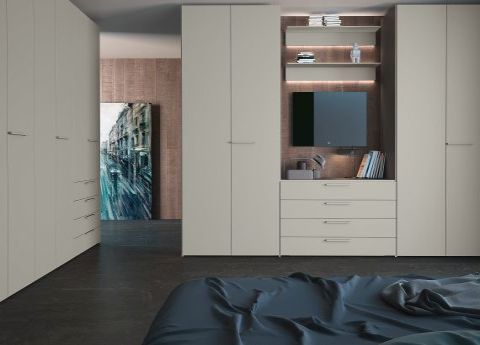 Storage – where to start?
If a client is thinking of a fitted wardrobe system, we start with the doors.  Hanging door wardrobes have smaller cabinets which can also be divided inside.  So if a client has a lot of different storage needs we would normally recommend those. Sliding doors on the other hand have a cleaner look for small spaces but are actually less flexible in terms of their inside storage.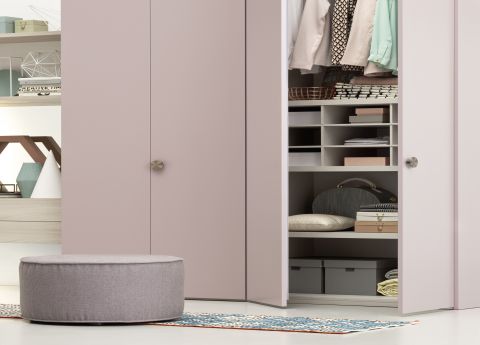 Smaller accessories & storage
Smaller accessories such as dressing tables are really important.  You can also get creative with items such as a hanging desk with a fold down-top and interior LED lit mirror.  Or how about a small wall-hung shelving unit.  Remember to look at the space between wardrobe cabinets too.  This can often accommodate a table as well as shelves, cupboards and a small chest of drawers.  Choose fitted doors to hide things away when they're not in use.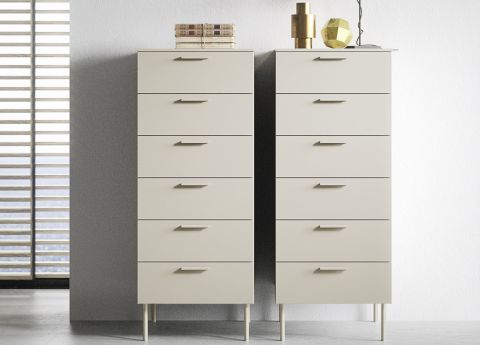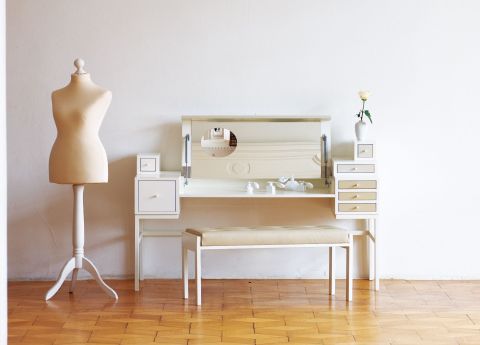 Beautiful and practical storage
Our brands are a great and equal measure of aesthetics and practicality.  The days of having to completely sacrifice style to get the best fitted storage are well and truly over.  It's often more economical to invest in beautiful semi-fitted designer storage than it is to get alternatives.  And there are so many gorgeous designs to choose from.  New designs include textured doors with leather, gloss or matt finises, or a mixture of the two.  Plus lots of unique finishing touches such as statement handles.
Take a look around our site or pop into our Kings Road showroom and have a chat.  You'll be pleasantly surprised by what we can offer.